Workations have arrived in India, whether you like it or not. I think this is no longer news to anyone. White-collar millennials of India have been looking to get away from the cities for a while now but the current crisis has made it really feasible. Even if reluctantly, those bosses and HRs are now being forced to recommend work from home and they can't count them as vacations to backstab unsuspecting employees.
So, I thought I will make a list of places that are suitable for Workations in the Himalayas (Mostly from Himachal and a couple from Uttarakhand). I am by no means saying that these are the only options. These are just my picks based on my preference. experience, and understanding.
Criteria for Choosing Workation Spots
So, what kind of places are good for workation? I can think of the following criteria.
Easy to Reach
These places are reasonably easy to reach if you know how. It is great if you have a vehicle but public transport should just be fine too. You may still have to change the bus at some point but you will get there without much hassle. Ultimately we are also trying to avoid extremely crowded places and that's why I am not including famous places like Old Manali or Mussoorie, etc although they can be good too. I have included places that have a motorable road and avoided places that are too obscure or remote for convenience.
Good internet connectivity
Naturally, if you want to work, internet connectivity needs to exist and speed should be good. This is the reason I can't include some of my favourite regions like Spiti or Lahaul or Musniyari as the internet is problematic out there in the remote frontiers. Many of these included places have Homestays with WiFi and even otherwise, normal 4G works just fine here. I have spent months travelling through these areas, mostly using my own data connection, and never had any issues.
Great Views and Activities
If you are spending extra to get away from the city, it only makes sense to find a really great location that makes up for the effort and expenses. This is why I have made sure that each of these places offers great views as you can see from the photographs. Additionally, small hikes, village walk, and local cultural explorations can be easily done in these locations in your free time.
Tourist-Friendly Culture
While I am avoiding very famous and touristy spots, I have still kept places that are used to receiving tourists. Ultimately, extremely offbeat locations are good for adventurers but may not work that well for a Workation as they lack basic facilities and locals may not be comfortable seeing strangers staying there for weeks.
Affordable accommodation and food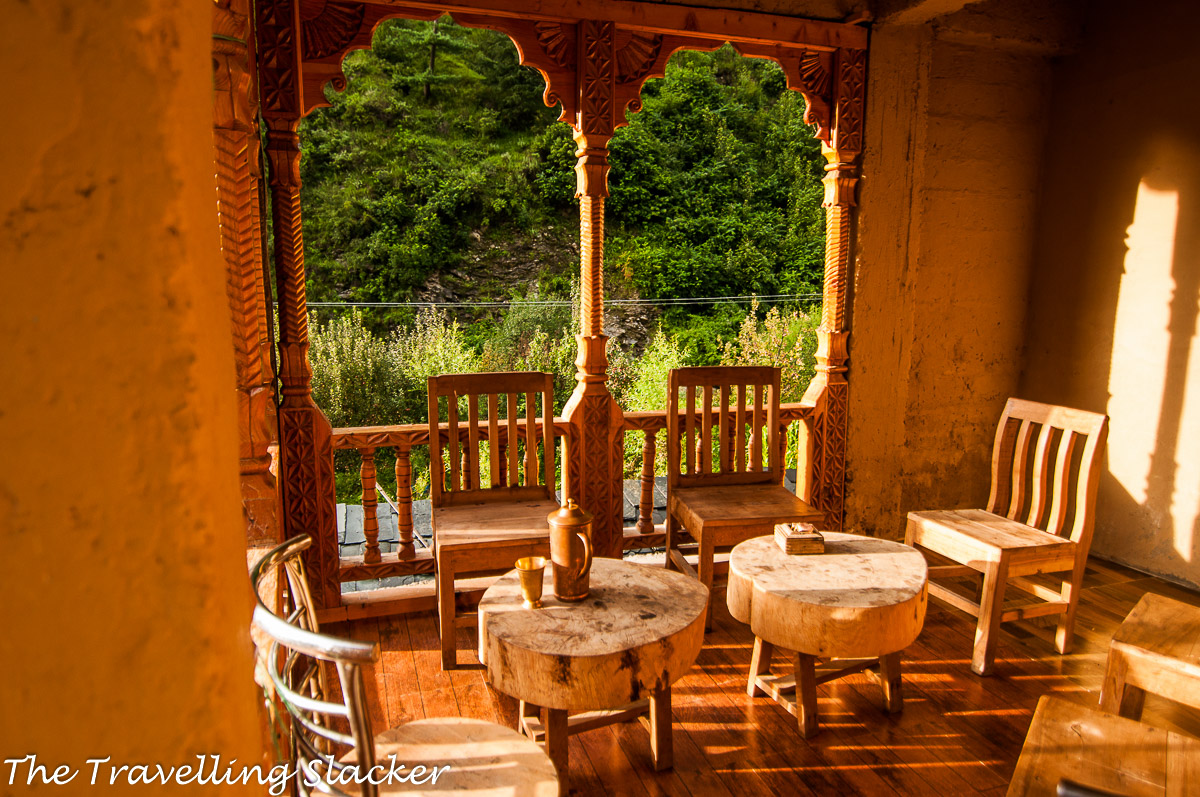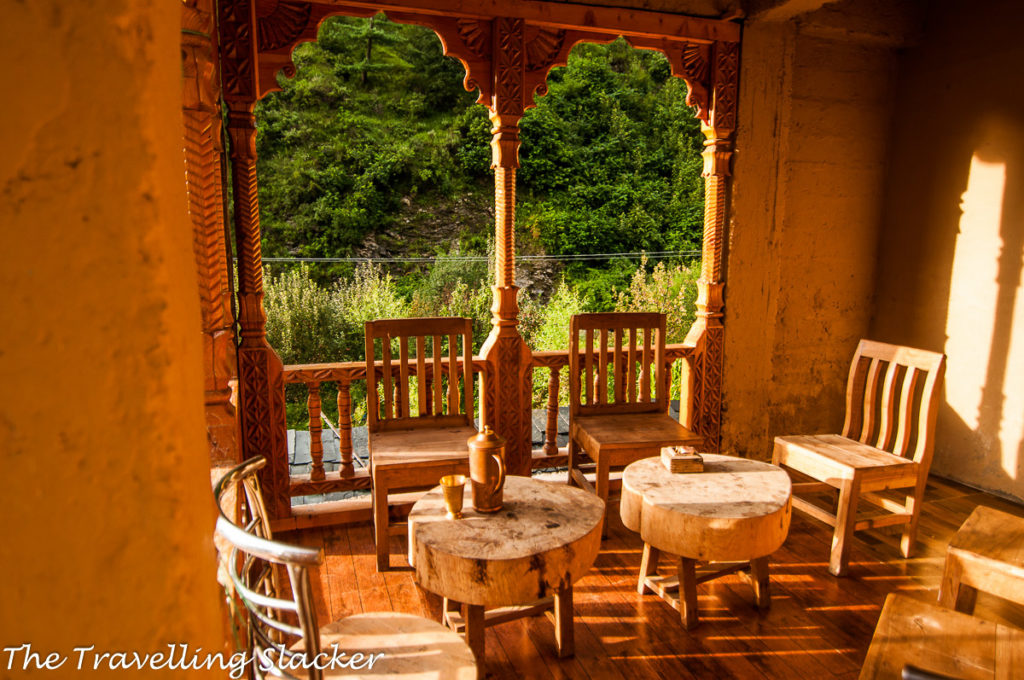 Most importantly, these are places where I am sure that you will find affordable accommodation and food. If you have no dearth of money then you can go anywhere but these are the places where you can survive even with a comparatively low budget.
Now, let me make a quick list. These are for working professionals who are willing to move out of the city for a few weeks to a few months but since I don't really care about Mumbai or Bangalore, this post will be more useful for Delhi folks.
Recommended Stays Disclaimer
I have added some affiliate links to accommodations that are decent options in my opinion. Personally, at least for budget travellers, I encourage you to visit the place first, ask around locals, and find out more affordable options which may not be available for booking. All these places I have listed are tourist-friendly and you will not face any problems.
Also, if you are looking for long terms stays, I suggest your first book for 2-3 nights, and then explore options in the area.
Best Budget Workation Destination in the Himalayas
Janjehli
Never heard of it? Well, many have not. This small town in Thunag Tehsil of Mandi is best known as the base for the Shikari Devi Trek. Nevertheless, it is also full of many affordable homestays so that you can easily last for weeks. It is also not that hard to reach and you can make day trips from here to scores of other places in the Seraj Region. It is around 2150 meters in altitude.
How to Reach?
It is around 96 Kms from Mandi. So, you have to first reach Mandi (Take any Delhi to Manali bus) and then find a local bus to Janjehli.
Where to Stay?
There are dozens of local homestays scattered all over the place. If you want something more exotic, you can try to reach out to the official FRH higher up the hills near Shikari Devi (But I am not sure if you can stay long term up there).
Other Activities?
As mentioned before, the main thing to do here is the Shikari Devi Trek. There are other hikes as well as local shrines to explore during your free time. Other destinations in Seraj like Karsog and Gadagushaini are also not far from here. In fact, you can emerge in Jibhi-Banjar Valley from here if you want.  
Batahad (Falachan Valley)
The entire Tirthan Valley is ideal for long term stay but the main Tirthan area has become crowded due to popularity. It can still be great if you can afford but if you're on a budget then move a bit higher to Batahad, which is a village in Falachan Valley, and thank me later.
How to Reach?
It is around 10 KM ahead of Gushaini. The HRTC buses from Banjar go up to Batahad anyway.
Where to Stay?
There is at least one homestay but I suspect more are being developed. They may not be available for online booking but they do exist, I can assure you that. You can, of course, stay in Gushaini at one of their riverside cottages but they cost much higher.
Other Activities?
Enjoy the village walk and interact with the locals. Many treks are possible from here to nearby villages, shrines, as well as passes and peaks beyond them. The best-known trek here is the Bashleo Pass trek.
Sainj Valley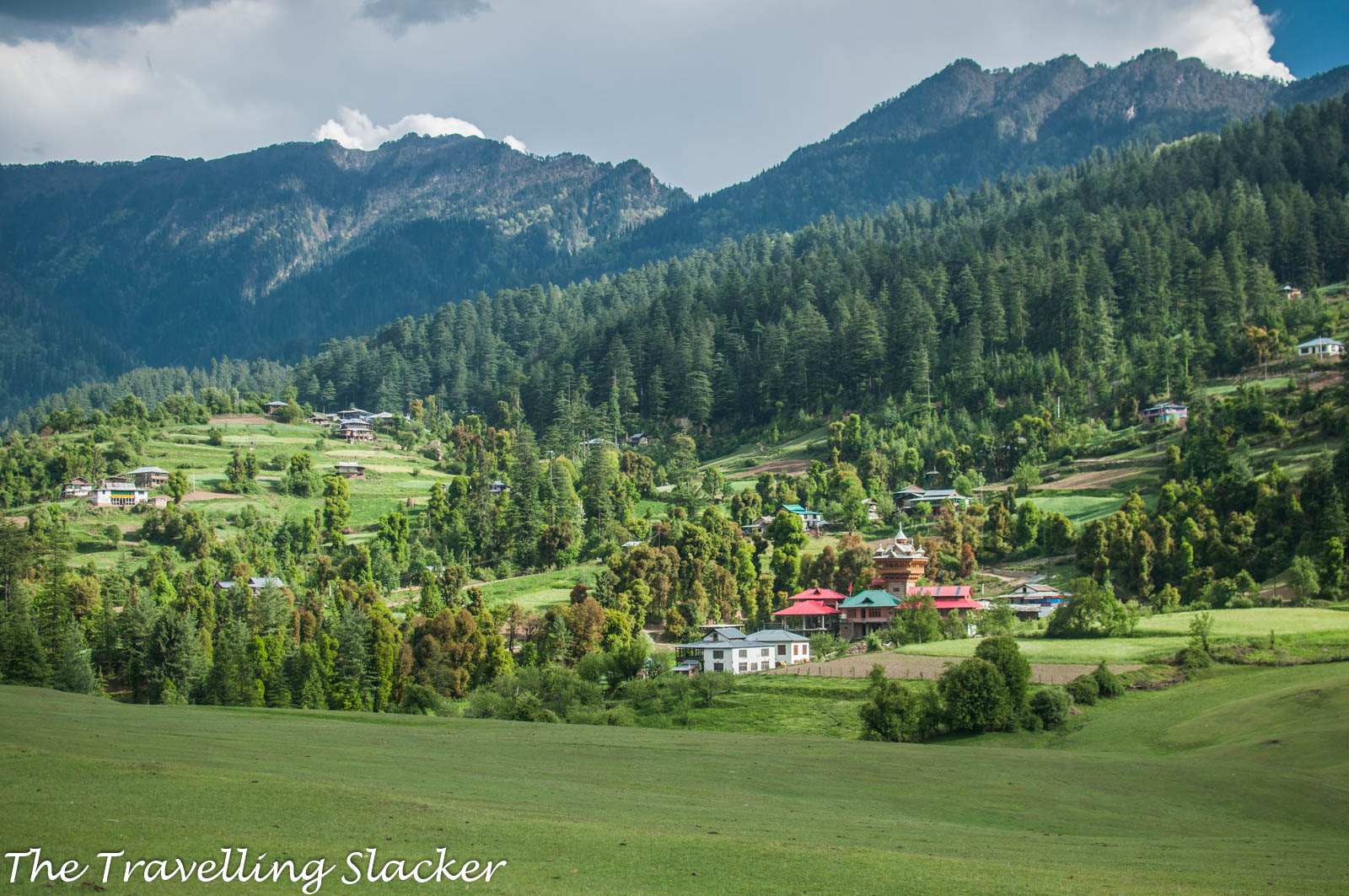 Almost no one cared about Sainj till 2017 when I first visited it but now everyone wants a slice of it. It is a valley with many villages where you can stay, with Shangarh being the most popular and. Views here are unmatched although costs may have increased if late due to increasing popularity. However, other villages have upped their game too and this is why Sainj Valley has become one of the best places for Workation in Himachal. .
How to Reach?
Take any Delhi-Manali bus and get down at Aut and find a bus going towards Sainj. You will find local buses or shared cars to inner villages from here to other places. You may have to hike for 30-40 minutes to reach some of these exotic villages.
Where to Stay?
Shangarh is very developed now in terms of tourism. Other villages like Upper Neahi, Deori & Jhili Neahi have also come up with homestays. You can try this luxury campsite in Shangarh or homestay in Deohari.
Other Activities?
You can spend days simply staring at the meadow of Shangcul Mahadev, Shangarh. Other major points to visit include Pundrik Rishi Lake and the villages of Upper Neahi, Deori, and Manyashi. There are some hardcore treks going upwards from here if you are up for it.
Read the Sainj Valley Guide for more details.
Kalga & Pulga
I wondered for a while, whether to include anything from Parvati or not. It's too commercialized, which is why I don't usually consider it as a Workation location. But still, considering the familiarity and Rastafarian attractions of the place, many would prefer to go there. In that case, those villages after the last bus stand of Barshaini, that is Kalga and Pulga are your places. Another place from here goes to Tosh but that place is more expensive as per my experience.
How to Reach?
Take any Delhi-Manali bus to Bhuntar, and then take the Kasol bus but go till the last point of Barsheni. A small 20 mins hike will be needed to reach any of these adjacent villages.
Where to Stay?
There are dozens of homestays in these villages, Kalga is more famous for extremely affordable options.
Other Activities?
Kalga Village is the base for Kheerganga Trek although it remains a bit too crowded nowadays. These villages are filled with apple orchards so lazy village walks can be enjoyable too. You can consider visiting nearby villages too. Pulga is nearby too.
Jibhi-Shoja-Jalori 
Jibhi has become very popular of late but still, it remains ideal for long-term stay, slow travel, and Workation in Himachal. If you find the roadside options too expensive, you can hike a bit and find more affordable homestays. Backpacker hostels have also come up in Jibhi and it has a very cosmopolitan vibe. There was even a Greek restaurant, not sure if it still exists! Jibhi can also be the center to explore the larger GHNP area and options are literally endless here. You can go a bit higher up along the road to reach the likes of Ghiyagi and Shoja, which also have homestays.
How to Reach?
Take any Delhi-Manali bus and get down at Aut and find a bus going towards Banjar. From there find another bus or shared car to Jibhi and beyond.
Where to Stay?
Jibhi is full of homestays and a backpacker hostel or two have come up as far as I know. Shoja also has homestays and you can even find campsites at the start of Jalori. There are places that offer both cheap dorms and more expensive private rooms. If Jibhi feels too crowded you can find places in the nearby areas of Ghiyagi, Shoja.
Other Activities?
Options are endless in this region. From village walks to small waterfall hikes and from cultural experiences to hardcore multi-day treks, dozens of things can be done here. I have numerous posts in this area. You can start with the Jalori Pass guide. Apart from this, the entire Tirthan Valley will be in your neighborhood. If you find the area too mainstream, you can venture into the nearby but barely known, Bahu and Gadagushaini.
Kangra Valley
For a long time, Dharamshala-McleodGanj have been a popular location for long term backpackers. A lot of people live here permanently and in spite of the popularity and fame, it is still a good place to stay. However, I would like to slightly expand the definition and say that the entire Kangra Valley is a great place to stay. These areas are easily accessible and practically among the most developed regions of Dharamshala. Instead of the main town of McLo, nearby villages like Dharamkot and lower areas in Kangra Valley can be more suitable for a peaceful stay, like I ended up in Sidhpur once. Explore and you will find more of them.
How to Reach?
Take a train from Delhi to Pathankot. From there find a bus to Dharamshala or Kangra. Other areas will be accessible from here.
Where to Stay?
The entire region is full of homestays and finding long-term rentals is also possible. McLeodganj will have scores of backpacker hostels too but they are usually located within the crowded town. If you can afford it, stay near Norbulingka Institute in Sidhpur, an excellent location away from the main McLo and Dharamshala.
Other Activities?
I believe this is one region that does not need any introduction. From Triund to Indrahar Pass, there are scores of trekking options. For more offbeat ideas beyond McLo, try this post about Kangra Beyond Dharamshala.
Barot Valley

Barot on the banks of Uhl is also a great destination for long term stay. It takes a bit of an effort to get there but make no mistake, the valley is full of affordable homestays and the connectivity is also quite good. This river is
How to Reach?
Take a train from Delhi to Pathankot. From there find a bus to Jogindernagar, then onto Barot.
Where to Stay?
There are dozens of homestays in Barot and more are coming up in inner villages like Lohardi, which are a few KMs inside. If you want something more extreme, hike further to Rajgundha and find the hostel.
Other Activities?
Barot is a narrow but beautiful valley. Apart from usual delights of the hills, there are many villages, local temples, cultural aspects to explore in your free time. It is also the starting point for many major treks. The river Uhl is known for angling and also the British era funicular track that once connected it to Jogindernagar is worth a visit. Check this Barot Guide for more details.
Bir
Bir needs no introduction but it is more famous as the paragliding site in Billing top. Beyond that, it is a great valley which is very developed and easy to reach. Tibetan settlers have good homestays here and there are many monasteries etc to explore.
How to Reach?
Take a train from Delhi to Pathankot. From there find a bus to Palampur, then onto Bir.
Where to Stay?
Bir is full of affordable Homestays as well as backpacker hostels. It is a popular destination but it's a nice open valley and finding seclusion is not that hard. You can stay near tea gardens For something more exotic, try the luxury camp in a nearby village.
Other Activities?
Apart from paragliding, you can visit numerous monasteries and Buddhist institutions and even opt for meditation and related courses. The wide-open valley is good for cycling and the Palampur tea gardens are not far away from here. I think I never wrote in detail about Bir although I have a small post. I will correct it soon.
Sangla-Chitkul: The Baspa Valley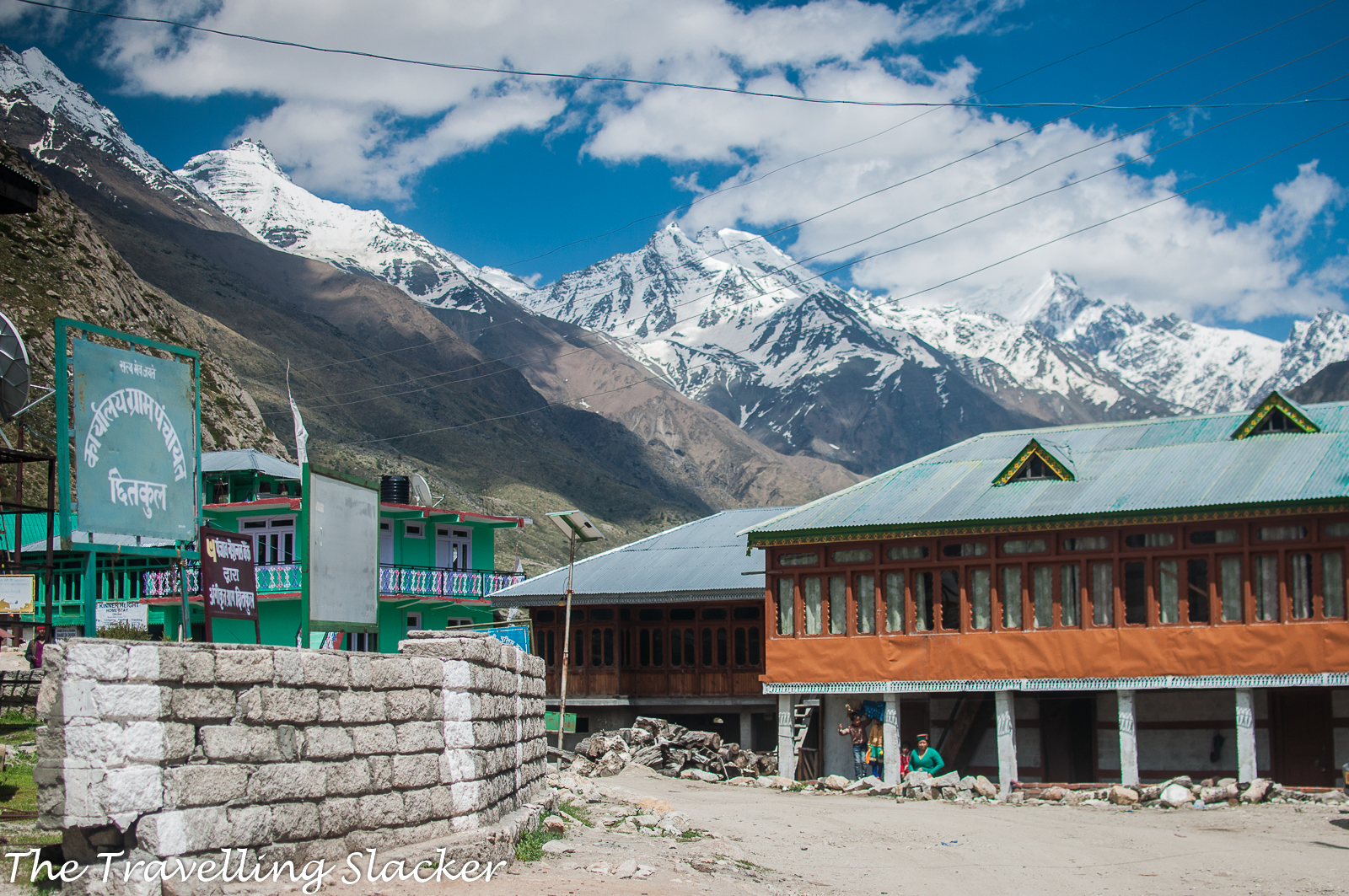 I was somewhat conflicted about Kinnaur because it is a bit too far. It may take two days for you to reach (or a very tiresome one day). Nevertheless, I think it is worth it. While the upper Kinnaur bordering Spiti remains offbeat, these lower areas are fairly developed with good internet connectivity.
How to Reach?
Take a bus or train to Shimla and then a bus towards Peo. Get down at Karcham for Connecting buses to Baspa Valley. It is a long journey and you may want to break it in between (My suggestion will be Narkanda or Rampur).
Where to Stay?
The entire valley is full of homestays. Sangla, Chitkul, and even villages in between such as Rakcham and Batseri have options to stay. You'll find backpacker hostels too nowadays. Also, the other major spot in Kinnaur i.e. Kalpa has many options.
Other Activities?
The natural beauty of the entire Baspa Valley and its apple orchards are famous. Many local hikes, ancient wooden temples and forts, rural visits are possible. Read these posts for details. There are good riverside luxury camp stays near Sangla, as well as in Chitkul.
Naggar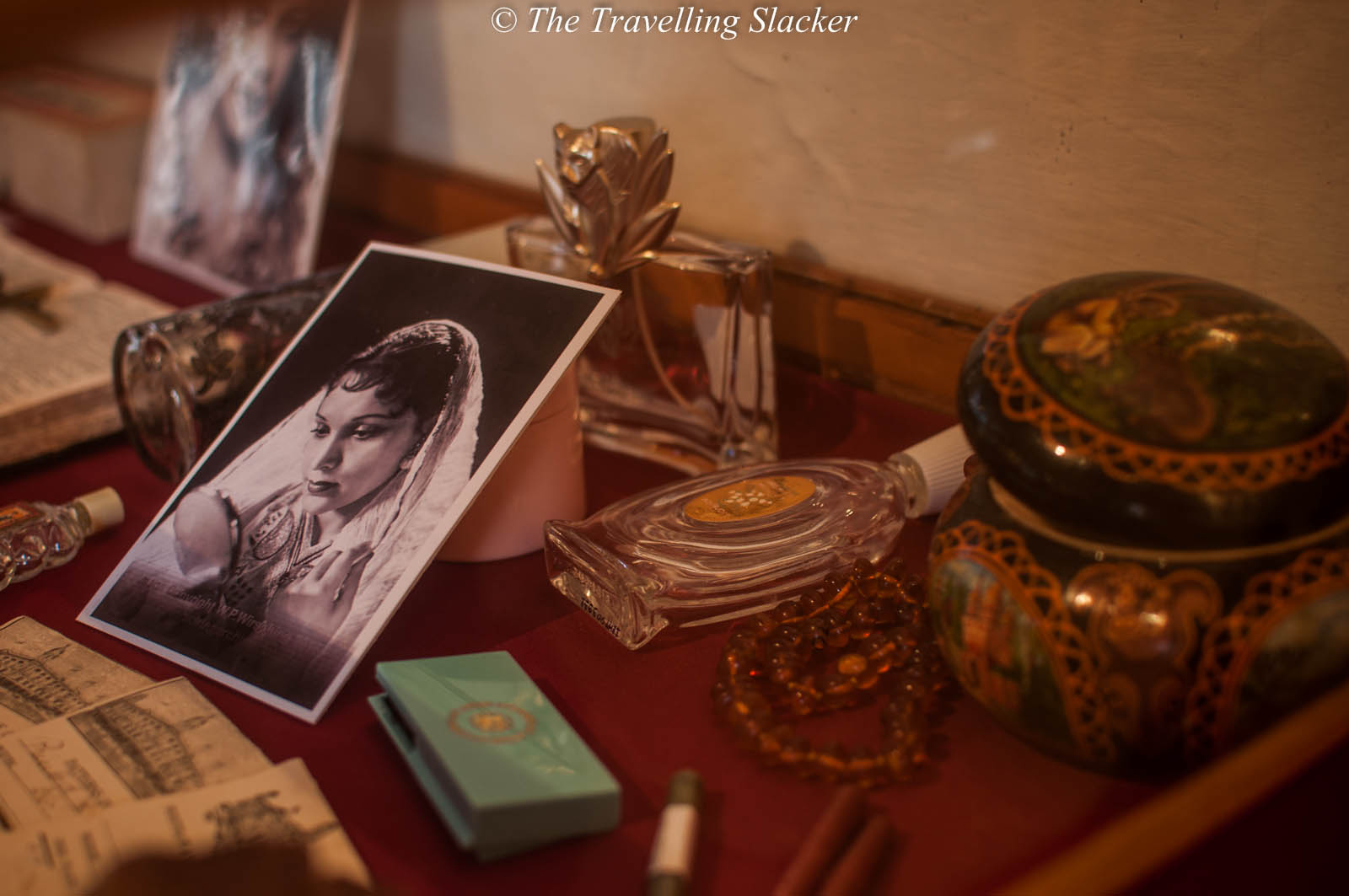 If you want to be near Manali without exactly being in a crowded town, the best option is Naggar, the abode of Roerich. There are many cool Homestays, eateries, and cafes here and of course, there is the Roerich Estate.
How to Reach?
It is around 20 KM from both Kullu and Manali, but through a parallel road and not the highway. You'll get buses from both places.
Where to Stay?
There are dozens of homestays here at various budgets. Some interesting cafes and restaurants too. My favourite place is Chandra Homestay which I do not see in most of the booking sites! Anyway, there are many options including places that offer both cheap dorms in Naggar as well as private rooms.
Other Activities?
The Roerich Estate dominates the town. You can see his original paintings and other stuff used by the family and 1930s film star Devika Rani, who married Svetoslav, the son. The other major structure is the Naggar Castle. There are many other things and you can so go to Ramsu and trek to Chanderkhani Pass.
Rewalsar
I did not want to add it to the list because it is a biggish town where you may not get the desolation you want. But it is still a nice place dominated by Buddhist diaspora. Apart from other hotels and homestays, several monasteries have their own guest houses where you can get your own room for INR 300-500. So, if you are spiritually inclined, this is not a bad place to spend a week or more. There are some good restaurants and cafes.
How to Reach?
Rewalsar is around 1 HR from Mandi town. You will easily find connecting buses.
Where to Stay?
Rewalsar has many budget hotels and homestays. I would recommend you try staying at one of the monasteries. They have affordable gueshouses.
Other Activities?
Enjoy the Buddhist town including its many monasteries, the gigantic Padmasambhava, and the lake. There are some ancient Hindu temples. There are some local hikes that you will find out when you talk to locals.
Kasar Devi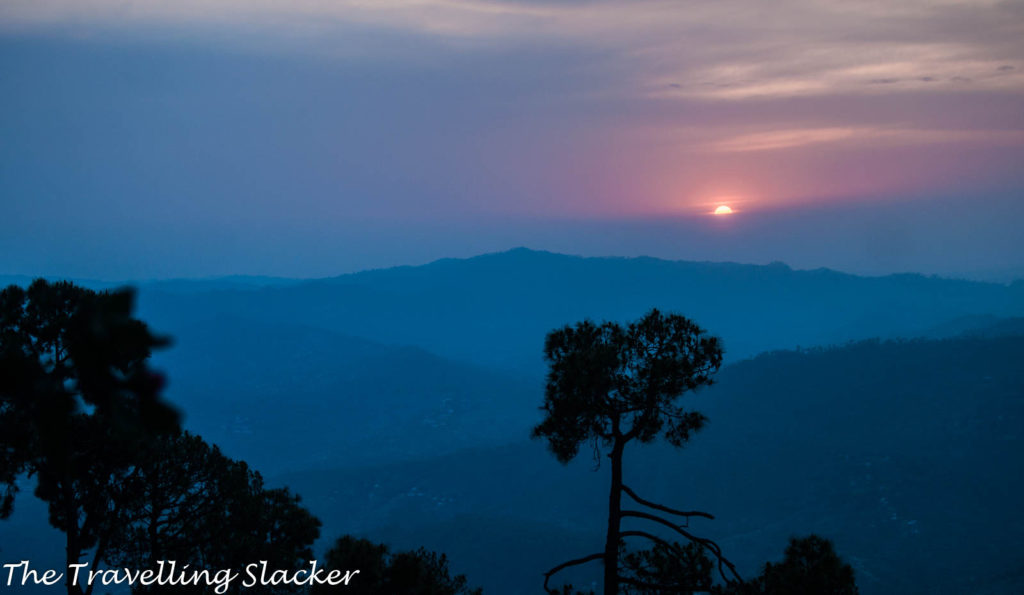 Kasar Devi is sort of an anomaly. It is located in Uttarakhand but has a distinct hippie vibe that is found in certain parts of Himachal. I find most popular hill stations in Uttarakhand to be suitable for family visitors rather than young backpackers but Kasar Devi developed as a secret Utopia. A lot of Westerners can be seen roaming around here, lot of affordable homestays exist and the local folklore and the views are enough to keep you occupied.  BTW, did you know that even Bob Dylan & George Harrison have been here?
How to Reach?
Take a train to Kathgodam, bus to Almora, and then a shared car to Kasar Devi.
Where to Stay?
There are scores of budget homestays in Kasar Devi and nearby villages while some luxury resorts have also come up. You can try some iconic heritage stay in Binsar or a good cottage in Kasar Devi village.
Other Activities?
Enjoy the views of pine forests and snowy peaks, discover the hippie history of the place, and take a short trip to Binsar Wildlife Sanctuary. There are many other attractions in this region. Read the Kasar Devi Guide for details.
Mukteshwar
This is one place on the list that I have not visited myself. However, I know enough about it and it is a very popular place in Kumaon with enough loyalists.It is a popular option in lower Kumaon and is near to many other interesting destinations.
How to Reach?
Take a train to Kathgodam and then find a shared car or bus.
Where to Stay?
There are many homestays and nowadays a backpacker hostel too where you can stay.
Other Activities?
It is a small Himalayan hamlet. Enjoy your nature walks, small hikes and usual delights. Other major destinations like Nainital, Bhimtal, Naukuchuiatal (Yes, all of them have lakes), etc are nearby, and so is Almora and assorted places. This area is good for birding too.