"The forests of Bussahir (Rampur Bushahr) and Kunowar (Kinnaur) are leased to the British Government for 50 years, from 1887, for Rs. 10000." – The Road from Shimla to Shipki in Chinese Tibet, Major HF Gordon Forbes (1893)
This is an interesting mention of Kinnaur in a colonial-era account. I have not seen too many dedicated accounts of this region from that era although it gets mentioned all the time. This is mainly because Kinnaur was always sort of a gateway to other exotic regions. Even now, it is the gateway to Spiti Valley while it also used to be connected to Tibet in the olden days although that route is closed now due to geopolitical tensions between India and China.
Nevertheless, I have always felt that Kinnaur is one of the most diverse and fascinating districts of Himachal Pradesh. Some of its destinations like Kalpa, Sangla, and Chitkul have become famous of late, but there is much more that can be done in this region. This is why I am writing this travel guide to Kinnaur covering all the areas including touristy as well as offbeat ones based on my understanding. Even I am yet to visit many of these places but they are firmly on my list. Anyone can use this guide but it will be most useful for Solo Travellers & Backpackers on a Budget.
This post only focuses on Kinnaur. I have a separate post on Spiti Valley Travel Guide if you need it.
Kinnaur Travel Guide for Solo Travellers & Budget Backpackers
Understanding Kinnaur
Kinnaur Route Map: Have a look at the map above and spare a few minutes on it before reading further.
Before going further, let me make it clear that while some people use the word "Kinnaur Valley", that is not entirely accurate. Kinnaur is a whole district and there are many smaller valleys within it such as Baspa (Sangla) Valley, Hangrang Valley, Ropa Valley, Bhaba Valley, etc. The river Sutlej flows from Tibet and enters Kinnaur near Shipki La, while a lot of smaller rivers join it along the way.
Kinnaur district is sandwiched between Spiti Valley in the north and Shimla District in the south. On the east, there is Tibet beyond the international border but you are not allowed cross that anyway. On the west, you have the core zone of the Great Himalayan National Park, the most inaccessible parts of Kullu District.
Lower Kinnaur is full of apple orchards, pine and cedar forests, and fertile slopes and they have a very well-developed tourism infrastructure. Places like Peo, Kalpa, Sarahan, Sangla, and Chitkul have been tourist favourites for decades and there is no dearth of hotels and homestays. On the other hand, the upper areas get progressively barren and deserted. Out of these upper ones, only Nako has good infrastructure for tourists while the rest of the places can be legitimately called "offbeat".
Have a look at the map to understand various parts of Kinnaur. The classical Hindustan Tibet Road goes from Shimla to Shipki La in Kinnaur-Tibert Border. For most parts you drive along the Sutlej River and then up north, at a point called Khab, the Spiti River merges into Sutlej, which enters from Tibet near Shipki La. Now, you are not allowed to go that way but instead the new road goes upwards to Spiti Valley. All major destinations are located either by the side of this road or short 20-30 KM diversions from the road.
Usual Kinnaur Travel Routes
Starting from Shimla, the primary travel route in Kinnaur is the following…
Shimla-Narkanda-Rampur-Jeori-Bhabanagar-Wangtu-Tapri-Karcham-Reckong Peo-Spello-Pooh-Nako (You can go further to Spiti Valley)
For Kalpa, you take a diversion is from Reckong Peo.
For Sangla & Chitkul, diversion from Karcham,
For Sarahan, diversion from Jeori.
For Kafnu, the diversion is from Wangtu.
How to Reach Kinnaur?
By Air
The nearest Airport is Shimla. From there, you will have to get a bus or hire a car.
By Train
The nearest major rail station is Kalka in the plains but you can also take the mountain railway (toy train) to Shimla and then again look for bus/cab.
By Road
You can take a bus, hire a car, or drive yourself. It is, of course, one of the most epic roads in India, the edgy and serpentine Hindustan Tibet Road (NH5) that runs along the Sutlej River through the length of Kinnaur and eventually goes on to Spiti.
Most major places in Kinnaur are well connected with HRTC buses. You may even get some buses going from Delhi to Sangla or Reckong Peo. There are regular buses from Chandigarh and of course, from Shimla. All the Spiti-bound buses also naturally end up at Reckong Peo. You can get buses to other places easily from Reckong Peo.
Read this post for a complete Kinnaur HRTC Bus Time Table.
Kinnaur HRTC Buses
As usual, HRTC buses connect most corners of Kinnaur and they are fairly regular. You can even get direct buses to Reckong Peo or Sangla from places like Delhi and Chandigarh, while there are regular buses from Shimla. However, let me tell you that the direct trip from Delhi will be a long and tedious one. I generally make a stop somewhere between Shimla and Rampur and go to Peo the next day. But then, not everyone has enough free time like me. Local buses to all the inner villages can be found at Reckong Peo bus stand.
Read this post on Kinnaur HRTC Bus Timings for more details.
Where to Stay in Kinnaur?
The top 4-5 touristy villages in Kinnaur have very good facilities for tourists nowadays including great accommodations and food. With increasing tourism, the prices have also shot up of late. On the other hand, the other areas have limited options but you can have some unique experiences if you venture into them.
Hotels & Resorts
Regular hotels, resorts and guesthouses in Kinnaur are mostly found in four areas, namely Sarahan, Reckong Peo-Kalpa, Sangla-Rakcham-Chitkul, and Nako. Most other places in Kinnaur have a limited number of basic stay options.
Homestays in Kinnaur
Homestays are the best way to experience Himachal and this is true for Kinnaur to. All the aforementioned areas have many homestays. Smaller villages may also have homestays, especially, those that fall on major trekking routes, such as Kafnu or Charang.
Backpacker Hostels & Dorms in Kinnaur
Backpacker hostels are new developments in India but they are great for solo backpackers on budget. As of now, I am aware of some hostel or dorm options in Sangla, Chitkul, Sarahan, and Kalpa. Chitkul has a hostel by one of the major hostel chains while some local homestays may offer dorms/shared rooms in Sangla and Kalpa (You need to ask around). Also, the fancy state-owned HPTDC Hotel in Sarahan actually has a big dorm where you can get a bed for INR 300-400.
Top Places to See in Kinnaur
Reckong Peo
Reckong Peo, generally only called "Peo" by locals, is the headquarter of Kinnaur. It is a bigger, newly developed town with a busy marketplace and a gompa. To be honest, this itself is not a tourist attraction but the gateway to other areas, especially Kalpa is nearby. The market is pretty big nowadays, with many budget hotels, shops and restaurants. You can take bus to some nearby villages such as Kothi and Pangi (Don't confuse it with Pangi Valley in Chamba). Especially the temple in Kothi is famous.
Kalpa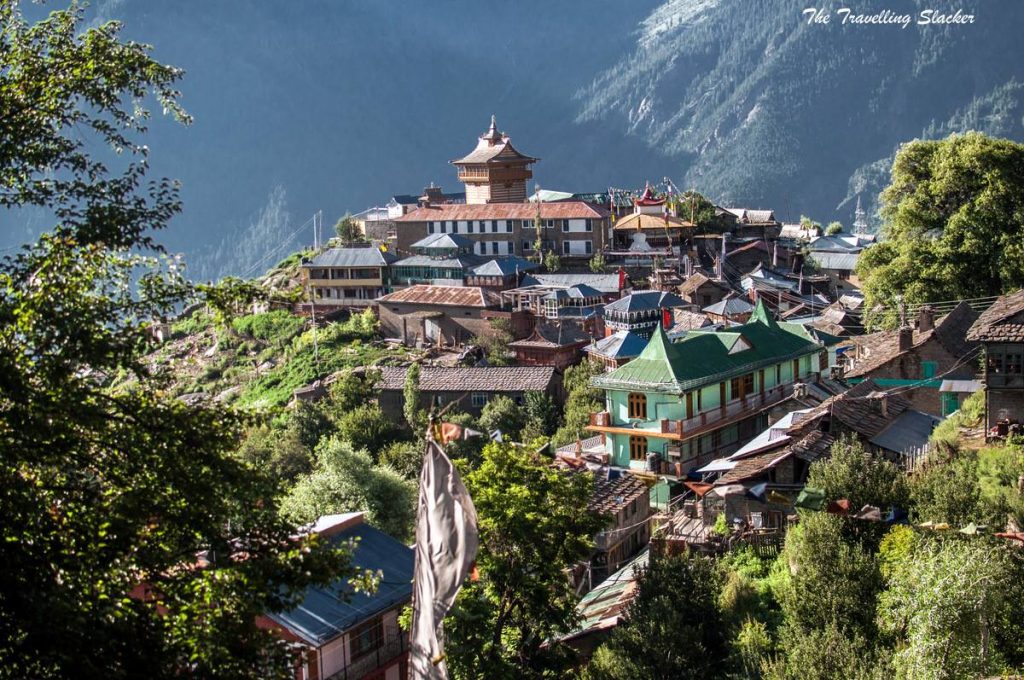 Tourists generally move higher up from Peo to Kalpa with a short bus ride. It is a small village located perfectly to have the best possible views of Kinner Kailash. It has a medieval monastery as well as a temple, but the primary attraction is the views on the horizon with all those peaks so near yet so far. Kalpa is full of hotels, resorts and homestays. From here you can hike the nearby village of Roghi, known for its photogenic cliff known as the "suicide point" by nihilistic tourists. You can also go for a hike from here to Chaka meadows.
Sangla
Sangla Valley, also called Baspa Valley after the river Baspa, is a small but beautiful valley in Kinnaur. It is a small detour from the Hindustan Tibet Highway and this road passes through Sangla town and ends at Chitkul, the last village on the border. It is a fertile valley full of apple orchards, and various other crops and fruits. Sangla and neighboring villages have many wooden temples. It is also not surprising to find Buddha imagery or a dharma chakra in these temples, which is a beautiful example of peaceful coexistence. Another noteworthy structure here is a medieval citadel called Kamru Fort, which is located on a hill overlooking the town. Sangla has many homestays for tourists.
Chitkul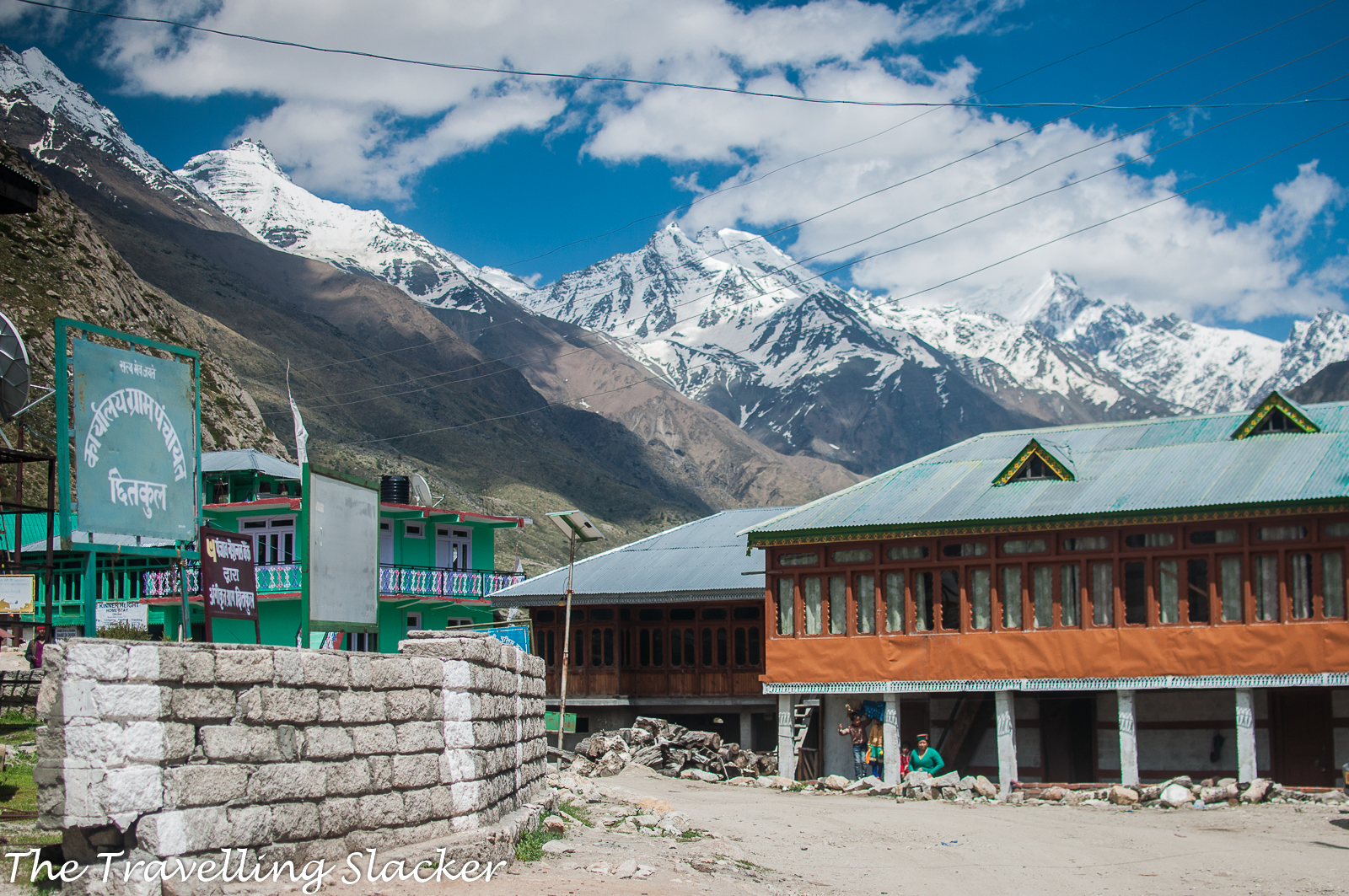 Another hour of drive from Sangla takes you to Chitkul, the last roadhead. The valley opens up here and one can just sit on the banks of Baspa and do nothing for several hours, simply enjoying the looming peaks, fertile pastures, and turquoise river. If you want, you can walk around the village and visit the intricately carved wooden temple. There are many homestays in Chitkul too.
Sarahan
At one point, Sarahan used to be the capital of Bushahr Kingdom for some time and many remnants of those glory days are still visible. It is known for the iconic Bhimakali Temple, which looms large over the small town. It is a small detour from the highway and the first major attraction in Kinnaur that you will reach from Shimla. It has scores of homestays, and also a big HPTDC hotel for tourists.
Nako
Nako is a small village on the border of Spiti, made famous by the beautiful lake around which the village is built. The landscape here looks more like Spiti and which is why most people mistake it to be Spiti but it is actually a part of Kinnaur. The Nako monastery is almost 1000 years old and it had many valuable relics and artifacts. However, most of it was lost in an earthquake although restoration attempts are currently on. Buddhist entities such as stupas, mani stones, and prayer flags can be seen all over the village and the nearby hills.
Top Offbeat Places in Kinnaur
Kafnu (Bhaba Valley)
Kafnu is the gateway to Pin Bhaba Pass. The road to Kafnu goes from Wangtu. The 4-5 day trek eventually takes you to Pin Valley in Spiti. (You can also do the trek from the other side, i.e. start from Pin and emerge at Kafnu. Kafnu has a couple of homestays and trekking guides can be found here too.
Ribba & Rispa
Ribba and Rispa are two nearby villages. Ribba is just half an hour ahead of Reckond Peo along the highway. These villages are known for pine nuts (chilgoza), vineyards, and of course, local grape wine (angoori). While so far it has been the best-kept secret of the region.
Moorang
Moorang is a big village by the side of the highway. There is a medieval mud and stone fort here which can be seen even from the road when you are passing through.
Lippa-Asrang
Lippa and Asrang are two villages that can be reached after a short diversion from the highway near Moorang. This area is actually a protected forest called Lippa Asrang Sanctuary, where Snow Leopards have been sighted apart from other things. Asrang may have a homestay but I can't vouch for it.
Charang
The diversion from Moorang on the east side will take you to several small villages, ending with Charang, which is the base of Kinnaur Kailash Parikrama Trek. There is also an ancient monastery called Rangrik Monastery, a short hike away from the village, that is worth a visit. You may find a homestay or two in Charang.
Yulla Kanda
Yulla Khas is a small village that you reach after a short diversion from Tapri on the highway. From here, you can trek to Yula Kanda, a high altitdue meadow with a small lake and a Krishna temple. Some call it the highest Krishna Temple in the world although I can't verify it. There may be a homestay in Yulla Khas but again, I am not fully sure about it.
Top Treks in Kinnaur
Kinner Kailash Parikrama
Kinner Kailash can be seen practically from every part of Kinnaur. However, to have a more intimate look, one must undertake the Kinner Kailash Paikrama, an epic, multi-day trek around the mountain and through many inner villages that cannot be reached by any vehicle. It is a serious trek that must be done with qualified guides but the views offered by this trek will be hard to forget.
Pin Bhaba Trek
This is another major multi-day trek that connects Bhaba Valley to Pin Valley. So, you can hike from Kafnu and reach Mud in Pin Valley (Spiti), or do it from the opposite side from Pin to Bhaba Valley. Here is a post on trekking around Bhaba Valley (Not my post).
Rupin Pass (via Sangla Kanda)
The complete Rupi Trek takes you from Sangla, even crosses the state boundaries and drops you somewhere in Uttarakhand. If you don't want teh whole trek, you can simply hike to Sangla Kanda, above Sangla town, for great views.
Lamkhaga Pass Trek
This is another major inter-state trek that starts from Chitkul and ends near Harshil (Gangotri) in Uttarakhand. As expected, it takes many days and some kind of experience and preparation is required to undertake this.
Yulla Kanda Trek
Yula Kanda is a trek from Yulla Khas village. As mentioned before, it is a high altitude meadow with a small lake and a Krishna temple. Some call it the highest Krishna Temple in the world although I can't verify it.
Rupi Bhaba Sanctuary Trek
It is a lesser-known jungle trek though the Rupi Bhaba Sanctuary. The trail starts from Chaura, as you leave the highway and enter the deep forests. You trek from forest huts and villages for 4-5 days to reach Katgaon, which is somewhere between Wangto and Kafnu. To be honest I have never met anyone who has done it.
Bashal Peak Trek
Bashal Peak is a trek from Sarahan. I once tried to do it while in Sarahan but none of the locals could tell me exactly how many KMs it is! Nevertheless, if you find a knowledgeable local, you should give it a try.
Chaka Meadows Trek
This is a short local trek from Kalpa. You trek for around 3-4 KMs to reach this lush meadow with open views of the major peaks of Kinnaur.
What to Buy in Kinnaur?
There are certain local products that you can look to buy in Kinnaur. The Kinnauri Shawl is the best-known product here and you can also buy the typical Kinnauri topis (caps). People also buy pine nuts (chilgoza) here along with other dry fruits. Also, in August September, you will be right in the middle of the apple season in lower Kinnaur. Also, the local Angoori (grape wine) in Ribba is a tantalizing prospect along with Chuli (Apricot wine). However, this is not mass-produced or commercially sold although there are plans to do so. So, you need to make friends with locals and find your way without being too pushy or irritating.
Kinnaur Road Conditions
When I first entered Kinnaur back in 2014, the roads used to be horrible. But that was because a lot of construction were going on and the buses used to leave the highway and take a lot of strange diversions through roads that were not even suitable for small cars! Nevertheless, those constructions are now complete and the roads are much better nowadays. If it is your first time, you will still get the adrenaline rush at certain points due to sheer nature of the route as the road will be narrow and on one side there will be the deep gorge. But still, I think the roads have become much easier in the last 2-3 years.
Phone and Internet Connectivity in Kinnaur
Phone and internet connectivity in lower Kinnaur has improved a lot of late. You should have no problems in Sarahan, Kalpa, or Sangla. However, the moment you leave Peo and start moving northwards, the signal begins to weaken. Especially after Pooh, it more or less disappears. BSNL may work for calls but nothing more than that around Nako.
ATMs in Kinnaur
The primary place to get cash in Kinnaur is Reckong Peo. It is a big marketplace with 8-10 ATMs belonging to different banks. Other major places like Sangla and Sarahan also have an ATM or two but they may not always be working.
Seasons in Kinnaur
Different seasons have different beauties in Kalpa but the most delightful time is the post-monsoon season in late August and September when the apples turn red and the fields get covered with the pink of ogla (a local millet) blossoms. The other preferable season will be late spring or early summer i.e. April-May, when all these fruit orchards will be blooming. Winter is harsh but you can try if you love snow and extreme weather. The rainy season is avoidable in lower Kinnaur but it generally remains dry in upper Kinnaur as it is the rain shadow zone adjacent to Spiti.
History & Culture of Kinnaur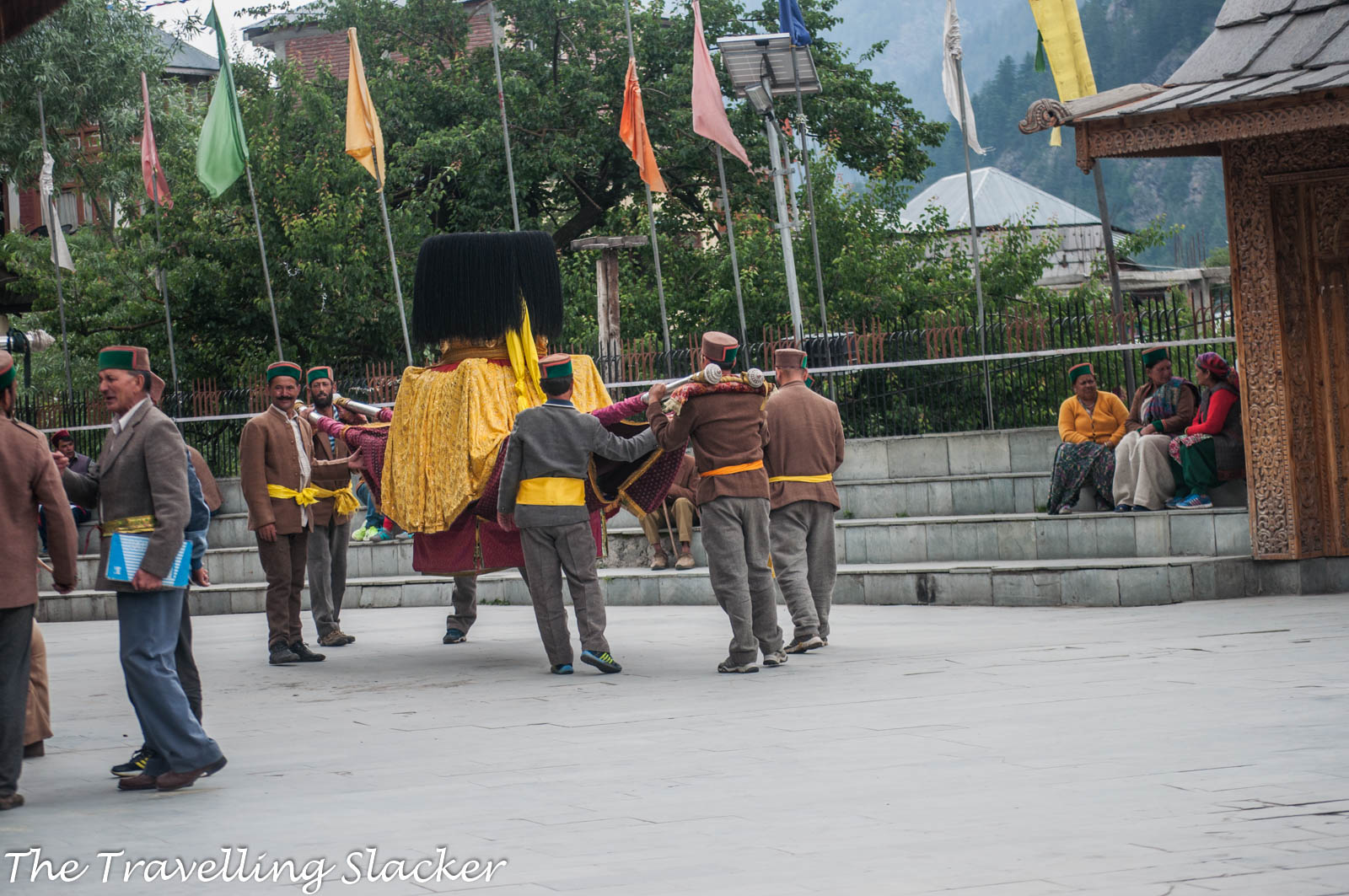 As is the case with most remote Himalayan regions, the early history of Kinnaur is not very clear although there is no doubt about the antiquity of these settlements. A lot of mythological connections are made with this region but then again, we all know that such connections can be made retroactively. Nevertheless, this region is located at the crossroads between Tibet and India and the border trading must have been vibrant during the Silk Route days. The current tension between India and China prevents it from doing the same nowadays but tourism has replaced cross-border trade as a lucrative economic activity.
The history is better documented in the late medieval times. For most of this period, Kinnaur was under Bushahr State, centered around Rampur Bushahr. Eventually the British gained control of the region as mentioned in the quote at the start.
What is most interesting here is the gradually changing nature of the geography and culture throughout the length of the district. The areas bordering Shimla and Kullu districts are lush green and they display a sort of composite culture, a mix of Hinduism and Buddhism in their traditions. For example, in some temples, you will find statues of local deities along with an image of Buddha. As you move higher up towards Spiti border, the landscape dries up. The people living in these areas are followers of Buddhism.
Due to this eclectic admixture, there are a lot of interesting rituals and festivals that one can see in Kinnaur. If you can time it right, try to attend some of them such as Phulaich (Flaich), Dakhraini, Sajo, Baisakhi (Beesh), etc. Do note that during a lot of festivities, animal sacrifices take place at the temples. If such things bother you, try to skip that part.
What and where to eat in Kinnaur?
In the main tourist areas of Kinnaur, you will always get good north Indian food. However, there are certain local stuff, such as the bread made of local buckwheat (ogla) flour, that may not be available in any restaurant and you will only get at homestays run by local people. Also, due to Tibetan influence, Thukpa, etc are readily available in most places. On the highway, generally, the buses stop at good spots. For example, I love the food at the roadside dhabas at Jeori, Spello, and the one at the entry of Nako.
Petrol Pumps (Gas Stations) in Kinnaur
There are petrol pumps near Tapri and Reckong Peo. Beyond that, you will find a petrol pump only in Kaza in Spiti. To be on the safer side, get enough of it even before you enter Kinnaur. You should get petrol pumps in Rampur.
Ideal Kinnaur Itinerary
Generally, I am not an itinerary person and I take my time to explore a place. I did make a two-week Kinnaur-Spiti itinerary on request that you can check. If you want only Kinnaur, then you can simply do the first few days and skip the Spiti part.
Budget for Kinnaur Trip
The budget in Kinnaur totally depends on your preferences. As mentioned above, the main places like Kalpa & Sangla Chitku have grown expensive of late but even there, you can find inexpensive options. For example, in Sangla I have stayed in a dorm for 200 Rs per day. No one else was present out there, so it was like having a nice room with 6 beds on my own for INR 200. Such places are generally not available for online booking. So, if you are willing to take the risk and look hard enough, you will find good options. Transportation is also generally inexpensive if you are relying on HRTC buses, which can reach most of the main villages.
Additional Resources
I have written many posts on various places of Kinnaur over the years. Feel free to read them for more information…