So… How exactly do I "do" Spiti?
A lot of people ask this even through the place has become a tourist hotspot now. So, I thought I will publish sort of a generic Spiti Itinerary (Including Kinnaur) for everyone along with some useful transport and accommodation tips. You can of course do much more than that, and even hike from village to village. This is a more general itinerary touching all the usual places people like to touch.
It is also a long, almost 2-week itinerary. You can drop a couple of detours to make it shorter if needed or add a couple of rest days if you find it too hectic and can afford to take your time. In any case, you don't go to Spiti all the time, so figure out a way to get a decent leave. Before beginning, lets have a look at a few assumptions that I am making.
Assumption 1
I am starting the trip from Mumbai because a friend from that city asked me to do it. But that hardly matters. Actual action starts from Delhi. You can get a flight to Delhi from any other city in India or even abroad too. Just arrive in Delhi and then start the trip.
Assumption 2
I am assuming that you are proceeding with a vehicle at your disposal, either your own, or a hired one. You can also do it on public transport, on HRTC buses. But that will take more time and some small detours may not be possible due to lack of buses on those routes. More about them at the end. If you are an adventurous soul, you can rent a bike and do it. Here is a post by people who did Spiti on Bike .
Assumption 3
You are entering via Shimla, and coming out via Manali. The reverse is also possible. However, Shimla route is preferred because you gain altitude gradually in this case, thus decreasing the possibilities of altitude sickness.
Also, if you are new to the areas, you should read my detailed guides before getting into the itinerary…
The 2-Week Spiti Valley Itinerary
Day 0: Mumbai to Delhi
Take any of the flights between Mumbai to New Delhi. There are scores of good hotels all over the capital city. Even if you are on a budget, don't go to those shady alleys of Paharganj but find a good backpacker hostel in South Delhi. Relax and prepare for your adventure.
Day 1: Delhi to Shimla
You can even take a Delhi to Shimla flight to save a day. But I suggest you enjoy the drive (340 KMs/ 8 Hrs). Initially you will pass through the plains of Punjab and Haryana but eventually as you enter Himachal, you will start enjoying it. At many points you will drive parallel to the iconic Kalka-Shimla Toy Train, which is a UNESCO Heritage Property. You will cross towns like Solan and eventually reach Shimla in the afternoon. Check into a hotel in Shimla. If you have time, take a walk around the heritage area of Shimla along The Ridge and Mall Road, and soak in some colonial charm.
Day 2: Shimla to Sarahan
You need to start early from Shimla to reach Sarahan (160 Kms/ 7-8 Hrs), the first major town in the district of Kinnaur. En-route, you will cross the likes of Narkanda, the apple country, and Rampur, the capital of erstwhile Bushahr Kingdom. The hilly roads will be challenging and your will be surprised by the slowness of your progress (if it is your first time). You can stay at the magnificent HPTDC property at Sarahan, or one of the many homestays amidst apple orchards.
Day 3: Sarahan to Sangla
Enjoy the views of Sarahan in the morning and visit the iconic Bhimakali Temple, who is the royal deity of the Kingdom of Bushahr (The previous Himachal CM Veerbhadra Singh was from this family). Later on, drive towards Sangla (85 Kms/ 3-4 Hrs). This will be the most challenging stretch of the road, due to some power projects that are perennially under construction. You will cross places like Tapri & Wangtu and eventually leave the highway and cross the bridge over Sutlej at Karchcham, to enter Baspa Valley. Once you reach the beautiful Sangla Town, get into a nice homestay facing the apple orchards (there are dozens of them). Enjoy Sangla in the afternoon. Visit temples, hike up to the Kamru Fort nearby for panoramic views of the valley.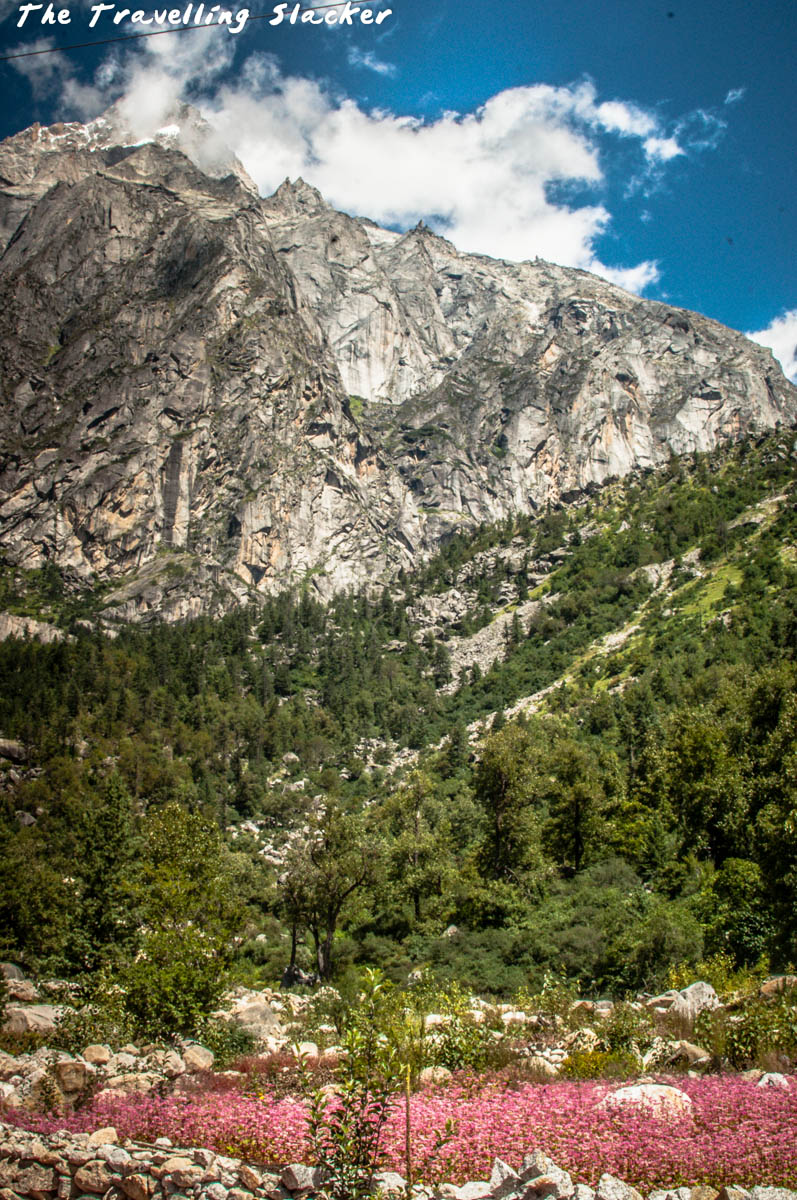 Day 4: Sangla-Chitkul
Today, stay in Sangla, and make a day trip to Chitkul (30 KMs/ 1 Hr), the last motorable village on the China border. Walk along the banks of crystal clear river Baspa, visit the village temple, and just enjoy the views. If you are visiting in August-September, the apples will be ripe all over the valley along Sangla-Rakcham-Chitkul road and fields will also be full of pink ogla blossoms (local crop). You can have lunch at one of the restaurants in Chitkul. It also has homestays and hostels now, but I suggest you return and stay in Sangla to save time for the next day.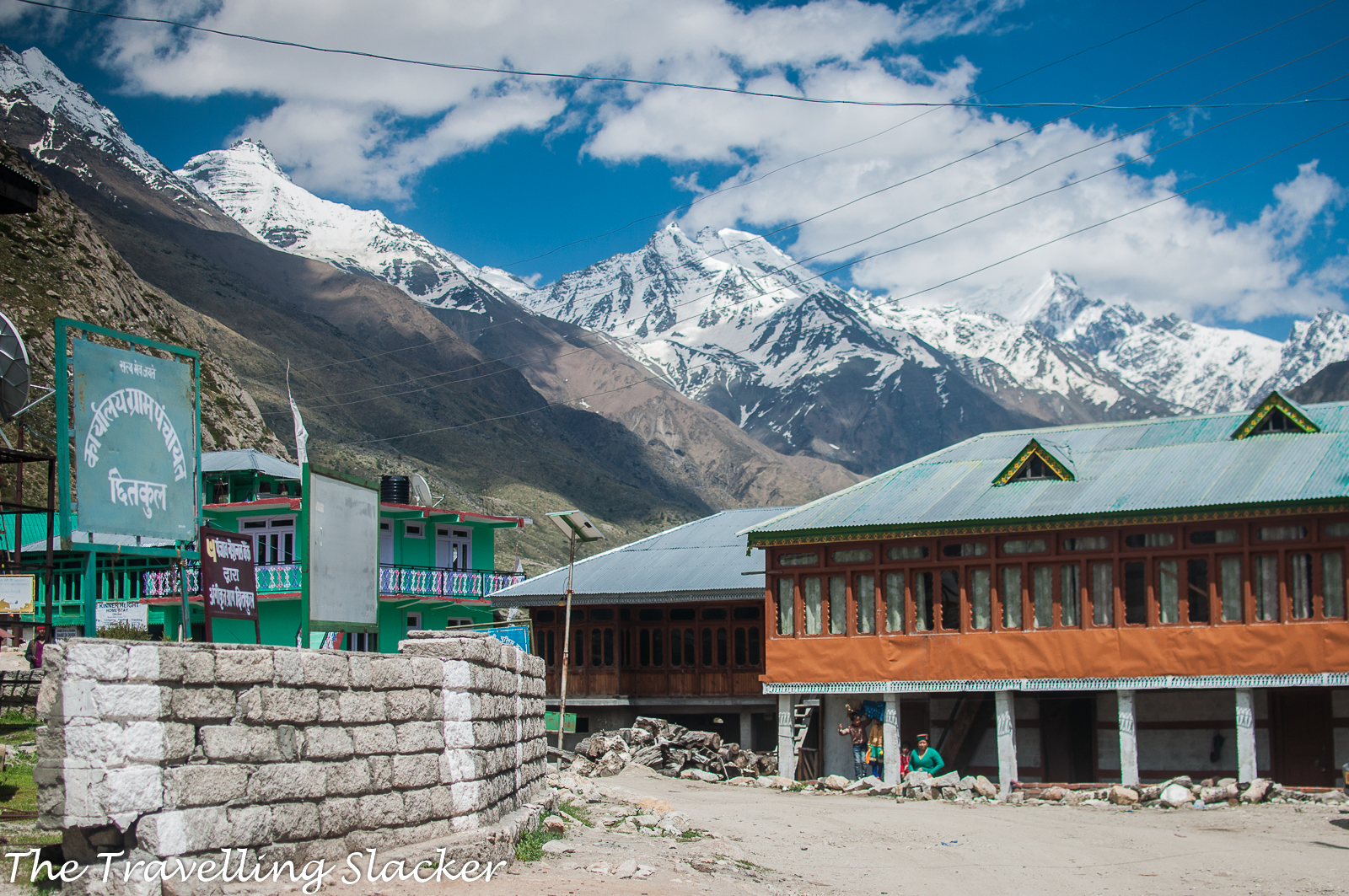 Day 5: Sangla to Kalpa
Drive from Sangla to Kalpa (40 KMs/ 2 HRs) via Reckong Peo. Visit the local temple and monasteries but the primary attraction here is the views of the Kinner Kailash. Take a short trip to nearby Roghi village to get a glimpse of Kinnauri rustic life and get yourself clicked on the edge of that famous cliff known as "Suicide Point". Stay at a hotel in Kalpa at night.
Day 6: Kalpa to Tabo via Nako & Gue
Finally, it is the day to enter the cold deserts of Spiti (150 KMs/ 6/7 Hrs). It will be a long drive again, so start early. The landscape will change drastically as you move northwards as the greenery will disappear and epic barrenness will engulf everything except the slender river on the right side of the road. After 4-5 Hours, you will reach Nako village on the border of Spiti, famous for its monastery and the lake, which is like an oasis in the middle of that cold desert. There are many hotels and restaurants here. Have a good lunch and move on. After a while, you will officially enter Spiti. If you have time, take a small detour after the checkpoint of Sumdo to the Gue Monastery. It is known for the 500 year old mummified remains of a Lama. After than, return back to the highway, and reach Tabo after another hour of drive. You can stay at the guest house of Tabo Monastery, or one of the many homestays.
Day 7: Tabo to Mud (Pin Valley) via Dhankar
Get up early in the morning and hike up to one of the caves above Tabo. These were used by monks to meditate. Later on, come down and visit the 1000 year old frescoes of Tabo Monastery, which have made it famous as the Ajanta of the Himalayas. After breakfast, drive (30 KMs/1 Hour) to reach Dhankar Village and visit the 1000 year old monastery precariously dangling on the edge of a cliff. The village is located a bit higher up from the highway, and so it gives excellent views of the Spiti river and valley. After than, drive back to the main road and then take another detour towards Mud, the main village in Pin Valley (50 KMs/ 2.5 Hrs), where you will find a homestay and rest for the day.
Day 8: Mud to Kaza
Enjoy the ethereal views of the purple mountains of Pin Valley National Park. Hike around the hills near Mud. If you are lucky, you may even spot some rare wildlife. In the afternoon, drive back to the highway and then reach Kaza (50 KMs/3 Hrs) in the afternoon, and settle down in a homestay. Explore the local market, buy some local souvenirs such as seabuckthron jam and tea.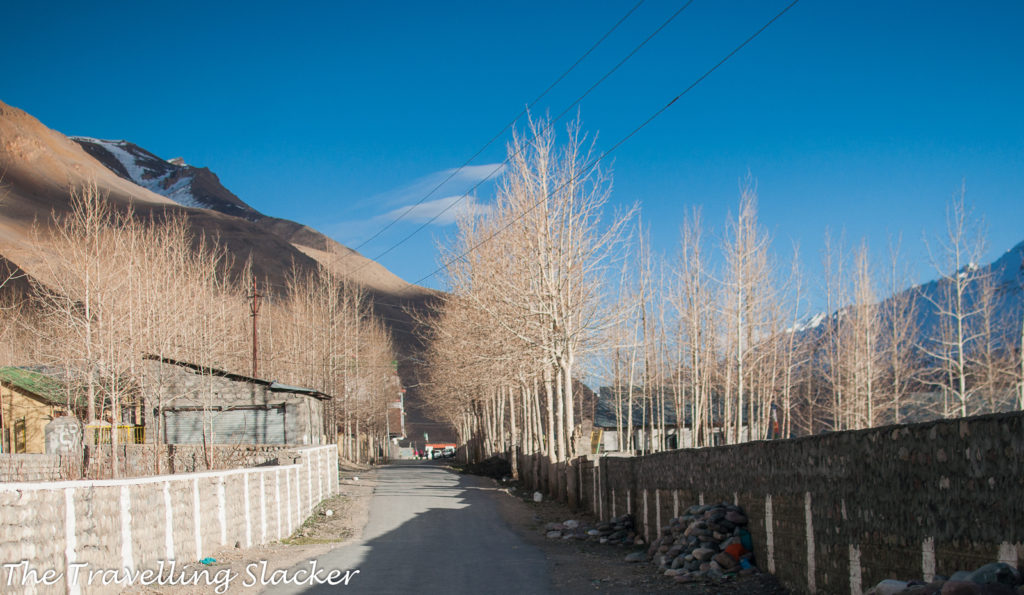 Day 9: Kaza to Kee, Kibber, & Chicham
Start from Kaza towards the 1000 year old Key Monastery (7 Kms/ 15 mins). Talk to the comps, and have a cup of herbal tea, if they offer. The tea eases altitude sickness, in case you are feeling it. After that, drive to Kibber Village (12 Kms/ 20 mins) and explore it. You can walk around the village, visit local monastery and shrines, and talk to the locals. It has many homestays and you can stay in one of them. In the afternoon, drive a bit further to Chicham Bridge, which is the Highest Motorable Bridge in Asia. The area beyond the village is Kibber Wildlife Sanctuary. If you have the stamina, you can hike around the area, and spot wildlife. Return to your homestay in the evening and enjoy some local food.
Day 10: Langza, Hikkim, Komic
Drive back from Kibber, and take another route, which will take you to three major villages, namely Langza (Famous for the giant Mahabodhi Statue seen in the featured image), Komic (Known as Asia's Highest Motorable Village), and Hikkim (Famous for having World's Highest Post Office, from where you can also send a postcard to your friends and family). Kibber to Komic will be around 35 Kms (1 Hr). Take your time and enjoy these experiences. You can stay at a homestay in Komic, unless the extreme altitude is making it difficult (In which case, come down to Kaza and stay there).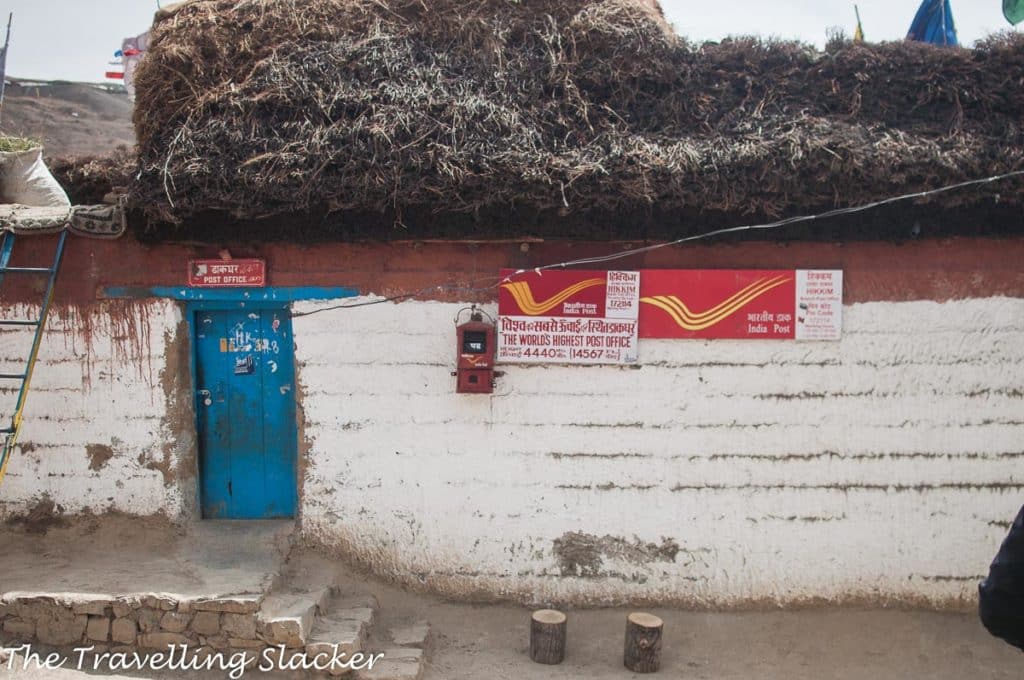 Day 11: Chandertal Camping
Drive from Kaza to Chandertal (The Moon Lake) via Kunzum Pas and Batal (100 KMs/ 5-6 Hrs). This will be one of the most challenging stretches for driving as the road will be hostile. Once you reach, you will be able to stay in one of the campsites near the lake. Enjoy the surreal views of the bluish green lake, which is the origin of the Chandra river. Sleep at the tents at night. It can get really cold, so be prepared for it.
Day 12: Drive to Manali
Wake up early and enjoy morning views of the lake. Drive to Manali via Rohtang Pass (120 KMs/ 7-8 hrs). The stretch till Rohtang Pass will again be very challenging and progress will be slow. But this will also be the adventure of a lifetime. Once you cross Rohtang, you will soon reach Manali and your phone and internet will start working after many days. Get a hotel in Old Manali, relax and have some good food.
Day 13 Leave for Delhi & Beyond
Drive to Bhunter Airport(50 KMs/1.5 hrs) and take a flight to Delhi. You can also drive the whole way back to Delhi or find an overnight bus.
Additional Tips for Buses
If you are relying on buses, keep the following things on mind…
Buses are available along the highway for the whole route from Shimla to Kaza to Manali.
There are also some local buses connecting Kaza to various smaller villages in Spiti.
You also have shared cars connecting Kaza to Manali and Peo.
However, some villages may not have direct connectivity. In that case, you may have to rely on hitchhiking, or end up walking/hiking through the cold desert.
Generally buses from Kaza to local villages leave in the afternoon, and come back in the next morning. So, plan accordingly.
You can of course hire private cars from Kaza for local sightseeing… but that costs extra.
Additional Reads
For more details about local transport, bus fares, and accommodation in Spiti, do read my Kaza Post.
For more extensive details about Baspa valley, read my Sangla-Chitkul guide.
If you want to spenbd time in Nako, read my Nako Guide.
If you want to explore Dhankar, read my Dhankar Post.