After Stakna, the next obvious stop was throne that was visited on the horizon, i.e. Thikse monastery. It is a structure so massive that it is hard not to notice it. It looks something made for the giants. Even when you reach Leh via Manali for the first-time, you will see it on the right side of the road before reaching the city and let me assure you that you won't see anything bigger during your stay.
So, as we reached Thiksey and parked the bike, it looked even bigger… Almost like a company made out of a heap of smaller gompas.it was around 2 pm and we had had along day under the blazing sun. As it turned out, it was a last sunny day for the trip for me during that late autumn trip. But I don't know it at that point was praying for clouds. The enormity of the company basically meant that we were going to climb a lot of stairs. In fact, Thiksey is a made covering the surface of a hill. The most prominent parts are at the top and it is sort of a mini hike of 15-20 mins.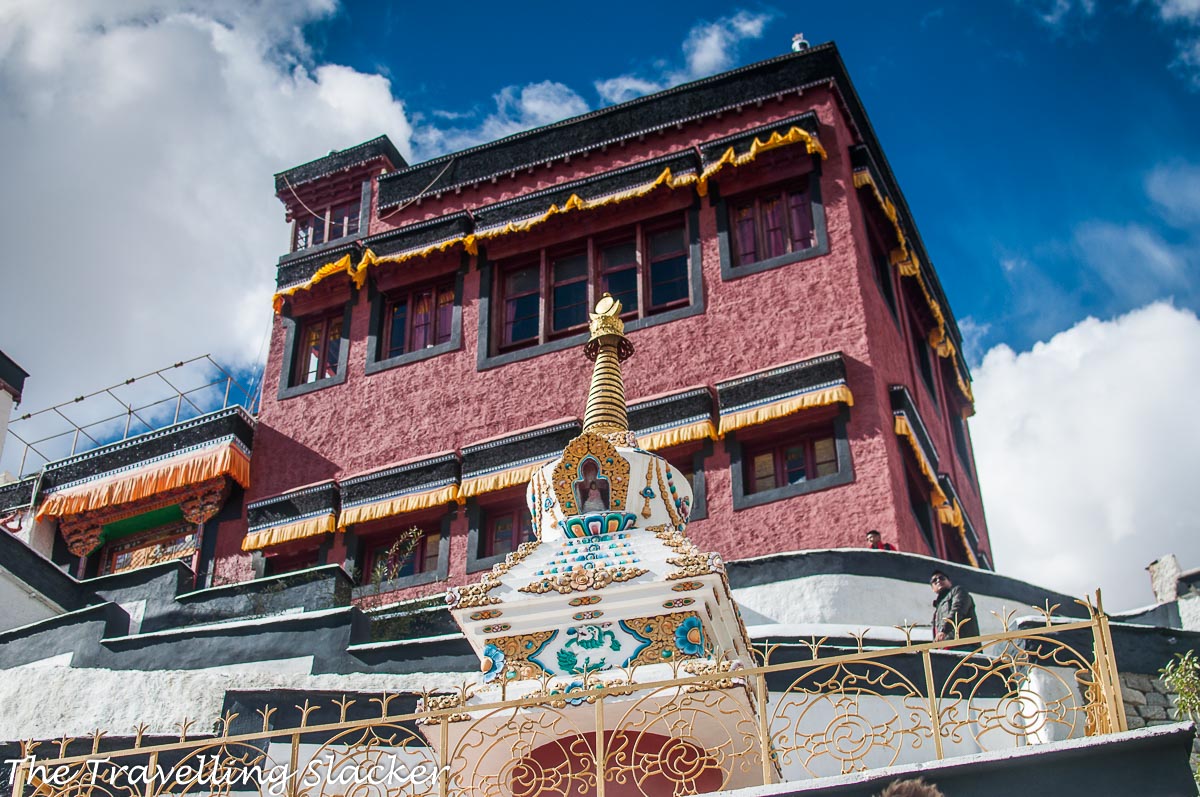 The original gompa dates back to the 15th century and traces back the story to Je Tsongkhapa, the founder of Gelugpa (Yellow Hat) Sect himself. It is said that the design of Thiksey was heavily inspired by that of Potala Palace Lhasa. The hillock, on which the gompa is located, was covered with a long mani wall and lower houses probably cosisted of the nunnery and living quaretrs of the monks. Since I will never be able to afford a Tibet trip, I think this is as close as I can get!
We hiked gradually to reach the top. There were multiple temples out there. While the history of thiksey goes back to 15th century, these buildings are mostly modern ones. The courtyward at the top was also well-maintained and every square-inch of the walls were covered with mythologicla scenes. However, inside some of the rooms, I did see darker alleys and ancient, decaying frescoes. Just like most other monasteries in Ladakh, it is well-maintained and regularly renovated, which also means that the ambiance of antiquity is sometimes lost.
There is a big assmebly hall with the usual statues and Buddhist iconography. But the most prominent structure here is the 15 metres (49 ft) high statue of Maitreya (Future Buddha), which, unlike some other such statues, it does not dominate the skyline but is located inside. It is so huge that it covers two floors of the building. You get to see the Buddha's fee in the ground flor and the face on the first floor!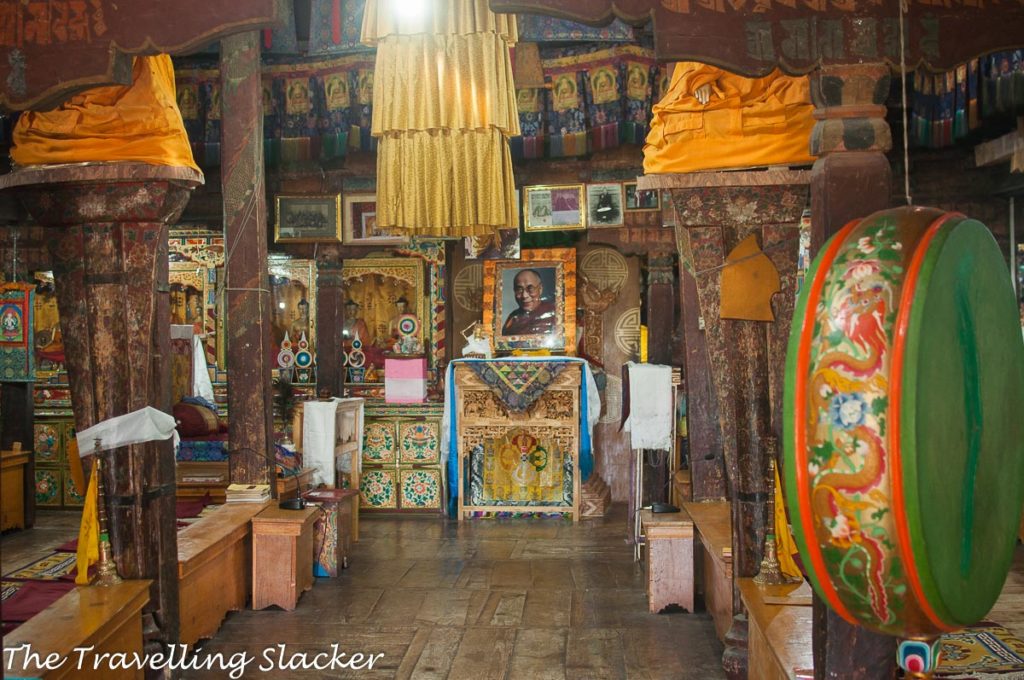 The other part of Thiksey that stayed with me is the Tara Temple. It is just a small room dedicated to Goddess Tara. There are 21 idols placed in glass-covered shelves, depicting different dimesnions of the goddess. Tara is an intriguing character, and is also confusing for layman like me. SHe isconsidered a female Bodhisattva or even a female Buddha in some cases. She has several manifestations such as Green Tara & White Tara.
It took a couple of hours to cover the whole monastery and by that time, we were really tired after covering Hemis, Stakna, & Thikse on the same day, apart from some extra autumnal detour. So much so that, we had to give up on Shey on our way back. Nevertheless, I did manage to hitch a ride with another biker after a few days and visited a few more moansteries but that part will require a different post.