I'd been stuck in my hostel in Leh for 4-5 days. Just after my return from Turtuk, the weather had deteriorated sharply. The sun was refusing to come out, it was bitterly cold with ocassional drizzle, and powercuts were also becoming alarmingly frequent. During that period, I barely managed to walk around the Leh Old Town and the bazaar a few times. The only good thing to have come out of that period was the people I met at the hostel. Finally, on the fifth day, when the wether finally cleared, Leonardo, one of the Italian guys in the hostel I'd befriended, suggested that I also join him in the bike ride for local sightseeing and I grabbed this opportunity immediately.
I had already explained a part of this ride in a previous post about autumn colours in Ladakh. So, just to reiterate, although the trip overall had many setbacks, the autumn lived up to expectation, at least for me. That day, we managed to visit several monasteries, starting with Hemis Monastery, a short detour from the Leh Manali Highway. I will make seperate posts about the others but today it will be all about Hemis.
Hemis is one of the largest and best known monasteries in the region famous for various reasons and I already knew about it. However, I was not prepared for the sheer autumnal frames, those white stupas against flaming yellow of the poplar and willow groves, took me aback even before we reached the main monastery. In fact, the entire route was washed in yellow and it was a nice, sunny day. The teal coloured Indus was doing its part even as we reached Karu, a small settlement on the highway, and took the detour to Hemis after crossing a bridge on the river.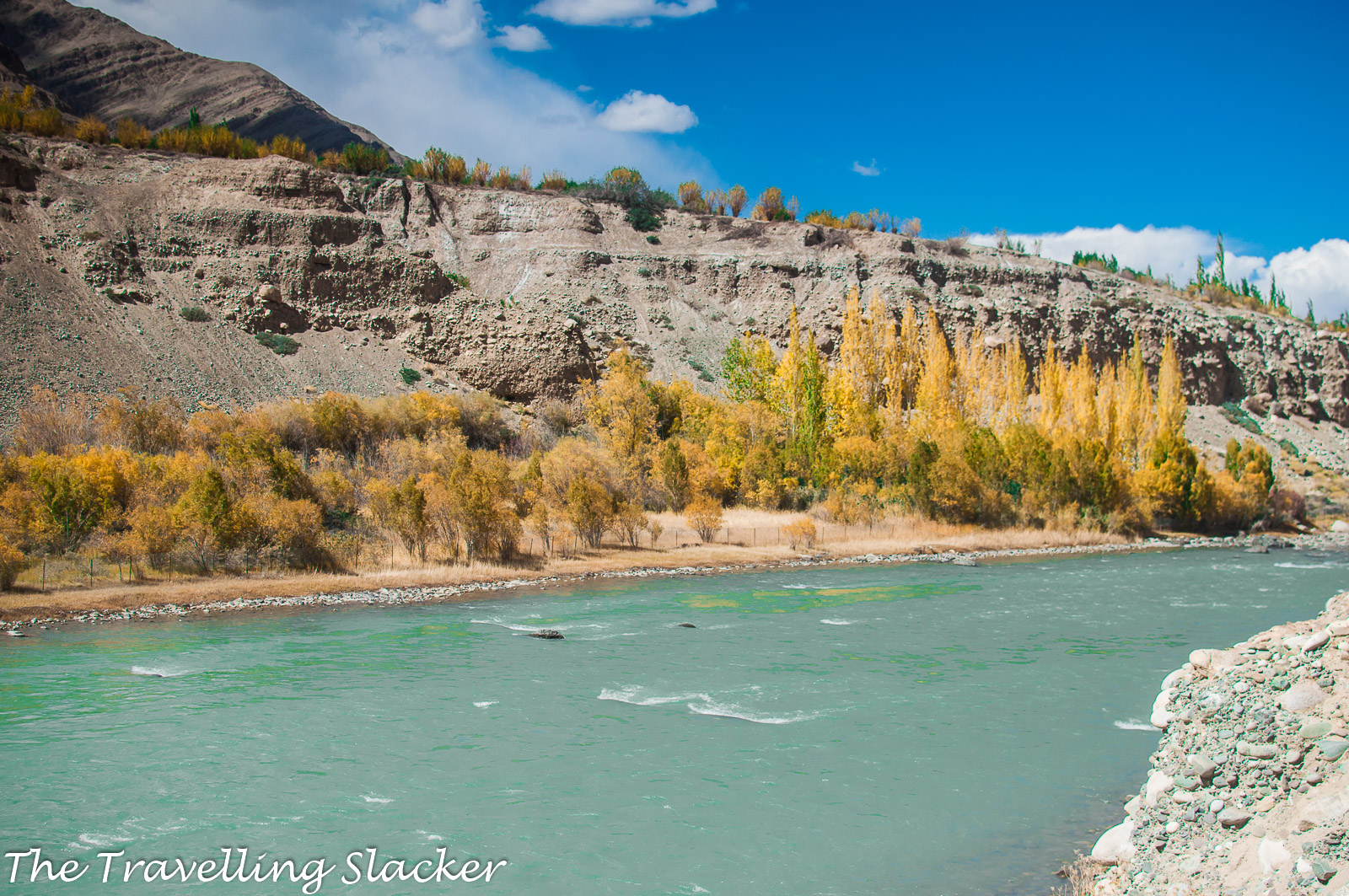 It is still around 5-6 Kms from the bridge. Initially a we got a flat patch with an welcome gate and also a newly built stupa. After than, after a couple of turns, we started seeing typical Ladakhi houses on the hillock ahead of us and knew that the monastery was neary. It still took another five minutes before we took the final turn and suddenly a massive complex, so far hidden due to the sheer topography, revealed itself. We parked the bike, quickly bought tickets, and proceeded towards the moanstery.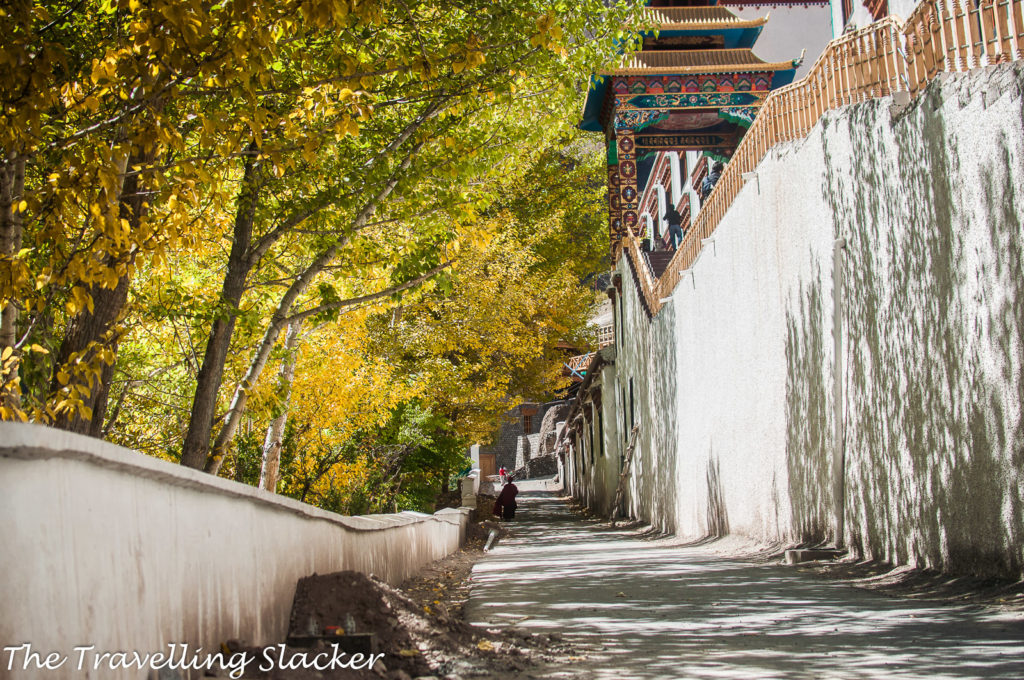 The Abode of Naropa
We climbed a flight of stairs and quickly found a pretty arched gateway followed by a colourful door. As we entered, the vastness of the courtyard of Hemis Monastery became apparent. The most important Buddhist personality associated with Hemis is Naropa, who is associated with many legends. Nowadays, they even organize a festival called Naropa Festival every September. In fact, this festival was on full swing when I'd arrived in Leh but it seemed a bit too populist, with many Bollywood personalities participating in cultural program. So, I skipped the festival and finally visited it a couple of weeks after the event.
Hemis Monastery dates back to the 11th century at the very least and may be much older as per some accounts. However, the current building was built in 1672 AD by the Ladakhi king Sengge Namgyal. Of course the building has been renovated of late and modern amenties have been introduced, but there is no doubt about the antiquity of the original structure. In fact, even before coming here, I had seen a painting of Hemis by Russian artist and traveller Vasily Vereshchagin. As I explored the gompa, the colours and other details looked almost identical to that painting. So, I think even though renovations have been done, they have been faithful to the original design.
One part of the courtyard has been turned into a musuem. It was actually pretty large museum with multiple floors. I was not even expecting such a big museum, so far away from the city. A lot of artifacts, paintings, staues, and other documents can be found here. We spent almost an hour here and then moved towards the main building, which seemed to have multiple prayer halls, and multiple floors too. Apart from the main prayer hall with a large Buddha statue, we also found a gigantic statue of Guru Padmasambhava (Rinpoche) in one of the rooms.
Eventualy we climbed up and reached the terrace, which offered great views of the surroundings as well as the courtyeard. We could even see the huge the stupa we left behind earlier, at a much lower altitude.
The Unlikely Jesus Connection of Hemis
As I walked around Hemis, it reminded me of another story related to the lost years of Jesus. Many years ago, during my hopeless college days when I used to read obscure and fantastical stories to escape reality, I noticed a book by someone called Swami Abhedananda in a local library. He turned out to be a disciple of Sri Ramakrishna and his book was about his travels in the Himalayas. Back then, I could only dream of travelling and had never been to the Himalayas myself. So, I got the book and finished it. Among other things, the book also had the mention of Jesus's India connection.
Yes, that's right! Of course, the mainstream scholars disproved it and in any case it sounds too far fetched but there is a popular genre of urban legends that state that after crucifixion, Jesus survived and travelled eastwards. Majority of these accounts place him in Kashmir ad Ladakh during those mystery years and many of those who claim so, mention that they found some ancient document preserved in… Yes that's right… Hemis!
Another Russian (not the painter), Nicolas Notovich also came up with this conspiracy theory. While most other people mentioned in this regard are not very well-known, I also found Nicholas Roerich mentioned in this context in some website. Nevertheless, the text, if there was any, is said to have been lost and as of now you will not find anything related to this topic in Hemis. But still… Who doesn't like a good conspiracy theory?
More Autumn Delights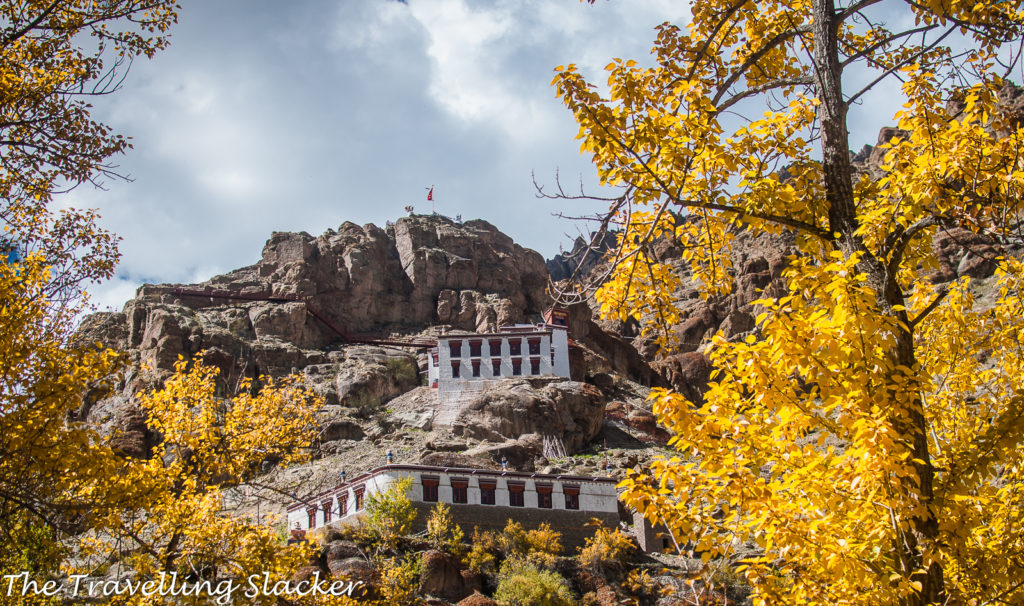 After exploring the monastery, we returned to the delights of the autumn. There are many smaller structures, including houses and stiupas built all over the mountain. Most of them were white in colour, contrasting with the bright autumn foliage.
Finally, we also noticed a gigantic Buddha statue at a distance. It seemed a new installation atop a nearby hillock. After a while, we found the route and after a small 10 mns hike, reached the Golden Buddha. Now, there are many such statues nowadays in Ladakh and for that matter, most other Tibetan Buddhist areas of India. But this one is located atop a seperate hillock, which also offers good views of the rest of the area.
After this point, I was completely satisfied with the frames I managed and there was nothing more to be done. So, we moved on towards the next destination, which will be described in the next post.
Guide to visiting Hemis Monastery
How to Reach Hemis Monastery?
The road to Hemis takes a detour from the Leh Manali Highway at Karu, which is around 35 KMs from Leh. Karu is a small settlement with a few shops and restaurants. Here, you need to cross a bridge over the Indus and drive westwards for another 5-6 KMs to reach Hemis, which is located on a small valley on the foothill of the Stok Range.
Festivals in Hemis
Two festivals have gained promince in Hemis of late. One of the eponymous Hemis Festival in the honour Padmasambhava, which takes place in July and is marked by cultural performances such as Mask Dance. The other is Naropa Festival in September, which is more geared towards tourism and even Bollywood celebrities are invited to perform.
Entry Fees at Hemis
You need to pay INR 50 per head for entering Hemis. No extra charges of camera.
Timing at Hemis
Generally Hemis is open between 8 AM to 6 PM for visitors, with a lunch break between 1 PM to 2 PM.
Accomodation near Hemis
As far as I know, there is a basic guesthouse at the monastery although most people just visit it as a day trip from Leh.