As it usually happens, I was being chased by inclement weather. It was gloomy in Bomdila and Dirang and as we started the drive towards Tawang on that January morning, it seemed to get worse. Visibility dropped almost to zero as we gained altitude and neared the top of Sela Pass, which is as high as 4170 meters, putting in somewhere between Rohtang and Sach Pass in terms of altitude.  I was beginning to feel that other bloggers with me Parnashree, Sandeepa & Abhinav, along with Sange of Holiday Scout, who was hosting us throughout this trip, are facing this because I have a strong affinity to Murphy. However, as the car took the final turn, we saw a literal ray of hope piercing through the gloomy sky. Everything was not lost!
Atop the Sela Pass
Before I go further, let me just make it clear that I am fully aware of the inherently redundant nature of the term "Sela Pass"  & only Se La is more appropriate. I know that "La" means Pass and I have crossed enough of "La"s over the years. Nevertheless, the term "Sela Pass" is widely used and so I am using it too in order to avoid confusion (& kill the SEO).
Coming back to the point, the weather seemed to be clear atop Se La, at least for that moment. I knew it was not going to last long. So, I started clicking with a vengeance. Even before becoming a major motorable pass connecting Tawang to the rest of the world, Se La used to be an important spot for the local Buddhist population. Apparently many major gurus meditated here in the past and some still do (We met one in Bomdila who had meditated atop Se La for several years before opening his monastery… there will be a separate post on him). There was one peak that looked like floating above the clouds and I started to walk towards it, through a small diversion from the highway.
Frozen Sela Lake
Walking towards that floating peak, I soon reached a vantage point from where I could see the entire Sela Lake. The lake would have been visible anyway from the road after crossing Se La but this point offered a different perspective. Apparently, this area has 101 high altitude lakes sacred to the Buddhists. The one that everyone can see is Sela Lake, located by the side of the road. If you are willing to explore and have the time, you can hike around the area with a local guide. This area is also good for birding apparently for certain species. However, winter is too cold and hostile for any of that. I think you can consider such activities in the spring, summer, and post-monsoon.
The Rum Break
There are some shacks selling food atop the pass and all I was expecting was tea. However, Abhinab, who was videographing the trip, said that we get rum in this place too and he turned out to be right. So, everyone decided to have rum & noodles sitting around the fireplace inside the shack, except for those who were driving.
Jaswantgarh War Memorial
I am sure most people who know about Tawang are already aware of the war memorial at Jaswantgarh. This is located on the way, around 21 KMs after Se La and it was almost dark by the time we reached there. It is a war memorial which has been turned into a museum. This is where Jaswant Singh Rawat and his colleagues laid down their lives during the Indo-China war of 1962. However, it seemed that there are multiple versions of this story. The version by the military is a bit more realistic while the local legends are more fantastical. Nevertheless, there is no doubt that Rawat and a lot of other men laid down their lives here. One of the stories also mentions a local woman who supplied rations to them and committed suicide after the death of Rawat. Now, the place has become almost a shrine and it is believed that Jaswant Singh Rawat still visits his post.
Nuranang Falls
Now, the aforementioned story is extended to this waterfall called Nuranag Falls. As per one version, this is named after the same Monpa girl who helped aforementioned Jaswant Singh Rawat. However, this isn't verifiable and it is hard to imagine that a waterfall this big never had a name before '62. Anyway, it is located near a town called Jang, around 20 more KMs after Jaswantgarh and around 40 KMs before reaching Tawang. It was too late for us that day and so we stopped there during the return. This fall is famous because if you time it right (and if the weather holds), you get to see the rainbow formed over the fall at around 3 PM. We got there much earlier and so never saw the rainbow. It has been a popular site for shooting cheesy romantic songs in Assamese films. In this video below you can see the rainbow (watch after 2.50 mins).
Return at a Snail's Pace
We spent a couple of days in Tawang (more about that later) and the weather remained hostile. There were reports of more snowfall on the pass and our return turned out to be much tougher. There was no sun, it was snowing intermittently, visibility was extremely low and even those Rum shops were closed. The entire road was very slippery and we had to drive at 10 KM/Hr or even slower.  However, that did not stop us from taking photography breaks.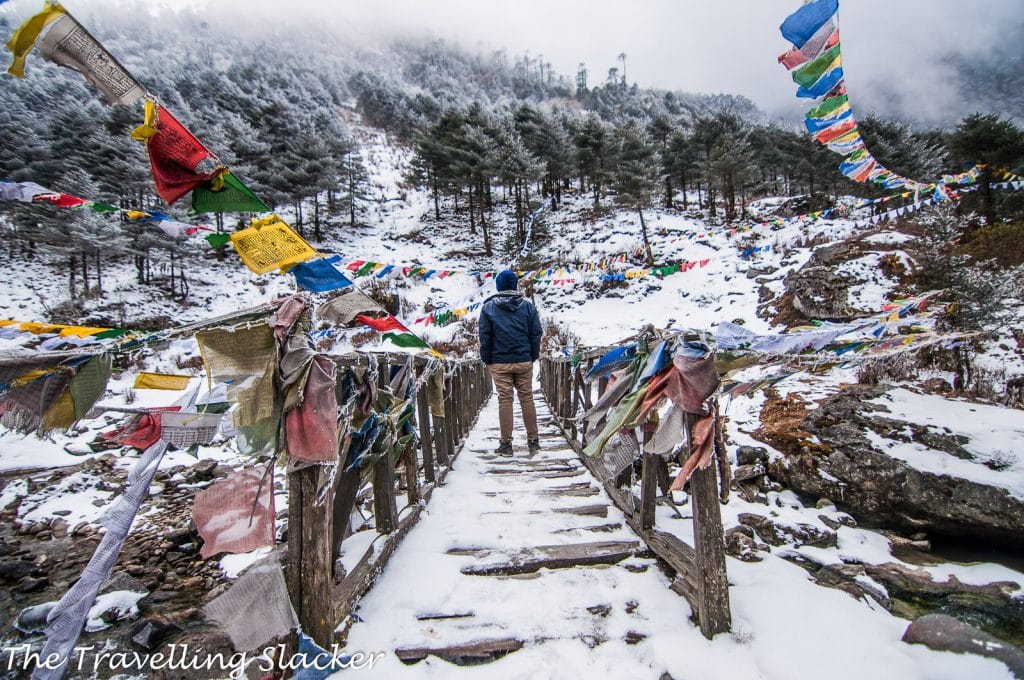 Sela Pass Travel Guide
How to Reach Sela Pass?
Well, it is a major motorable pass and the gateway to Tawang. So, if you are going to Tawang, you will cross Se La anyway. It is around 60 KMs from Driang & 100 KMs from Bomdila. Twang is around 78 KMs from Se La top.
Is Sela Lake located on the way?
Yes, it is located just near the top and you will see it from the road itself.
Does Se La remain open in the winters?
Yes, it snows heavily and the movement gets difficult but Se La remains open throughout the year. If you are driving or biking yourself, be careful during the peak of winter (Jan-Feb) and also during the rainy season (Jul-Aug) as the road can be really slippery.
Are there any facilities atop Se La?
There is a significant army presence in the area. You will also find some shacks selling tea, noodles, omlette, &…. Old Monk! However, even they may close down if the weather is too bad.
What to see and do around Se La?
High mountain passes have their natural charm but there are birding and hiking opportunities in the spring, summer and post-monsoon season. Other attractions like Sela Lake, Jaswantgarh, and Nuranang Falls are located along the way between the Se La top and Tawang.
Additional Reading: Tawang-Dirang-Bomdila  Travel Guide