Tawang does not really need much of an introduction. It is one of the places in Arunachal that was always on the tourist map, while people had no clue about other parts of the state. Naturally, it is also the most developed area in terms of tourism. The nature of the terrain is such that you don't just visit one place. When you plan for Tawang, you normally have a few days at hand and also make stops at either Bomdila or Dirang. However, there are dozens of underappreciated spots on the entire route and if you want, you can easily extend your trip for a couple of weeks.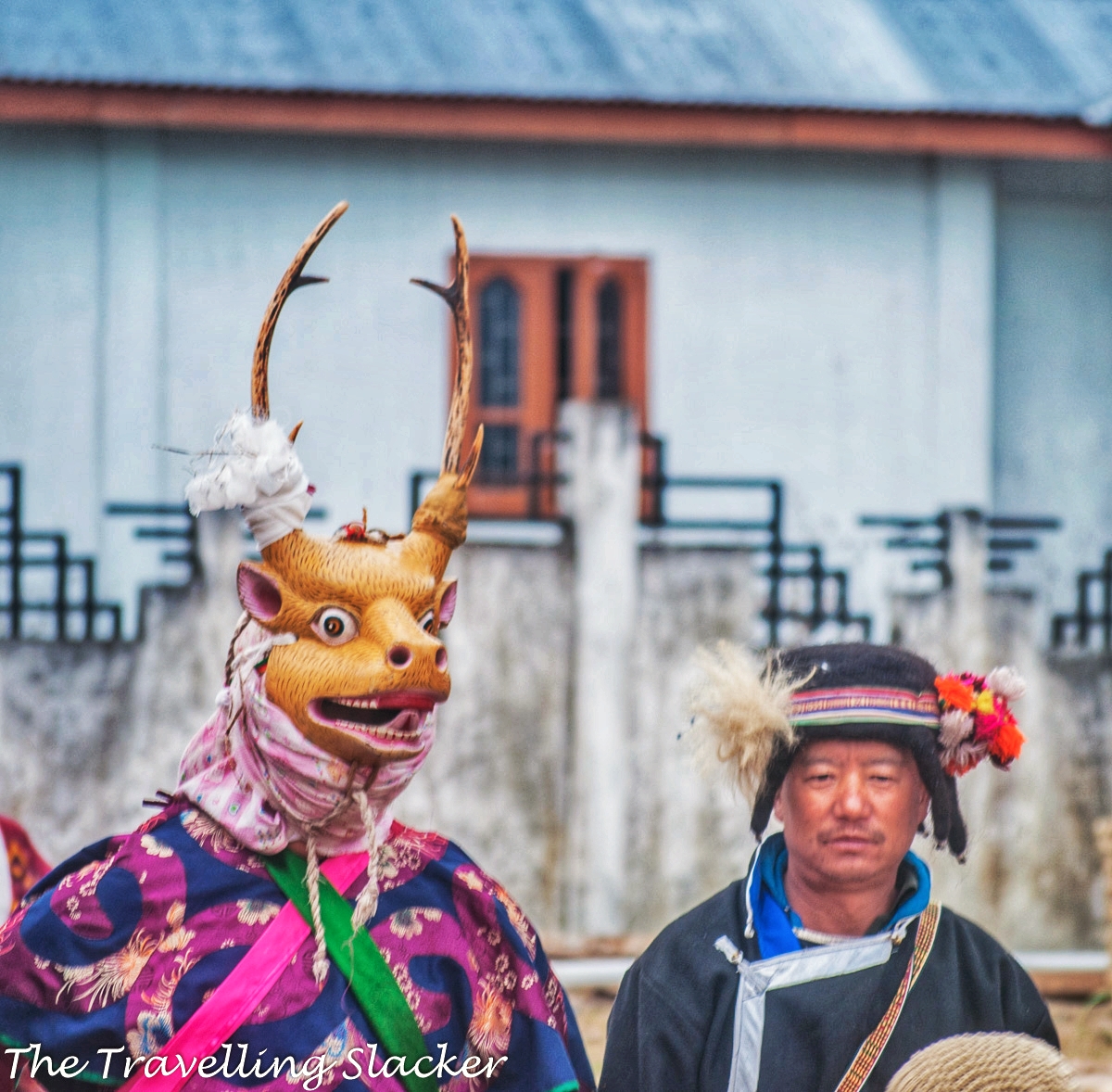 Tawang Travel Guide
Understanding Bomdila Tawang Circuit
What you need to understand about the Tawang circuit is that it is not only about Tawang the town or for that matter Bomdila and Dirang. These are all important stops but there is much more to the region spread across two districts of Arunachal Pradesh, mainly West Kameng and Tawang. Apart from the expected hilly charm, Monpa culture, and Buddhist monasteries, there are sender valleys, bird-watching opportunities, orchid heavens, treks, and a few things beyond your wildest imaginations. This is also the most developed area in terms of tourism infrastructure in Arunachal. There are great facilities and friendly people and the dreaded roads have also improved of late, thanks to BRO. It is one of the main tourist circuits of Arunachal Pradesh, as defined by the state's tourism department. See the following tourist map to have an idea about the routes around Tawang.
Things to do in and around Tawang
Approach to Tawang
Se La Pass and Lake
Se La, often mistakenly called Sela Pass (because La means Pass), is a 4170 meter high pass that connects West Kameng and Tawang districts. So, it is basically the gateway to Tawang and at such a high altitude, you can expect to find snow during most of the year. There is a lake near the summit, called Sela Lake, which is considered sacred in Tibetan Buddhism.
Nuranang Falls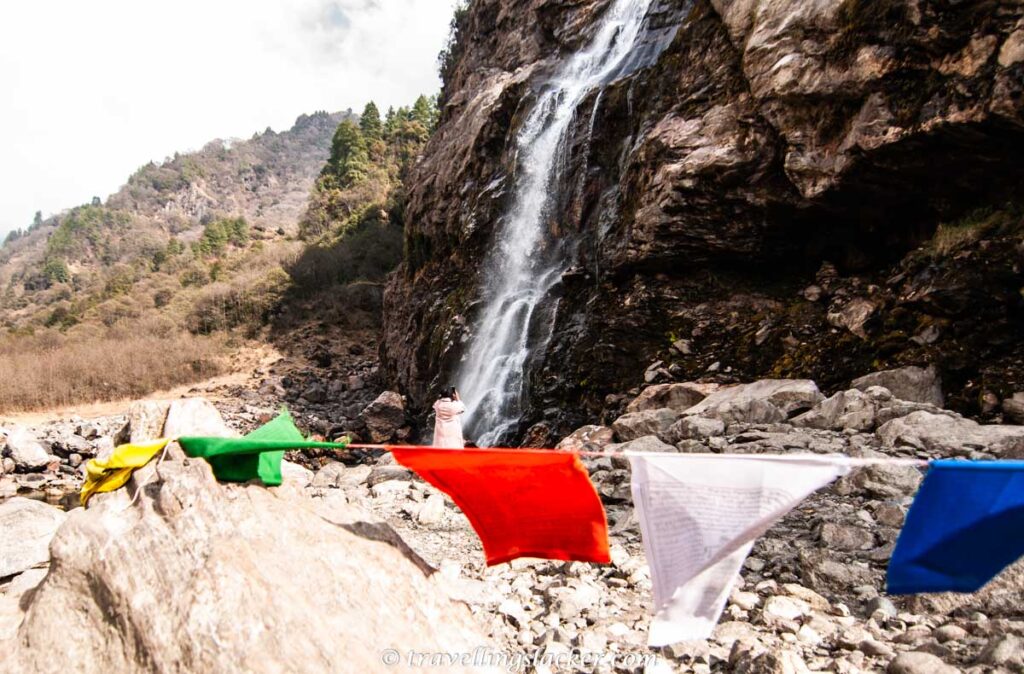 A beautiful waterfall is located at a slight diversion from the town of Jang, which is at the midpoint between Se La and Tawang. The best views here are in the afternoon, on a sunny day, when the light falls directly and creates a rainbow. There are some local myths associated with it too, that you can find out from the locals.
Jaswant Garh
It is another war memorial just after Se La. It is located at a high altitude and commemorates the story of rifleman Jaswant Singh Rawat who fought bravely but lost his life in the 1962 war. His belongings can still be seen here. There are some local legends associated with him too.
In & Around Tawang
Tawang Monastery
The 400-year-old Tawang Monastery atop the hill dominates the landscape of Tawang and it is the largest monastery in India and second-largest in the world after the one in Lhasa, which itself makes it worth a visit.It is a massive complex that takes time to explore fully. You can also attend the morning prayers for a spiritual experience, but you will have to wake up very early in the morning.
Urgelling Gompa
It is a small but very important monastery in Tawang. This 14th century gompa is even older than the main Tawang Monastery and the 6th Dalai Lama was born here. Do visit the ancient stupas inside one of the houses. It's around 3 km from Tawang city centre.
Tawang War Memorial
The war memorial, as the name suggests, commemorates fallen heroes and is maintained by the Indian Army. There is a big chorten underneath which there is a small museum with maps, arms, and details from the war of 1962.
Khinmey Gompa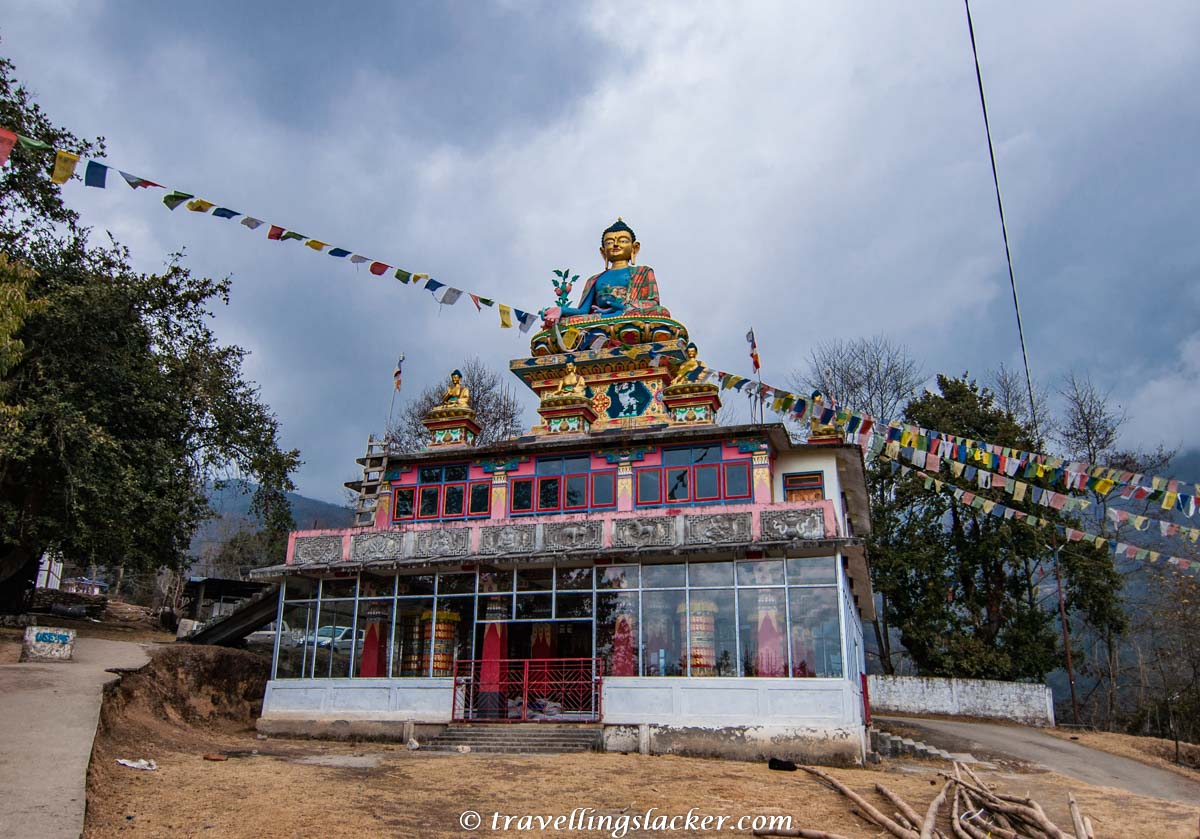 Khinmey Nyingma Monastery also known as Sang-ngag-choekhorling, is located a short 5-6 KM drive from Tawang. The name comes from the Monpa word meaning a "place for listening to the sound of barking dogs". As per legends it was a thick forest teeming with wild animals. A legendary hunter from a nearby village met Rev. Kundun Sange Yeshe, the founder of the monastery, who was meditating in the jungle and became his disciple by giving up hunting. It is a Nyingma monastery dating back to 1440 AD. A massive statue of Medicine Buddha has also been built recently.
Giant Buddha Statue
Just like any other Buddhist town, Tawang has a huge Buddha statue overlooking the town. It is located higher up and the panoramic views are good from here.
Detours from Tawang
Bum La
The Bum La is a mountain pass is a border pass between Tibet's Cona County and India's Tawang district. It is 37 km away from the town of Tawang and 43 km from the town of Cona (Tsona Dzong). As it is a sensitive area, visiting it requires additional permission from DC Tawang. Bum La is one of the frontier passes that used to be a trading route connecting Tibet and India. When the current Dalai Lama escaped Tibet and entered India in 1959, this is the route his entourage took.
Sangester Tso (Madhuri Lake)
This lake is located near Bum La. It was created by the falling rocks of an earthquake and decaying trees can still be seen in the middle of the lake. After the shooting of Bollywood film Koyla, people started calling it Madhuri Lake after Madhuri Dixit, but the original name is Sangester Tso. You will also come across another lake called PT Tso en route.
Taktsang Gompa
Do not confuse it with the famous monastery in Bhutan with a similar name. However, this only shows how close the relations are between Bhutan and Tawang. This gompa is located around 45 KMs from Tawang, around 5 KMs from the Sungester Tso (Madhuri Lake). It was consecrated by a visit of Guru Padmasambhava in the 8th century CE. It is located atop a hill and needs a short hike to reach.
Mukto Village Papermakers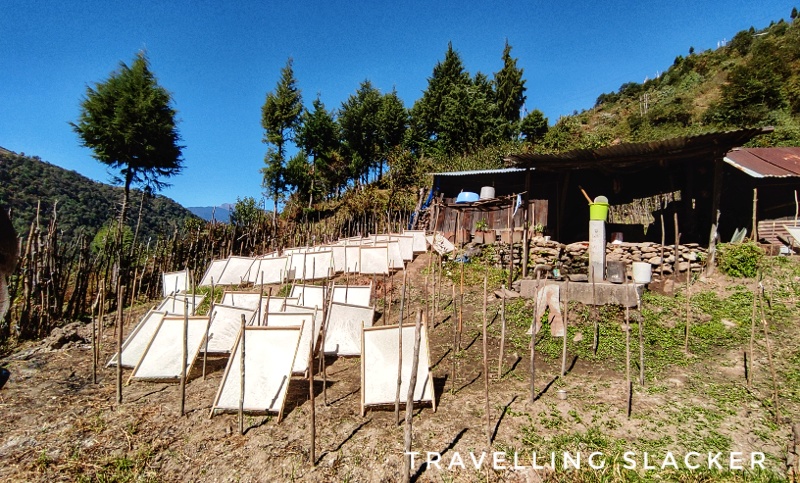 It is a small village not known to many but it is home to one of the most unique crafts, that of papermaking through traditional means. They use the barks of a specific plant for this and there is a very unique process that they use. This paper is used mostly for writing religious texts at monasteries. It is an hour from Tawang but the roads are challenging and you'll need some local help to spot the right household.
Geshela Peak
It is a lesser-known route that starts somewhere near PT Tso Lake and circumvents Tawang to reach Jang. It runs at a higher altitude, so much so that you can see the Tawang Monastery below you at a distance. A great offbeat route, Geshila route is covered with rhododendron forests and splattered with nameless lakes, and can be a delight for cyclists, bikers, and offroaders. Trekking can be great here too although not yet explored fully.
Chakzam Bridge
Around half an hour from Tawang, Chankzam is known for its hanging bridge over the powerful Tawang Chu river. However, this is just not another bridge! It is an almost six hundred years old iron bridge built by Tangton Gyalpo (1385-1464), a famous architect and builder of the Tibetan world who was a disciple of the first Dalai Lama. He was also known as Lama Chag-Zam Wangpo and the bridge is named after him. It is a great example of medieval engineering that is still functional.
Ani Gompas (Nunneries)
Tawang has a long tradition of Buddhist nunneries popularly called "Ani Gompas". So, do note that there is not one but many such nunneries in Tawang and so do not get confused if different people give you different locations. The most famous and oldest one is the Brama dung- chung Ani Gompa (Also called Thukje Choeling), located 12 kms from Tawang. It was commissioned by Karchen Yeshi Gelek in 1595 and houses about 45 nuns. Some other famous nunneries include Gyangong Ani Gompa about 5 km from the Tawang Township with 50 nuns and Singsur Ani Gompa 28 KMs from Tawang, built by Gonpaste Rimpoche, housing around 45 nuns.
Thonglek Village
This is a small village around 25 kms from Tawang. It is one of the places where the Dalai Lama spent a night while he escaped from Tibet. To commemorate that event, a big monastery has been built here. You can also stay in the village and enjoy a rustic lifestyle for a day or two.
Lumla
Lumla is a small settlement around 45 kms from Tawang on the way to Zemithang. It is famous for the massive statue of Tara Devi (Jetsun Dolma), a major Buddhist deity. A prayer hall is present underneath the statue. It is not far from the Bhutan border and from the statue atop a hillock, you can see the hills of Bhutan.
Zemithang
Zemithang is practically the farthest major point that you can reach from Tawang, around 70 Kms from the town. It is located in the northwestern corner of Monyul, not far from both Tibet and Bhutan. The most iconic spot here is the chorten at Gorsam constructed by Lama Prathar from Kharman village in Zemithang, in 13th Century A.D.and is modeled after that famous stupa in Nepal. Thousands of devotees visit it during the Gorzam Kora festival to observe the virtuous occasion during the last day of the first month of the lunar calendar
Meeting Brokpa Herders
The Brokpas of Arunachal are nomadic yak herders who make the yak cheese essential in local Monpa cuisine. If you go there in the winter, you can visit one of their settlements near the town. In the summers they disappear into the mountains with their hers, looking for grazing grounds for yaks. You may also come across them in case you travel. 
Chumi Gyatse
Chumi Gyatse, also called Domtsang and Dongzhang waterfalls is a collection of waterfalls in the Tawang district in Arunachal Pradesh, India, close to the border with Tibet. According to the local Buddhist tradition, the 108 holly waterfalls which originate from in-between the mountains symbolise the blessings of Guru Padmasambhava.
Around Dirang & Bomdila
Bhalukpong
Bhalukpung is a small town on the Assam-Arunachal border, divided between both states. It is located on the banks of a beautiful blue river which is called Kameng in Arunachal and Jia Bhoroli in Assam. It is a regular stop for people going towards the more famous Tawang and is a picnic spot for locals. However, Bhalukpung itself has enough to lure the visitors, especially for nature lovers and combined with nearby Seijosa, it is considered to be a circuit on its own by Arunachal Tourism. It is also known for adventure activities like river rafting.
Tipi & Sessa
Tipi is a few KMs ahead of Bomdila. It is known for its orchidarium. The jungle behind Tipi is the Sessa Orchid Sanctuary. The local villagers have recently improved the road so that people can visit it. The spring season is the best for orchids. In case you have not realized yet, Arunachal is one of the richest places for orchids with more than 600 recorded varieties.
Bomdila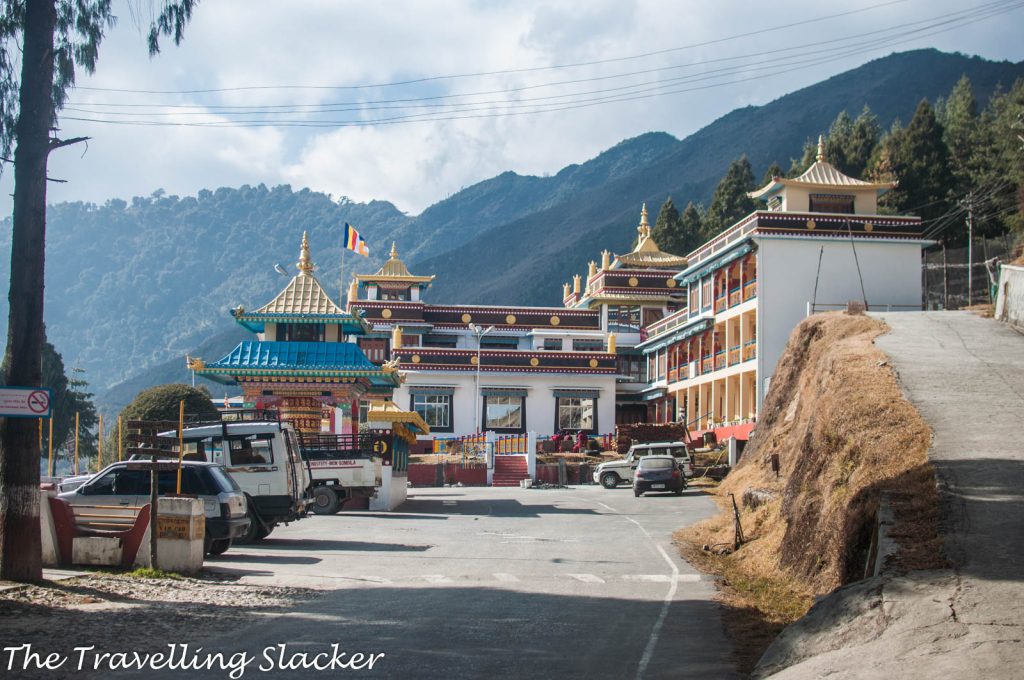 Bomdila is the headquarters of West Kameng district. It is the biggest town in the region with a huge monastery at the center and many smaller monasteries. There are many hotels and homestays here and the market is also worth a visit if you want to buy local products. The iconic GRL monastery here has three different parts. So, these are three monasteries, lower, middle, and upper gompas. The upper one is the biggest one. You can also visit the museum to understand the history and culture of the region and take a round of the local market if you want to spot exotic mountain products.
Additionally, there are some interesting things you can do around Bomdila. For example, there is a monk living in a small hillock, who is known as the "Oracle". He reads some ancient texts and tells you about your future. You probably need some local help for finding the location but it is a fun activity if you have time. He stays at a small gompa that takes a short hike to reach. Similarly, the fruit orchards around the town also offer great views. Spring (blooming season) and post-monsoon (plucking season) are good times for this.
Dirang
Dirang is a beautiful valley 40 KMs ahead of Bomdila. It is located at a lower altitude and hence is warmer than Bomdila. There are many monasteries here including the new and shiny Thupsung Dhargye Ling Monastery atop a cliff overlooking the entire valley as well as the ancient Khastung Gompa, located on a different cliff. There is also a hot water spring here which is very famous and you can take a dip here too if you have time.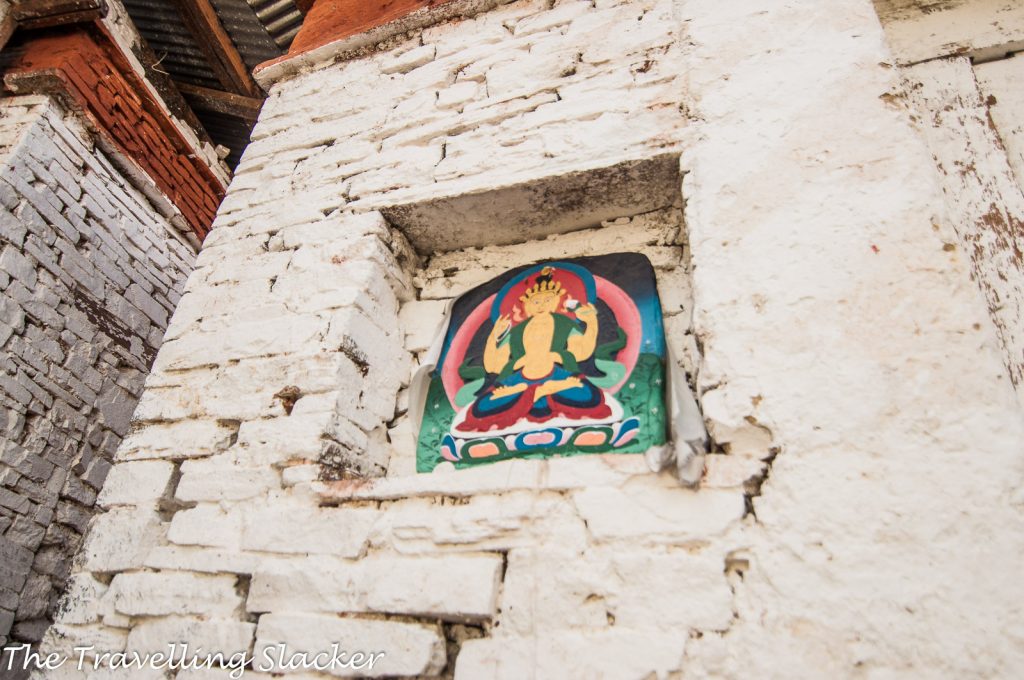 The Dirang Town is actually a new development. The Dirang Dzong is the original village here which is built like a fortress. You'll get here a few KMs before the new town. A walk around the Dirang Dzong is a great way to introduce yourself with Monpa culture, architecture and history. Hiking is also an option here (discussed separately below).
Sangti Valley
Sangti Valley is a short diversion of just 15 KMs from main Dirang Town and 10 KMs from Dirang Dzong. It is a beautiful secluded valley inhabited by the Monpas that is slowly beginning to get famous. During spring, these meadows get covered with colourful orchids and wildflowers. In the winters, certain migratory cranes usually arrive here. You can camp on the banks of the river too. A sheep breeding farm is another interesting spot you'll see en route to Sangti.
Tenga & Rupa
Tenga Valley is the region that you cross before Bomdila. This region has significant military presence and it is the gateway to the Eagle's Nest Sanctuary. The alternative route via Shergaon also meets here. There are additional attractions in and around. An hour's drive will take you to the majestic Chilipam Gompa, built like an oriental palace atop a hill overlooking the valley.
Eagle's Nest Wildlife Sanctuary
Average travellers may not have heard of Eagle's Nest Sanctuary but it is the holy grail for bird watchers. It is located on the western side of Bhalukpong to Bomdila route with an entry from Tenga. It boasts of an extensive array of flora and fauna. More than 400 bird species have been spotted here and some new species have also been discovered here such as the Bugun Liocichla named after the Bugun people that live here. You can camp inside the sanctuary for a few days for better results.
Mandala Top
Mandala is the best-kept secret for bird watchers. Actually, serious birders know about it already, while no one else has even heard of it. It is a secluded high altitude spot around 25 KMs from Dirang with a lodge frequented by hardened birders and photographers. A Buddhist monument with 108 Manes have been built here at the top, which is beginning to draw many visitors.Around 300 different bird species have been spotted around the hills of Mandala.
Thembang
Thembang is a traditional village centered around a fortress (Thembang Dzong). It is an ancient village with centuries-old structures and a great place to experience Monpa history and culture.It is so ancient that according to some people it was established before the first century AD. It's around 20 KMs from Dirang.
Around Shergaon & Rupa
Shergaon
Shergaon is a region dominated by the Buddhist Sherdukpen people. It was lesser-known until recently but it is beginning to grow its tourism of late. You can stay at the local homestay and experience the rustic charm and walk along the fruit orchards experiencing yet another exotic culture. The local Gompa as well as the Choskorong waterfall are worth visiting too. It's a beautiful region covered with rhododendron forests as well as fruit orchards. Especially in spring, it gets covered with rhododendrons & cherry blossoms. Shergaon lies on a parallel route that connects Assam to Bomdila (Not the route through Bhalukpong). It is an award-winning village and there is much more to see and do here. SO, read my detailed blog on Shergaon here.
Morshing & Lhagyala Gompa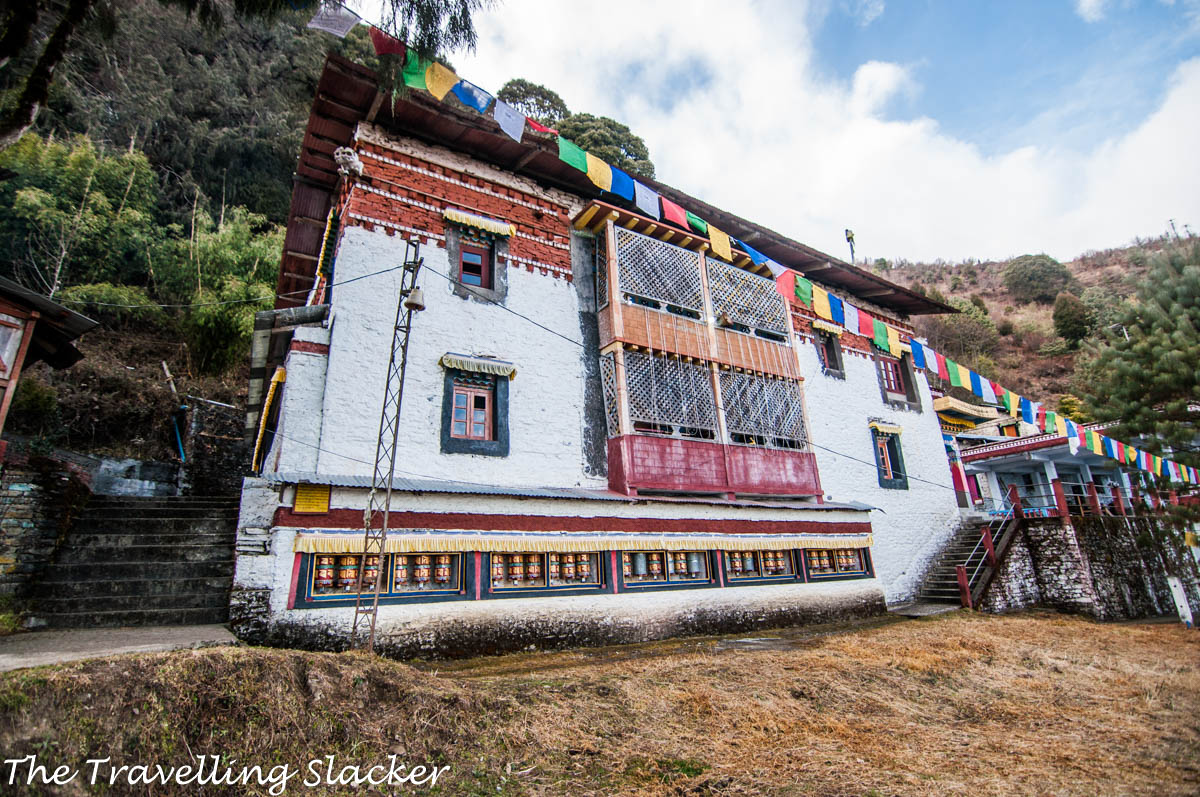 Morshing is a Monpa village higher up and from there you can drive or hike to Lhagyala Gompa, yet another historical monastery with many stories associated with it. As per one source, it was constructed by Kachen Lama in the 7th century, which makes it one of the oldest monasteries in the region, much older than the Tawang Monastery. Another source mentioned it as the birthplace of legendary queen Khandro Drowa Zangmo. Lhagyala Gompa is also a great repository of important texts, scrolls, and artifacts. Apparently, the term 'Lhagyala' itself means a repository of hundreds of large icons.
People, Culture & Festivals in Tawang & West Kameng
This region is dominated by the Monpas who are Buddhists and have close historical relations with neighbouring Bhutan as well as Tibet. Monasteries, stupas and other Buddhist structures dominate the landscapes. The Shergaon region is inhabited by a different Buddhist group called the Sherdukpens while you will find another small group called Buguns near the Eagle's Nest Sanctuary.
Local cuisines, culture, apparel, handicrafts etc are worth exploring too. If you are in the mood for shopping, you can always explore the local markets. The emporiums in Bomdila and Tawang also have a good collection of authentic handicrafts.
There are many festivals that take place throughout the year. For example, I attended the monastic festival of Torgya in January at Tawang Gompa. Here is a longer list of festivals.
Losar
Losar is the new year in the Tibetan world. All the Buddhist communities celebrate Losar. It usually takes place around February. Preparation starts from the 12th month of the previous year..New clothes are bought, special fried loaves called "Bongp-nelap" and fried biscuits called Khapse are prepared, and houses are cleaned and whitewashed. A  special gruel called  "guthug" is made for dinner.  Houses are decorated with colored paper flowers and auspicious drawings on the walls.A feast is prepared and prayers are offered for a prosperous new year.
Torgya
Torgya, also called Tawang Torgya, is a major monastic festival in Tawang, that has been organized here since the inception of the Tawang Monastery in the 16th century. It is generally done for the peace and prosperity of people and to ward off evil spirits. An image of the effigy, also called Torgya or Zshor, is made with barley and ghee and the image is later burned during the celebrations. More than 20 different types of performances take place during Torgya in the Tawang Monastery courtyard. It takes place in January, when it also snows in Tawang.
Gorsam Kora
Kora means circumambulation. So, it is basically a circumambulation of the Gorsam Chorten near Zemithang. It takes place in March and is accompanied by mask dances and other Buddhist rituals.It usually runs for 3 days and even people from neighboring Bhutan participate. 
Choe-Kor
It is an important Monpa festival that is organized after the crops are sown and when the people in the villages have ample free time. It involves circumambulation with villages with holy images and scriptures organized by the community to pray for good harvest and to ward off evil spirits. It usually takes place around June.
Khiksaba
Khiksaba is an indigenous non-Buddhist festival of the Sherdukpens. That means, it is traced back to ancient times even before they adopted Buddhism. It is meant to appease the forest deities and other mountain spirits. Such festivals are presided over by the local shaman.
Kro-Cheykor
Kro-cheykor is a Sherdukpen festival celebrated around June. The rituals here are designed to teach the younger generations and prepare them for the future with the elders as the role models. Ritualistic performances and celebrations take place amid the unadulterated hills.
Tawang Festival
It is a new tourism festival started a few years ago to attract new visitors. It takes place in Tawang. It combines traditional events with modern festivities, musical concerts, and celebrations. It usually takes place around October every year.
Shergaon Rhododendron Festival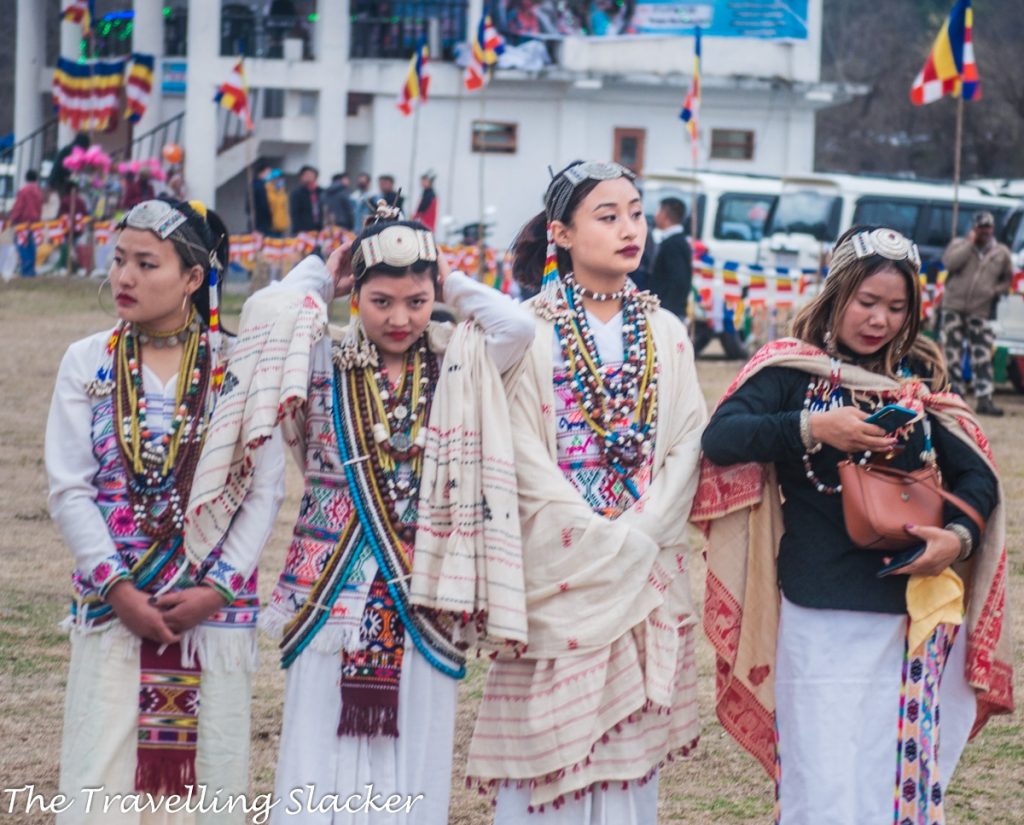 This is a comparatively new festival designed to promote tourism in Shergaon. It is organized in March, during the peak of spring where the rhododendrons are in full bloom. Traditional masked dances, SHerdukpen pantomime, music, beauty pageants, local food and beverages etc can be enjoyed here, that too in the middle of a blooming spring of unparalleled beauty.  Check this post for more details.
How to Reach Tawang?
The primary route followed for this circuit is Guwahati-Tezpur-Bhalukpong-Tipi-Bomdila-Dirang-Tawang. However, there is another route from Guwahati-Tezpur-Shergaon- Rupa – Bomdila-Dirang-Tawang. As you can see in the Map above, the difference is between Tezpur and Bomdila, while the rest of the route is the same. Both routes have various attractions and it is suggested that you take one route while going and one for coming out so that you can enjoy both.
By Air
Normally you can take a flight to Guwahati and then look for cabs or buses going towards Arunachal.There is also an airport at Tezpur so you can directly start at Tezpur. There is a helicopter service between Guwahati and Tawang too but it can always get affected by treacherous weather in those mountains and also the road trip has its own charm.
By Train
There is no train service on the Bomdila-Tawang route in Arunachal. The best you can do is to get a train from Guwahati or Kamakhya Station to Dekargaon (near Tezpur) and then look for local transport going into the hills.
By Bus or Shared Car (Timings & Rates from Tezpur & Guwahati)
Guwahati to Tawang is 445 KMs and generally, people do not cover it in one go and halt at either Bomdila or Dirang, as it is a very long and tedious journey that also involves crossing the 4100 meters high Sela Pass. If you are reliant on public transport, you can look for morning buses from ISBT Guwahati. It leaves at around 7 AM and reaches Bomdila by the evening. Next morning, you can find Tawang Bus from Bomdila. Guwahati to Bomdila bus costs around INR 500-550 and Bomdila to Tawang will cost around INR 350-400.
If you are already in Tezpur, you can look for shared cars (Sumos) going upwards in the morning. You can stop directly to Tawang to stop at Bomdila or Dirang. They generally leave very early in the morning around 5.30-6 AM.
Tezpur to Bomdila INR 500-600
Tezpur to Dirang INR 700
Tezpur to Tawang INR 1200-1400
Car or Bikes
If you have your own vehicle, still you will have to halt one night around Bomdila or Dirang as it will be a very tedious journey. Also, be careful about crossing the Sela Pass on the second day. As it happens with high passes, you are never sure when it snows or when the weather deteriorates.
Where to Stay in Tawang?
As a highly developed tourist area, Tawang has dozens of hotels, resorts, and homestays at various price points. For the best experience, look for a good homestay run by a local family, so that you can get an authentic Monpa experience.Similarly, at Dirang and Bomdila also there are many options available. I stayed in Dirang at Dirang Boutique Cottages in the outskirts of the town. Other smaller places also have options but not as many as these towns.
Best Season to visit Tawang?
Personally, I feel the spring & early summer (March-May), as well as the post-monsoon months (September-October), are the best time to visit the Tawang circuit. I visited in January, the peak of winter. You may like it if you have some fascination for snowfall but, to be honest, I prefer warmer weather when visibility is better and easier to roam around.
Mobile and Internet Connectivity in Tawang
Mobile and data connectivity was reasonably good all along the Tawang-Bomdila circuit on my Airtel connection. There is no problem at all in lower areas such as Bomdila & Dirang. Once you cross the Se La, I expected it to be weak in Tawang but it was still working. Tawang has electricity issues and so there are occasional power cuts and the network also goes down during those times but it works when the power is there.
Inner Line Permits (ILP) and Protected Area Permit (PAP) for Tawang
As you probably know, you need the Inner Line Permit (ILP) to enter Arunachal. You can get Arunachal ILP online or if you are going through a tour operator, you can get it through them. Foreigners need to get a Protected Area Permit (PAP). For this, you can apply at the FRRO portal or visit any of these offices located at various Indian cities. If you find it difficult, you can get it through a registered tour operator from Arunachal if you are going through them.
Further Reading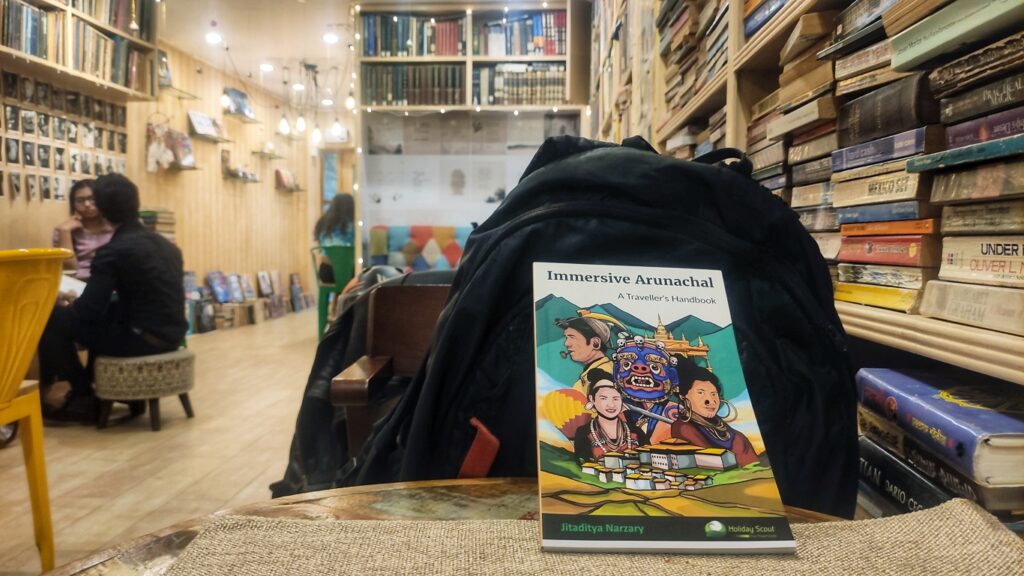 For more details on Arunachal, you can always try my book which is available on Amazon, If you are already on the movie, you can quickly access the ebook rather than relying on the physical book. Ebook (India) OR Ebook (International)