"You will do well if you focus on your own backyard… you should also consider changing your name…"
There was more to the conversation but this is the main takeaway from my five-minute conversation with Sange Lama, the Oracle of Bomdila. Never heard of him before? Even I had no clue but Sange of HolidayScout insisted that we must meet him in Bomdila (not only because they share the same name). But anyway, let me start from where I should have started before getting more into this.
What to do in Bomdila? 
I have often heard this question. The thing is that the road to Tawang is a long one and so most people break the journey at Bomdila. Yet, I don't see people doing much in Bomdila apart from the occasional visits to the Monastery. Is there more to this place?
At the Homestay
We reached Bomdila at night. We were already late when we left Kaziranga and it kept getting delayed. Community from the plains, Bomdila also felt pretty cold. We went directly to the Dhe Dhen Gakhyil Homestay, to be welcomed by Tsomu and her sister. We were quickly introduced to Monpa hospitality that was going to be a constant for the next few days. The first thing was butter tea and dried local cornflakes mixed with dry fruits. It was quickly followed by glasses of Ara (drink made of local cereals) and salad. We had Ara many times at other places after that but this remained the best one as it was enhanced with various herbs and ginseng. The dinner was complete with various things made of yak cheese and leafy greens, along with tingmo buns.
Meeting the Oracle
The next morning we woke up early and went for a quick 15-mins hike to a small monastery to meet the aforementioned monk, who can predict your future. Apparently he meditated atop Se La (We could barely last 15 minutes up there) for many years and later on he came down to Bomdila, got married (He belongs to a sect that does not require him to be a celibate), and started a small monastery in the outskirts of the town.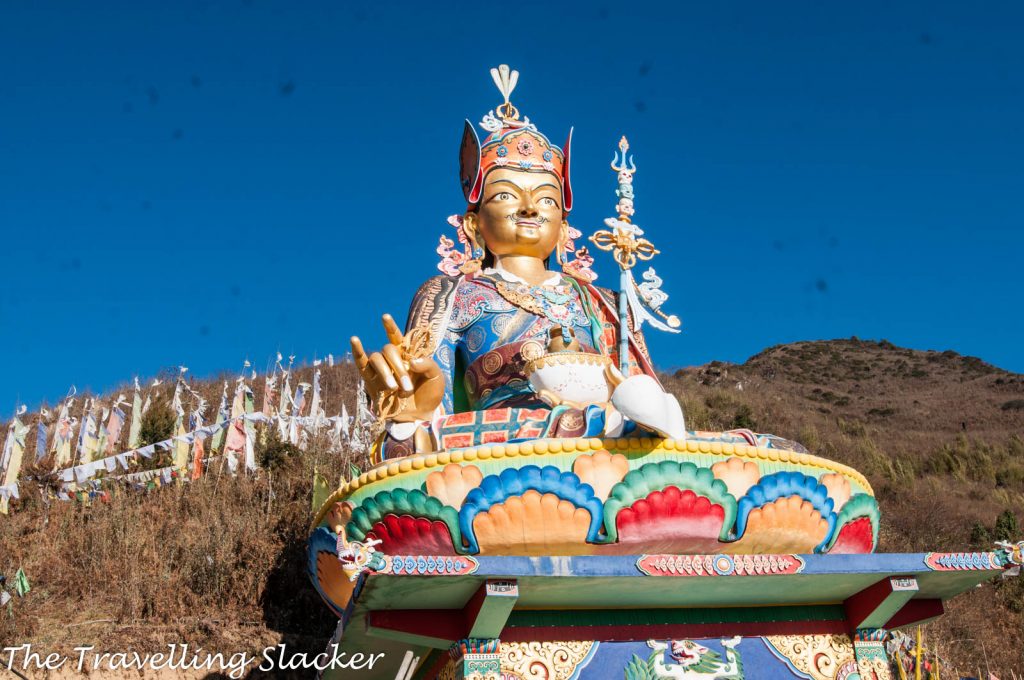 It was bitterly cold in the morning. So, the hike was pleasant and we eventually reached the small monastery with a giant Padmasambhava (Rinpoche) Statue. The monk and his acolytes were already inside, going through morning rituals. We soaked in the sun as we waited, enjoying the view of the town. This monastery is located slightly away from the main town and offers a good vantage point. However, the sun was directly in front of us. I think you will get better views from here in the afternoon.
We started meeting him one after one. My turn did not take more than 5 minutes but some people took as much as 30 minutes. I wonder what they discovered about themselves. Probably they now have the roadmap ready for world domination. As for myself, as mentioned at the top, I was told to change my name and focus on my home turf. Now, I am not sure how I can change my identity at this stage, but I do see the point of the second advice. In fact, I am indeed planning to focus more on the Northeast, and considering the Covid-19 situation at the time of writing this, I think that is going to be the only possibility for a few months. So, I guess the Lama was not wrong!
Back at the Homestay
We returned to the homestay for breakfast. This time, we had bresi (sweetened rice cooked in butter with raisins and dry fruits). We also got some time to explore the homestay in daylight and realized that it is located on the edge of a fruit orchard. This region is rich with fruit orchards, including kiwi, apple, orange and more. Of course, the dead winter was not really the right time to experience these. Need to return some other time.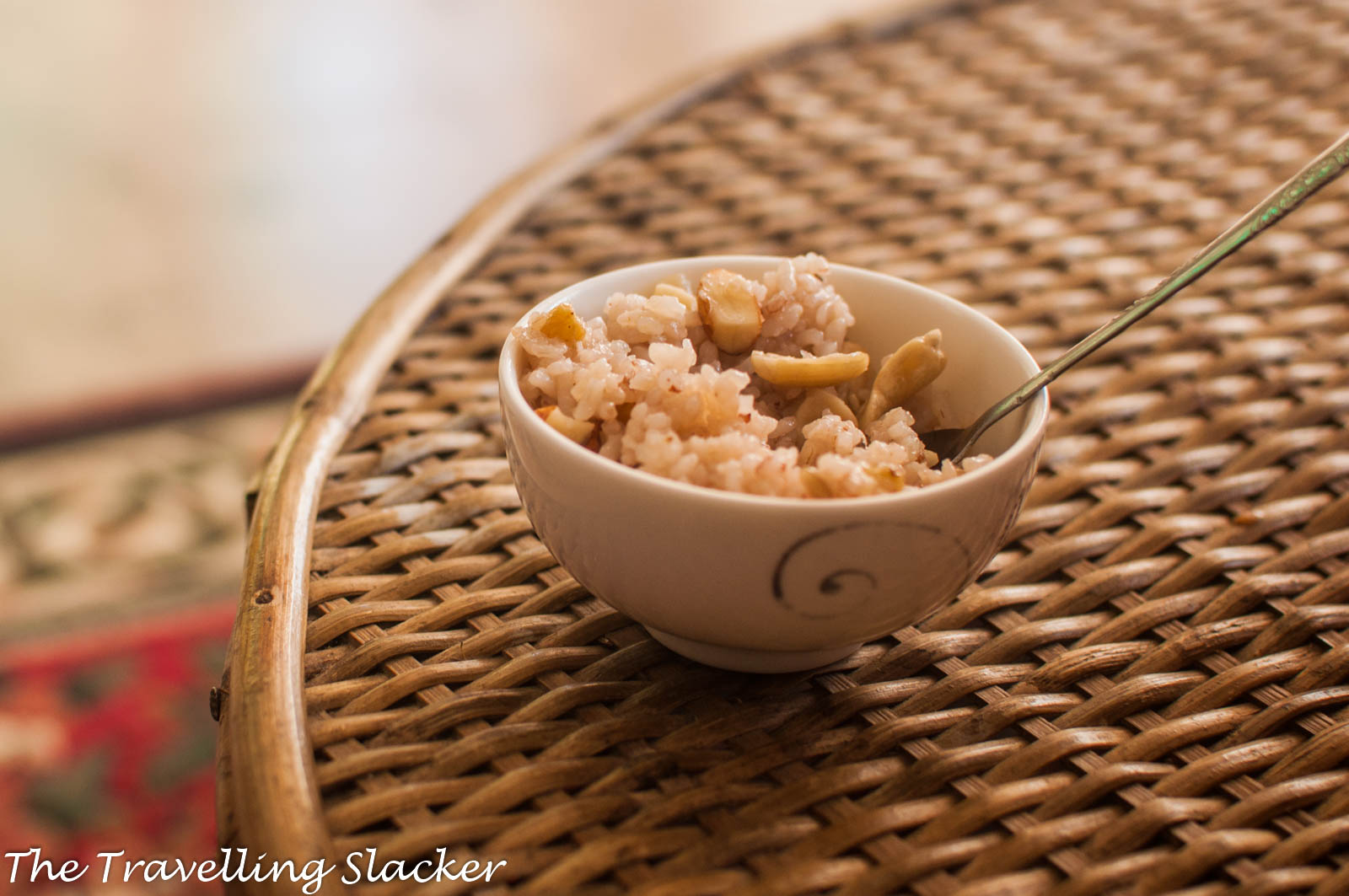 The Upper Gompa: GRL Monastery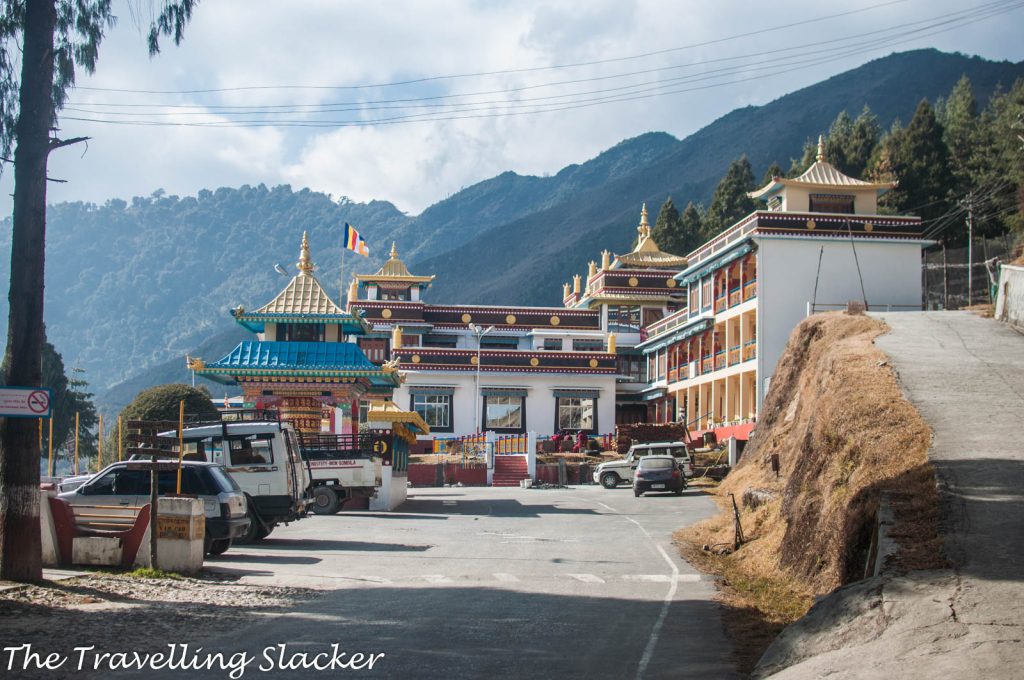 Do note that Bomdila is dominated by a big monastery but it has three parts. Based on their location, within the town, they are called lower, middle, and upper monasteries. The Upper Gompa, as the name suggests, is at the highest point overlooking the town and it was also very near to our homestay and so we decided to visit it before leaving.
The monastery is called Gontse Gaden Rabgyel Lling Monastery. If you can't remember the name, GRL Monastery works fine here. It was founded in the 1960s by the 12th Tsona Gontse Rinpoche. It is a massive monastery with prayer hall, residential buildings for the Lamas and other usual constructions you can expect in a big Tibetan monastery. I have seen dozens of such monasteries over the years but a visit to the monastery is always delightful. We were also offered butter tea and dried corn by one of the Lamas.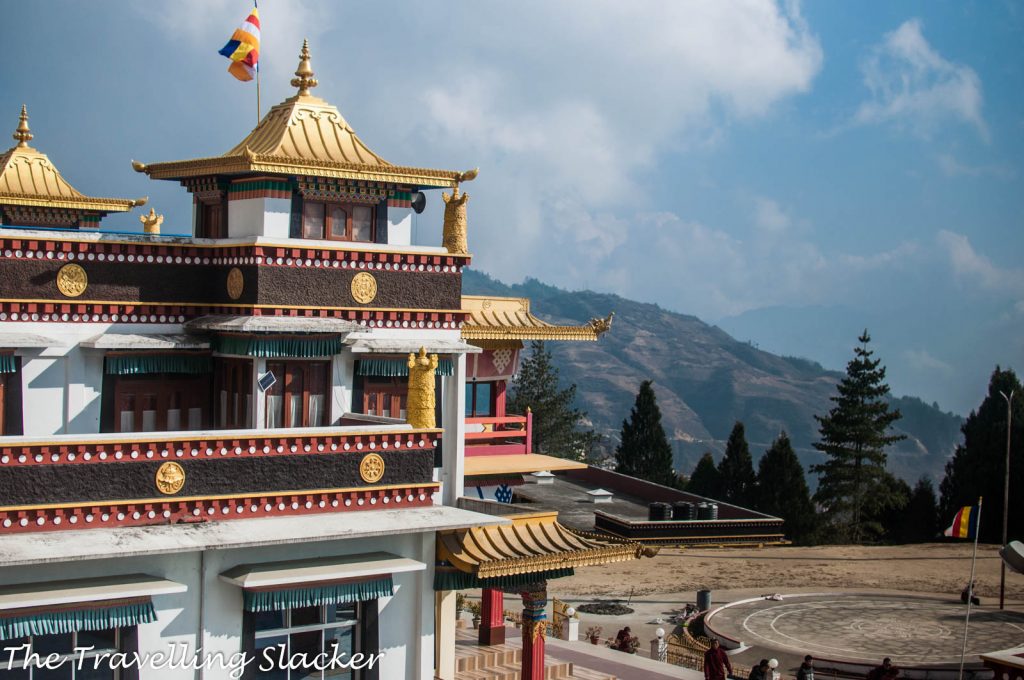 After that, we bad adieu to our hosts but this is definitely the kind of place where you can just stay and do nothing for a few days if you have the time.
Ama Market and Craft Center
We were going to Dirang after that but we stopped in the town to explore a few things. We were taken to a small market run by local women. This is like a smaller version of the more iconic Ima Keithel in Imphal. The products available were delightful. Dozens of varieties of beans, pulses, fruits, chilies, yak cheese, and a lot of exotic things you will never find in the plains. We also paid a visit to the local craft center, which is a good place to see local artisans in action and also buy handicrafts if you want..
So, this is more or less it about Bomdila. We moved on to Dirang on the same day. I am still not sure about the history of Bomdila though. I could not find too many details online. What you need to see is that it is located at a reasonably high altitude of 2400 meters (8000 feet) and the road actually gets lower till Dirang after that. What does it mean? The "La" at the end of Bomdila is the same suffix that goes after Se La or Rohtang La or Khardung La? Was it just a mountain pass called "Bomdi La" at some point that eventually became a town? I am not sure. This is just what I feel. Think about it because you have nothing else to do during the lockdown anyway.
Bomdila Travel Guide
How to Reach Bomdila?
The nearest major train station or airport is Guwahati, from where it is around 260 KMs. You can get a morning bus from Guwahati ISBT that will drop you at Bomdila in the evening. If you are in Tezpur or around, you can find some shared cars going towards it. Just ask around the locals.
Where to Stay in Bomdila?
Bomdila has many places to stay. We stayed at Dhe Dhen Gakhyil Homestay and I recommend it. But if you are looking for very budget options, you should ask around the market.
What to see in Bomdila?
Monasteries
As mentioned above, the GRL monastery has three different parts. So, these are three monasteries, lower, middle, and upper gompas. The upper one is the biggest one.
Meet the Oracle
You probably need some local help for finding the monk who reads your future. He stays at a small gompa that takes a short hike to reach.
Museum
We could not visit it but if you have time, pay a visit to the museum to understand the history and culture of the region.
Ama's Market and Craft Center
You can an idea about local life and also by useful stuff at the local Ama Market and craft center.
Orchards
Winter is not the right time for this. If you visit in any other season, the fruit orchards should give you better views. I think spring (blooming season) and post-monsoon (plucking season) are good times for this.