Never heard of Lhagyala Gompa? Well, it is near Morshing.
Never heard of Morshing? Well, it is near Shergaon.
Never heard of Shergaon? Well, it is not far from Bomdila!
Even I hadn't heard of it. But it was decided during our trip with Holiday Scout that we will make a quick visit on our way from Dirang to the plains of Assam. It turned out to be a hurried visit but I found something interesting that compelled me to write this post.
So, the Gompa is situated atop a hill, which is significantly higher up from the nearest major village of Morshing and you can get an aerial view of the valley from the gompa. I am found different accounts regarding its antiquity. As per one source, it was constructed by Kachen Lama in the 7th century, which makes it one of the oldest monasteries in the region, much older than the Tawang Monastery. Besides, that must be a completely different era. Another source mentioned it as the birthplace of legendary queen Khandro Drowa Zangmo.
Lhagyala Gompa is also a great repository of important texts and artifacts. Apparently, the term 'Lhagyala' itself means a repository of hundreds of large icons. The scrolls and manuscripts here must be able to provide valuable information about the politics, history, and theology prevalent in this region.
So, we reached Morshing via Bomdila and Rupa. It seemed like a large and prosperous Monpa village. Sadly, we did not have much time. Our plan was to reach the plains and spend the night at a tea garden. So, we started driving quickly towards the Gompa. This was a hilly road, which has recently been made motorable. Generally, locals simply trek to the gompa and I would have liked to do the same if we had time.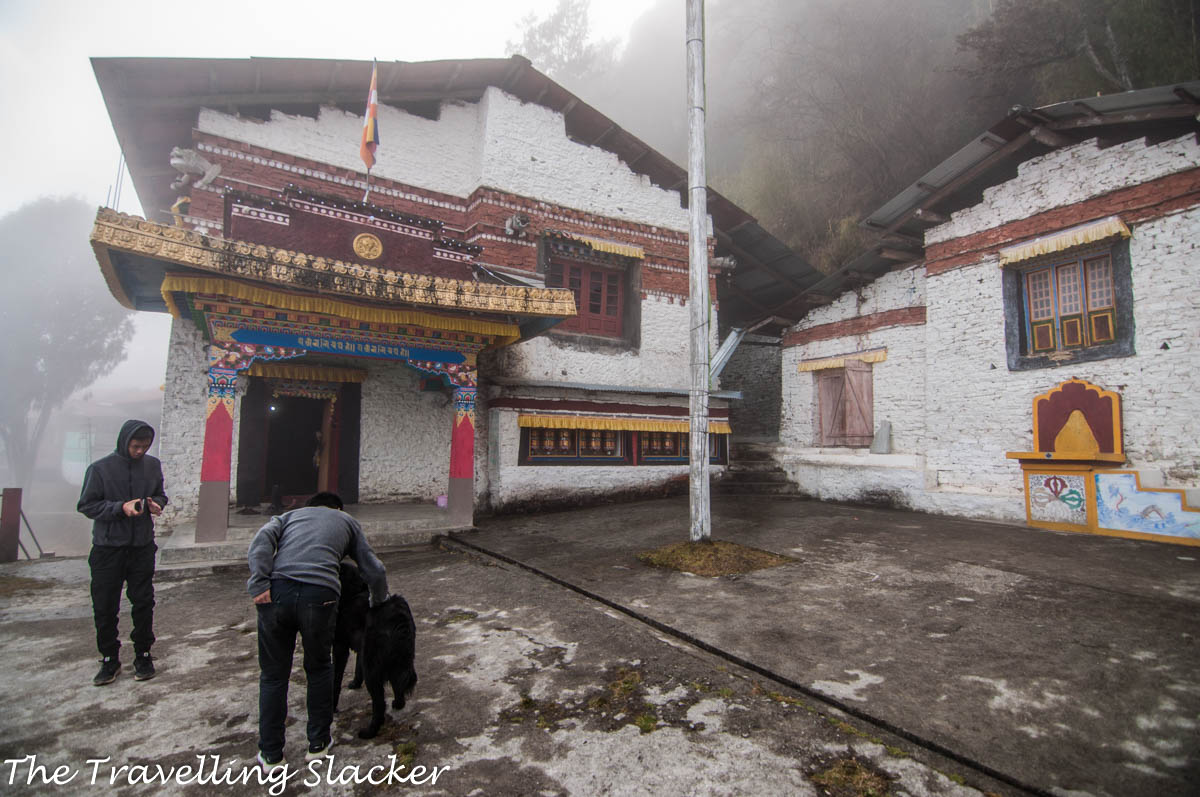 So, it is located at a much higher altitude. As a result, the weather is also treacherous here. It was sunny at Morshing by it seemed foggy here. At least, when we reached, the whole monastery was engulfed in a thick veil of mist.
We met a couple of Lamas who were in charge and got a quick tour of inside. This site may be ancient but the multi-storeyed stone and wood structure seemed regularly renovated and well-maintained. The lama actually told a lot of stories but I did not capture all of them due to the language barrier. Interiors reminded me of some Lahauli Gompas like Kardang or Yardong. There was a rawness in the artifacts that indicated their antiquity, unlike the polished items of newly constructed monasteries of Bomdila or Dirang.
As we finished the visit inside and came out, the weather seemed to have improved, at least for the money. We clicked a few pictures before the veil of mist returned again. As we walked around the compound, we saw a big, red, wooden schlong, lying around. This is a symbol of fertility and is another reminder of proximity and cultural connection of this area to Bhutan, where tourists regularly encounter such art.
More importantly, that is exactly when we saw another person, middle-aged, dressed normally in trouser and jacket. We struck a conversation with him and soon figured out that he is not from that place. In fact, he was not even from NE. He was from Zanskar, a place as remote as it can be!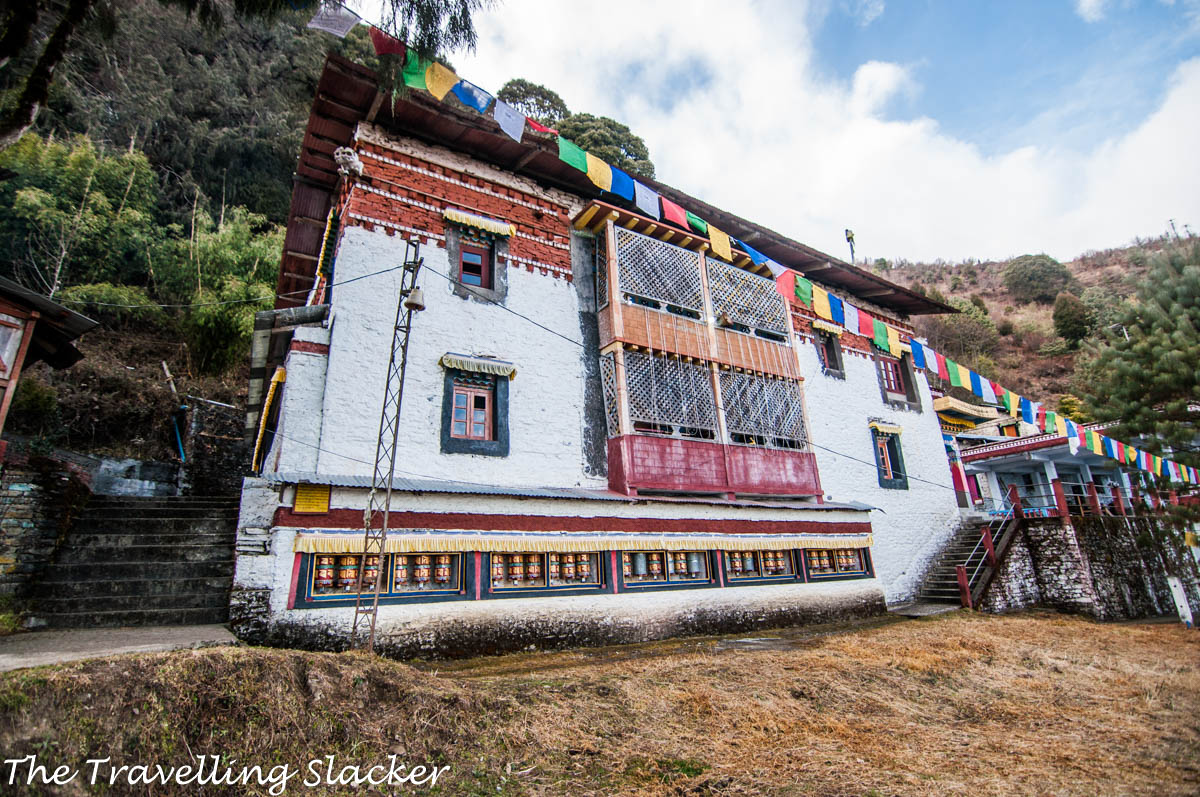 By that time the weather was deteriorated so much that I could not even get a photograph with him but here is what I got from him. He was the father of the 10th Lhagyalri Rinpoche. As the name suggests, he is the head for this monastery and the 10th incarnation. The Rinpoche is actually very young and he was somewhat unwell from what we could figure out. That is why we could not visit him but we talked to the father.
So, the process of finding the Rinpoche is the same as other major positions in the Tibetan world such as Dalai Lama. It is dependent on visions and secretive practices. The person can be from any place within the Tibetan cultural sphere. So, this particular Rinpoche was born and found in Zanskar and brought here at a very young age. He will continue his studies as he continues to serve in this monastery. Although we could not visit him, I found a news report that mentions the young Rinpoche's visit to Itanagar.
I had many questions in my mind regarding this but we were in a hurry. But nevertheless, I could not forget this story as we left the Gompa and started driving back. I did a mental calculation. Even in this day and age, it will take at least 5 days for anyone to reach from Zanskar to Morshing, even they take flight from Leh to Delhi and Delhi to Guwahati. If they opt for trains and buses, it will take at least 7-8 days. Now, imagine the same thing a few hundred years ago. Yes, it has been happening for centuries. How did they even contact each other back then? And how many months it would have taken to reach without modern transportation?
This is what shows how closely-knit the Tibetan world is. It is a vast and diverse area, it is fragmented, and parts of it is oppressed. Yet, they have a highly sophisticated system connected to each other and all these monasteries offer the same vibe. I have seen dozens of them but yet they do not cease to surprise me. It also reminds me that I should have been in Zanskar as of now, if not for the current COVID situation. This makes me sad but I am still making plans.
How to reach Lhagyala Gompa?
Lhagyala Monastery is around 7-8 KMs steep climb from Morshing Village. The road from Morshing to the Gompa is motorable but bumpy. You can also hike from here but that wil take a few hours. There are multiple ways to reach Morshing from Bomdila. A shorter but narrower road is around 50 KMs but if you go via Shergaon, it should be close to 70 KMs. It is mentioned as Lazala Gompa in some maps.
Can I find a hotel or homestay nearby?
As of now, I do not think there is a homestay in Morshing but Shergaon has a couple of homestays and is an up and coming tourist hotspot that no one has heard of.
Read this detailed Travel Guide on the Tawang-Dirang-Bomdila Circuit for maps and more details.