I visited Majuli, one of the world's largest river islands, way back in February but somehow never wrote about it on the blog although I wrote one elsewhere. I am still toying with the idea of a bigger piece on it. But as of now, I am doing this short one on Notun Chamaguri Xatra (Samaguri Satra), the center of Majuli's mask-making culture.
For the uninitiated, a Satra (Pronounced differently in the Assamese, which cannot be written in this script, which is why sometimes people use X instead of S to indicate that and write it as Xatra) is a Vashnavite monastery prevalent in Assam that also acts as a cultural center of its locality. For more details of this 500-year-old tradition, you can check this wiki.
I was cycling through the island, without trying too hard to do anything in particular. I visited some of its bigger Xatras but found them to be too big and institutionalized for spending some quiet time. I decided to visit Chamaguri (pronounced more like "Samoguri or Samaguri") because I was told that it was a smaller one, focused on one particular craft.
It was a bit far away from my place and I had to cycle for a couple of hours to cover 15 KMs. Also, it was indeed a small one, so much so that I missed it completely and cycled past it. After a while, I got confused and asked a local, who sent me back to the right place. It just looked like an ordinary house from outside, but as I peeked through, some otherworldly heads stared back.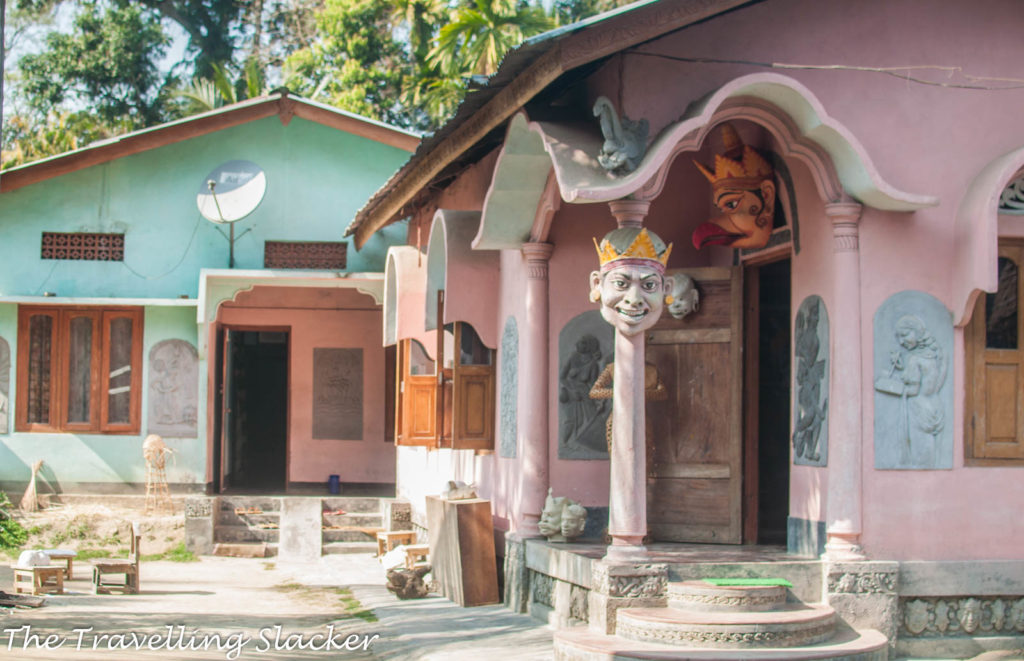 I first entered a room full of heads and only heads. These heads represented various mythological characters and creatures. It was almost as if someone had entered fantasy land and beheaded many of them and brought back as trophies. My macabre imagination apart, this represented some of the finest specimens of this art form that has been honed for centuries by this family.
Artist Hemchandra Goswami is an award-winning craftsman who is responsible for developing this craft in recent times. The entire family practices this craft and although I could not meet him, I met Dhiraj Goswami, one of the next generation artists from the family, who was busy giving finishing touches to a Ganesha mask.
Here it must be noted that these masks are not only for display. They are used in the Bhaonas, traditional dramas where mythological stories are enacted by actors by wearing these masks to depict respective characters. Goswami even demonstrated a few of them by wearing them himself. All these masks have a frame made of bamboo underneath, which is then covered with clay and then painted to come up with the faces.
I could see Ravana with ten heads, Narasimha, Varaha, Hanuman, and many other characters. But the best ones are the ones representing demons and other unsavory characters, good enough to silence nagging children.
Apart from the ceremonial masks, I could also see a lot of small as well as large masks that will never fit an actor's head. These are nowadays being made and sold as souvenirs as tourism is steadily growing in the state. I was told that many foreign tourists are now visiting the place, and learning mask making.
I spent a couple of hours appreciating the art form. It is going through some changes considering tourism nowadays. But the hold of the satras as a socio-religious institution is strong in these parts of Assam and I don't see that changing anytime soon. So, I would like to believe that these artforms are still doing well in the 21st century unlike some others elsewhere in the country.
Guide to Exploring: Masks in Majuli
Where to explore mask-making in Majuli?
You will see the masks everywhere in Majuli and you can also catch performances wearing them at various satras. You will have to ask around for timing. However, if you want to see the mask-making process, you need to go to the Samaguri Satra, which is the hub of mask-making art.
How to reach Samaguri Satra?
Samaguri Satra is a bit far-off, around 8-10 KMs from the major areas like Garamur or Kamalabari. I checked the map online and cycled to it (bicycles can be borrowed in Majuli for roaming around, for a small daily fee). Otherwise, you can ask around and hire a vehicle.
Can we buy these masks?
Yes, some of them are sold as souvenirs. You can ask the people at Samaguri when you visit it.