Shergaon is not even 4 hours from Tezpur through a smooth highway so it is fairly easy to reach. The people here have had close contact with Assam for centuries, and it offers great views of the Eastern Himalayas. Yet, it is rarely discussed in the tourism circuits. My own familiarity, as well as association with Shergaon, has passed through different stages and I am yet to experience it in its full glory. But I am writing this post anyway and I will update this post as I explore it more.
So, Shergaon is a village by the side of the highway, on the verge of becoming a town. The area surrounding it is the homeland of the Sherdukpen people. This region is just a few hours drive from Guwahati yet I first heard of them only in 2014 with the release of the Sherdukpen film Crossing Bridges, something I watched in Delhi.
Yet, it took a few more years for me to get here. I planned earlier but did not materialize for various reasons and even when it did, it turned out to be a hurried visit. Last January, I stopped here during our Three-State NE trip with HolidayScout. However, we reached late and it was already dark and we had to move on (It was a packed trip!). This time, we finally managed to visit in broad daylight. However, it was a quick visit (Again, we had other things scheduled). Anyway, let me describe the place anyway.
Shergaon (Seinthuk)
"The Village of Shergaon is a Collection of chaelt-like houses built partly of stone, partly of timer, and partly of bamboo matting. Several small streams, gathered from the crumpled hills, converge on this green bowl and flow north-eastwards towards the Barali in a larger valley. Shergaon stands on a curved terrace lining the bowl, and overlooking the river. Surrounding it is a forest of green oaks, blue pines, and scarlet rhododendrons." ~  F Kingdon Ward (Assam Adventure, 1941)
While we barely know about Shergaon (Locally called Seinthuk) even now, the Colonial had adventurers ransacked this region in the 19th and early 20th centuries (Mostly to find ways of reaching Tibet) and I unexpectedly found this description in the writings of Kingdon Ward. The good part here is that he was also a botanist and plant hunter and has left a good description of natural beauty, and that of various trees and wildflowers to be explored in this area. Nowadays some concrete structures have come up but overall, it still looks the same, although roads are better now.
It is a small, longish valley that occupies the western parts of West Kameng District, bordering Bhutan, although most of the border consists of impregnable mountains and jungles. The Shergaon, Jigaon and Rupa are the main Sherdukpen villages here. Do note that the neighboring areas like Kalaktang and Morshing are still Monpa areas.
The Sherdukpen People

Just like most other things in NE, the history of Sherdukpen (Also spelled Shertukpen) is also interesting if not fully clear. They are definitely connected to Tibet just like the neighboring Monpas but there's a story connecting them to Assam. Apparently, their ancestor is a Tibetan royal who married an Assamese princess and one of their sons came down and became a ruler of this area.
Sherdukpens follow Mahayana Buddhism combined with some local practices. Mask dances are popular here although you need to match the time of your visit with one of their festivals to witness the same. Sherdukpens are generally an agrarian community. They have close trade connections with neighboring Monpas, Akas, Buguns and also the Kacharis in the plains of Assam. In fact, till a few decades ago, they used to come down to the plains during the harsh winter.
The valley here is fertile and the modern-day Sherdukpens have moved on to delightful cash crops such as apples, oranges, plums, persimmons and much more (This is also the reason why one needs to visit during blooming seasons). Apart from that, honey gathering is a very traditional and sophisticated process here. There is an award-winning documentary about Sherdukpen honey-hunters that you can watch here.
Zengbu Gompa 
So, the first place we visited is the main monastery, which is a bit higher up from the village. It is around 200 years old, not very big but nicely maintained by the locals. Some people were practicing dance for the festival. However, they were not in traditional costume. The forest around the monastery is generally protected by locals and that is what gives it a serene aura.
Choskorong Waterfall
The next stop was the Choskorong Waterfall, which required some offroading. We drove over a stream and drove along it to reach a small farm. Then a 10 minutes walk along it took us to the source of the fall. You need to cross the stream and hike higher up to reach the main part of the fall.
A Potential Slow Travel/ Workation/ Staycation Hub
This was more or less it for this trip. Naturally much more needs to be done here and it is not a place that one visits to knock-off certain attractions but to relax and experience, which is what I will do next time.
So, overall what I feel is that Shergaon is at the cusp of a tourism boom. Modern trends like workation/staycation etc fit well with the vibe of this place. But this also means that they have to be careful to do it in a sustainable manner. I feel that it will eventually become a backpacker hub like the Jibhi-Jalori stretch. Hopefully, someone opens a backpacker hostel here.
UPDATE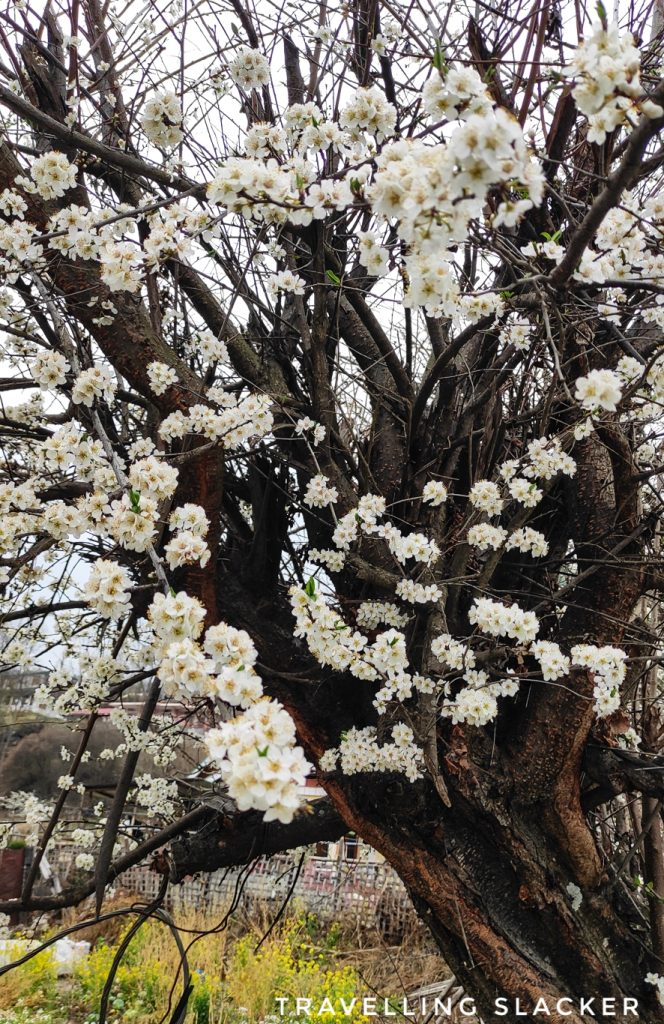 I finally managed to visit it in spring and explore it in more detail. I also attended a festival organized to promote tourism in the area. Have a look at that post on Shergaon Rhododendron Festival.
Shergaon Travel Guide
How to Reach Shergaon? 
Just see the map above. There are two routes going from Tezpur. Both of them meet around Tenga and then go ahead to Bomdila. For Shergaon, DO NOT take the better known Bhalukpong Bomdila Road but the alternative Tezpur-Balemu-Kalaktang-Shergaon-Rupa-Bomdila Road. Various shared cars and buses going to Bomdial should pass through this route but ask them before you book.
Where to Stay in Shergaon? Does it have Hotels & Homestays?

It has a couple of homestays as of now and I am sure more are coming up. The place was not fully open due to post covid blues when we visited. If you have a vehicle you can make a quick day trip while coming back from or going to Bomdila. However, as I have explained before, this is a place to be enjoyed slowly.
Phone and Data Connectivity in Shergaon?
As mentioned earlier, Shergaon is not far from the plains and connectivity is very good here. This is why it can be developed as a Workation destination.
Nearby Places to See from Shergaon?
From here you can also visit the beautiful Chilipam Gompa near Rupa and of course, the road eventually leads to more famous destinations like Bomdila, Dirang, and Tawang. You can also visit the nearby Monpa village of Morshing and drive or hike to the ancient Lhagyala Gompa.