We reached Hongphoi village after a bumpy but quick drive from Mon town and directly went to the place where the Angh (Chief) and his friends from his generation gather everyday. A couple of gentlemen were already there and the Angh arrived soon. He's more than 80 years old and he must have been a robust young man in his 20s back in 1962, when the last recorded incident of headhunting took place in this region.
So, this is why we have arrived here. But what sets the Konyaks apart? Actually all Naga ethnic groups have been through this process. From fiercely independent and warlike tribes, they have become devout Christians thanks to serious missionary activities within a matter of a century and a couple of generations. However, some of these groups converted much earlier and as of now you can't find any sign of their past except some carefully preserved song and dance rituals displayed amply during the Hornbill Festival. However, the Konyaks of the remote Mon district were among the last to convert and there are still some people remaining who have real memories and experiences from those "good old days".
It is hard to describe Hongphoi. It is a living ethnocultural museum and also a fading remnant of a formidable but different past. It is an important place to visit although it leaves one with mixed emotions for more reasons than one. But let me just start from where I should.
So, we reached Mon, the main town in Mon district, the land of Konyaks the previous night. Mon was sort of dusty and sleepy, maybe it is because of the winter or maybe it is simply like that. This is the wild east of Nagaland and don't expect the comforts of Kohima here. It was dark by 4 pm and we spent time walking around the near-deserted town, struggling to find a tea shop and eventually finding one after two hours of frantic search. We spent the night at a guesthouse in Mon that also provided dinner.
The next day we were supposed to move to Longwa, the most famous Konyak village. However I'll write about that in a different post. Before going there, we decided to take a quick detour to Hongphoi. I did not have much idea about it but anyway, it turned out to be a bumpy but quick ride and within half an hour we reached Hongphoi after crossing a jungle stretch and went directly to the Angh's.
The Angh and his friends were busy chatting among themselves. Their lips were red with betel nut juice and their attire was a combination of traditional and new. They are wearing shorts, T-shirts, and jackets but with traditional jewellery and headgear adorned with trophies won during the hunts decades ago. Distinctive tattoos and piercings were visible on their wrinkled skin. These tattoos are not random. They were made by women of the village upon achievement of major feats (such as eliminating an enemy).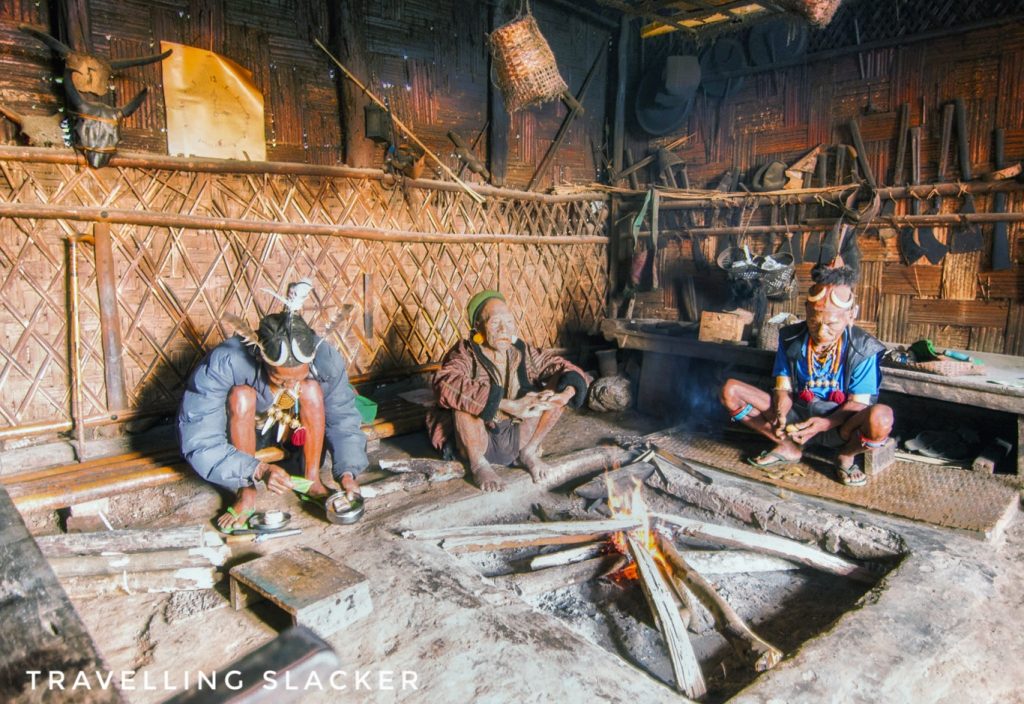 They seemed to be in a good mood and posed for photographs willingly. We were offered pineapples and bland tea without sugar (maybe that is the secret of their good health). The language barrier prevented too much conversation. I think you'll have to stay here for a while with a local interpreter to get good stories from them but for a quick visit, we had to be content with some portraits.
Why Hongphoi is Important… RIGHT NOW?
So, this village is nowadays attracting attention because as of now, Hongphoi is our best chance to spot the traditional Konyak tattooed headhunters. As we know, these were traditions of the past, when they used to be fearsome warriors. Newer generations have moved on to a more "mainstream" lifestyle. There are very few people remaining who have actually experienced the old ways and are still here to tell the tale and Hongphoi has many of them for a small village. I am emphasizing the "as of now" part because most of them are in their 80s and 90s and are the last of their kind, led by their Angh (chief). In fact, the Angh of Longwa, which is a bigger and more touristy village, used to be famous. However, he passed away a few years ago and his son is now the Angh but he is a much younger guy and has actually not seen those times. This is exactly why Hongphoi is important now and this is where professional photographers arrive to get those classic portraits of Konyaks. There may be more in some remote villages but Hongphoi is the easiest to reach and used to getting visitors.
Even as we were observing them, some more visitors arrived. Most of them were Western visitors with big cameras. We also noticed some kids and women, belonging to younger generations, arrive. They are more attuned to the new realities as the women quickly managed to sell a few shawls to the new visitors. Too many people had gathered at the small space and so we decided to move on and visit the Morung, a dormitory for adolescent boys and girls. This is again a major tradition that has almost disappeared. Traditionally, all the young boys and girls had to live in such Morungs (Morungs for boys and girls were different) and learn practical life skills. They could move out only after getting married. Naturally this is again hard to follow in this day and age but many villages still maintain a Morung to keep at least part of the tradition alive. It was basically a large hall which was empty when we visited. Wooden pillars and ceilings had a lot of figurines carved on them, depicting rustic life.
After some time at the Morung we decided to leave. As we were leaving a group of youngsters. They look like any other group of youngsters in any other place but they were carrying handmade guns. We talked to them for a while and clicked photographs. It turned out that they were going for a hunting expedition. They will go deep inside the jungle for a few days and will return with some big catch. So, some traditions are still alive.
Hongphoi Travel Guide
How to Reach Hongphoi?
First, you need to reach Mon town from Assam via Sivasagar-Sonari route. Hongphoi is around 10-12 KMs from Mon Town. Generally, people make day trips from town. It is better if you have a local guide and a vehicle. Shared cars run from Mon but their timings are designed for the convenience of locals.
Read the full Mon Travel Guide for details.
Can you stay in Hongphoi?
As of now, I am not aware of any stay options in Hongphoi. It is not far from Mon and is generally done as a day trip. I think you can do it if you have local contacts, or stay in Mon and commute everyday.
Does one need a Guide to visit Hongphoi?
Well, you can try it can be a bit difficult if you are going there all alone without any contacts. These areas are not very touristy and it is better if you have someone with local contacts. Even finding transport can also be hard. I was there with HolidayScout and they managed the trip without any problems.
What is an ethical way of experiencing Hongphoi?
Well, I have to discuss this part too. I do not always feel comfortable during such activities. Ultimately it is a melancholy topic. They are gradually disappearing. Although they have accepted this now and the locals earn a living from tourism, I think a few things tourists should be a bit more responsible during their queries.
To begin with, just don't get alarmed by the term "headhunter" or use it all the time. They were fierce warriors that mostly remained independent with minimal connection with the outside world till the arrival of the British. Such fights were regular all over the world in the past, it is just that they preserved those enemy skulls as trophies, and the British made the term "headhunter" famous.
Also, what I observed is that they are not too keen on displaying the skulls nowadays. I have actually seen skulls in Ukhrul District (A district in Manipur dominated by the Tangkhuls, a different group of Nagas), but have not seen them in Mon. So, if they do not want to show or talk about it, I think it is better not to bug them repeatedly about it.