Sangti Valley has become somewhat famous of late, at least among those who are planning to visit Arunachal Pradesh. Still, somehow it has always lacked proper documentation. I found most available blogs and youtube videos confusing till I got there myself. My visit was quick and I believe there is more to the place.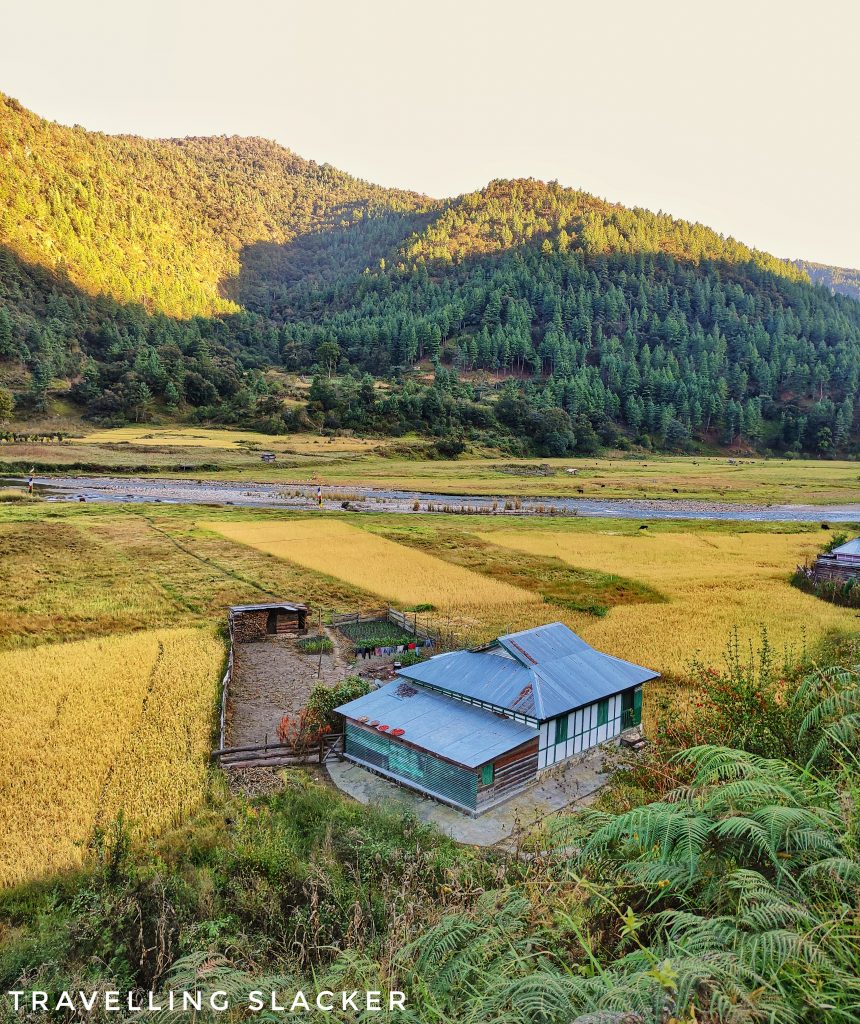 Actually, it is only a short detour from Dirang but still I missed it on an earlier occasion as the road was blocked due to some construction. This time, initially the plan was to reach Sangti through the Dirang Valley Trek that traverses the upper reaches of Dirang Valley and reaches the riverbank of Sangti. However, for various reasons, we did only half the trek and returned to Dirang. Nevertheless, later in the afternoon, we drove to Sangti Valley for a small picnic on the banks of the crystal clear Sangti Chu (Sangti River).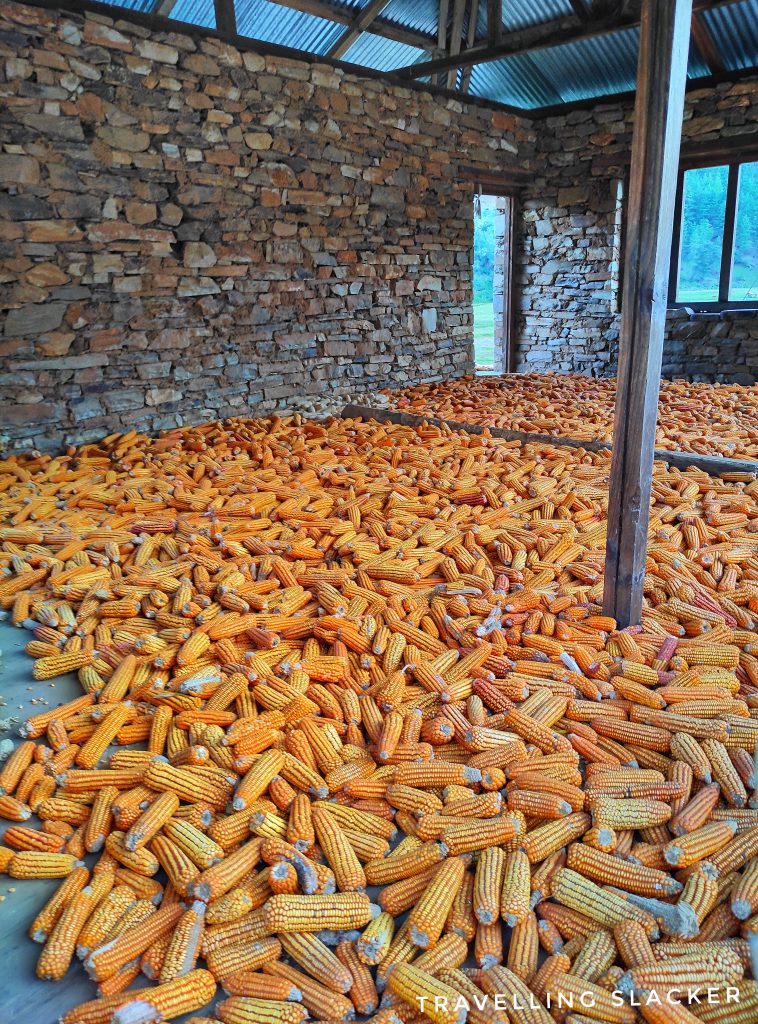 I visited it at the end of October, all the households were loaded with freshly harvested corn and the road was lined with heavily loaded persimmon trees. This post-monsoon season was indeed a good time to visit this area where everything seemed bright and colourful. Sangti valley is centered around a village of the same name, full with double-storeyed wooden huts. It is a Monpa village, so Buddhist manes, prayer flags, and gompas were present as expected.
The visit was quick and also it is a somewhat low valley surrounded by mountains so it gets dark very quickly, even before 4 PM as the even sun gets blocked by the surrounding hills. That is why I am not writing too much about it but providing a quick guide that will help people who are planning to visit it.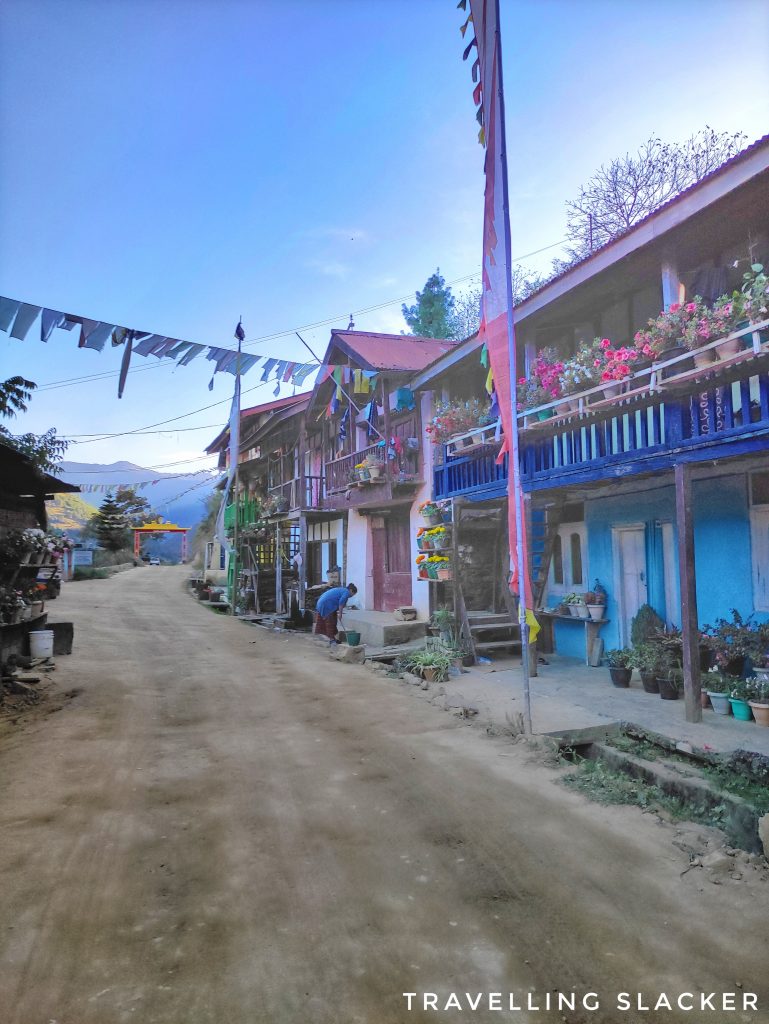 Sangti Valley Travel Guide
Understanding Sangti Valley: Where Exactly is Sangti?
Sangti is basically a sub-valley of Dirang. Sangti is the name of the tributary river that joins Dirang Chu near Dirang Dzong. It is not that hard to reach from Dirang although public transport doesn't exist. The village at the end is also called Sangti and you can also stay at the village.
The entire valley is dotted with fruit orchards (kiwi, apple, apricot, orange, persimmon) while paddy fields can be seen at the lowest altitudes i.e on the river banks. The hills surrounding the valley are covered with dense coniferous forests and various obscure trek routes go out from there to various other parts of the region.
How to reach Sangti Valley?
Sangti is just 15 KMs from main Dirang Town and 10 KMs from Dirang Dzong, which is on the Bomdila-Tawang highway. So, first you need to reach Dirang. In fact, it will be better if you get down at Dirang Dzong, a few KMs before Dirang Town. If you have time, and love walking and hiking, you can even get there without using any vehicle. If you are a more conventional tourist but without your own vehicle, you can hire cars from the Driang market but rest assured that they will charge a lot.
Homestays and resorts: Where to Stay in Sangti Valley?
There are a couple of homestays and campsites in Sangti Valley where you can stay. Otherwise, you can always stay in Dirang Market or Dirang Dzong and make a day trip to Sangti. For a luxurious stay, there is always Dirang Boutique Cottages located not far from the Dzong run by Holiday Scouts who can also be contacted for customized tours in the entire NE
What to see and do in Sangti Valley?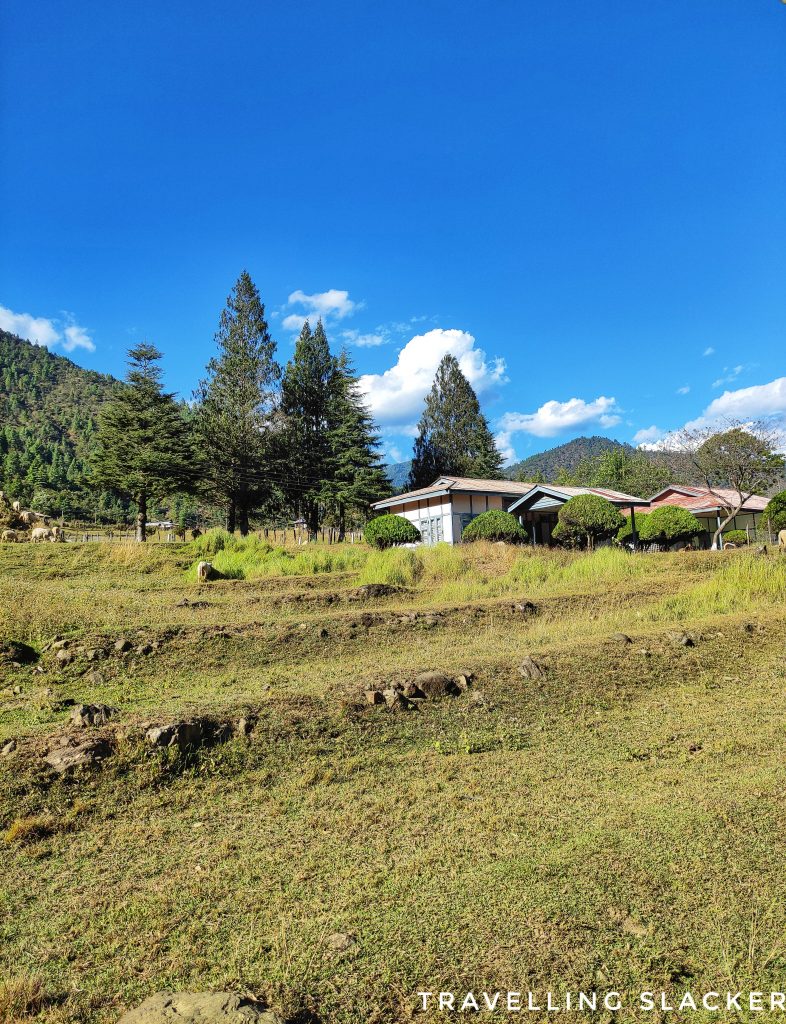 Primarily people visit Sangti for its natural beauty. You can visit the sheep farm en route and walk around the village but the primary attraction is the sheer landscapes and the turquoise water of the river. Some tourists also camp on the banks of the river to soak in the views. Hiking up the hills beyond the village will give you better views and may help you spot some interesting flora and fauna. In the winters, migratory black-necked cranes arrive here too.
What is the Best Season to visit Sangti Valley?
That depends on your preferences. Dirang-Sangti region is a bit of a lower valley between two higher destinations of Bomdila and Tawang. There may or may not be snow but winters are generally pleasant. However, the most vibrant seasons are the spring rhododendron season (March to early May) and the post-monsoon season (Sept to Oct), when the fruit orchards, as well as maize fields, are harvested.
Phone and Data Connectivity
Phone and data connectivity around the main village and riverbank are fine. It may not work if you venture too deep into the mountains.