"Xeiphale Jaok" (go that way)… Said a local guy pointing towards a smaller road branching out from the highway that connects the entire Majuli Island and going into the village as he saw me clicking photographs. 
After 45 KMs of cycling, I was tired. It was about to get dark and it was my last evening in Majuli. I wanted one good parting shot and the unsolicited advice of that stranger turned out to be the right one. That quick diversion led me to a stretch that had everything I'd asked for including vast yellow fields, a small river with a boat with a wooden bridge over it, and a lot of open space to catch the sunset. This is where I spent the last hour of sunlight of my last trip in the pandemic year, alternately photographing the mustard pasture & the marmalade sky.    
———–
So, I was back in Majuli again after a while. The return was due as my visit in early 2017 was somewhat hurried and a lot remained to be covered. More importantly, I wanted to see how it has evolved throughout the years of the tourism boom and also how it has recovered from the covid-induced slowdown. Due to my years of exploring Indian hinterlands, I have a keen interest in the way places evolve after exposure to tourism. Tourism brings economic opportunities but this is where the entire question of sustainable tourism arises. So, in this post, I do not want to talk about age-old issues but about the New Majuli which is becoming Assam's best backpacker hub and the one that can become a model for sustainable tourism if it treads carefully. 
I wanted a longer, unhurried stint, a break from my usual breakneck routine in this year of tiresome inactivity. Majuli seemed to be the nearest spot from my place where I could do that without going through any complex post-covid regulations.That is why I decided to divide my days according to the Satras  (Neo-Vaishnavite Monasteries) of Majuli because they are spread all over the island and other attractions can also be covered along the way. All you have to do here is to read up a bit and find out the main Satras and check their locations on the map. Originally there 64 Satras in Majuli although some of them had to be relocated and nowadays there are around 22. You can pick one area and cover 2-3 of them each day along with other attractions. 
Day 0: Reaching Majuli 
So, I reached Majuli by taking the ferry from Nimatighat as usual. I thought it'll be empty due to the circumstances, just like my train to Jorhat from Guwahati was. However, I was wrong. Apart from the locals, there were a huge number of Indian tourists, some with their own vehicles, who crossed over along with me. While foreign tourists were hard to find due to the travel restrictions in their own countries, Majuli seemed to have regained at least a semblance of its tourism mojo through domestic tourists who were looking for a hassle-free trip after months of confinement in their respective cities. I was glad to see that the rates of the ferry still remain the same (INR 15 per head). 
I did not do much that evening.  I saw a lot of new restaurants and walked past all of them and located another one with a photogenic setting. This is one good thing about Majuli, even the new constructions are imitating the traditional Mishing architecture. In many remote places, traditional architecture gets replaced by concrete structures but in Majuli it is both an aesthetic choice as well as a necessity. Such structures help them remain above the water level during the rainy season.  
Day 1: Uttar Kamalabari, Bengenaati, Bhogpur: Back to Cycling   
As usual, I was looking forward to a lot of cycling and that is exactly what I did. Even last time I'd noted that along with Hampi, Majuli is one of the best places in India to be explored through cycling and now they have more formal arrangements in place for that with multiple cycle rental shops all over the island. I was cycling after almost a year. I had doubts about my own endurance but backed myself to cover long distances. I did return with mildly aching muscles but the overall dopamine flow was such that I managed to do much more than I'd expected of myself.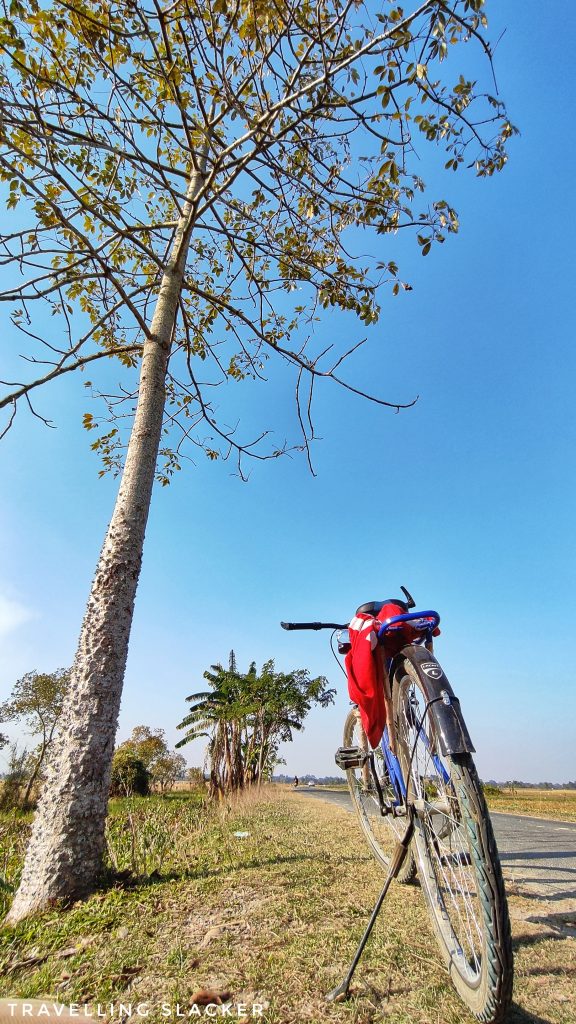 I started from Garamur and cycled to Kamalabari. If you are unfamiliar with Majuli then do know that these two places, 5-6 KMs from each other, are the ones that resemble twins in Majuli. Most government offices and shops are also located here. Most popular resorts are located in the outskirts of these two points. The spot I like in this stretch is the Doriya Bridge over a small river of the same name. From here, you can always see dozens of waterbirds such as storks, egrets, herons, cormorants, and ducks of various kinds. Birding is a somewhat underrated activity in the island with a lot of potentials. 
From Kamalabari several routes leave from all directions. After a bit of contemplation, I headed eastwards. This road goes all the way to Samaguri and Dakhinpat but as I was cycling after a long gap, I decided to take it easy for the day and visit a couple of lesser-known Satras. The first one I reached was Bengenaati Satra. It was founded by Muraridev, the grandson of Srimanta Sankardev's stepmother, in 1626 AD. A group of bikers from Tezpur had arrived at the same time (They were actually looking for something else but ended up there by mistake but decided to visit it anyway). We got a tour of the inner sanctum of the Satra as one of the old monks showed us around. However, photography was not allowed inside so I can't show you.  I also made a quick visit to nearby Bhogpur Satra (another 10 mins from Bengenaati), which is a small but very Old Satra established in 1528 AD.  
I roamed around in the area for a bit longer, just for the joy of cycling. Later on, while coming back I took a little diversion to reach Sri Sri Uttar Kamalabari Satra. Established by Badala Padma Ata in 1673 AD, it is known for various performing arts practiced and perfected by the monks like Satriya Nritya, Ankia Bhaona, Gayan Bayan, Sutradhar Nritya, Mati Akhara etc. I would suggest everyone to visit this (and for that matter any other satra) during the time of major festivals to capture these performances in their full glory. I did not time it right but I did notice one very young Bhakat (resident monk) practicing his craft with amazing prowess. I felt he was not even 10 years old but was completely lost in the act and did not even notice the visitors who were forced to stop and admire his craft. 
Most of the grown-up monks seemed to be busy in day to day activities. The satras also have their own land and this being the harvest season, fresh new harvest from the paddy field had arrived. So, I did not disturb them and simply took a round of the complex. There were some refurbished constructions but the central part seemed to be continuing from the 17th century. I also wanted to visit the Notun Kamabari Satra, another major Satra nearby, but it was getting dark already and it would have required another half an hour of cycling. Maybe I will cover it next time.
While coming back I also noticed one handicraft shop. I talked to the lady at the store and she told me that it opened just a couple of months ago. It is a government-backed store to help local women. There are handcrafts, apparel, traditional food items (mostly stuff made of rice) on sale. During my last visit I felt that local products need better marketing and things seem to have improved now. 
Day 2 Jengraimukh & Garmur Dusk
Jengraimukh is the northeastern part of the island that is usually not visited by people. I wasn't sure if there is anything specific to be seen but I simply wanted to get to that area just for the sake of covering the entire Island. The main Jengraimukh town (more of a roadside market surrounded by villages) was around 22 KMs. I considered cycling but later on decided to try public transport. 
In case you are wondering, the public transport in Majuli is actually pretty efficient. Those shared vans crisscross the entire island and I have seen them running in the remotest roads. You just need to know where to go. So, I just found one waiting at the Garamur market but this was the day of Christmas and the crowd was limited. After a while, the driver reluctantly started with a half-empty car to my delight and his dismay. I tried to strike a conversation with him. Apparently, he also had a cricket match later on and so needed to return quickly. So, he drove fast as we crossed vast pastures and sundry villages. Unlike the famous villages built around the Satras, you would not have heard the names of these places.
Anyway, we reached Jengraimukh after around 45 minutes. It was a small marketplace and there is a college (Jengraimukh College) nearby. A friend of mine had informed me that a cool cafe had opened in town and they serve good coffee. After five minutes of roaming around, I did locate that cafe but it seemed closed (probably yet to reopen after Covid). Nevertheless, the restaurant & cafe boom in Majuli is real and it will only grow in the future.  
This side of Majuli is somewhat different from the part that we are familiar with. It is actually better connected to the Lakhimpur district in northern Assam. Unlike the vast Brahmaputra on the southern bank that I crossed earlier, the northern side has a leaner anabranch which is easier to cross. Local transports run regularly from Jengraimukh to Dhakuakhana & North Lakhimpur. In absence of any specific attraction, I took a lazy walk for half an hour along the riverbank, had tea at a local shop, and then found another shared car coming back to Garamur. I think this area has potential for a lot of things that will gradually develop. Do note that from the northern side you can quickly cross over to Lakhimpur and then enter Arunachal. Jengraimukh to Silapathar is only 100 KMs and from there you can reach Basar & Aalo. So, these busy tourism circuits can be easily connected.  
In the afternoon, I went to visit the Garamaur Satra, which was a short walk from where I was staying. It is one of the most important Satras of Majuli Island once patronized by Ahom Royals. Established in 1656 AD, it enjoyed great influence due to royal patronage and maintains that aura even now. The Ras Lila Festival in the winter here is very famous although I missed it just by a couple of weeks. It is also a storehouse of many antique items and scriptures from the medieval era.   
Later in the evening I quickly walked through some of the nearby Mising village. The map showed that you can reach the riverbank once you cross the villages but it was too late by the time I got there (Hard to manage when it gets dark by 4 PM). Nevertheless, I also noticed many tourist resorts coming up inside the villages too.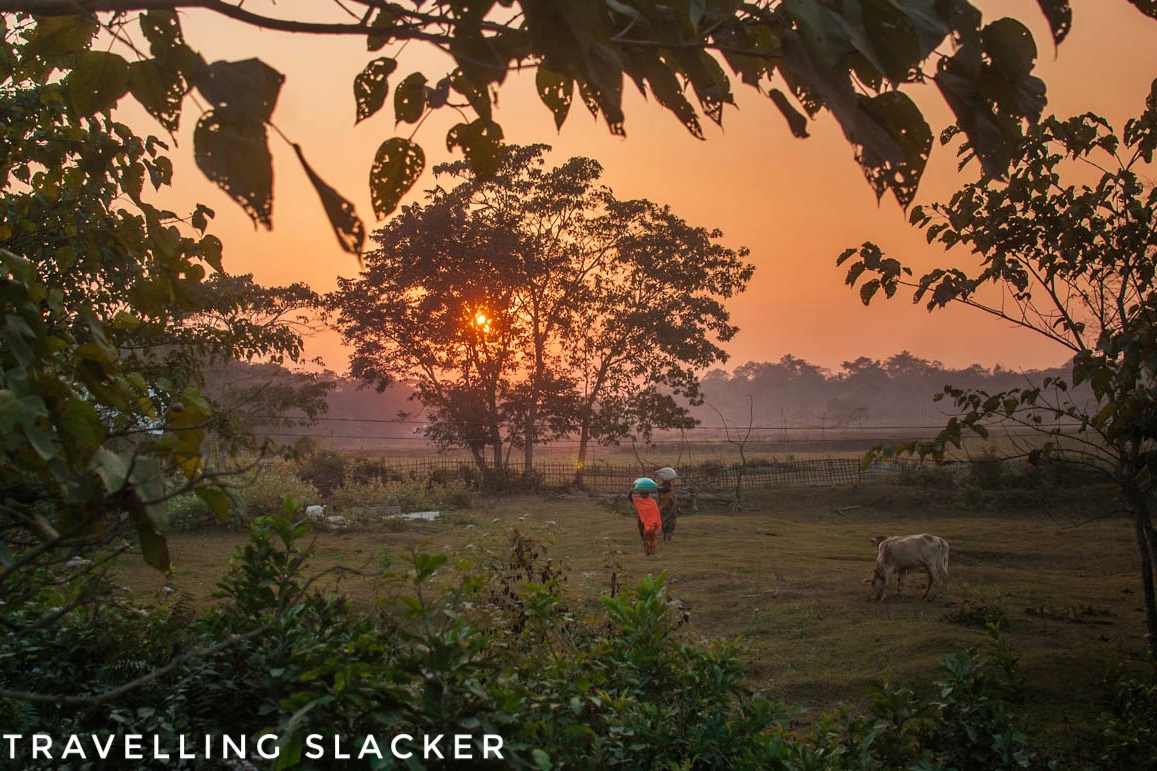 Day 3 Notun Samaguri & Dakhinpat
Today was important for me personally. On the previous day I hesitated to cycle to Jengraimukh as I wasn't sure if I could do it after such a long gap and an inactive year. my plans for this day also required me to cover a similar distance. But eventually, I decided to take it up and although a few muscles would disagree, I'm glad I did. 
From Garamur I took the interior road through the villages. I took it last time too when a Mishing gentleman offered me apong and we had a chat. I was half expecting to bump into him again although this time I didn't get lucky. I did come across a lot of other cheerful faces, school kids on cycles, women working on their handlooms, men working at cabbage patches, and some cooler men playing carrom. 
After 30 minutes of cycling through I seemed to hit a dead end. I was checking google maps but there was some construction going on at one of the bridges and the detour turned out to be confusing. After a while though I emerged in front of Uttar Kamalabari Satra, the one I had visited the previous day. I am not sure how I got there but I was happy to have emerged there and took a break at a tea shop. The guy who was serving tea encouraged me to take the road less travelled again. So, instead of rejoining the main road, I took another obscure but smooth looking road and after 45 Minutes I reached somewhere near Bengenaati, the one I visited a couple of days ago!   
After this I decided not to take any risk and reach the main road which took me straight to the Raonapar village, from where a small detour goes to the Notun Samagrui Satra. I had spent a lot of time here on the last occasion and wrote a separate post that you can see. This time I wanted to buy some masks here. However, this turned out to be the place that had developed most in the last few years. The rooms seemed to have been newly furnished while the walls displayed cool graffiti. It was already full with tourists and almost all the masks had already sold out! I was somewhat disappointed at not getting the masks I wanted but I have to say that tourism boom has really helped this Satra which is actually much smaller than the other famous ones I visited. 
Dakhinpat was still 9-10 KMs away and I was already tired but this turned out to be the best stretch. I left the main road again and took a diversion as per the map and found myself on a smooth and near-empty road passing through the middle of vast open pastures. Winter is the post-harvest season in Assam and so these paddy fields remain empty and only cows can be seen roaming around. However, there were also a couple of puddles where a lot of birds had gathered including some kingfishers, green bee-eaters, adjutant storks, and cormorants.
I came across a group of school friends deliberately riding slowly so that they can have a longer chat. I followed them slowly for a while and struck a conversation. Their schools had just reopened after months of closure due to obvious reasons. They also pointed me to a shortcut that would save a couple of kilometers and I reached the Dakhinpat Satra from the backside.  
Dakshinpat Satra was established by Sri Vanamalidev in 1584 AD. He was respected by the then Ahom ruler Jayadhwaj Singha who offered liberal grants, helping the Satra grow. In terms of size and stature, it is as big as Auniati or Garamur but probably a bit lesser known because it is located on the other end of the island. The central Namghar here is a pretty big one with walls covered with ornate sculptures. It is a major center for various music and dance forms like Borgeet, Matiakhara, Jumora, Chali, Noyua, Nande Vringee, Sutradhar, Ozapali, Apsara, Satria Krishna and Dasavater among others.
I returned the same way, still enjoying the views, but eventually, it got tiresome and it also got dark and I had to drag myself for the last couple of KMs to reach Garamur.
Day 4 Auniati & the Last Sunset
By this day I was left with one major Satra that is Auniati, which is around 12 KMs from my place. Yet again, I hired a cycle again and got there in an hour or so. The Auniati Satra was established in 1663 AD under the patronage of the Ahom King by Sri Niranjan Dev. The main idol of Lord Krishna here was originally brought from Jagannath Kshetra (Puri, Odisha) and installed there. Majuli is usually full of Garuda figurines, who are also come considered the mount of Vishnu. At Auniati I got the clearest shot of a Massive Garuda.
The best part of  Auniati though is the museum. Photography isn't allowed inside so I can't show you the goodies but I'd advise everyone to visit it. There are a lot of articles like the old swords, guns, apparels from Ahom era and also some interesting stuff from the colonial era. Especially a Chessboard made of ivory is noteworthy. I spent the rest of the day simply cycling around the island and ended the day in that nondescript spot catching the sunset that I mentioned at the beginning. Here are some more shots from that point.
Day 5 Parting Thoughts
I returned the same way but with a lot of interesting thoughts. I think Majuli has now fully grown into that backpacking and slow travel hub that I always wanted to see in Assam. It is one of the few areas in the Northeast that has managed to cash in on the tourism boom of the last decade. I'm sure it is pretty obvious but if you have not travelled for travel's sake all over India in recent years, let me explain how tourism has changed in India of late.
Traditionally tourists in India played it safe and only visited a handful of known destinations lime Agra or Shimla or Kaziranga for that matter. The younger generation has grown more adventurous and this is where places like Majuli can cash in on.
Till the 90s travel was mostly family outings. Now there are low budget backpackers, soul searching solo travellers, trekkers, cyclists, and all sorts of other categories that allow newer places to emerge as tourist hotspots.
The latest trend post-covid is Workations i.e. avoiding congested cities and working full-time from a nice location. The only criteria are good internet connectivity, great natural surroundings, and good places to stay. Majuli fits the bill perfectly.
The Road Ahead
So this is more or less it from Majuli for the time being. I still feel that these are early days for Majuli tourism. It has done well so far by involving the local communities, encouraging cycling, and enabling at least some of the local artisans to the mainstream. In order to maintain its allure and to become a role model for sustainable tourism, the following aspects should be kept in mind.
Bringing the remaining Artisans to the Fold
I've already mentioned the handicraft shops I spotted in various places in Majuli. This process needs to continue and encompass all sorts of artisans on the island. Weavers and mask makers seem to be doing well so far but there are many others like potters and bamboo artists who can benefit from this.
Birding 
I have already mentioned the delights of spotting birds all over the island. Considering the river that surrounds it and all the water bodies within, the birding potential has not been fully recognized here. Especially in the winter, a lot of migratory birds also land here. 
Backpacker Hostels & other Facilities

I am glad that unlike many other places that become too expensive as they get popular, many in Majuli still offer budget options. Still, I think Majuli is ripe for a bonafide backpacker hostel. While such hostels have blossomed in various parts of India of late, I think some areas in NE really deserve them and it is a good opportunity for local entrepreneurs. 
Plastic Waste Management
While it has not yet become severe in Majuli, based on my experience, I think it happens quickly when tourism grows. With the influx of tourists and the growth of resorts and eateries, single-use plastic bottles and wrappers will create an issue after a couple of years. So, some preemptive measures may help in this case even before it goes there. Encouraging refill bottles may be a small but significant step in this regard just like Sikkim does. The local communities can also take some ideas from what the locals in Ukhrul are doing at Shirui Hills.
Majuli Tourist Map & Additional Resources
Here is a basic route map of Majuli to understand the basic routes. As you can see, most of the major attractions are in the southwestern end of the island. I have only shown the basic routes. There are many smaller roads covering various villages that you can explore with a cycle.
Read my Majuli Travel Guide if you are planning a trip.