Majuli Complete DIY Travel Guide
I visited Majuli last February and although it was a short trip, there was enough to see. On hindsight, it was barely a few hours from Guwahati but I'd never visited it before. This psychological distance is the reason I am writing this post today. Majuli is flood prone and since it is an island, at least some part of the distance must be covered on a boat. This is what makes people think of it to be a very remote and secluded place. So, let me try to simplify the process for everyone.
For the uninitiated, it is a river island on the Brahmaputra in Assam. Actually, the name itself is actually a generic term that means land between two rivers. It is one of the largest in the world as per the records. However, it used to be even larger but incessant erosion caused by the mighty river has made it shrink gradually and lose two third of its original area. The erosion still continues and the current area stands at around 352 square kms. But still it remains big enough to house several small villages within it and it has been declared as a district on its own, making it the first island district of India. The Majuli Island is formed by the Brahmaputra river and its anabranch called Kherkutia Xuti, joined by the Subansiri River in the north.
There are many villages within the Majuli Island. Some of the main areas such as Kamalabari and Garmur now look like towns. But they are pretty small and the "urban" feel disappears even if you walk for five minutes through them. The rest of it is just the villages surrounded by farmlands. The banks of the river are vast, white expanses that almost feel like beaches on the seashore.
Why should I visit Majuli?
There are many reasons to visit Majuli. To put it systematically,
Reaching the Majuli itself is an adventure. You need to cross the river on a boat and due to its location, it has seen very limited urbanization. Thus making it a secluded, rustic, and peaceful entity far away from other towns and cities in the state.
It is practically the cultural center of Assam. One of the primary centers of the neo-Vaishnavite culture that have been dominating the sociocultural life of most parts of Assam over the last 500 years.
It is also a good spot for nature lovers, especially bird watchers. I did not come across any dedicated bird-watching spot but many local water birds and some migratory birds were easily visible in the open fields and water bodies all over Majuli.
What is the best season to visit Majuli?
Flood is a yearly event in Assam. The Brahmaputra and its various tributaries inundate most parts of the state during the rainy season. As Majuli is located in the middle of the river, it invariably gets flooded every year. This is why many traditional houses here are built at an elevation as you can see from the picture below. So, the monsoon season is a strict no no for tourists unless you are the really extreme type who wants to get into trouble.  Also, I feel the heat will be too much during the summer unless it rains. So, the best option is to visit it in the winter, from November to early March.
As mentioned, you do need to cross on a motor boat. The most common path here is to reach the city of Jorhat, which is around 300 KMs from Guwahati and can be reached by an overnight bus or train. From the station, find an auto rickshaw or other such cheap shared transport to Nimatighat (Nimati Ghat or Neemati Ghat). It is a river port from where the ferries or motorboats operate. From there it should take you around an hour to reach Majuli. There are multiple ports on the banks of Majuli but most probably you will end up in Kamalabari Ghat. Shared cars and a bus or two will be waiting there to take you to the interiors of the island. You can either sit inside or stand on the roof of the boat. The later option is the best for getting good 360 degree views as you move along.
ALternative route to reach Majuli from North Bank?
Yes, there is another route on the northern side connecting it to Lakhimpur and nearby areas of Northern Assam. It is so obscure that you are unlikely to find the proper route on any online map. But don't get intimidated by the distance shown on the google maps. It is actually much shorter. Just ask the locals. I wanted to try it while coming back but I wanted to visit Sivasagar in the south so I had to return using the conventional path.
But how can I take my bike or car to Majuli?
Don't worry. Those boats are big ones and can also transport personal vehicles. You will, of course, have to pay extra for transporting the vehicle but your job will be done. This photograph taken from the roof of the boat should put your doubts to rest.
What are the prices of the ferry for reaching Majuli from Nimatighat?
A human being has to pay INR 15 ( less than $ .25) for a one-way trip on such boats. The rate list is fixed by the authorities and is displayed publicly. There are different rates for different things. Transporting two-wheelers is not that expensive. But four-wheelers can cost you around INR 700 or more. There are different rates for cows, horses, pigs, goats, chicken and ducks etc. in case you need to take them for reasons beyond my imagination. There is a rate for Elephants too but I never saw anyone doing it and I don't think I will ever take a boat crossing a powerful river with an elephant on board.
For more details check this pic. Check the full-size image if you find it hard to read.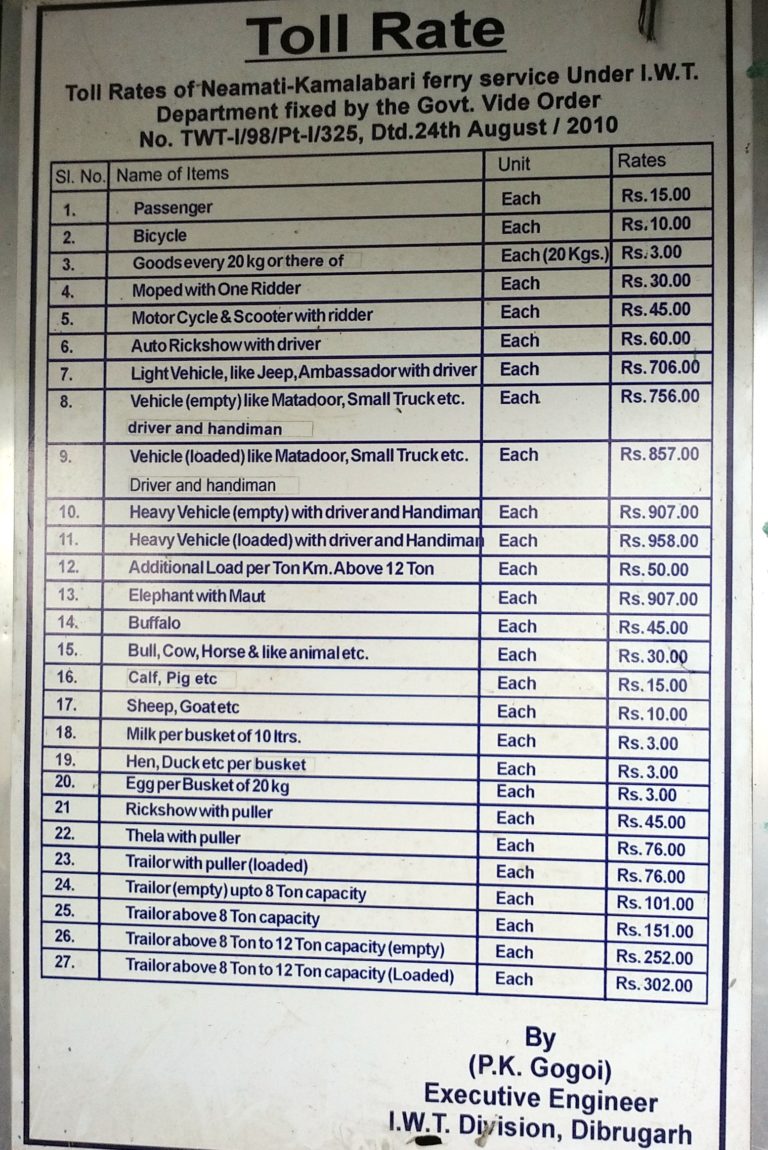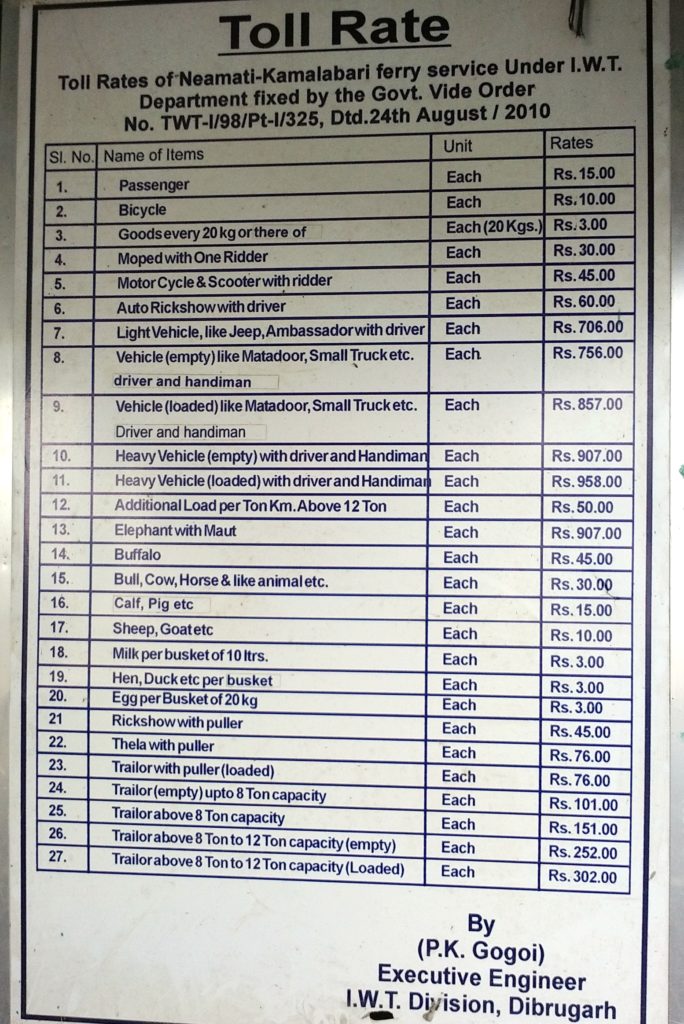 What is the history of Majuli?
This land has been there since the ancient times but the nature of the geography has changed over centuries, as the Brahmaputra and its tributaries changed course. Nevertheless, it has been an inhabited land since the ancient times and it became what it is today in the 16th century with the arrival of
Sankardev
 who founded the neo-vaishnavite movement that was contemporary to the other Bhakti movements that took place all over India in the middle ages.
So,
Satras
are the institutional centers of the aforementioned religious sect. The word is actually pronounced as "Xatra". It can't actually be written in this script. Ask a local how to pronounce it. They not only work as religious sites but also as cultural centers that have a huge influence on the social lives of the local people. Classical dance forms (Check this link: 
Sattriya
), drama (Check this link:
Bhaona
), and music have also been developed through these institutions over five centuries. So, there are Satras in other places of Assam too but Majuli has a huge concentration of Satras and is the best place to visit them and learn about various aspects of their theology, culture, and arts. There are dozens of them in Majuli. Most famous ones include Garamur, Auniati, Kamalabari, Chamaguri, Dakhinpat, Bengena-ati etc. Chamaguri, as mentioned before, is the center of mask-making. Garamur has a museum showcasing items from the medieval era. Similarly, each of them have their own unique features.
How to commute within Majuli?
There are local transports, buses, and shared cars. I have even seen an electric rickshaw. But the best bet for me is the bicycle. The people from your hotel, or any local you make friends with, should be able to provide you one for INR 100 a day. Get that, follow the map, and go wherever you want. This was my best cycling experience after
Hampi
, and that happened more than 5 years ago!
The Majuli Tourism authorities, whoever is in charge, have created a pretty detailed, large scale tourist map of Majuli and put them up at various important spots of the island. I have taken a photograph of the same. Click on and check the full sized image to read the details. It can be very useful when you venture out on your own.
Which tribes live in Majuli?
Majuli is home to various tribes. Most of them also are under the influence of the satras. While many tribes live here, Mishings are the predominant ones in Majuli.
Where to stay in Majuli? What are the accommodation options in Majuli?
Majuli has many different types of accommodation options. Recently, with increasing tourism, some new homestays, resorts, and hotels in Majuli have come up. They have aesthetically built bamboo cottages and an overall ethnic feel. I have not stayed in them but from what I have heard, cottages generally cost INR 1000 or more but solo backpackers can find something in 400-500 range.
On the other hand, there are a few old school lodges and hotels in the main town area of Kamalabari (this where you are likely to reach first from the port). I did end up in staying one of them but I don't recommend them to anyone. They are generally terrible, relics from a not so glorious era that no one should revisit.
Finally, you can also stay on one of the Satras. While it may not be possible in all of them, but most of the major Satras have accommodation for devotees and other visitors at reasonable rates. This is also a great way to witness the practices and culture of the Satras and have interaction with the monks. Similarly, at Chamaguri Satra, one of the smaller Satras, people from all over the world come to learn the art of mask-making. You can read my post
Masks of Majuli
for more details regarding this.
Do you have any suggestions for Majuli Hotels or resorts?
Here are a few options I know of… Solo travellers can bargain for lesser rates.

La Maison de Ananda (800 for a double room)
Me: Po Okum (1000 for a double room)
Ygdrasill Bamboo Cottage (1500 for a double room)
Majuli does not really have any good standalone restaurants suitable for tourists. But most of homestays are known to provide good local food including fish, pork, and rice beer.
Which birds can be seen in Majuli?
As mentioned before, Majuli can be a good place for birding. I noticed mostly water birds such as storks, egrets, and kingfishers of various kind. Many migratory birds from the distant north also end up here in the winters. Other noticeable birds included purple moorhen and white-breasted waterhen. I am sure a seasoned birder will be able to spot and name more of them.
Your homestay or hotel should provide you basic food. There are small shops and restaurants all over the island but do not expect anything fancy. Usual packed snacks and bottled water should be available in these shops.
What to shop for in Majuli?
You can buy miniature masks from Chamaguri Satra as souvenirs. You will find other shops selling handicraft items made of bamboo or clay etc all over the island.
Does Jadav Payeng live nearby?
Jadav Payeng, the Forest Man of India
, does not exactly live in Majuli but his forest is nearby. So, it is possible to club a visit with the one to Majuli Island. I thought about it but could not manage my schedule properly. Nevertheless, the best way is the ask people around Nimatighat. The locals should be able to tell you where to find him or how to reach the "
Molai Forest
". Check the map above, it is mentioned in the bottom.
Do all phone and data networks work in Majuli?
My airtel SIM from Delhi had no issues. It is basically a plain area with no visible obstacles. So, I believe most of them will work without any serious issues, at least in the more populated areas near the port.
Should I take my Old Monk with me?
I think you should find a shop or two in the island, however, the good news is that there is no need for that. In Majuli you must try the homemade rice beer of your Mishing friends. One of them just randomly called me while I was cycling through a village and made that proverbially unrefusable offer.
So, overall, I can say that Majuli is only beginning to realize its tourism potential. I could see a lot of foreign tourists cycling around the island. I think it can only increase in the future. Occasionally, I hear talks about pushing it for a UNESCO Heritage tag for Majuli but so far the efforts have failed. Majuli also faces an existential crisis due to rapid erosions caused by the river. But, at the same time, the government is planning to build bridges and bring rail network to the island. Will that have the same charm as a ferry ride? I don't think so. But the locals do deserve better connectivity.