My old Valley of Flowers  (VoF) travelogues still gets the most traffic out of everything I have ever published here. So, I think it is a good time to refresh the memory and add some more value to it. This guide is based on multiple viists and teh information has been updated over time to new changes. It was originally based on my trek in 2010. However, I have incorporated the chnages occuring due to the devastating flood of 2013, and also included the details of my second trip in 2016 and the Hemkund Sahib Trek during the same trip.
Guide to Valley of Flowers Trek

Route Map of Valley of Flowers: Understanding the Region
Valley of Flowers National Park is a part of the Nanda Devi Biosphere Reserve, a UNESCO World Heritage Site. Hemkund Sahib is another trek in the same region that bifurcates from Ghangaria. Check the map below to understand teh route clearly. As you can see, you have to take the NH 58, the highway that goes towards Badrinath and Mana, till Govindghat and then start trekking.
The lower areas at the start of the trek is known as Bhyundar Valley fed by Bhyundar Ganga or Lakshman Ganga River. The actualy Valley of Flowers is technically a part of Pushpawati Valley and fed by Pushpawati River. Hemkund is a narrower are that runs parallel to it.
How to Reach Valley of Flowers?

What I generally followed was the following, Delhi-Haridwar-Rishikesh-Rudraprayag-Chamoli-Joshimath-Govindghat (Motorable Road — The NH 58). Then finally trek to Ghangaria where you stay the night. The next day you can trek up to the valley and then come back. If you are going to Hemkund, it is another route from there and will take another day.
How many days are needed for Valley of Flowers trek?
5 days from and back to Delhi should be enough if planned well and move continuously, but you may want to give it more time to really enjoy the experience. 7 Days should be ideal in all respects.
What is the best time to visit Valley of Flowers?

Monsoon is when the flowers bloom at the valley. The season starts in June but July and August are the best months but you must also be prepared to brave heavy rains. Carry raincoats and protect your electronic equipment with plastic bags. In September the weather gets clearer and trekking gets easier but the flowers start drying up. Check this post to see how it looks in September.
Is public transport available to Valley of Flowers?
You get buses till Govindghat and then you trek. From Delhi, both trains and buses are available aplenty to Haridwar or Rishikesh. After that, you mostly rely on buses or hired cars going towards Badrinath and get down at Govindghat.
How Long Is The Valley of Flowers Trek?
As you can see, there are two parts of the trek. The first you have to reach Ghangaria. This stretch is around 13 KMs of easy to moderate trekking. You will find food and accommodation here for the night and even this place offers good views with a waterfall. For here you can go to Valley of Flowers the next day. That trek used to be around 4 KMs. But newly built trek after the floods may be slightly longer. Hemkund Saheb is 6 KM away on another route and will take one extra day for it.
What kind of support is available at Govindghat for those who cannot trek?
For those who have a problem with fitness, you can find horses or mules to carry. The locals who drag them charge good money. It should cost arounf INR 1000 per person on one side. I also saw people being carried on stretcher by four other people although I guess they were heading for the pilgrimage rather than any kind of adventure.
What about Food at Valley of Flowers trek?
Basic restaurants serving Indian food are available everywhere along the route till Ghangaria. Vegetarian options are more prevalent considering the fact that it is a religious circuit. Langar food is also available at the Gurudwaras for free. You will not get anything inside Valley of Flowers after you leave Ghangaria as it is a protected forest. However, one the Hemkund route there are shops and at teh end of the trek you get free food at the Gurudwara.
How much should be the Budget for VoF trek?
In case you want to save money, it is possible to do this trip to and from Delhi for INR 3000 ($50) or so in my opinion if you use public transport, stay in budget hotels (Two people travelling together and sharing hotel rooms is the best) and you are fit enough not to hire mules or horses. You can also lessen your costs by eating the langars at various gurudwaras at Govindghat, Ghangaria, and even Hemkund.
Itinerary for Valley of Flowers

Do note that I am making a very tight estimate, assuming that you do this trip in 5 days. In reality, it can get hectic. You may want to break your journey in the middle and halt at a place like Rudraprayag. In that case the costs will be slightly higher.
Day 0: Take night train from Delhi to Haridwar.
Day 1: Take early morning bus from Haridwar to Govindhat, get a hotel room there at night.
Day 2: Trek to Ghangaria. It is a long trek and takes the whole day. Hotel at Ghangaria.
Day 3: Trek to Valley of Flower and back to Ghangaria.
Day 4: Trek to Hemkund and back to Ghangaria.
Day 5: Trek down to Govindghat as early as possible, catch any bus or shared car back to Haridwar, catch night train and return to Delhi by next morning.
Sample Budget for Valley of Flowers Trek
So, based on the itinerary above, here is a potential breakdown… (Assuming 2 people travelling together from Delhi)
Delhi-Haridwar (Mussoorie Express/ Sleeper Class) INR 190
Bus to Govindghat (You may have to change the vehicles if you dont get a direct one)… approx INR 600
Assuming the same rates on return, Transportation cost per head INR 1600
Budget hotels are available at 300-600 everywhere. I am assuming INR 400 on average, shared between 2 people, so per head  INR 200. GMVN dormitory at Ghagaria should also cost that much per head.
Nights required will be 1 at Govindghat and 3 at Ghangaria. On the last day you'll have to trek down to Govindghat and then take a very long bus ride to Rishikesh & Haridwar.
So, hotel cost per head for 4 nights INR 800.
As for food, both the Gurudwaras at Govindghat and Ghangaria serve free food. Additionally, you get free food at Hemkund at the end of the trek. I suggest that you eat the dinner at the langars. For other foods, I am assuming that you can survive on INR 100 per head per day.
So, food cost INR 500 per head.
There are some small formalities like entry fee to the Valley of Flowers National Park. Forgot the exact number but its in two digits.
Total Cost ~ INR 3000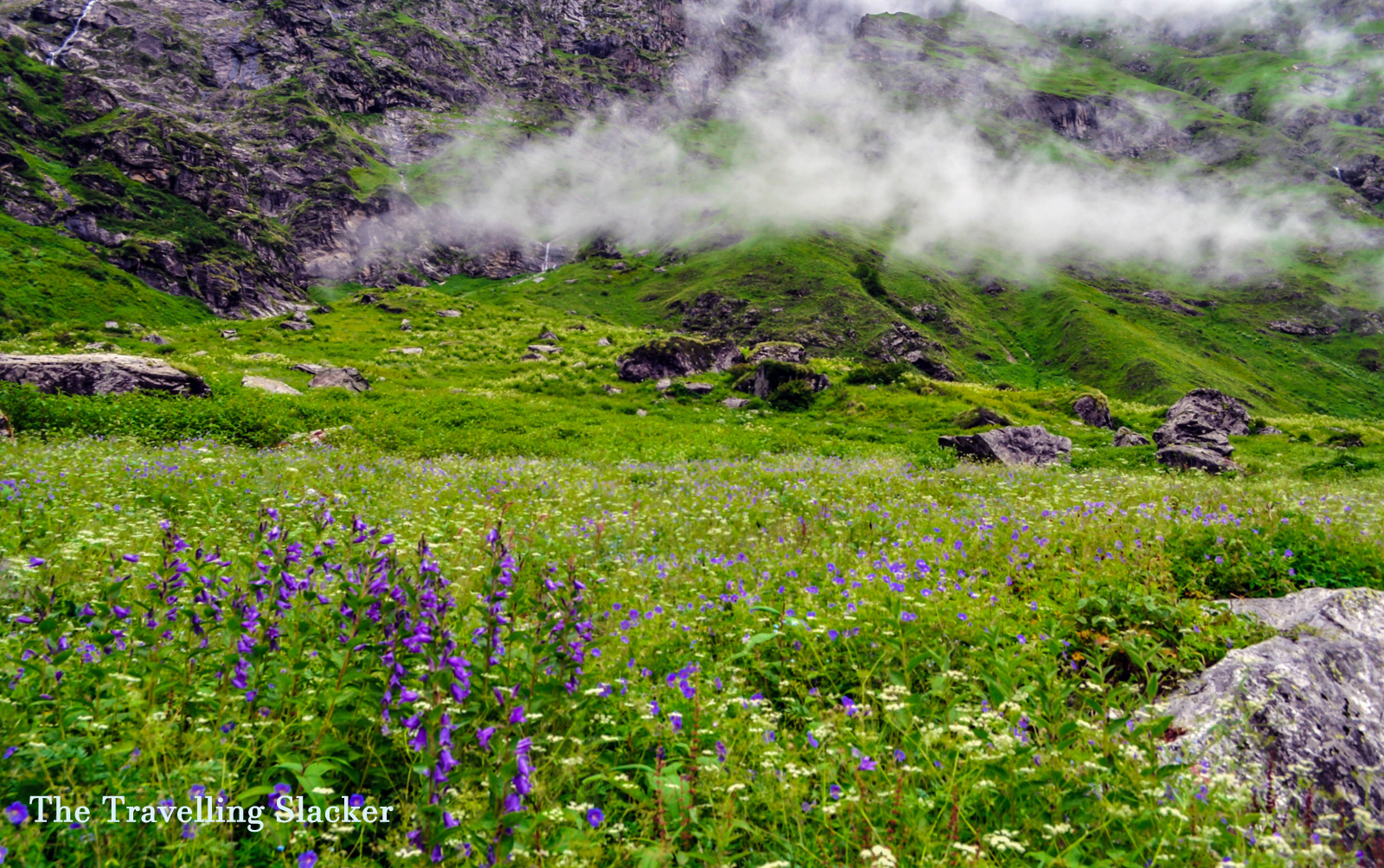 Accommodation for the Valley of Flowers Trek
Budget hotels are available till the last base camp of Ghangaria and hence it should not be a concern for anyone. But at the same time, if you are looking for luxury, you might be disappointed after Joshimath. But as a matter of principle, you should not be bothered about artificial comfort in such a place. At Ghangaria this time I got a decent room for INR 300 after some bargaining. If you don't care about privacy and want to save even more, you can ask some of the religious establishments, there must be something for pilgrims. Also, the state owned GMVN hotels are there at practically every place. Their rooms are expensive but they should have dormitories too at around INR 200-250 per head.
Should I get a guide or buy a package?
Not really needed although it depends on your mentality. Even if you ask the travel agents in Joshimath they may try to get you a guide. But basically there is only one road and a sane person can't possibly get lost. Just walk along.
Hemkund Sahib Trekking Guide

How to Reach Hemkund Sahib?
The Hemkund Trek starts from Ghangaria, the same point as Valley of Flowers trek. But it is a different, longer, and steeper route and you need to set aside a speperate day to do this trek and reach the emerald green lake of Hemkund, which has religious significance for both Sikhs and Hindus.
 Read my Hemkund Trek Report here.
How long is the Hemkund Sahib Trek?
It is around 6kms in length from Ghangaria but it is much steeper than the Valle of Flowers trek that takes you above 4000 meters.
How much time does Hemkund Trek take?
The Hemkund trek takes around 3-4 hours to reach the top from Ghangaria. You need to start early morning and come back in the afternoon as you are not allowed to stay back.
Do I get food up there at Hemkund?
Yes, the langar at the gurudwara serves khichdi and tea for free. There are many shacks on the route too where you can get basic stuff.
Do I get any other transport to Hemkund if I cannot trek?
Yes, there are horses and mules for hire and they charge around INR 1000 if you cannot trek.
Can I spend the night up there at Hemkund?
No it is not allowed. You must start your return trek latest by 2 pm and come down to Ghagaria. It is too cold up there anyway to stay at night.
Is there is a possibility of altitude sickness at Valley of Flowers and Hemkund?
It is unlikely at Valley of Flowers but it is not impossible at Hemkund. although it did not happen to me. You are going above 4000 metres so you need to be careful. Maybe this is why there is a dispensary at the top too in case of emergency. In any case, the best solution is to come down as soon as possible in case you are not feeling well.
New Developments post 2013 floods in the region
My last visited it in 2010. Then the flood of 2013 wiped away the trek and it was closed for a couple of years. But now it has reopened and also new roads have been built. While most other details remain the same, here are a couple of things you need to know.
New Road to Pulna Village
Earlier one had to trek or ride a horse all the way from Govindghat and Ghangaria. But now there is a motorable road till Pulna village, which is around 3 KMs from Govindghat. There are shared cars that will drop you there for INR 35. You still have to trek around 10 kms from that point but it saves more than an hour of trekking.
Timings at Govindghat

From Govindghat you must start the trek before 2PM as it is a long way to Ghangaria. Otherwise, you will not even be allowed to cross the bridge by the cops. Similarly, both Valley of Flowers and Hemkund must be approached as early as possible, so that you can come back by afternoon.
Preparations and Precautions for Valley of Flowers and Hemkund
Do note that the flowers bloom in monsoon and so this is the best time to visit this area. But that also means that you must be prepared for the rains. You can carry raincoats but you can also buy very cheap ones for INR40-50 from the local shops in Ghangaria. These are nothing but sheets of polythene but they save the day on most occassions. Also, it is advisable to invest a bit on waterproof shoes and backpacks. If youare carying big cmareas and lenses, be careful with them too.