It was nearly the end of the season. We were hoping for bright sunshine and azure skies to compensate for dwindling flowers and other miseries of life beyond articulation. But that morning was gloomy, although pregnant with possibilities. As the trek progressed, the weather worsened and eventually reached the point of zero visibility. We saw a few langurs at a distance but soon they also disappeared behind the mist.
Steep Ascent
The trek to the Gurudwara Hemkund Sahib (also spelled as Hemkunt Sahib) is a reasonably steep one. Unlike its twin trek of the Valley of Flowers, Hemkund Sahib does not offer any downward slopes or straight portions. It starts with a steep, upward angle and continues like that till the end, gaining more than 1100 meters in altitude within a distance of 6 Kms from the seasonal base camp of Ghangaria. We marched on as most other pilgrims opted for horses and mules dragged by local villagers. There were shacks selling overpriced food at regular intervals and we had to take shelter in one of them as it began pouring. At that point we also realized that the tea shops also sell raincoats, making the most of the situation. However, we decided not to buy them and just keep braving the light drizzle.
Brahmakamals No More
One of the primary attraction of this trek are the blossoms of brahmakamals (Saussurea Obvallata). Strangely, they seldom bloom in the nearby trail of Valley of Flowers. Although the season was nearing its end, we were still hopeful of seeing them. The previous day we met one trekker returning from Hemkund who told us that they were still blooming. However, the same evening I also noticed some priests with baskets full of brahmakamals. They were plucking them in huge numbers, probably to offer in other shrines! So, as we kept moving up, our worst fears came true. The last of the flowers had been plucked already!
Emerald Lake
Anyway, that minor disappointment apart, we managed to reach the top by noon. It was foggy and cold but the exhaustion went away the moment we caught a glimpse of the emerald green lake by the side of the Gurudwara. On all other side's, it is closely guarded by steep mountains. Thick veils of mist kept obscuring the view but we kept clicking pictures every time the veil was lifted for a few seconds. The colour of the lake made us delirious. I was finding hard to find the right adjective to describe this shade of green. Although have settled with emerald, feel free to come up with your own adjectives.
Devotees who are brave enough to withstand the cold at 4300 metres, also take a dip in the lake.
Composite Cultures
Here, let me explain a thing or two about the Hemkund shrine, its history, and mythology. The main inverted lotus-shaped Sikh Shrine by the side of the lake is relatively new construction. However, this is an ancient site. Garhwali locals and Bhotia (Tibetan) neighbours have been visiting the lake since time immemorial and there is an ancient temple dedicated to Lakshman. The place was earlier known as Lokpal and apparently also has some connections with Vishnu.
So, how did the Sikhs come to the picture? That is because in his writings, Guru Govind Singhji mentioned a lake like this where he meditated in his previous birth. So, many Sikh adventurers started looking for this site in the late 19th century and it was finally located in the early 20 century. Over the next few decades it turned into a major pilgrim trail and as usual, they were generous enough to help enlarge the adjacent Hindu temple too. More details about this can be found here.
Food for the Soul
We entered the Gurudwara and listened to live performances of devotional music for a while. We explored the inner sanctum and paid our respect to Guru Granth Sahib and moved on towards the langar. The good thing about any Sikh trail is that at every major stoppage, there will be a gurudwara serving langar (free community meal) to anyone, no questions asked. We did so in the previous stops at Govindghat and Ghangaria (Govinddham) too. The langar at Hemkund was a more minimalistic affair. Due to the high altitude and difficult terrain, they keep it simple. There is a bowl of khichdi and a glass of milk tea for everyone who manages to reach the top. The person serving it dishes out the food with mechanical precision but make no mistake, the food is exactly the way food for the soul should be, free of cost and free of excesses.
Lakshman Mandir
After the meal, we were looking for a different vantage point for photography and so finally reached the Lakshman temple and found a trail leading towards the hills. We gained a bit of elevation, the weather also cleared marginally for a while, and got some more satisfactory frames.
The Descent
Everyone must start descending from Hemkund latest by 2 pm because after that it gets even colder and one cannot risk getting stuck in between. So, we reluctantly started returning, clicking more pictures. Although brahmakamals had disappointed us, there were other flowers, and not to mention waterfalls along the way, alleviating our physical pain.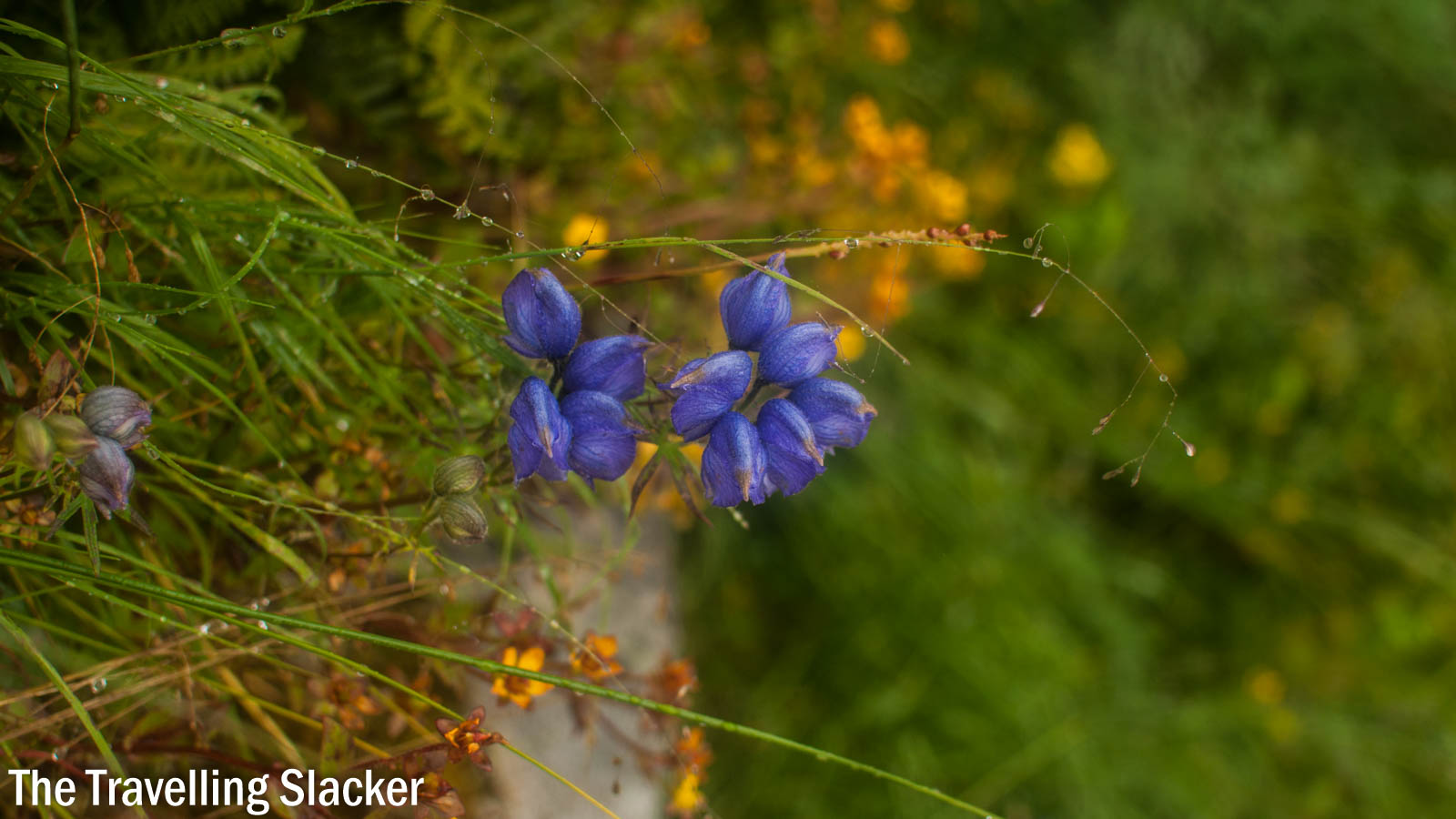 As it always happens with me, the weather cleared towards the end of the day, as if to make fun of my frustrations. But I tried to make the most of it. The trek ended with mostly satisfied hearts and immobile muscles needing recovery. Recover they did, but that is a story that cannot be told here!
Hemkund Trek Budget and other details
Those who are wondering, I did this sudden and unplanned Valley of Flowers and Hemkund trip in around 6 days, spending around INR 3.5K (public transport, trekking, budget hotels divided between two, free langar food wherever possible). Flowers had already dried up in VoF in September but I'd done Valley of Flowers before in 2010 so wasn't bothered about it much. I missed out on Hemkund back then but this time I completed the unfinished business.
More practical details about the region can be found in my VoF DIY Guide.
Also, note that altitude sickness is a possibility here at the top if you are not used to such heights. If that happens, try to come down quickly. There s a dispensary near the shrine too, probably to take care of such instances. Makeshift bathrooms are also available n case you are wondering.
You can hire horses if you cannot trek. They cost around 1000 for a return trip as far as I overheard.