So, I made another round of the Spiti circuit. There was nothing new to explore but there was something that I still wanted to do i.e. to enjoy autumn in Spiti. All my previous trips have been on different seasons and I wanted to capture Autumn Colours (or what they call Fall Colours). Just like my autumn in Ladakh a few years ago, I was hoping to get the best possible landscapes withoiut much effort. I first reached Shimla, visited Dodra Kwar, passed through Kinnaur, reached Spiti, and finally came out to Manali. For this post, I'll limit myself to Spiti.
Let's start the post with Nako, which is technically Kinnaur but the classic Spitian landscape starts from here. It's been a few years since I last stopped here and so many new homestays have opened up that I couldn't even locate the rundown lodge where I'd stayed several times before. On the other hand, the point on the highway where the buses stop and which just had a dhaba to serve bus passengers has become a small market on its own with multiple eateries and even some places offering rooms. The actual village is 10 minutes walk from here. I actually took one of the rooms here to save myself the work the next morning.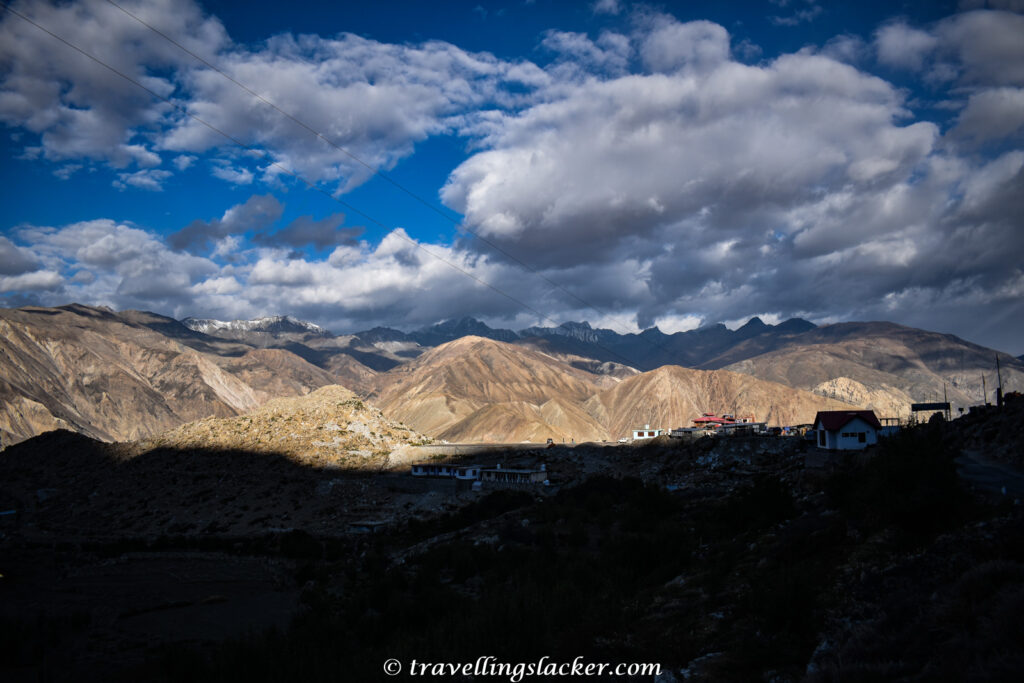 Coming to the views, they were as expected. The willows and poplars were turning yellow already and I clicked my photographs early in the morning just when the soft light illuminated the whole lake. There were already a few tourists out there but I got what I needed. I also hiked up a bit later to those poplars on the way to the big chakra (those familiar with Nako will know… otherwise, read my old Nako Post).
I quickly caught the 9 am bus and moved on to Kaza (it was a very short trip from me this time). I noticed some interesting vegetation on the was although I couldn't shoot them. What I found noticeable is the dense apple plantations all along the way, especially around Tabo. Is it better irrigation or climate change?
Anyway, I reached Kaza and settled down in a homestay. Kaza itself had its share of autumnal hues, especially in Kaza Soma (New Kaza), which is more spacious compared to Kaza Khas (Old Kaza), which is just a big marketplace. If you don't know the difference between Old and New Kaza, read my older post on Kaza.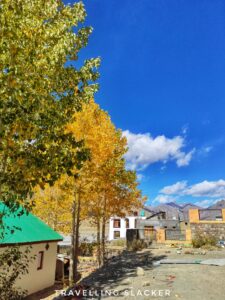 Nevertheless, I needed more. So, I decided to walk… But to where? After some deliberation, I decided to walk back the same way I came, for a few KMs. This stretch was mostly straight, so the walk was easier, and if anything went wrong, I could take the bus coming from Peo later in the evening.
I decided to at least reach Shego village, 6-7 KMs from Kaza, and started walking along the road, following the Spiti River. The river was slender and the teal blue colour was as expected. But the initial part was mostly devoid of trees although the river and the grass on the banks added enough colours to the landscape.
After one turn, I finally saw a bunch of yellow trees and in the following turn, some snowy peaks revealed themselves, offering the classic combination of autumn in Spiti. This is something we often miss while taking the bus to Kaza as we quickly pass thrpugh these areas. We don't get to look back at the landscapes.
As I kept walking, the views kept getting better. There was hardly any habitation and I did not see anyone apart from occasional vehicles. Apart from personal vehicles, there were many pickup vans carrying big drums of water. potable water is a serious issue around Kaza and they usually source it from other areas.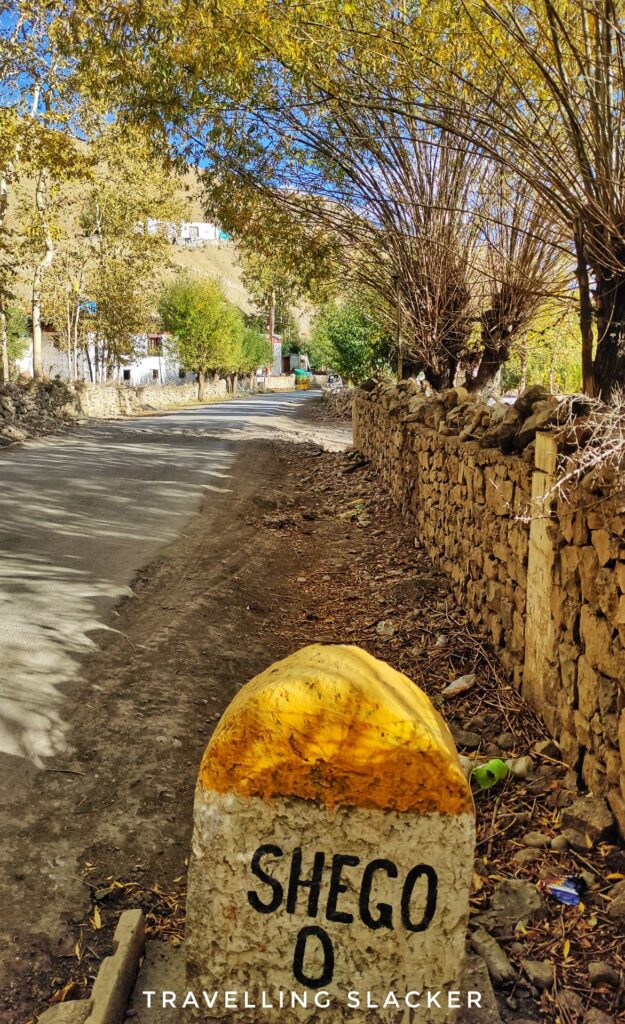 After more than one and a half hours, I reached the edge of Shego as a few scattered hoses and some shrubs of seabuckthorn welcomed me. At a distance, I also saw a few people working on the field but they were too far away and I did not see anyone near the road. I kept walking and realised that the village already had some camps and stays for tourists although most of them looked empty.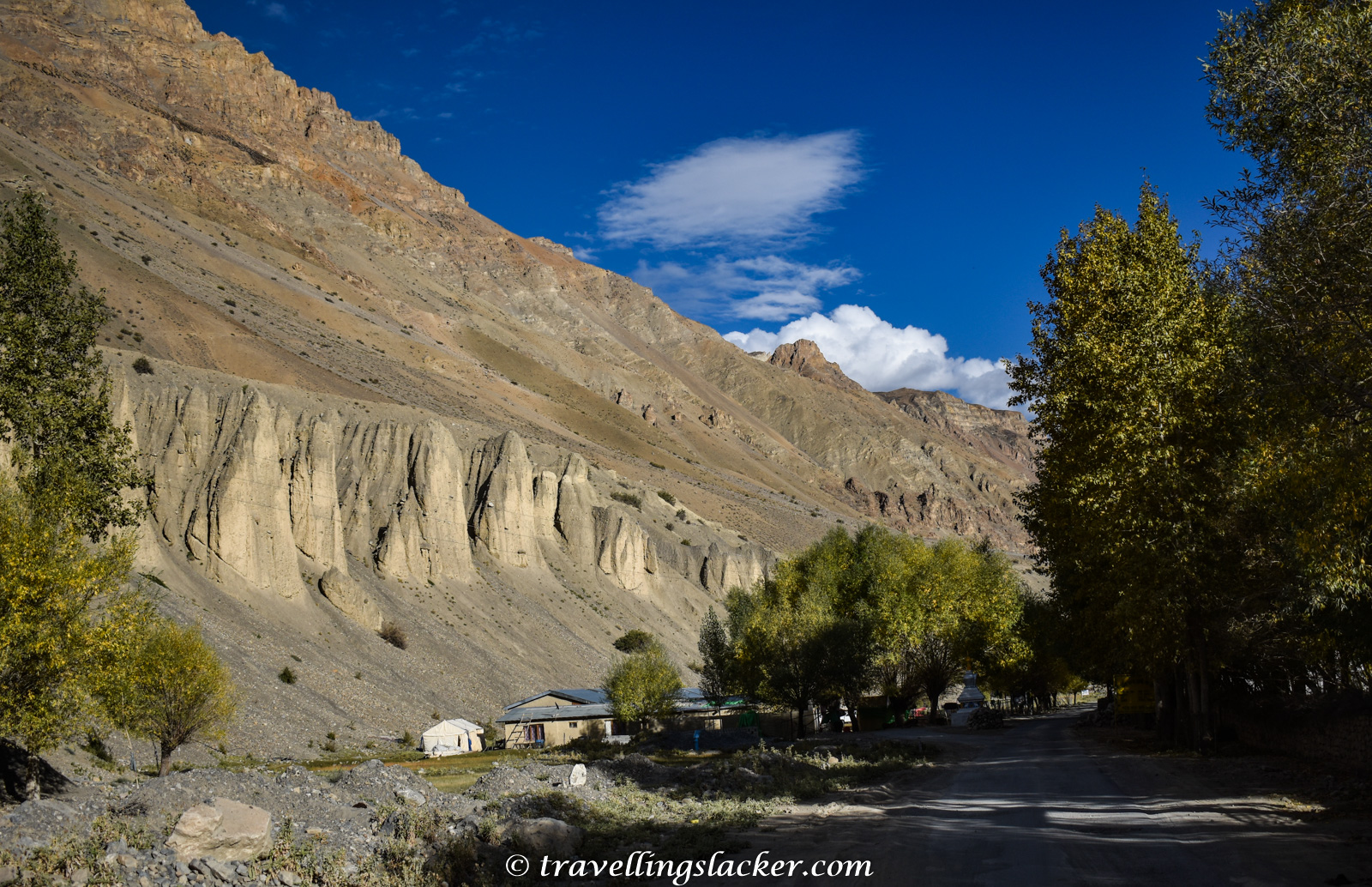 This village is part of Demul Gram Panchayat. Demul village itself is located higher up. Just as I passed through the village and emerged on the other side of the village, the iconic, giant anthill-shaped hills appeared. Those who have been to Dhankar will be familiar with such views. Dhankar is just a few KMs ahead and the classic Dhankar landscape starts from around this point. Actually, it felt like an elaborate set for a Spaghetti Western at this point., except the smooth road.
I spent some time clicking photographs. I was tempted to go ahead further but was getting darker already. The bus was nowhere to be seen so I just started walking again, hoping to catch the bus whenever it arrived. However, just around that time one car stopped and asked me to hop in. This was one of those pickup vans carrying water. He dropped me back in Kaza in a few minutes, but not before telling me how water is a big issue and how he makes several trips in a day to Shego during peak tourist season only to carry water.
This is more or less it for today. However, I would like to end with some images from the return journey as the peaks were clearly visible from Kunzum Top and even the rivers and streams were delightful with crystal clear glacial melts. However, more adventurous was how I managed to get that bus. I reached the bus stand at 4.30 AM. It was pitch dark but then I realised that a good number of people had already booked seats on the previous night. The conductor encouraged me not to go but decided to go ahed and got half a seat at the middle of the last row and somehow managed to reach Manali.
When's the autumn in Spiti?
September and October are the autumn/fall months in Spiti.
Why visit Spiti in autumn?
The main attraction during this season is the autumn colours. All the big trees gradually turn bright orange or yellow, adding delightful hues to the stark landscape.
Also, this is a comfortable season, not too cold or not too hot. It follows the rainy season or monsoon when the roads can take a beating. Things return to normalcy in autumn but the harsh winter awaits.
Will it be too cold in Spiti?
Not really. The days are sunny and warm in autumn. The nights will be cold but you wil mostly be indoors at night anyway.
Are Homestays available during Spiti autumn?
Definitely. It's one of the best seasons to be in Spiti and all Homestays, hotels, shops, and restaurants remain open.
Do buses run during autumn in Spiti?
Of course. This is a good season post-monsoon and even the Kunzum pass remains open and HRTC buses as well as shared care remain functional.
What to do during Spiti autumn?
You can do what you usually do in Spiti. You just get the additional delight of autumn colours. You can read my Spiti Travel Guide for planning the same.