Everyone is going to Spiti nowadays. They can't stop talking about Chandertal, Dhankar, Langza, Kee, Komic, etc. But hardly anyone talks about Kaza although it is one of the most important transit points in Himachal Pradesh in terms of tourism. To be honest, the town itself is generally not seen as a tourist attraction but it is the headquarter of Spiti and people reach here first before moving to most other places. So, it can be useful to know a bit more about Kaza. So, due to my natural sympathy for underdogs, I have decided to write about this neglected town (and there will be more of them in the coming weeks).
My first experience with Kaza was not that satisfactory. A few years ago, I'd arrived there after an eventful visit to Dhankar. Kaza seemed pale in comparison. It was the peak of summer and the town was full of tourists. The congested central market of around the rundown bus stand did not attract me, although it seemed very popular among foreign backpackers, all of them seemed mesmerized, just like they do in Paharganj. As expected, there were many cafes and restaurants of the kind usually found in touristy places in India, like that omnipresent "German Bakery" not run by Germans. I did stay there for a few days and went to nearby never thought of exploring the town itself.
The second time last month was a better experience. It was April, so the tourist season had not started yet. There were quite a few travellers actually but they were mostly Indians. The season does not start till the foreign visitors start flocking in the summer. So, the town had bit of a sombre look. A lot of shops and restaurants were closed including the aforementioned German Bakery.
I walked around the bazaar, looking for a cheap homestay. On the previous occasions, I'd found a basic homestay for INR 300 but I failed ot locate that one. Some other were still closed and the ones that were open were charging around INR 500 or more. I could go for any of them but on previous occasions I had found much cheaper options in this region. So, I decided to try my luck a bit more.
Just as I was roaming around aimlessly, one guy approached me and asked if I was looking for a place to stay. Once sure of my requirements, he came up with his proposal, INR 400 per day. The place is a bit far away from there but he will drive me in his car and also drop me back whenever I need. It seemed like a good deal and I was about to accept but he thought I was hesitating, so he added, "with breakfast and dinner" and sealed it.
Combined rates for stay and food homestays are normal in Spiti and I got the same for INR 300 in Dhankar once. However, the prices have gone up in Kaza with the tourism boom so I was glad to get such a deal. We drove to his place, which is actually located on the other side of the town called "New Kaza". It is a more spacious area compared to the old market and the homestay turned out to be located on the bank of the Spiti River, overlooking a Monastery on the other side of the river.
In case anyone is wondering, the homestay has been recently opened and they were yet to decide a name (The guy's name is Tashi but I think it is a very common name, so good luck finding it). Anyway, it is a typical Spitian family home with a lot of mattresses on the ground to fit in a lot of people in one room. The family with several children also live there but they have set aside a couple of rooms for guests and the river and the hills beyond can be seen right through the window. The house in the middle of the picture below is the homestay. As you can see, it is on the last row, facing the river bank.
I used it as a base for the next few days and visited the usual suspects like Kee, Langza, Komic, Hikkim etc. But I will talk about them in a different post. For the time being, let me just explain a few things about Kaza.
The Geography of Kaza
While coming back from Komic and Hikkim, the car stopped at a good point from where one gets a bird's-eye view of the whole Kaza. I think this view is better than any map to explain the geography of Kaza. As you can see, the part on the left is the Old Kaza while the part on the right is the New Kaza. A small stream called Kaza Nala divides them and it eventually meets the Spiti River. You can easily walk from one part to the other by crossing a small bridge over the river. In fact, in April, there was not much water and I could just walk over the river bed. The motorable road does not pass through the town but takes a longer route (see the lower part of the picture). You can also see the new shiny monastery (yellow roofs) on the right side.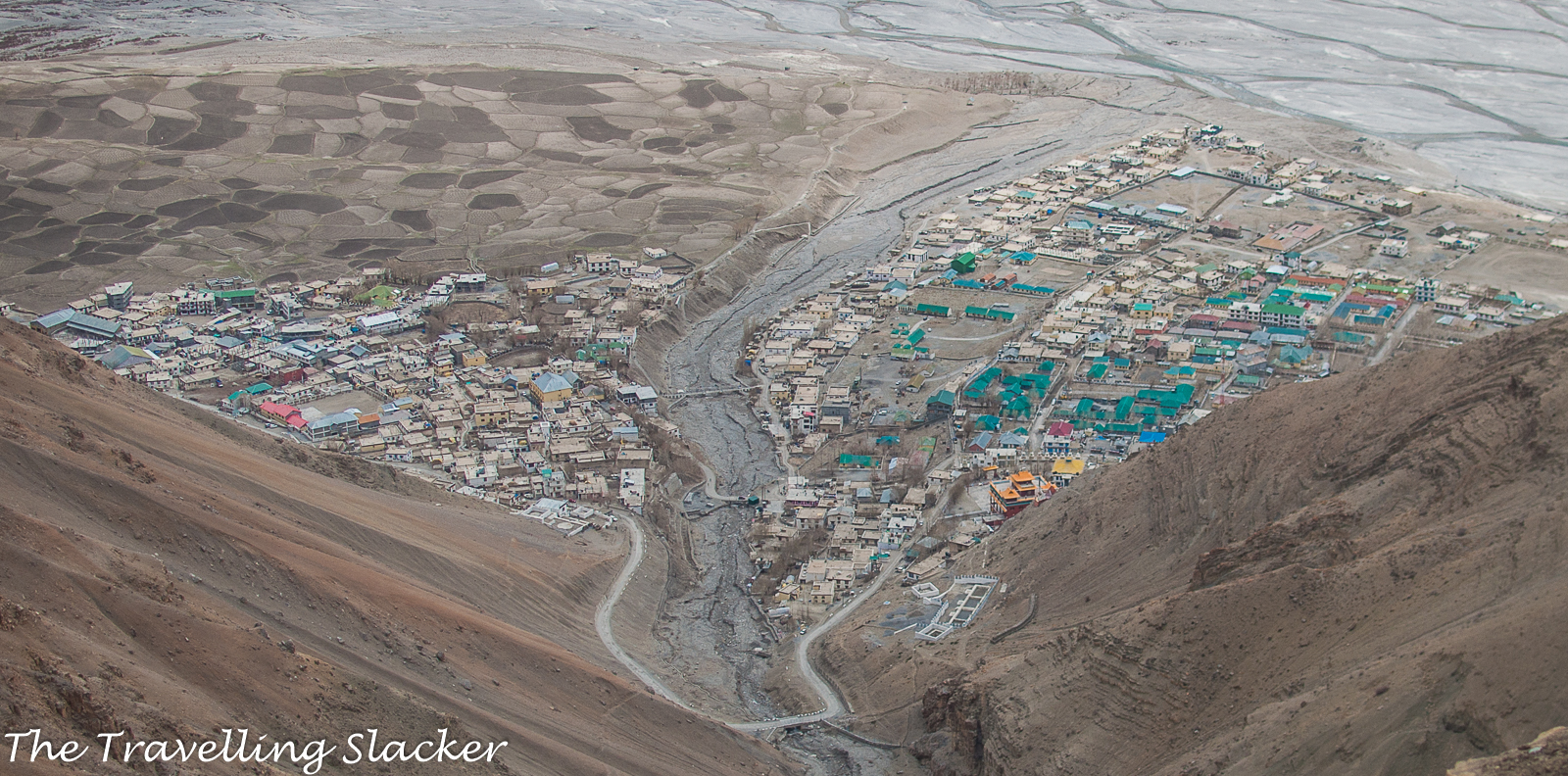 Old Kaza (Kaza Khas)
The Old Kaza or Kaza Khas has the bus stand and the bazaar by the side of it. There are scores of shops, restaurants, hotels, and homestays in this area. I think the tourism boom began suddenly here around a decade ago and they were not prepared for it. This makes this area a bit too densely populated. It is not very photogenic either but this is where the bus will drop you and if you are new, you will end up staying in one of the homestays or hotels around the market.
New Kaza (Kaza Soma)
New Kaza is less congested. It has a lot of new buildings, government offices, stadiums, hotels, and of course residential houses, many of which have been turned into homestays. The Kaza Monastery is also located by the side of the road and on the edge of the hills. You cross it as you drive from Old to New Kaza.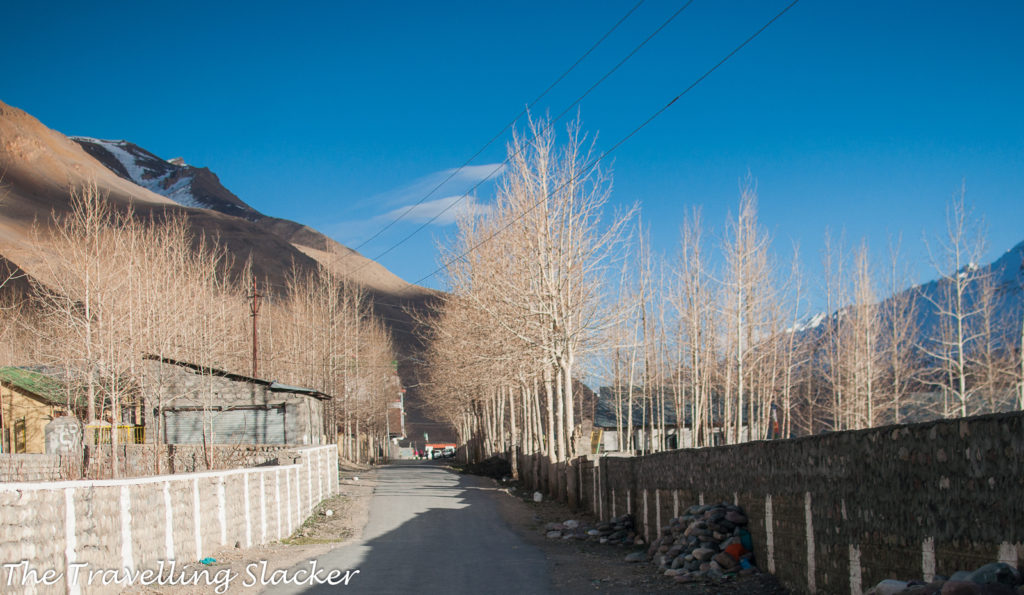 Hotels and Homestays in Kaza
The primary accomodation options in Kaza include homestays, hotels, and backpacker hostels. Homestay rates range from INR 300-500 per head. With a bit of bargaining, you can get your food included with the deal. But do note that you may have to share the rooms and some of them may not have western toilets. On the other hand, comercial hotels have come up in large numbers in recent years and you can expect to pay at least INR 800-1000 in such places and there are more expensive, fancier options too. There is a government-run HPTDC hotel too in new Kaza. Another option is backpacker hostels. They were a rarity in India untill a few years ago but the backpacker culture has improved in recent years and such hostels have come up all over the country, including Kaza.
Food in Kaza
There are scroes of restaurants in Kaza, offering all sorts of "mainstream" food (the kind of food that you find everywhere else in India). There are certain cafes targeted at foreign tourists too.  Tibetan foods are generally found everywhere at very low rates and that is what locals mostly eat. For example the large bowl of Thenthuk below cost INR 60. But the best way to enjoy local food is to ask the family at your homestay.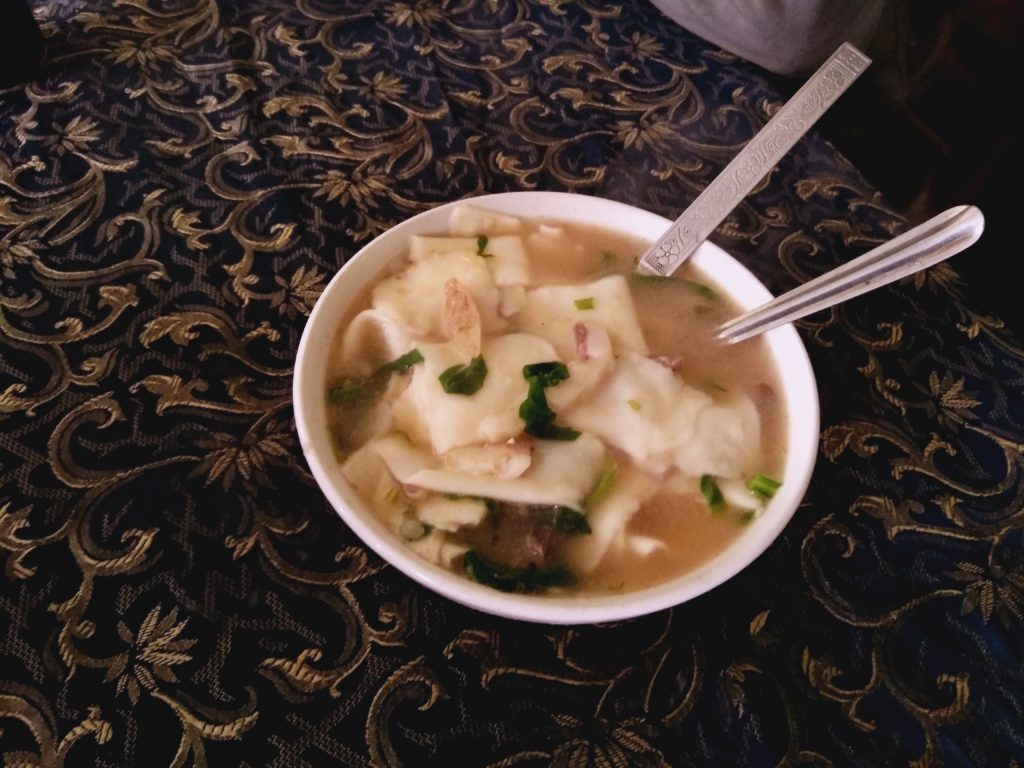 How to Reach Kaza?
As everyone knows, you can reach Kaza from either Shimla or Manali. However, the Manali route is open only for 5 months or so during the summer, generally between June and October. On the other hand, the Shimla route remains technically open but the bus services most probably will close down during the peak of winter although the adventurous folks with appropriate personal vehicles can still make it.
Manali to Kaza Bus
The Manali to Kaza bus leaves very early morning, at around 5AM-5.30 AM. During the peak of summer, you must reach the bus stand before 4.30 AM to have any realistic chance of getting a good seat. It practically becomes like a city bus during rush hours. However, the bus actually starts from Kullu at around 4AM-4.30 AM and reaches Manali after an hour or so. I once managed to get a good window seat because I spent the night at a pathetic hotel near Kullu bus stand. Most tourists stay in Manali rather than Kullu, so you can secure a seat in Kullu by being an original thinker and watch rest of the herd scuffle for seats in Manali from your comfortable seat and experience true schadenfreude.
Shimla to Kaza Bus
As far as I know, there are a couple of Shimla to Kaza buses that leave in the evening from Shimla ISBT at 6.30 PM and 8 PM daily. They reach Reckong Peo next morning after overnight rides and then reach Kaza by afternoon. However, take this information with a pinch of salt. Generally, they change the bus at Reckong Peo and send Kaza-bound people to the other bus. Nevertheless, you can book tickets for the whole journey in Shimla.
Anyway, it is a very long and hectic journey that I will never do in one go. I normally go to Peo first. There are scores of buses available throughout the day from Shimla to Reckong Peo. In fact, you can even find Delhi to Peo and Chandigarh to Peo buses. From Peo, check the next section.
Reckong Peo to Kaza Bus
The Reckong Peo to Kaza bus leaves daily at around 7 AM. Again, it can get crowded. So, you must reach early at the bus stand. Also, don't wait at the lower market to catch it and go to the bus stand before time because otherwise, you will not get a seat. If you miss this one, there is another bus that goes to Sumdo at around 12 noon. This will not go till Kaza but if you are planning to halt at Nako, you can take that one and then leave from Nako by catching the Peo-Kaza bus the next morning.
Kaza to Reckong Peo, Shimla and Manali Bus
From Kaza, buses leave early morning for both Manali and Shimla (via Peo).  Kaza to Manali bus leaves at around 5:30 AM (Ask locals and be sure about the timing) and reaches by afternoon. The Kaza to Shimla bus leaves at around 7.30 AM. It reaches Peo by afternoon and then Shimla in the morning after a hectic overnight journey.
Shared cars from Kaza
Alternatively, there are some local private shared cars that leave from Kaza every morning. They also wait near the bus stand and try to capture down on luck travellers who fail to catch the buses. I once took such a tempo traveller from Kaza to Manali along with a US guy and half a dozen locals. He charged around INR 500, which is a bit higher than the bus but it was a quick journey with no further hiccups.
Kaza Bus Fares
As of now, the formula for HRTC bus fares for ordinary buses seem to be 1.8 times the number of kilometres covered. For example, if the distance is 200 KMs, the rate will be 300 (plus a bit more for taxes etc.). So, just google out the distance and do your calculations accordingly. I saw some other sites mentioning much lower rates. I think that data is a few years old. (I think one guy did the trip a few years ago and the rest have been copy pasting since then).
Local Transportation in Kaza
The internal road networks within Spiti has improved significantly in the last few years. There are good roads to most of the villages now. There are local buses to take you to the villages around Kaza, such as Tabo, Key, Langza, Pin Valley etc. However, all of them generally leave in the afternoon and come back next morning. Basically, if you are planning to make a day trip using the bus, it is not possible.  You will have to go in the afternoon to any of these villages, stay at night, then come back in the morning.
On the other hand cars for hire are always available. The people at the market charge INR 3000 for showing all major attractions near Kaza, i.e. Kee, Kibber, Langza, Komic, and Hikkim. My homestay owner said that he can organize teh same for INR 2500. Now, it is expensive for one but if you can team up with 3-4 people, this is a good deal too.
Also, it is posisble to hire bikes in Kaza too. I am not a biker and don't have first-hand experience. But I met someone who hired a bike for INR 1000 per day. Just ask around in the market for options.
Kaza Things to Do and Places to Visit
While the nearby villages and monasteries are famous among the tourists, within the town of Kaza, you do have a few things to do.
The first thing  that anyone does here is to visit the New Monastery located by the side of the main road connecting Old and New Kaza.
There is another monastery and the Nono (ruler from medieval times)'s palace on the other side of the river. The google maps mention it as Sakya Gompa and Kwang Nunnery. I was too lazy to visit them and all other websites have confusing info. Better you find out yourself.
When you go higher up towards Hikkim, try to get an aerial view of the town from higher up.
Buy local produces such as seabuckthorn tea and jam, along with local sweet barley etc. Look for this shop in the main market. The guy on the right gave me half a kg seabuckthorn for free from his own stuff as he was out of stock.
Kaza Temperature
At an altitude of 3650 metres or more, Kaza is expectedly a cold place. In the summers, the days remain pleasantly warm at around 20 degree celcius while the nights remain pleasantly cold. This time in April, the days were still warm at around 10-15 degrees but the nights were uncomfortably chilly. So, you can imagine that the winters will not be easy to withstand.
Phone, Data Connectivity, and Wi-Fi in Kaza
The only SIM that works in Kaza as of now is BSNL. Last time I was carrying Airtel and got totally disconnected. This time I carried a prepaid BSNL SIM and I could receive and make calls. However, don't expect any data connectivity. As for the internet, there are some cyber cafes in the Kaza Market. You can just pay them, connect your phone to their Wi-Fi and check your emails. However, the speed is generally not very satisfactory. Also, some of the restaurants and bigger hotels may provide free Wi-Fi. But again, don't expect much in terms of speed.
Also Read: The Ideal Spiti-Kinnaur Itinerary