Where exactly is Tirthan? rather… What exactly is Tirthan?
This was a question I asked many years ago when I first heard of the name. Some people gave me a rough idea and the area seemed to be getting rapidly popular with tourists.
I also started visiting it soon and so far I have made several trips to the region. But even after my first visit, I had to repeat the same question, where exactly is Tirthan?
This is because there is no town or village named Tirthan, a fact that took some time to dawn upon me. Tirthan is basically the valley of the Tirthan river. This is one of the two major valleys that constitute the Great Himalayan National Park, the other being Sainj. The largest settlement along Tirthan is Gushaini, a place that has grown a bit too popular for my liking. Anyone who says she is "going to Tirthan", generally ends up in one of the resorts around Gushaini and but there is much more to see there in case you are willing to explore. So, this is the whole point of writing this post. While fishing in those turquoise streams maybe a delightful activity, Tirthan is NOT limited to that. This is why I am trying to answer some burning questions through this small guide.
Further Reading: A Complete Guide to The Great Himalayan National Park and Jalori Pass
Tirthan Valley Travel Guide
How to Reach Tirthan Valley?
The easiest way to reach Tirthan Valley is to reach Aut Tunnel, which is around 40 Kms from Mandi on the Delhi-Manali route by catching a Manali bound bus from either Delhi or Chandigarh. From Aut, you get local buses going towards Banjar, which is a reasonably big town, for INR 45-50. From there you can get a bus to Gushaini for around INR 30. Some buses go further to villages like Batahad, and Pekhri, which are 8-9 Kms further from Gushani (INR 15). Usually the destinations are written on the frontside of the bus if you can read Hindi.
Tourist and Trekking Map of Tirthan Valley
This map is NOT up to scale (I don't even know how to do that). I just drew it to give you a sense of direction and understand which place comes after which one.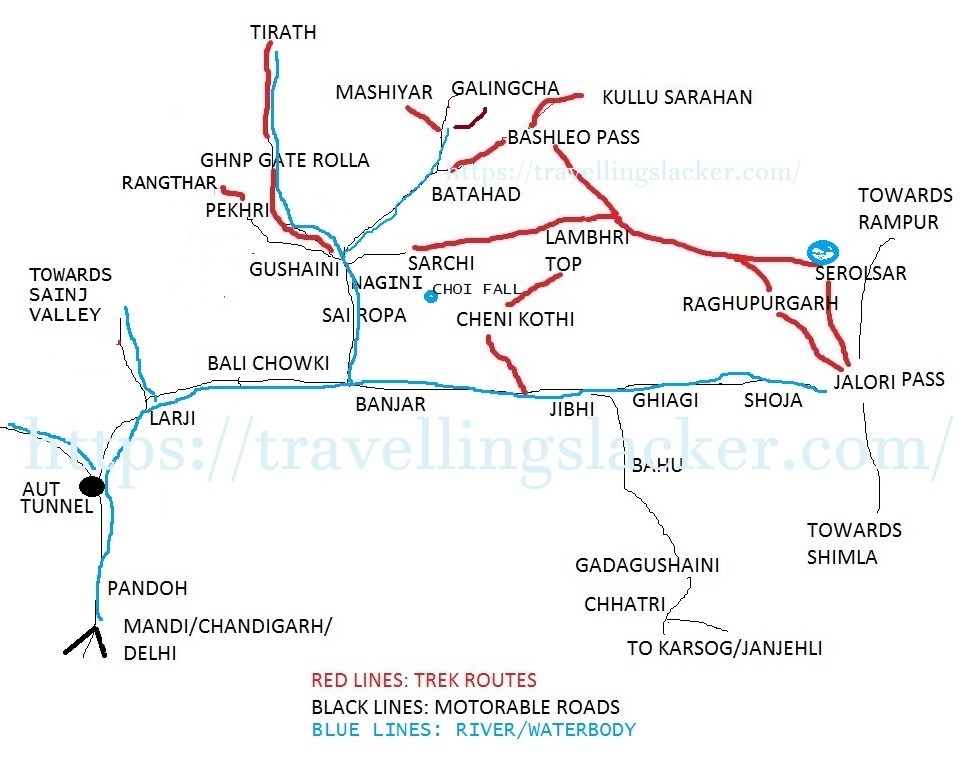 Is Tirthan Valley the same as The Great Himalayan National Park (GHNP)?
Tirthan is a part of The Great Himalayan National Park (GHNP). The villages of Tirthan are parts of GHNP ecozone, i.e. the inhabited area outside the core zone. The nearby Sainj Valley is the other major component of the GHNP.
Do I need permits to Tirthan Valley and where to get it?
You don't need permits to visit Gushaini or other villages in Tirthan nearby. But the permit is needed if you want to get into the core zone of the GHNP for more serious trekking. You need to get the permit at the Sai Ropa office, which costs around INR 100 per day for Indians and INR 400 per day for foreigners as far as I know.
Tirthan Valley Bus Service and Timings
Banjar is well connected from all sides and usually buses keep going every hour throughout the day to Gushani from Banjar. Some buses go beyond Gushaini to Batahad and Pekhri villages. But after dark it may be difficult to get a bus. So, try to reach wherever you have to reach during the day time.
As far as I know, there is another bus that goes towards Sarchi in the afternoon (Check the map). I have not taken this route so can't vouch for it.
Major Places to Visit in Tirthan Valley
There are dozens of villages within the Tirthan Valley. Some are by the side of the road while some others hidden inside the mountains. Here are the major village syou need to know.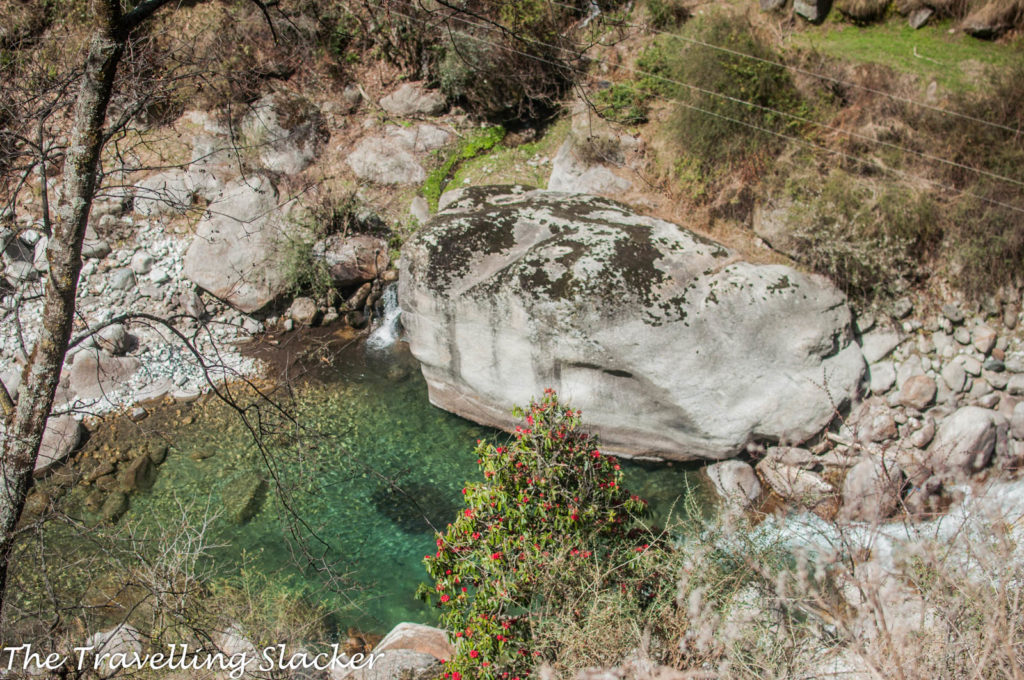 Banjar
Banjar is not exactly a part of Tirthan. But it is the entry point and th elargest town in the area with a big market with many shops and restaurants along with ATMs.
Sai Ropa
Sai Ropa is around 5 Kms from Banjar en route to Gushaini. This is where the tourist office and guest house for the Great Himalayan National Park is located. If you are entering the core zone of the park, you need to get permits here.
Nagini (Choi Waterfall)
Nagini comes a few Kms after Sai Ropa and few Kms before Gushaini. The road runs along the river and this entire stretch is full of homestays. There is a popular waterfall called Choi, a short hike from Nagini.
Gushaini
Gushaini is the main village in Tirthan Valley, almost like a town with some shops and restaurants. The road trifurcates here to Sarchi, Batahad, and Pekhri.
Bandal
Bandal is a small hike from Gushaini. It is a pretty village with a couple of tower temples.
Rolla (GHNP Gate)
Rolla is a 4-5 hour hike from Gushaini to the entry gate of GHNP. You need permits to go beyond the gate into the interiors however even reaching the entry point is a good trek.
Batahad (Phalachan Valley)
Batahad or Bathad is a major village and roadhead in Phalachan Valley, a small sub-valley of Tirthan, around 10 Kms away from Gushaini. Phalachan or Flaccan is a small tributary of Tirthan River and meets it near Gushaini. Many Gushaini buses go up to Batahand and roads are being built to further villages. It is also the starting point to Bashleo Pass Trek.
Galingcha
Galingcha is a small village around 3-4 KMs ahead of Batahad in the Phalachan Valley with excellent views. It now has a motorable road and there were talks about a bus service in the offing when I visited last year. There is also a short but steep trekking route to the village for those who want it.
Mashiyar
Mashiyar is another small village in the Phalachan Valley with a beautiful tower temple. It is located just oposite to Galingcha, on the otehr side of teh river and it can also be a nice, short, day hike from Batahad.
Pekhri
Pekhri is around 9-10 Kms from Gushaini. The motorable road here is new, probably that is why it does not show up in the Google Map. Neverthless, the road does exist, and buses are there too although they may not be very frequent. Ask the locals at Gushaini for the timings. This is the starting point for Rangthar Trek.
Sarchi
You get the road to Sarchi even before you reach Gushaini proper. There is a point where the bus crosses the Tirthan River to reach Gushaini. You need not cross the bridge and move forward towards Sarchi, which is around 19 Kms from Gushaini. There maybe a bus in this route in teh afternoon. This is the starting point for Lambri top trek.
Apart form these places in Tirthan Valley, in the nearby Banjar Valley, you have the fllowing options.
Jibhi
Jibhi was a small village that blossomed into a den of backpackers in recent times. Scores of beautiful homestays facing hilly streams and apple orchards make it and ideal place for leisurely, long term living.
Chehni Kothi
Chehni Kothi is a medieval wooden citadel in a village of the same name. It is a short 30 mins hike from the road, somewhere between Jibhi and Banjar.

Jalori Pass
From Jibhi to Jalori Passs is a delightful stretch with many small hamlets like Ghiyagi and Shoja. Eventually you reach the 3100 metre high pass. It is a motorable pass and buses keep running, connecting Kullu to Shimla district. From here you can go for a couple of short hikes to Raghpur Garh and Serolsar Lake.
Walk from Shoja to Jalori Pass

Serolsar Lake
Serolsar is a small lake with a temple that can be reached after an easy 5 Km hike from Jalori Pass. One can go further towards Lambri but that will be a multi day trek and you'll need guides.
Gadagushaini, Bahu and Chhatri
Gadagushaini region is one of the most offbeat and unexplored regions in Himachal. It is only 15 Kms from Jibhi but the narrow and shaky road leads you to a completely different world devoid of touristy cliches.
Sainj Valley
Also, the nearby Sainj Valley, the other half of GHNP, remains comparatively offbeat.
Check this post on Shangarh to understand what Sainj has to offer.
Tirthan Distance Chart
Aut to Banjar 24 KMs
Banjar to Gushaini 10 KMS (Via Sai Ropa & Nagini)
Gushaini to Bathad 10 KMs
Gushaini to Pekhri 9 KMs
Banjar to Jibhi 8 Kms
Jibhi to Shoja 7 KMs
Shoja to Jalori Pass 5 Kms
Best Time to Visit Tirthan Valley
Different seasons offer different rewards in GHNP.
Tirthan in Spring (March-April)
This is the most delightful season in GHNP. Rivers get a new lease of life, fed by crystal clear water of melting glaciers, and the green hills are set ablaze with bright rhododendron and apricot blossoms. At the same time, trekkers can still find snow once they trek a bit higher up.
Tirthan in Summer (May-June)
Summer is the best season for high altitude treks as the snow completely melts and the routes get cleared. Green meadows turn greener and wildflowers cover the slopes.
Tirthan in Monsoon (July-August)
While the monsoon has its charms, it is better to be careful in the higher altitudes. Heavy rains and hailstorms are not what you would like to face during a trek and even roadtrips can be cut short by a sudden downpour.
Tirthan in Post Monsoon/Autumn (September-November)
September and October are again good months for venturing into the park. The apples ripen, so does a lot of other fruits such as Persimmon. The temperature begins to plummet rapidly as November progresses. As a result, the landscape sheds the greenery to acquire a brownish hue and the season slowly comes to a close.
Tirthan in Winter (December-February)
Naturally, one cannot venture too much into the interiors of the GHNP during the winter. However, one can still visit the villages of Tirthan. You can experience snowfall if you time to right.
Homestays, Resorts, and other stays in Tirthan Valley
The entire Tirthan Valley has a wide array of accomodation options. It is a popular tourist destination now and luxury resorts are coming up in large numbers. Especially the Nagini-Gushaini stretch is full of delightful options but they are expensive. For budget options you need to look for the homestays in inner villages and government rest houses.
Budget Accommodation in Tirthan (INR 200-300)
The best budget option for backpackers is the dormitory at the official tourist complex at Sai Ropa. One bed should cost no more than INR 200 for a person as far as I know although I have never stayed in it. Apart from that, once I stayed in a house in the middle of Gushaini for INR 200. It was just a room with the bathroom outside. It had no name.
Mid-Range homestays Tirthan Valley (INR 500-1000)
With increasing tourism, even the interior villages of the Tirthan Valley are realizing their potential and opening up homestays. I have stayed insome of these places that are located in the inner villages although you are unlikely to find such rates around Gushaini. Once a local guy invited me to his homestay just before the GHNP gate in Rolla. That means such remote villages, that can be reached only after 3 hours of trekking, are also opening homestays now. Expect to pay between 500-1000 in such places and you can ask to include the food with the rate. Also, some of the villages may have Forest Rest Houses (FRH) although I don't have a comprehensive list of them.
Luxury stays in Tirthan Valley
Most luxury options can be found in and around the 3 KM radius of Gushaini because this area has been receiving tourists for many decades now. These resorts generally cost in the north of INR 1500-5000 for a room or even more and ideal for family travellers. Alternately, you can also look for options near Jibhi or Ghiyagi, which are a few KMs outside the valley. These areas are popular amloung backpackers and there should be very pleasant options in INR 500-1500 range.
What to do in Tirthan
Village Hopping in Tirthan
The primary delight of the entire Tirthan Valley lies in its beautiful villages, that are not far from each other. There are dozens of villages hidden inside the mountains, with small trails leading to them. Every village might delight and delight you in some way or the other. Set up base in one place and then just walk and hike around the valley, from village to village. Apart from the places named above, there are many others. Take any trail you see, and surprise yourself.
Culture & Ecotourism in Tirthan
While the park is full of exotic flora and fauna as expected, the people who live around the park deserve closer examination due to their symbiotic relationship with the nature, unique culture, mythology, and traditions. From primitive watermills (Graat) run by Himalayan streams to intriguing shrines decorated by parts of broken automobiles, there are many unique practices that demand closer examination. While many other national parks in India have become known for bitter conflicts between local inhabitants and authorities, the natives around GHNP seem to be living in perfect harmony with their surroundings.
Wildlife in Tirthan
GHNP boasts of many rare and large mammals such as Himalayan Brown Bear, Snow Leopard, Himalayan Blue Sheep, Musk Deer, and Himalayan Tahr etc. However, there are generally available in the remote upper reaches of the park that takes several days of trekking to reach. However, birding is easier and good sightings can be done everywhere in the valley.
Trout Fishing and Angling
Tirthan is also the capital of Angling in Himachal and these rivers are full of trouts. It is too violent a sport for me but if you are interested, what you should know is that most homestays are ideally located on the river banks for this purpose. Hosts generally help with euipment and guidance. Once I was hosted along with some other bloggers at a place called Tirthan Angler's Retreat, a couple of Kms ahead of Gushaini. As you can see from the name, it was ideally located for Angling.
Trekking in Tirthan
Treks are the primary attraction in Tirthan. There are a couple of major, multi-day treks, but there are also many delightful day-treks. Check teh section below for some of them.
Popular Treks in Tirthan
Gushaini to GHNP Gate and Rolla (1 Day)
From Gushaini it is around 8 Kms to the official entry point of the GHNP. Views of the bluish green Tirthan river are great and you don't need any permission for a day trek and return. But if you are planning to go further and camp overnight, you'll need the permit from Sai Ropa.
Here's my blogpost on trek to Rolla.
Tirath/Tirthan Valley Trek (6-7 days)
This is the ultimate major multi-day trek that will require preparations and also local guides. In this trek you reach Rolla, just liek the previous trek, but then carry on further for several days to the source of Tirthan river which is called Tirath by locals. It starts from Gushaini and takes at least 6-7 days. You should do enough physical preparation before taking up this one.
Pekhri to Rangthar (2-3 days)
Pekhri is a small village from where you can trek to the Rangthar top, an open, high altitude meadow with clear views of the higher mountains. You can camp up there and come back the next day or go even higher up. Keep at least 2-3 days for this.
Bashleo Pass Trek (1-2 days)
This trek starts from Batahad (Bathad) village which is 9-10 Kms from Gushaini. The 10 KM trek should be started early in the morning so that you can reach the pass and come back the same day. Otherwise, you can cross over to Kullu Sarahan and halt there for a night. I even got snow in the peak of summer atop the pass last year.
Here is my post on Bashleo Pass Trek.
Sarchi to Lambhari Top to Serolsar (2-4 days)
Sarchi to Lambhari trek can be done in a couple of days. I have not done it but have heard great things about it. Lambhri is also connected to Jibhi, and Serolsar Lake near Jalori. So, some people make it a longer trek to cover the whole strtetch. Some trek operators promote the Jalori-Lambri stretch as the "Tragopan Trail" because you get a high possibility of seeing Western Tragopans (jujurana), the state bird of Himachal.
Bathad to Galingha and Mashiar (1 day)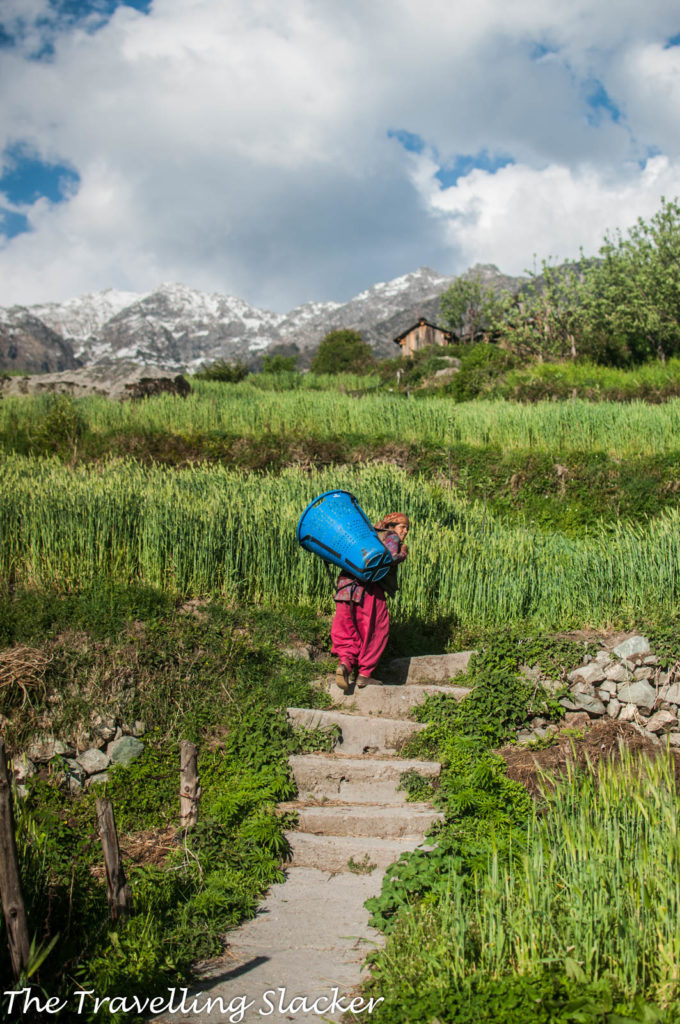 A motorable road goes up to Galingcha from Batahad. But you can also take the old, steep, trek route, for a short hike with exhilerating views. On the other hand you can cross the Phalachan nala and trek to Mashiyar village, another short but delightful day hike.
Finding Trekking Guides in Tirthan Valley
A lot of locals in the villages of Tirthan work as trekking guides in case you need. Small day treks can be done without a guide but if you are going to interiors and camping in the jungle, you should get a guide. Generally your homestays should also be able to connect to a local guide.
Phone and Data Connectivity in Tirthan Valley
Most major networks work till Gushaini. In any location between between Banjar and Gushaini, you should not have any issues in accesing the internet or making calls. However, after Gushaini you are unlikely to find Data connectivity and calling may not be easy eithe runless you have BSNL SIM. The Banjar-Jibhi-Jalori route is also well connected and there should be no issues.
Nearest ATM in Tirthan Valley
ATMs in Tirthan can be found in Banjar town which is a big town and has several ATMs. If you go further towards Jalori, you will also find a couple of ATMs in Jibhi. Also, while coming in, you should find ATMs in Aut. Not sure but even if there is an ATM in Gushaini, don't rely on it because ATMs in very small places generally turn out to be dysfunctional.
What to Buy in Tirthan?
These are small places but you can alsways inquire. Local handicraft, Himachali Topis, and other small thinsg can be seen in the shops. Banjar is a bigger town and has more shops. Various types of fruits can be bought, depending on the season. WHile you can guess the usual suspects, my personal favorurite is the persimmon. During late October and early Lovember, they can be seen all over the hills. I was taken aback by it when I first went to the region way back in 2013.  Later on I realized that they are also sold in Delhi but at much higher rates. I have seen many Dehlites pay exorbitant rates, assuming them to be some foreign import. I bought them from Aut bazaar while coming back at negligible rates.  Here is the old post about Persimmon.