The road to Pekhri goes westwards from Gushaini. It is different from the other roads that go towards Batahad, Sharchi, or the trail to GHNP core zone. It is a good motorable road which is visible easily. Yet this is another village that is not often talked about. So, this is Great Himalayan National Park (GHNP) Ecozone. I thought about this on previous occassions too but the primary problem here is that the bus service is not very frequent and I was also not sure about the availability of homestays. Anyway, this time I decided to be done with it. Since stay options were suspect, I decided to make a day trip from old favourite Batahad, were I was staying in my usual homestay.
I was joined by two youngsters from Delhi as I'd recommended them to explored this area myself. We took a bus from Batahad to reached Gushaini quickly. There is only one bus from here to Pekhri so we had to ask around for the local cars and eventually found one who agreed to drop us at Pekhri for INR 300, which was a decent deal as it got divided between three.
The road to Pekhri used to be a dirt road until recently but now it has become smooth road. It is actually surprising because the road is better than the Batahad road which has hourly bu service. It is also climbs a bit higher up quickly and offers expansive views of various other villages of Tirthan Valley on one side of the road. Especially the village of Bandal with its famous temple is clearly visible from this road.  We crossed another village called Maniyar en-route.
We reached Pekhri road head after around 30 minutes. The village was still higher up but we had to leave the car. This stretch seemed to be lined with cannabis plants which flared up the imagination of my cotravellers. A local lady noticed us and volunteered to walk ahead of us along the narrow stars towards the village. This village is located not on a plain patch but an inclined slope. So,  after five minutes we reached the base of the village where there is a shade to sit and a shrine, those shrines with automobile parts that are prevalent in Seraj.
This village is located at around 2000 Meters, looking down upon the Tirthan Valley. In August, the slopes are covered with maize, apple, and pear trees. Pekhri is also noted for the wooden temple inside the village but one villagers old us that outsiders can't enter the temple. After that hesitated a a bit and wondered if we can continue at all. However, we soon discovered that there were no other restrictions and so hiked further up to see the main village.
The traditional wooden houses were all built-in the slopes due to be ver setting of the village. So, everyone seemed to be sitting on a balcony overlooking the distant valley. Children were waving at the new visitors but I was too lazy to change the lens and so could never get a clear portrait a d had to do with a cropped image.
So, Pekhri did not seem to have a formal homestay or guesthouse but it is not impossible to stay here. While village itself may not be very well-known, it is not far from the tourist hotspots of Gushaini and so the locals are fully aware of their potential. They can host you for a day or two if you talk nicely and I think it is only a matter of time before homestays mushroom up here.
We were advised to hike up beyond the village to reach some "top". I assumed that they were talking about the trek to Rangthar Top, which is a popular trek from here. Anyway it was a bit too far for that day (we also had to return as we were staying at a different place). So, after a bit of hike, we did not try to venture too much. We did meet more locals who were more channelling to be guides for trekkers. So, I think I will have to spend more time here next time.
We spent around a couple of hours at the village. However, the more hectic part was still waiting. Pekhri to Gushaini, we were going to walk back the whole 9KMs (keeping that car for the whole duration would have been too expensive). So, we walked down slowly, controlling the temptation to pluck apples from the trees on the roadside, and stopping in front of waterfalls. This road has several 180 degree turns and it took around 2 hours to finally form down till Gushaini. Bus to Batahad arrived soon and we were back at your homestay by the afternoon but I think these villages warrants a return.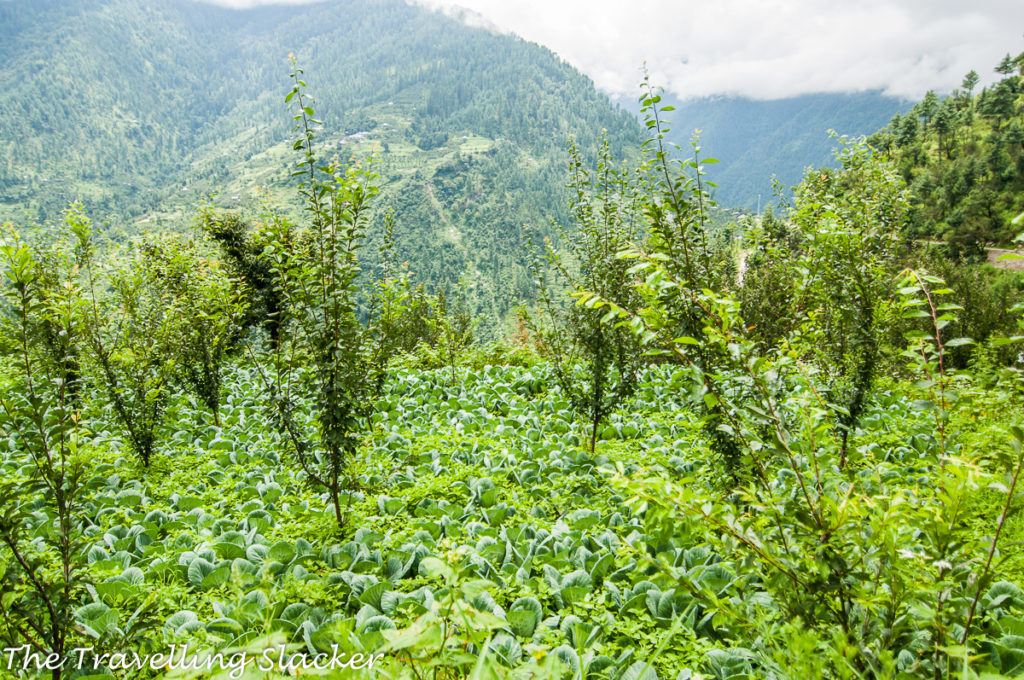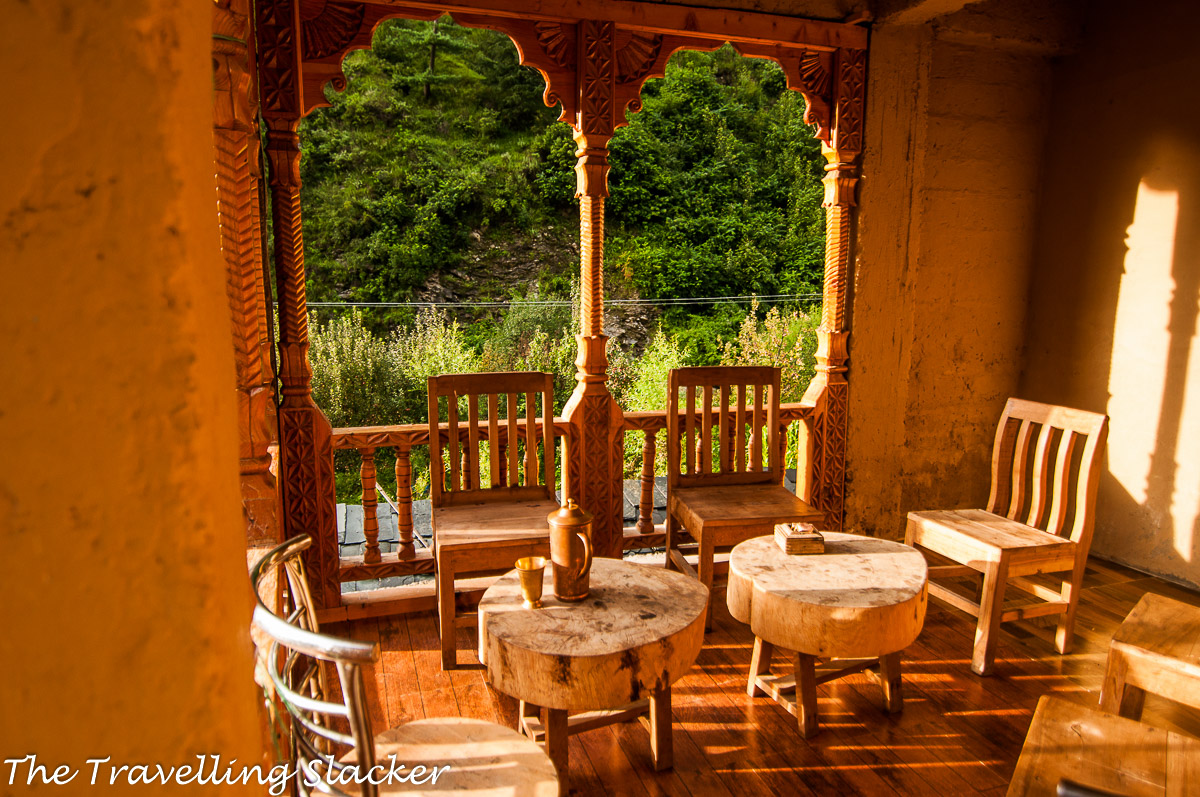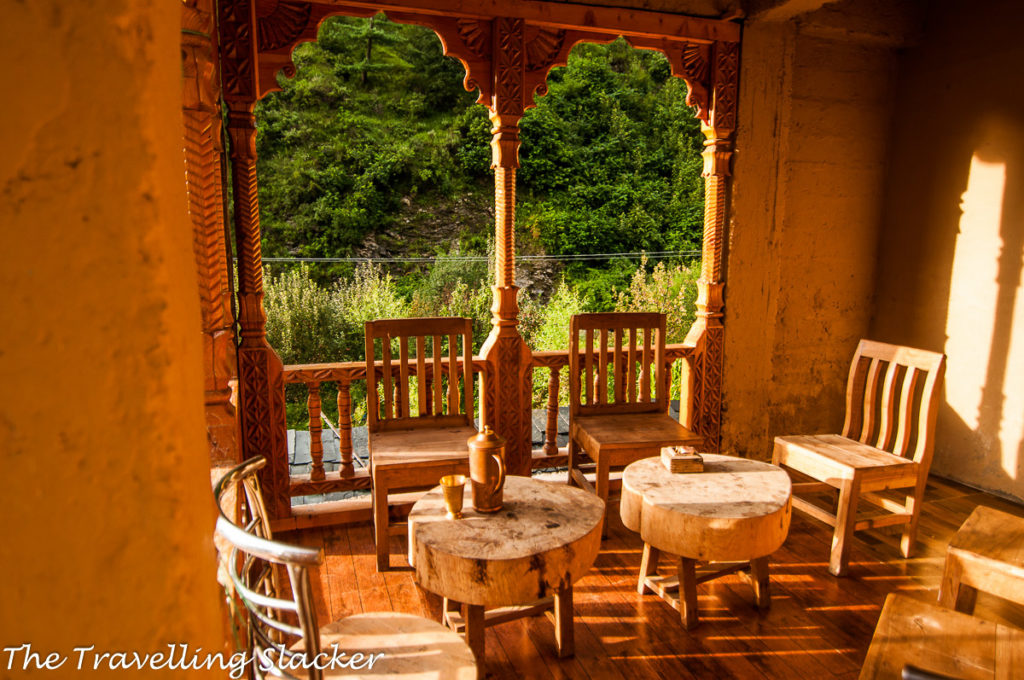 Pekhri Travel Guide
Where is Pekhri?
Pekhri is located in the the Tirthan Valley, which is a part of the Great Himalayan National Park, a UNESCO World Heritage Site. There is a direct road to the village from Gushaini which is around 9 KMs. Regulars in Tirthan will know that multiple roads emerge from Gushaini, including one towards Batahad (Phalachan Valley), one towards Sharchi, the trekking trail towards the GHNP Gate, and fianlly, this one towards Pekhri.
How to Reach Pekhri?
Pekhri is reacheable from Gushaini, the main village in Tirthan Valley. While there is only one bus, you can hire a local car from Gushaini. They tend to charge around INR 300 and it is better if you are in a group.
Pekhri Bus Timing?
The only bus to Pekhri from Banjar via Gushani goes in the afternoon. It stays tehre at night and comes out next morning.
Where to Stay in Pekhri?
Pekhri does not have a formal homestay or guest house but tourist friendly locals can help you out. You can also trek higher up and camp.
Which are the treks from Pekhri?
The best known trek from Pekhri is to the Rangthar Top. There can be many other treks to local villages that the locals can help you with.
Also Read: Tirthan Valley Travel Guide