So, I have already mentioned in my Turtuk Blog, I managed to visit the Thang Village Viewpoint near the LOC too, which is a few KMs ahead of Turtuk, and technically the northernmost village under Indian control. As a matter of fact, the village is located even beyond the army post on the Line of Control (LOC) on the India-Pakistan Border. These places were out of bounds for tourists until recently but now tourists are allowed to visit the checkpost on LOC and visit the bunkers. In fact, only in April 2018, the Thang Viewpoint was established for tourists by the armed forces. The actual village is generally inaccessible for tourists unless you have some official reasons to visit (or are extremely pursuasive). Thankfully this region is generally peaceful nowadays in spite of the presence of bunkers and hence tourism is getting a push here.
I planned to visit Thang along with four other tourists who were staying with me in the same homestay. We talked to the guy at the Ismail Homestay and arranged for a local guy to drive us to that point in the next morning. The Thang Viewpoint is around 8-10 Kms from Turtuk, along the Shyok River. Apart from Turtuk, there are a few smaller villages nearer to the border which changed hands in 1971. The road was expectedly not very smooth and the progress was very slow.
Initially we reached an army settlement near the village Tyakshi. As expected in an area like this, the army presence is significant and they are also very strict. We not only had to submit copies of our permits (you need to get permits in Leh itself to cross Khardung La and visit Nubra Valley & Turtuk) but they also kept our original IDs (that we collected back while returning). Also, even the locals accompanying us had to provide IDs and the driver needed to submit his driving license. You can't get past this point if even one person in the group is missing any of the documents. We finally managed to move after 30 minutes as there were some strict checking of the documents. On the positive side, we spotted a nice school, which is being run by the army for local kids.
After this point, we drove a few KMs more and reached the Thang Viewpoint, manned by another army man. The actual Thang Village is located beyond this point but tourists are generally not allowed to go past this point. But we could see the village from a distance and it looked like a beautiful poplar grove. The lone armyman at the viewpoint briefed us about the place and helped us spot various bunkers on the mountains, both on Indian and Pakistani side. The viewpoint has an installation, with small pipes pointing to various bunkers. The red ones indicate Pakistani bunkers while the blue ones indicate Indian bunkers. We also could get inside the bunker on the bank of the river and for a few seconds, experience the harsh life of those military personnel.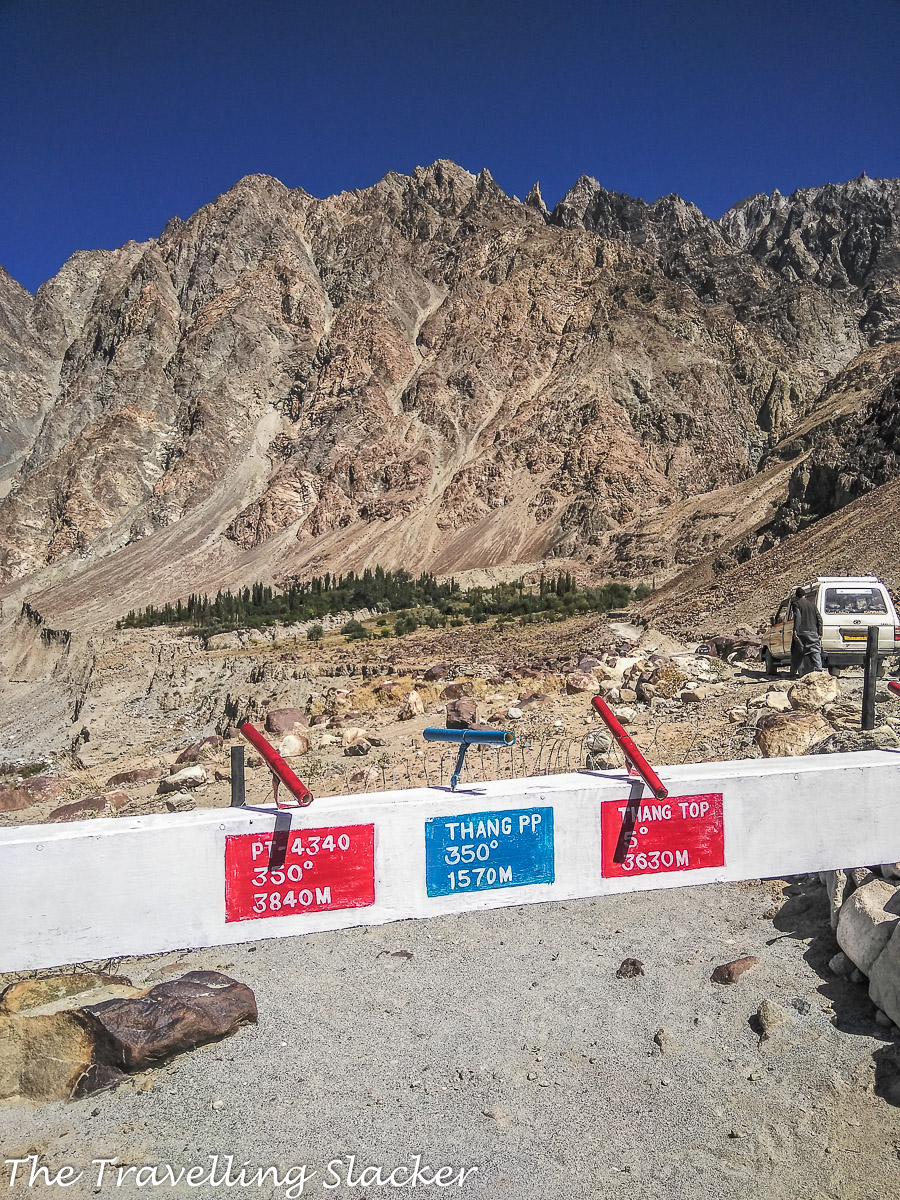 So, the actual village is a few hundred meters beyond this check point and looks like a fecund oasis in the middle or cold, barren, and unforgiving rocky expanses. Technically, tourists are not allowed to go to the actual village, so we walked around a bit, hoping to get a feel of the place. Our patience was rewarded when a couple of locals from the village arrived. We talked to them and they gave us local apples, tiny but sweet ones, and also some grapes.
One of them was the guy who is apparently the most prominent person in that village. Back in Turtuk, we met someone working at a power project, who managed to visit the village, spoke very highly of him. He is apparently a creative genius who has turned his courtyard into an horticultural heaven covered with vineyards, apricots, apples, flowering shrubs, and fountains, apart from a small fishery. Those who have been there can vouch for his ingenuity but sadly, officially it is still not possible to visit it for general tourists. The man hopes for this to change, as he thinks that the citizens of India should see this part of the country too. From the village, one can also get a clearer view of the villages on the Pakistani side. Many people in this region have relatives on both sides of the border but if they have to meet, they will have to come down to Delhi and fly to Pakistan (That too if they manage to get visa).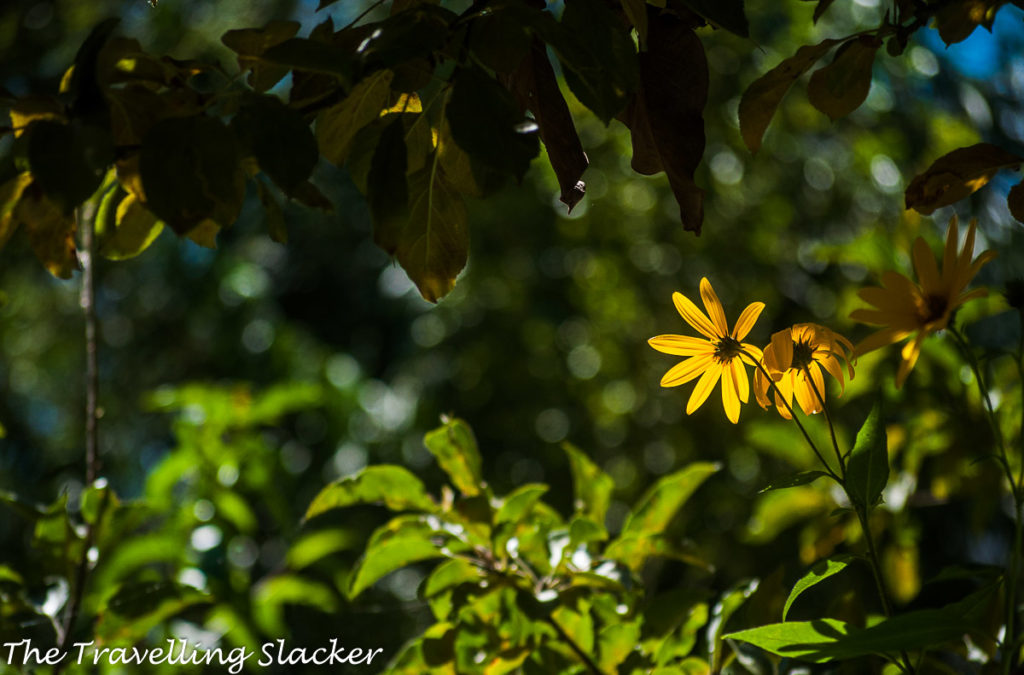 We returned back after a couple of hours or so near Thang. We came back to Turtuk and resumed our exploration there, but I have shared that part already.
Thang Village Travel Guide
How to Reach Thang Village?
To reach Thang, you first need to reach Turtuk from Leh (214 KMs/ 7-8 hrs). From here, Thang is another 10 KMs and the road is not very smooth. You can hire local vehicles from Turtuk for this visit if you are staying there.
How far is Thang from Turtuk?
Thang is around 8-10 KMs from Turtuk along the Shyok River. The river crosses the border and reaches PoK. You can't!
Can we visit the bunkers on the LOC?
Yes. You can see one or two Indian army bunkers at the viewpoint. In fact, this is the only think you are officially allowed to see.
Are Tourists Allowed to enter Thang?
Officially NOT. You can visit the checkpost on the LOC with bunkers, which has now been turned into a viewpoint. You can interact with the personnel on guard.
So, did you actually manage to get into the village?
I can neither confirm nor deny it.
Do we need permits to go to Thang?
The permit you get from Leh for visiting Nubra & Turtuk should do. But make multiple copies of it.
What are the entry formalities for Thang?
There will be an army checkpost a few KMs before Thang. It is the official entry point where you need to provide,
A copy of your permits (That you need to get made in Leh)
Your original IDs (They will keep them. You can collect while returning)
They may ask various questions due to security reasons. In general, if you come accross as a harmless tourist, you should be fine.
Where do we hire vehicles for Thang?
Ask around in Turtuk. If you are staying in Turtuk, any of the homestay people can give you contacts of some local driver.
Points to keep in mind while visiting Thang
Keep the following things in mind while visiting Thang.
Always carry multiple xerox copies of your permit (That you get fro Leh to visit Nubra & Turtuk). You will have to submit a copy at the checkpost near Tyakshi.
Always carry your original ID. They will keep it at the checkpost. You can collect it while coming back.
If you are hiring a vehicle, make sure that the driver also has all the necessary documents. Otherwise, you will have to turn back from the check post.
Ask for permissions before taking photographs. It is LOC. Understand the situation. Generally you are allowed to do it at the Thang Viewpoint.
Do not pester the army people for photographs. Click landscapes where allowed. Understand their situation and the fact that they have orders to follow.
Do note that as of now only Indian tourists can go there but not Foreigners.