UPDATE:
Read my complete Tirthan Valley Guide here.
& complete GHNP Guide here.
____________________
"The road is complete… the bus service will begin in a few days"… informed one of the locals. All of them, including one Genghis Khan lookalike who requested to be photographed, looked pretty cheerful. But I was not immediately sure what to feel about it!
——-
After a couple of lazy days around Gushaini, I moved to Batahad (also spelled Bathad) village along with Travelshoebum, who already had information about a newly built homestay out there. As it turned out, the homestay owner Thewaramji is also the head of the village. We met Oliver from Italy on the bus and he also made it to the same place. Although Thewaram ji quoted a slightly higher price, Travelshoebum brought it down to a negligible amount (including food) with his bargaining skills.
The original trekking plan was for the next day. So, for that day I hoped to walk around Batahad. However, Thewaramji suggested that we pay a visit to his original village, which was a few kilometers higher up but a new motorable road has been built to the same. In fact, even the bus services was going to start in a few days so we're probably the last people to not reach it on a bus.
So, what was the name of that village? Well, here is the problem. Many people told me the name but I could never remember it clearly. The other two guys with me tried to help, but every time I asked them, they pronounced it differently so I don't trust them either. I saw no signboards with the name. So I am not sure how to write that. The name starts with G and I vaguely remember it to be something like "Galingcha". But I am not sure and for the rest of this post I will not mention the name.
In any case, we started walking towards that village along the road by gradually gaining altitude along the Phalachan or Falacin river, a small tributary of Tirthan with another confusing name. So this stretch is practically called the Falacin Valley or Phalachan rather than Tirthan Valley. The road seemed complete already but many JCB Excavators were still in action at various points.
The gradient got a bit steeper after an hour of walk. We could see other villages with exotic pagoda temples on the other side of the river. But they were so higher up and so far away that they would take another day of trekking to reach. Eventually, we came across a point where there was a small stream running through the road and meeting the Falachan. The water was not very deep but the current was strong. So we had to carefully skip over the stones.
After a couple of hours of hiking and one final turn, we finally found ourselves in front of a postcard-perfect village on an unusually vast plain ground, although with another of those excavators in front. The first to greet us and pose for photographs were of course the children. But the excavator kept distracting me. Those frames gave me some excellent contrast. However, this rise of the machines all over the hills do make me uncomfortable. Not that they don't have the right to better roads and connectivity, but such developments always come with a gradual erosion of local ethos and cultures. At a more selfish level, I also felt that this will pave way for more expensive resorts owned by people from the city.
Anyway, I shrugged off my negative thoughts as we entered the village with old but colorfully painted wooden buildings. One person was looking at us curiously from the second floor. He was Tavveram Ji, who invited us for tea after a brief introduction. After a bit of chatting it turned out that he was a distant cousin of our host back in Batahad. More importantly, he too was planning to convert his house into a homestay. With the road complete, tourists can't be far away.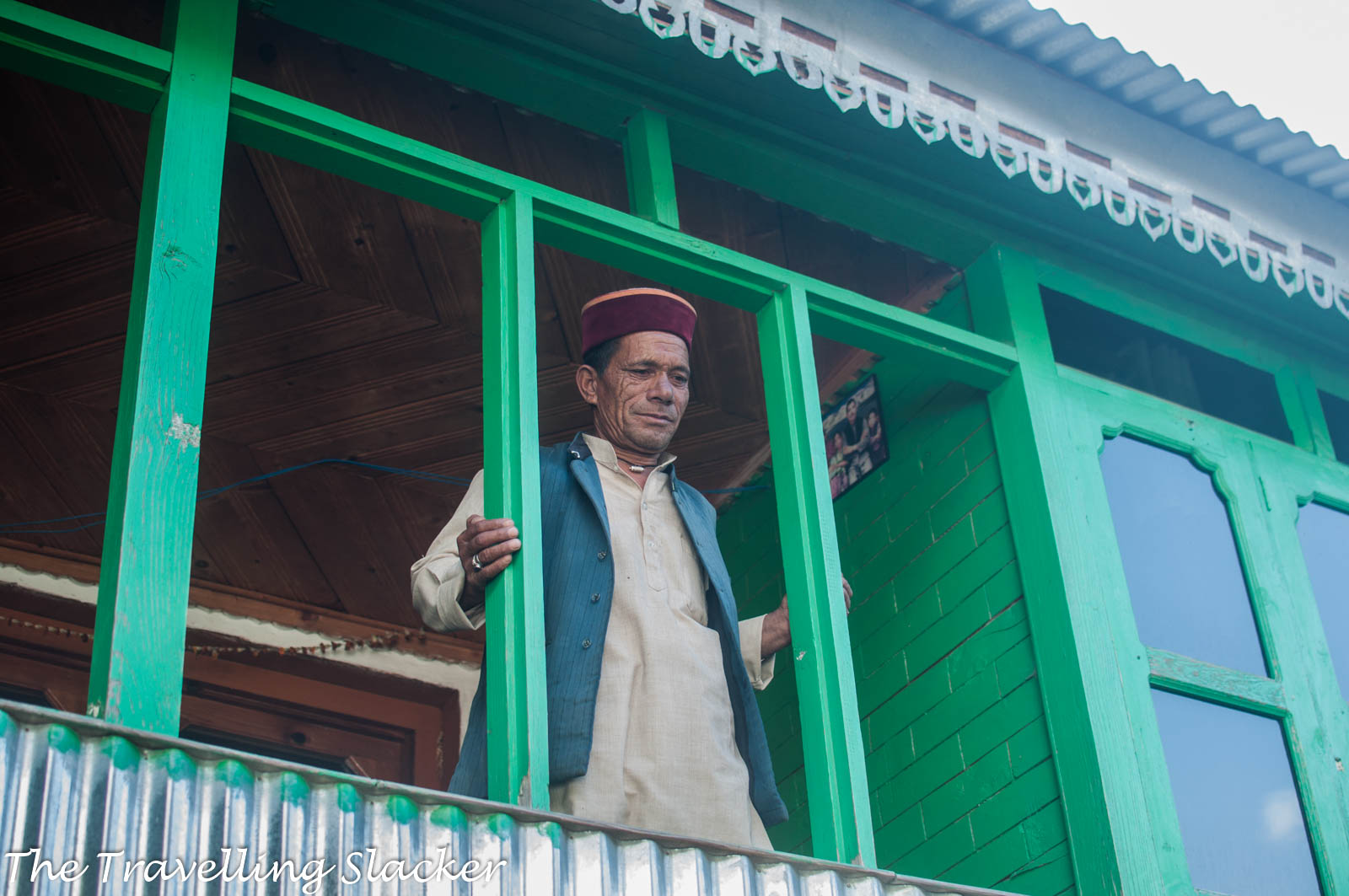 A joint was rolled while the tea arrived. We needed that short break after the long walk. But the light was dying and we wanted more photographs. This is exactly when the short hike got better, as it always does in a Himachali village. We were planning to return taking the same road but he suggested that we walk through the village and take the one on the backside, this is exactly where the magic started unfolding.
It is not the path that elated me but what was along the path. It was a beautiful stretch, the traditional farming grounds of the village. In such slopes, you cannot use tractors and other heavy machinery. These fecund terraces have been cultivated by locals with their bare hands. As I gradually descended through them, I got deliriously resplendent frames from every angle with golden green wheat, snowy peaks, schoolkids trekking back to home, and hardworking women who waited and posed for us.
Gradually the wheat fields disappeared and we entered an apple orchard. The main road was still a bit far away but now we could see it from above and we knew that we were on the right track. In fact, before the construction of the motorable road, this must have been the original path for the villagers. This is when we realized that we had gained significant altitude while reaching the village but did not realize due to the long and gradual ascent. Now, this trail was descending through a very steep slope down to the point where we came across the stream on the road earlier.
When I started the walk, I did not expect it to be enough to cover a whole blog post. But I was glad that I decided to do it. There are many more villages in the interiors of the ecozone of the Great Himalayan National Park (GHNP), and some of them are located in such a way that even now, it will be very difficult to build roads to them. I will have to return to this region again to explore them.