Shungchul Mahadev of Shangarh: Celestial Meadows, Resurrected Citadel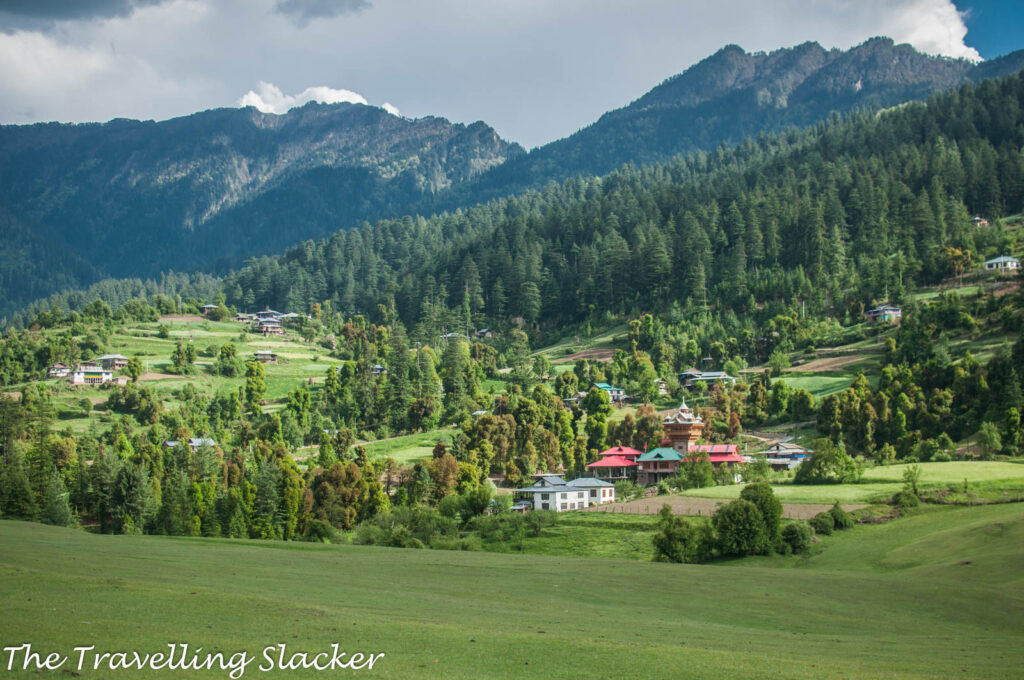 I was beating around the bushes in Mandi, unable to decide where to go. The vast, green meadows of Shangarh had been in my mind for a long time, having seen the photographs in various Himalaya related FB groups on many occasions but I was hoping to come up with a bigger plan covering more attractions in the Great Himalayan National Park (GHNP) Ecozone along with it.
Everything falls into place
However, the phone rang and fellow blogger Traveshoebum suggested that he is entering Himachal and we can be at Shangarh by the next afternoon. So, we rendezvoused at the Mandi bus stand next morning and hopped into a Kullu bound bus to reach Aut. I knew that from Aut one gets direct buses to Neuli via Sainj from Aut. Shangarh is still 10 Kms from Neuli and there seemed to be no buses to Shangarh. However, it was a good day. There was a marriage somewhere near Shangarh and everyone in the area including the bus driver were going to Shangarh. So, we got a bus ride to Shangarh at a negligible cost. On top of that, Travelshoebum struck a conversation with a local guy on the bus and soon it turned out that he was was a homestay owner at Shangarh (till that point we were not even sure if the place had any proper accommodation).
As the bus moved along, the visual grandeur of Sainj Valley become apparent. In fact, the squalid village turned town of Sainj does great injustice to the valley. It is hard to imagine what lies beyond that point and a few years ago I'd returned back from Sainj, not knowing where to go after that. But this time we knew exactly what we were looking for. But the first noteworthy edifice we saw from a distance was not the one we were looking for. It was another temple from a distant sub-valley that was visible in the horizon against a setting that could have been grander. I know what it is but will take another trip to visit it.
We reached soon enough and Ranaji, the homestay owner took us to his place. He is still developing the place and it does not even have a name yet. But once we went inside, we were taken aback by the tasteful and traditional ambiance. It is noteworthy that while the adjacent Tirthan Valley is going through a tourism boom (and resultant overpriced rooms), Sainj Valley for some reasons has remained more or less untouched by tourism. This homestay is in fact one of the early signs of it catching up to its neighbours. I can imagine this place getting filled with tourists in the near future but for the time being, it is exactly the way I like it, completely devoid of other visitors.
The celestial golfcourse
We left our stuff at the room and Ranaji finally led us to the fabled meadows of Shangarh. I thought it would take some serious hiking but it was just above the location of the homestay. We just walked for a couple of minutes and suddenly we were in front of a vast, resplendent, breezy expanse that can neither be explained with the few words I am writing here nor with the thousand words I clicked there. But nevertheless, I must try!
Coming back to the temple, the primary deity lording over Shangarh is known as Shungchul Mahadev. Apart from the central temple inside the images, there are some smaller shrines located at various corners of the open meadow. As per the locals, the Devta (Deity) rests in these places at times although I am not fully qualified or informed to explain the same. All the temples contain intricate wooden carvings depicting mythological scenes, apart from some ancient stone sculptures. More importantly, the original temple in the village was gutted a year ago. But the dedicated people of the village rebuilt it almost immediately.
We walked along the periphery of the grassland to check the smaller shrines. The landscape reminded me of a golf course and as I expressed my analogy, I was informed that some British officers did try the same once but the locals never liked the game. The ground is not plain but there is a dip in the middle. It also seemed to have many stories associated with it. The ground is believed to be blessed by the gods. That is why no big trees grow here although it is surrounded by thick pine forests. One story also relates it to the Pandavas. The rest of the village, including the main temple, can be seen clearly from the ground.
After ogling at the lush green surroundings, content people, and well-fed cows for more than an hour, we slowly moved across the field towards the village, consistently discovering newer frames from different angles.
Approaching the Temple
We reached the temple crossing a lot of other traditional building, each more photogenic than the other. As far as the temple is concerned, it is another one of those tower temples prevalent in Himachal. Due to its sheer shape, I feel like calling it the Citadel of Shungchul Mahadev. It is a solid, multi-storied structure. Unfortunately, a new concrete structure is being built just in front of it, blocking the front view. So, most of the good shots I got were from the backside. A sudden hailstorm appeared out of nowhere, making us stop near the temple. But the storm disappeared soon, leaving a dreamy sky behind.
The Devta Arrives
As I'd mentioned earlier, it seemed to be good day with all our motives getting fulfilled and it was now going beyond expectations. Due to the aforementioned marriage, the villagers were taking the deity out for a procession. For those uninitiated with these areas, such practices are common in the Himalayan states. I have seen them many times before, but always from a moving vehicle, unable to photograph properly. Finally, this was the chance to get some clear images of the rituals. We were told that the bridegroom is also one of the bearers of the Lord's palanquin. They stopped near the Shangchul Mahadev temple and gave us a walnut as "prasad". After chatting with them for a while, we returned to the homestay.
A Fitting Finale
That night we were offered home-cooked food as expected. It was simple food but one of the best ever in terms of taste, served with a generous bowl of homemade ghee. The next morning we had to leave quickly as there was another engagement. I really wished to stay there for a couple more days and trek to the interiors but I think I'll have to return soon.
_________________
Shangarh Travel Guide
How to reach Shangarh?
Take a Kullu-Manali bound bus from Delhi or Chandigarh and get down at Aut. Get a bus to Neuli via Sainj but get down just after Ropa, a few KMs before Neuli. From there it a diversion around 10 KMs goes up to the village. This road is not very smooth but still is motorable. It is possible to hike or hitchhike (Remember that you will have to hike UP) but you can also get a shared car going towards the village from Sainj Market. There were no regular buses when I first visited but now there seems to a bus in the afternoon.
Shangarh Bus Timing
The daily bus to Shangarh leaves from Sainj market at 4 PM in the afternoon. It apparently comes down next morning. It is a new development and I will update with more information soon.
What is the right season to visit Shangarh?
All seasons have their own charm in Shangarh. The summer is, of course, the easiest to reach, along with the post-monsoon festive season. The roads will be slippery in the rains. Winters may also be too cold but the snowy landscape has its own attraction.
What are the accommodation options in Shangarh?
You can stay at the place mentioned above, i.e. Ranaji's Homestay that doesn't yet have a proper name. It is located very near to the grounds and the Shangchul ji Temple.  In the meantime, a couple of other homestays have also opened  here and the prices may have increased (we paid next to nothing in 2017, that too with food!). You can also consider the GHNP guesthouse in Ropa just before Neuli, which has dormitories as well as private rooms.
Treks from Shangarh
There are many local trails to the villages and meadows higher up from Sainj. The most famous of them is the Trek to Lapah Village, which takes a few hours from Shangarh.
Data Connectivity in Shangarh
Shangarh is very well-connected in terms fo phone and internet. My airtel SIM was working fine and so, I think it is a good place to be a digital nomad.
Also Read: