Hardly anyone was going to Sainj Valley until recently. Way back in 2013, I had reached Sainj town on a whim but did not know where to go after that and came back to Aut! Even as late as 2017, one homestay owner in Tirthan nonchalantly told me that there is nothing in Sainj (Of course, I had better information to not trust him). Anyway, things seems to have changed over the the last couple of years. Even my post on Shangarh Meadows elicits a lot of queries & those homestays are getting rich nowadays.
To be honest, even I have a lot to explore in this valley and that is why I had avoided writing a post like this although I had the information. However, I recently noticed that some other sites are writing Sainj Valley Guides, that too by using my photographs in an unauthorised manner. So, I think I should write this post anyway. Do note that, this area is still unexplored and more gems will be unearthed in the days to come (and so I will keep updating it).
Sainj Valley Travel Guide
Understanding Sainj Valley
Sainj Valley is one of the two major valleys along with the Tirthan Valley, that constitute the Great Himalayan National Park (GHNP), which has now been declared a UNESCO World Heritage Site. Tirthan is more touristy as of now but Sainj is growing too. The interiors of this gradually ascending valley are covered with deep forest of the national park. However, the lower portions, the "EcoZone", are dotted with many villages, some of which are on their way to becoming tourist hotspots. There are many small treks and trails, and longer, multi-day, treks into the interiors are also possible, with the help of local guides.
How to reach Sainj Valley?
The best place to get a bus for Sainj Valley is Aut. This is the place you get on the Delhi-Chandigarh-Mandi-Kullu-Manali route, just before Bhunter. If you have taken that route to Manali before, you will rememeber the tunnel you cross after Mandi. That is the Aut Tunnel. After that you will find the Aut town and bus stand, from where all the buses to Sainj and Tirthan Valley leave, along with Banjar, Jibhi, and Jalori Pass. The buses keep going regularly throughout the day. So, you can take any bus going towards Kullu or Manali but get down at Aut and look for a local bus. But how to know which bus to take? Primarily the buses will be going to two places, Sainj & Neuli.
Bus to Sainj
This is a small village with the same name as the valley. Most buses will go up to Sainj. This spot itself may not look too inviting and a main attractions are further inside the valley.
Bus to Neuli
Some buses go further up to Neuli, another 10 KM or so beyond Sainj. Ideally you should look for a Neuli bus because most attractions here are near this region.
Bus to Deori
There are three buses every day from Sainj to Deori, generally leaving around 11 AM, 1 PM, and 6 PM.
Bus to Shangarh
Sainj to Shangarh bus at 4 PM every day. The road to Shangarh is a detour from Ropa at Sainj-Neuli road. It is around 10 KM motorable road.
Local Shared Cars in Sainj Valley
If you don't get buses to inner villages, there are always shared cars although they charge much more (unless you manage to get a shared car with locals). Generally, you should take a bus to Sainj town and then look for cars to inner villages.  They can charge anything between INR 300-500 to cover 8-10 KMs. It is easier if you are in a group. of course, you also have the option of asking for lift!
Sainj Valley Distance Chart
Aut to Sainj 18 KMs
Aut Neuli (via Sainj) 27 KMs
Aut to Shangarh 35 KMs
Sainj to Ropa 7 KMs
Ropa to Shangarh 10 KMs
Sainj to Deori 10 KMs
Where to stay in Sainj Valley?
As a place that is just beginning to receive tourism, the options are limited here. Based on my understanding, the following are your options.
Forest Rest House Ropa, Sainj
This is a new official property developed at Ropa. It has both private rooms and a dormitory offering affordable stay for visitors. DO NOT confuse this Ropa in Sainj with Sai Ropa in Tirthan, which has a similar property, which is better known. Interestingly, they seem to be offering online booking nowadays (I have not tried it yet).
Shangarh
I have stayed in Shangarh myself. It was an excellent homestay and more properties were being developed out there (& prices have gone up!). It is as surreal a place to stay as it can be, overlooking the iconic meadow.
Upper Neahi
Upper Neahi is another village a short walk from Neuli. This area has also become popular with some popular homestays coming up in recent times.
Jhili Neahi
This is a short hike or drive from the aforementioned FRH in Ropa. This is an alternate route to Pundrik Lake. This village also has a homestay.
What is the best season for Sainj Valley?
You can go to Sainj at any time although it is better to avoid the extreme rainy seaons of July and early August as roaming around is difficult in too much rains. Spring, summer, as well as post-monsoon seasons are delightful here. As for the winters, you may get snowfall that depends on the situation that year. If you are lucky, you can find teh netire Shangarh meadow covered in snow!
What to see and do in Sainj Valley?
Visiting Sainj is about visiting sundry villages, majestic meadows, intriguing tower temples of this region, and expleriencing local culture. If you want, there are scores of treks possible too.
Shangarh Meadows & Shangchul Mahadev Temple
As you can see, the grassy meadow of Shangarh village is an attrcation itself. The people who have seen both, believe that it is more beautiful than the meadow of Khajjiar, which is more famous. The Shangchul Mahadev Temple of Shangarh on the edge of the meadow itself is worth a visit.
From here you can trek further to another village called Lapah, which interestingly has a FRH.
Upper Neahi
This village again has become a tourist hotsepot where you can simply relax and enjoy if not busy in small trails. You need to hike a bit to reach it via either Deori or Ropa. The route can be confusing untill you go there.
Pundrik Rishi Lake
The lake dedicated to Pundrik Rishi is also nearby, but the lake has almost dried out due to natural causes. There is a shrine nearby and it is located just before Uppear Neahi.
Deori and Manyashi
A set of beautiful villages located at the widest patch of Sainj Valley. Deori has bus from Sainj and it also leads to Upper Neahi. Manyashi is higher up from Deori with two tower temples.
Shanshar
Shanshar is even 10-15 Kms beyond the aforementioned places and still remains untouched with tourism. This region has many scattered temples in various villages but it will probably be better iof you have a locla person to show you the way. You can look for the Manu Temple in Shanshar as well as in Talyara Village, and also the the towers of Ashapuri.
Here is a good post about these temples.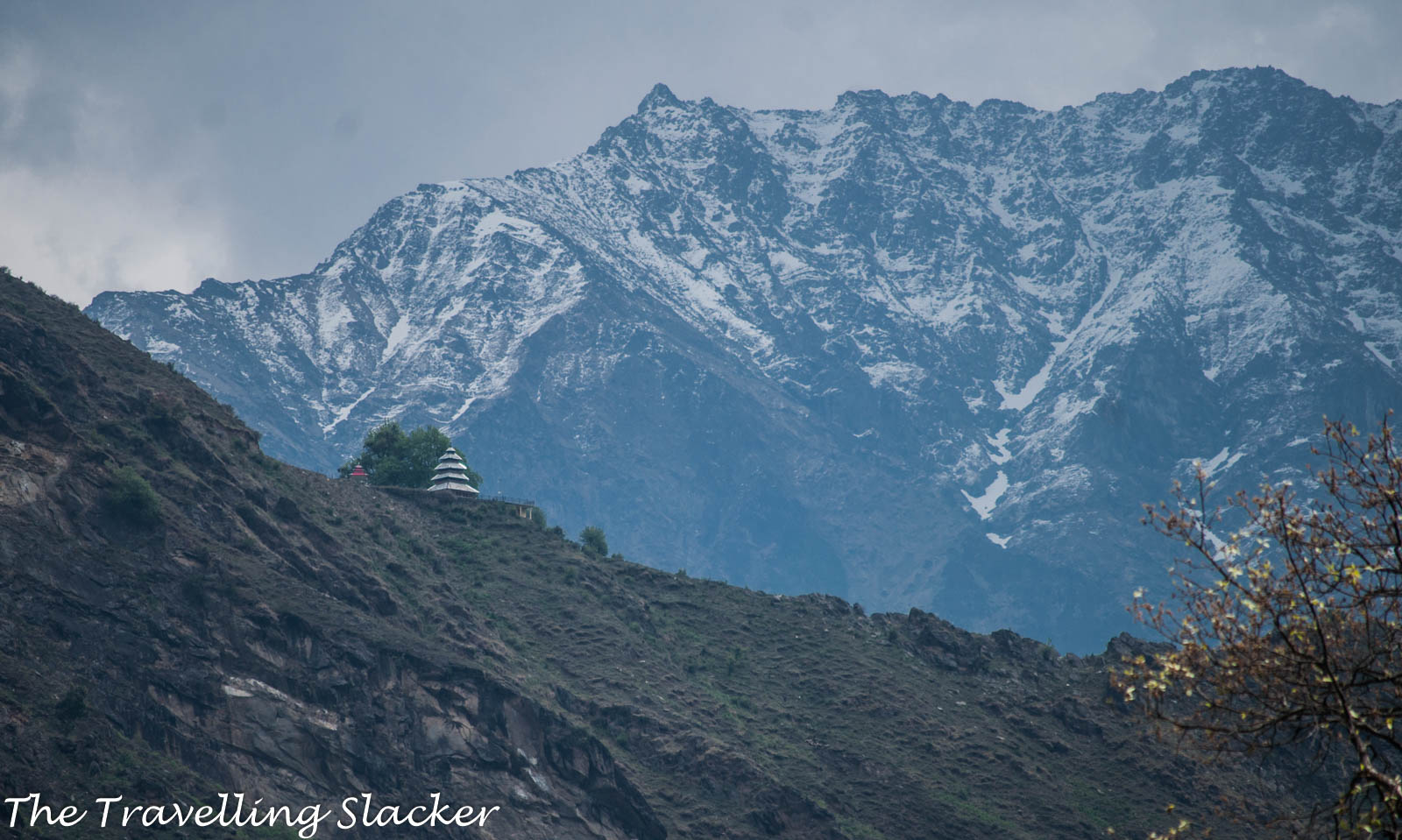 There are other interesting things in the valley that you will slowly discover. For example, have you heard of this
library set up by an ex-armyman
in a remote Sainj village?
Treks in Sainj Valley
Sainj Valley- Raktisar Trek
This trek takes you to Raktisar, the source of Sainj River. It starts from Neuli and takes around a week. Raktisar has many mythological stories associated with it.
Sainj to Tirthan Trek
You can also do a trek that crosses over from one valley to the other. It takes 4-5 days.
Jiwa Nala Trek
Jiwa Nala is another river towards the west of Sainj. It is a tough one that starts from Siund Village (2 KMs ahead of Sainj) and eventually you can enter Parvati Valley. It also takes more than a week to complete.
Apart from these big treks, there are scores of local trails possible here. Most villages are connected to each other with short treks. Here are a couple of treks,
Shangarh to Lapah
Fron Shangarh, you can hike to the high altitude village of Lapah, which also has a forest guest house.
Upper Neahi to Sarikanda Thach
It is a high altitude meadow that takes several hours to reach. You may see snow here even during early summer. I have not done it but here is a good blogpost. Scroll down and you will see nice images from Sarikanda.
Phone and data connectivity in Sainj Valley
Phone and data connectivity as Sainj works mostly till the lower villages. I have found the data to be working in Shangarh, Deori, Jhili Neahi & Upper Neahi. I will update more once I find out.