I just made a quick trip to Roing and Mayudia. It had to be cut short due to various reasons. I visited Mayudia but could not go all the way to Anini and there is hardly enough to write a complete travelogue. I will return someday for more but till then, here is a guide for anyone who needs it.
Anini-Mayudia Travel Guide
Understanding Anini-Mayudia-Roing Circuit: The Dibang Valley
The region I am talking about is the area spread along the Dibang Valley. This is one of the 11 major tourist circuits, as defined by Arunachal Pradesh Tourism. It has now been divided into two districts, the Lower Dibang Valley (HQ Roing) inhabited mostly by Adi people and the Upper Dibang Valley Districts (HQ Anini) inhabited by Idu Mishimis. As it can be seen from the map, Roing is not far from Tinsukia and Dibrugarh, two much larger cities in Upper Assam. It is at the foothills and roads are good till that point. After that, you enter the hilly regions and the road gets tougher. Anini is the last big settlement in this region, not far from the border to Tibet (China). There are military settlements at various points as it is a border area. Here are the major spots and attractions in and around the circuit.
Major Places to See in the Anini Circuit
Dibrugarh
It is the nearest airport in case you need one. It also an ancient town and a trading port on the banks of Brahmaputra. But if you are arriving by road, you can skip it.
Tinuskia
This is the ideal place to start your journey and the nearest major Rail Station as well as bus stand. In fact, there are two stations now, New Tinsukia Junction (NTSK) and Tinsukia Jn (TSK). It is too big and squalid a city for my liking. But you get everything you need here. Also, the entire region here is full of tea gardens, but you need to get out of the city to see them.
Dibru Saikhowa National Park
It is one of the most unique and diverse national parks in the country and I personally rate it far above Kaziranga for soem reasons. From feral horses to river dolphins, and from river cruises to bird-watching, possibilities are endless here. I visited it a few years ago and made an extensive Guide to Dibru Saikhowa National Park. It is barely half an hour from Tinsukia but you need to explore the place on boats.
Bhupen Hazarika Setu (Dhola Sadia Bridge)
Until recently, reaching Arunachal through this route used to be an elaborate affair. You needed the help ferries to cross the river. However, the bridge was finally completed last year, thus making the process much faster. At more than 9 KMs, it is one of the longest bridges in the country and this itself has become and attraction for local tourists.
Chapakhowa (Sadiya)
After crossing the bridge you reach a small town called Chapakhowa, which is the centre of Sadiya subdivision. There is nothing much remaining here now but at one point of time, this was a major kingdom in Assam with a lot of myths and anecdotes associated with it. This is also the point where three different branches meet and form the great Brahmaputra river. Read up more about Sadiya if you want.
Roing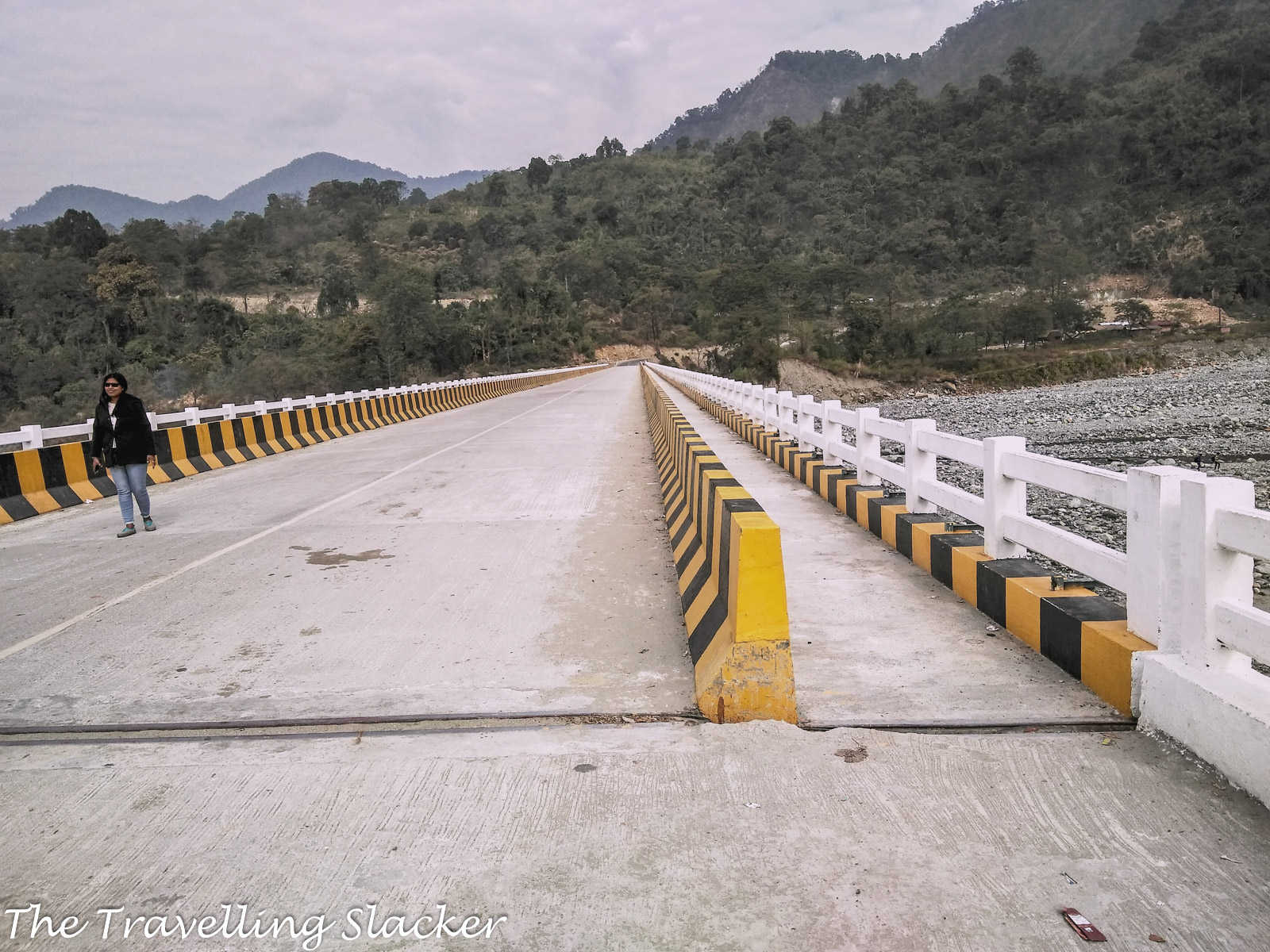 Roing has grown in recent times but still a much smaller town compared to those across the border. It is mostly surrounded by a big marketplace. It even has a zoo and there is a lake called Sally Lake around 3-4 KMs outside the city with pedal boats etc. Dense forests can be seen beyond the town, leading up to the hills. There is a sanctuary called Mehao Wildlife Sanctuary which is supposed to be rich in flora and fauna but I have not met anyone visiting it and not sure if there are any facilities for visitors.
Dambuk
Most of the region is known for orange cultivation. But Dambuk has become famous of late as it organizes the Orange Festival to celebrate the same. The festival is designed to attract tourists, so you get camping, music concerts, adventure sports, and a lot of other facilities during the fest, but you have to time it right. It takes place sometime in December every year.
Bhismak Nagar
This region still has a few ruins from medieval times. Locals relate them to the times of Mahabharata but most probably they are related to the aforementioned kingdoms of Upper Assam that thrived before the advent of Ahoms. Check this post by ASI to know more.
Mayodia
At 2655 Metres, Mayudia (or Mayodia) is the highest point in this route from Roing to Anini. It is not exactly a village and you probably won't even notice it on other months. But in January, it snows here. It is one of the nearest point to witness snow for the people of Assam and this is what has made it famous.
Hunli
It is a small town after Mayudia with scenic views and some small treks all around, although most of them are yet to be explored properly.
Anini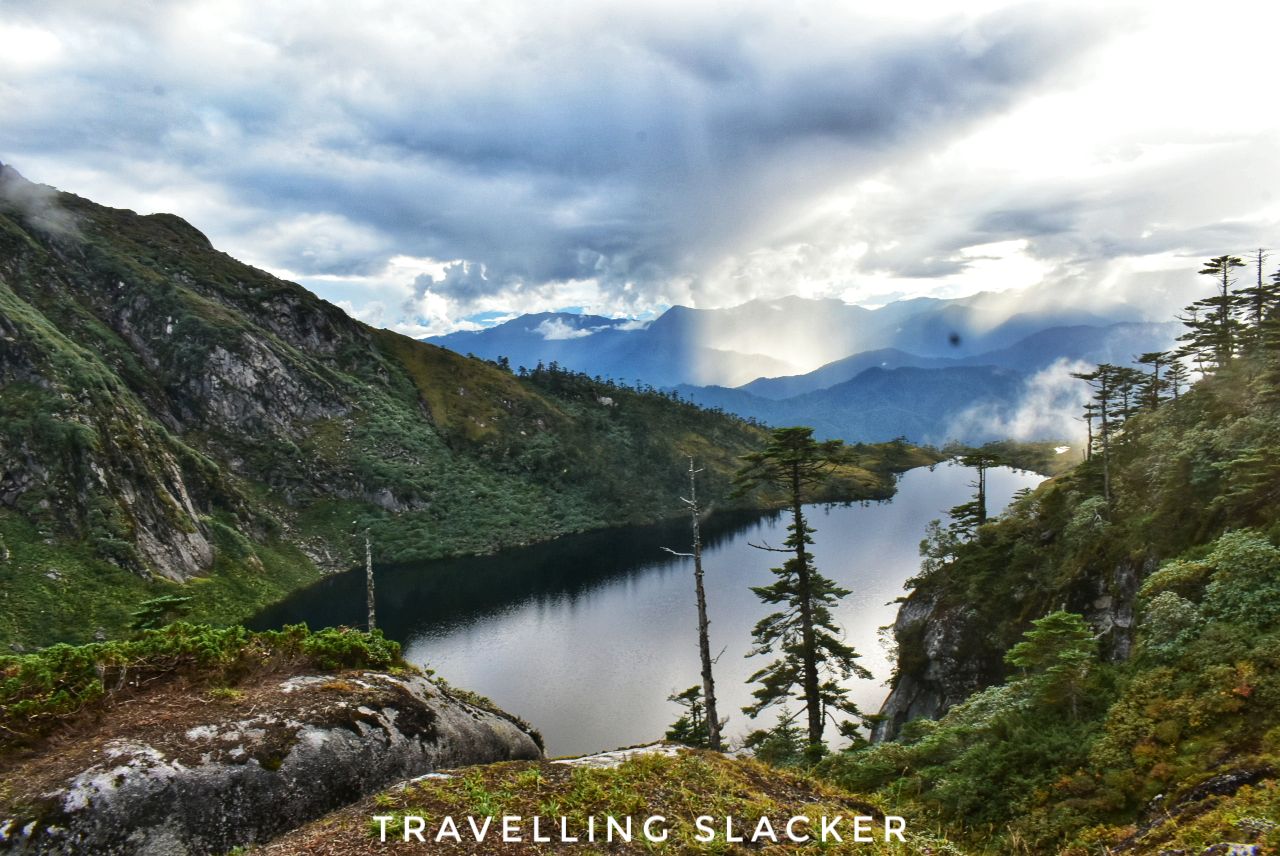 Anini is the last point in this route and it takes a whole day to reach it from Roing. It is hard to reach and you are rewarded with great views once you manage to reach it. You can expect snow in the winter and colourful blossoms in the summer months. It s also being developed as a trekking and adventure tourism destination. It is also a great place to simply sit back and relax and explore Idu Mishmi culture.
Distance Chart
Guwahati to Tinsukia 485 KMs
Dibrugarh to Tinsukia 47 KMs
Tinsukia to Roing 107 KMs
Roing to Mayudia 56 KMs
Roing to Hunli 90 KMs
Roing to Anini 221 KMs
Roing to Dambuk 40 KMs
Roing to Bhismaknagar 25 KMs
How to Reach Roing?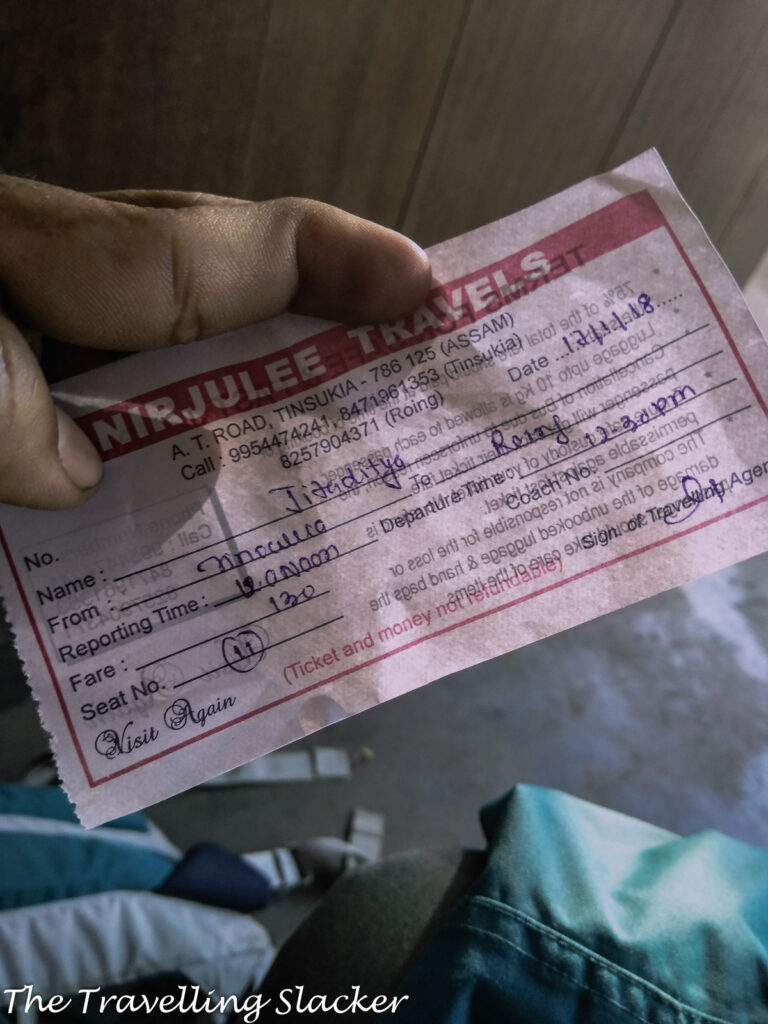 From Tinsukia, you get buses and shared cars that cost around INR 130. The bus stand is not far from the old Tinsukia station, and a bit far from New Tinsukia Junction although you will easily get rickshaws from there. The road is smooth and straight and you should reach in less than 3 hours.
How to Reach Mayudia?
Now, it is easy if you have a vehicle. It is also easy if you are in a large group and can hire a vehicle. But if you are alone and relying on public transport, it is an issue. I figured out that the Anini bound shared cars to leave from Roing at around 7 AM in the morning. There are many Booking counters in the market. Mayudia is on the way but they don't want to block a seat for someone going to only a small distance. They in fact were forcing me to book ticket all the way to Anini by paying the whole amount. After a lot of negotiations, they gave some discount but I still had to pay INR 500 just to reach Mayudia. On return, I was planning to catch one of the vehicles coming back from Anini. But I got a lift in a pickup van and that part was negotiated for free although I had to stand on the backside and brave the freezing wind.
How to Reach Anini?
As mentioned already, you get shared cars from Roing in the morning. It costs INR 1000 per head and it is non-negotiable. You should book your seat on the previous day. Otherwise, you may not get a seat. A new bus service has also been introduced from Roing to Anini but it may not be available everyday. It will be cheaper if you can get it.
Road Conditions to Anini
While the Roads used to be challenging, there have been significant improvements in recent times as the government has tried to improve connectivity in the remote regions. The road till Roing is smooth. The roads till Anini are smooth at some places while construction is going on in some other places.
How to Reach Dambuk?
There are shared cars to leaving to Dambuk from Roing too. However, they leave in the afternoon as far as I know. That means you will have to stay at Dambuk at night. You will get various camps set up during the orange festival. I am not sure about the facilities at other times.
Inner Line Permit at the Roing Gate
While I got my ILP from Guwahati, it was interesting to note that they are now providing ILP at the entry point of Arunachal. The bus stopped a few KMs before of Roing. Here, they check your permits or you have the option to get the permits made on the spot by paying INR 30, photographs, and ID proof. I am not sure if it is applicable to foreign visitors and I still suggest you get it done in Delhi.
In any case, things have changed. Now you can apply for Arunachal ILP online. So, don't bother about any of this.
Hotels & Homestays in Anini, Mayudia, Roing
Anini has government accommodations such as Circuit House. Due to remoteness and obscurity, not too many facilities were there until recently but some new homestays and campsites coming up in Anini from what I have heard but none of them seem to be available for online booking. However, as I mentioned before, the new bridge has increased tourist inflow in the region and I think it is only a matter of time before better facilities come up.
Roing has several small hotels with basic facilities at INR 400-500 but do not expect much from them. Most of them are located in the market where the bus will drop you. However, some new homestays have come up of late. They should cost around INR 1500 per head including food. There is a nice government lodge on the banks of Sally Lake, which is just ahead of Roing. But I am not sure about the costs though. There are some jungle camps in the interiors but those are usually meant for bird watchers.
There is another rest house near Mayudia and all the dhabas there offer a bed to sleep in case you need it. However, to be honest, I don't think it is a good idea. It will be bitterly cold up there after sunset and there is nothing else to do either. Basic restaurants are available all over Roing and Mayudia. After that, you will find them less frequently. If you are not used to eating too much rice… well… get used to it before you go there.
Anini had limited options earlier except the Govt Circuit House but gradually the facilities have improved with increasing tourist flow. New homestays have been built here of late, both budget and somewhat fancier homestays are coming up, costing 1000-1200 per head including food.
Trekking in Anini
The Upper Dibang valley centered around Anini is the best trekking destination in India that no one knows about. Scores of treks are possible here and dozens of high-altitude lakes are hidden in the mountains beyond Anini. You can trek beyond Anini for multiple days to reach high-altitude lakes above 4000 meters. This trail has now been developed as the Anini Seven lakes Trek. There are more treks here such as the Athu Popu Trek, Zarwu Valley Trek, Mathu and Dri Valley Treks etc.Read this post to know more about Trekking in Northeast.
Briding in Mishmi Hills
The lower Mishmi Hills i.e. the forested hills from Roing to Mayudia are heaven for bird-watchers. There are camps made specifically for bird watchers. You need to go through specific operators and trained birding guides for this.
Phone and Data connectivity at Anini and Roing
Till Roing town most of the things work fine but beyond that do not expect much. Internet is not a possibility in Ainini as of now and even call may be difficult except with BSNL.
Where is the nearest ATM?
You should find working ATMs at Roing. There may be ones in other towns too but still, due to sheer remoteness, you can't rely on them to be functional.
What is a good season to visit this circuit?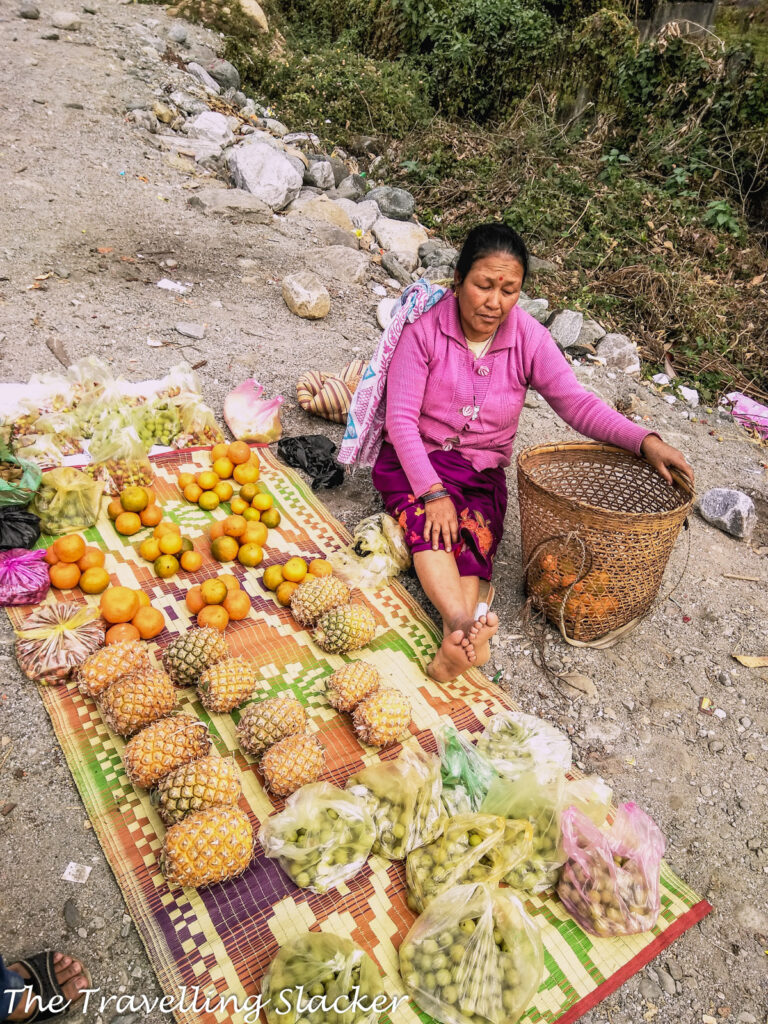 People mostly visit in the winter because it is easy and pleasant. You can see snow, and oranges ripen in the lower areas. I am sure the colours are beautiful in the summer and monsoons, but rains can wash away the roads here at any point and you need to keep that in mind. You can also time with various major festivals of the communities such as the Reh Festival of Idu Mishmis in February and Solung Festival of Adis in September for a great ethnocultural experience.