Devikothi is a bit far. You can just roam around here, we have good views from the hotel window too…
Said the Pub G playing guy at the hotel reception… And went back to playing.
It was not very reassuring but reaching Devikothi was important for me. This had been one of the major blots of my travel career, something that I have talked about often but never managed to visit. I've been yearning to explore Churah Valley for a while now but somehow the plans never worked out even when I passed through the peripheries of this small region. I have also included it as one of the most unexplored areas of Himachal Pradesh.
Nevertheless, this time it was one of the must dos on my list. I was already in Chamba, planning the last stage of the trip. I went to the bus stand in the morning and as I could not find any direct bus, I hopped into Tissa/Bhanjraru bus and got there by noon. If you are not familiar with these names, just know that Tissa and Bhanjraru are practically the same (don't ask me why). It's the main town of Churah, the views leading to it are good but to be frank I have always found this town very unappealing. On top of that some construction was going on in the bus stand too, making it really messy.
My challenges were many at this point. I had to manage my limited time. My plans turned out to be such that I had to leave for Pangi the next day (I have already written about Dakhrain that I was going to attend). So, I only had the second half of the day to make to Devikothi or face failure again. However, I was told that the next bus was coming much later. It was an extremely hot and sunny day and I was carrying too much luggage too.
I wanted to reach Bairagarh first, a small village on the periphery of Churah that I am familiar with. I spent a night there way back in 2012 during my first Sach Pass visit. I had nostalgic memories of that homestay. If I could find a place there, I could keep my stuff and from there Devikothi was a short detour. Having wasted another hour loitering around, eventually I started walking and left the bus stand to reach the highway, where I found a shared car but it was only going till Tarella (a small village enroute).
Anyway, I preferred to move ahead instead of getting stuck at the same place.I started talking to the driver and he offered to go a bit ahead and drop me at a roadside hotel a few KMs before Bairagarh but after Tarellla. By that time I was tired of the whole luggage carrying business (I had one big rucksack, one additional bag, and also a camera bag). So, I said yes and he dropped me at a hotel which was newly opened, located on the road itself, and charged a bit more than I wanted to pay. Nevertheless, I didn't have time or energy left so I took the room, kept my stuff, and freshened up.
I asked the guy for some food and asked him about Devikothi but he was sceptical. Anyway, I decided to go ahead and although he wasn't very encouraging, I could soon see the bus arriving. I thought I'll reach Bairagarh and then walk/hitchhike to Devikothi. However, to my delight, the bus was going all the way to Devikothi. So I hopped in.
So, this is how buses work in this area. The buses first go to Bairagarh bypassing the diversion to Devikothi, drops people there, takes a U-turn, and then goes to Devikothi. At Bairagarh I noticed that my old favourite homestay has been completely transformed into a gigantic building. Anyway, the bus turned and soon we were on the path to Devikothi. The smaller villages here are somewhat unique. Many of them look like hanging from the mountains. Many watermills could also be seen.
These traditional watermills are always a delight and they usually disappear from places that become too developed. On the positive side, it was a nice sunny day after the rains I faced in Dalhousie and Chamba towns. I enjoyed the ride till it lasted but then the bus suddenly stopped although the village was nowhere to be seen. I learnt that the bus comes till here only, probably because only this point has some space for the bus to turn.
It's another kilometre to the village but the road is lined with a thick cedar forest. I started walking with some of the villagers while clicking photographs. One person approached me out of curiosity and I started chatting. From him I also figured out the location of the temple, which is somewhat down the slope from the village although it can be seen from the road. Anyway, we reached the village and although he invited me for tea, I decided to move on to the temple. It was 4 PM and I and the bus had left after dropping us. So, I wasn't sure how to get back.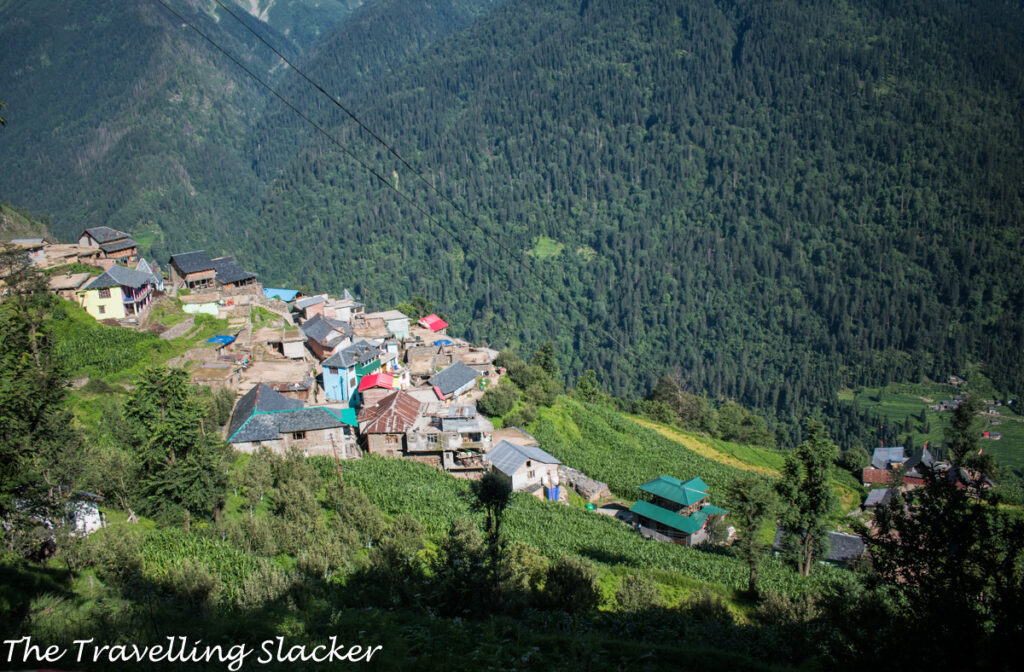 Anyway, I quickly walked down the stairs leaving several houses, getting lost in the maze a few times, but eventually reached the temple. Now, this is a major temple in Himachal. As you might have noticed, the name of the place itself is Devi Kothi, which is definitely a reference to this Devi temple. It was built Raja Umed Singh in 1754 CE to honour Maa Chamunda after fulfilment of a wish.
The most striking feature of the temple are the graffiti on the walls of the sanctum sanctorum that mostly depict the goddess slaying various demons. What's interesting is that they are similar to famous Chamba miniature paintings. I have seen enough of those miniatures at Bhuri Singh Museum, Chamba, but these ones were larger than life!
However, there seemed to be some renovation work going on. So, I did not get a clean shot of the place. Also, these seems to be some issues with this renovation as it has not been done with consultation of experts. Anyway, none of these things are in my control. I shot whatever I could and left when it was already 4.45 PM. The real adventure was only beginning.
More buses reach Devikothi later but they go back only in the morning. So, it was now sure that I'll have to walk back to my hotel for 15 KMs unless someone gives me a lift. Thankfully in summer the light remains till almost 8 PM. Still, it was a long way. So, I started walking back briskly, occassionally waiting to click photos. There were some interesting points, not sure how to describe them. It took almost two hours to overcome to Devikothi road and reach the highway. Before than I had to cross one point where the stream was flowing accross the road. But what was delightful is that there were several watermills there located at various steps if the fall. I wish I had more time to document them.
Anyway, I started walking along the highway. It was past 6 pm. At least here I expected to find a life but there was absolutely nothing that evening! However, this is exactly where I started getting rewarded for this ill-planned detour. Although the day was clear, I hadn't seen the high peaks of Pir Panjal so far. However, they decided to reveal themselves in the evening as the marmalade sky illuminated the snowy peaks! I walked for another hour enjoying the views before it got pitch dark.
I kept moving and eventually at around 8.30, the map showed another 500 meters, however the building I passed looked suspiciously similar to my hotel. I looked closer and it indeed turned out to be my hotel. Google maps was 500 meters off and I'd reached already! With this premature climax, this eventual day got over.
I look back at this day fondly because after a long time I did things like the good old pre-pandemic days. It was not planned properly, there were many uncertainties, circumstances created obstacles and involved a long, lonely walk. Eventually I got satisfactory views in the evening. This was the finale I needed after a hard day's work. This was what I would have missed if I had simply found a lift. This is how it's always worked for me.
Churah Valley Devikothi Travel Guide
What and where is Churah Valley?
Churah is a region 60-70 KM northwards of Chamba, on the feet of Sach Pass (4400 meters). Tissa/Bhanjraru is the main town here but the most important heritage village is Devikothi with its famous temple. There are many other villages here, the most noteworthy one being Bairagarh, because it is located on the highway leading to Sach Pass.
How to reach Devikothi?
There are a few buses to Devikothi throughout the day. If you don't get a bus from Chamba, take bus to Tissa/Bhanjraru. From there you should get connection transport.
Where to stay in Devikothi?
Devikothi has a campsite although I never saw it. I didn't see any Homestays here. Nearby Bairagarh though has at least two Homestays and a hotel nowadays. There are some options in Tissa and also a couple of hotels on the highway in between.
What else to do in the Churah Valley ?
There are many major trek routes here. There's are many high altitude lakes too. The most famous one being the Gadasru Mahadev Lake at 3500 meters. You can trek here for multiple days. Also, you can trek through the Cheni Pass (4400) to reach Pangi Valley.