So, I visited Hudan for the fourth time. I've already written enough about it but this time I wanted to attend a festival. However, it was not as straightforward as it seems. Let me just recount the visit step by step.
An Uncertain Adventure
I started this summer trip in June and had planned to wrap up by mid-July. I'd actually planned to visit Pangi in June itself but the plan had to be changed as bad weather shut the Manali- Killar road for a few days. It was around that time I got information that the Dakhrain is slated for 18th July. So, I decided to try again by extending my trip for a few days. By that time I had moved from Kullu to Chamba region and so I was now going to enter Pangi by passing through Sach Pass for the 4th time.
I never had any fixed plans and on the night of 16th July, I found myself in a hotel near Bairagarh on the road to Sach Pass. The plan was simple, to catch the morning bus the next day and reach Killar. However, I had taken the HRTC bus for granted. That night I casually asked the hotel guy when the bus arrives and he told me that there was no bus!
An accident had taken place involving a bus a few weeks ago. I remember seeing that news too but I'm so used to HRTC service that I never bothered to enquire about it earlier. Basically, the authorities paused the bus service after that incident and the only options were private shared cars which are more expensive and they don't follow any specific timetable either!
So, the next morning I had almost given up. I was also tired after a long trip and another hectic and uncertain jaunt carrying three bags was suddenly looking cumbersome. Usually, I have a comfort level with HRTC buses. I don't think twice before boarding a bus in Himachal. The same couldn't be said about these shared cars. I was just waiting for a return bus to wind up my trip, sulking and cursing Murphy. It was 9 am already. But it was also a Sunday and I was told that the regular 9 am bus to Chamba won't come but there may be something else. However, just around that time, one empty car arrived from the other direction. He was known to the guys at the hotel and it turned out that he was going to Pangi for some work. The car was empty and he agreed to take me for INR 700. I decided to go ahead instead of ending the trip in disappointment (it would have only if a car from the other direction had arrived before this one).
Anyway, it seemed to be a good day. The weather was nice and it was just the flowering season along the meadows of Sach. I reached Killar by afternoon, realized that the hotels here have become far more expensive, and checked into a not too appetizing, newly opened homestay near the bus stand.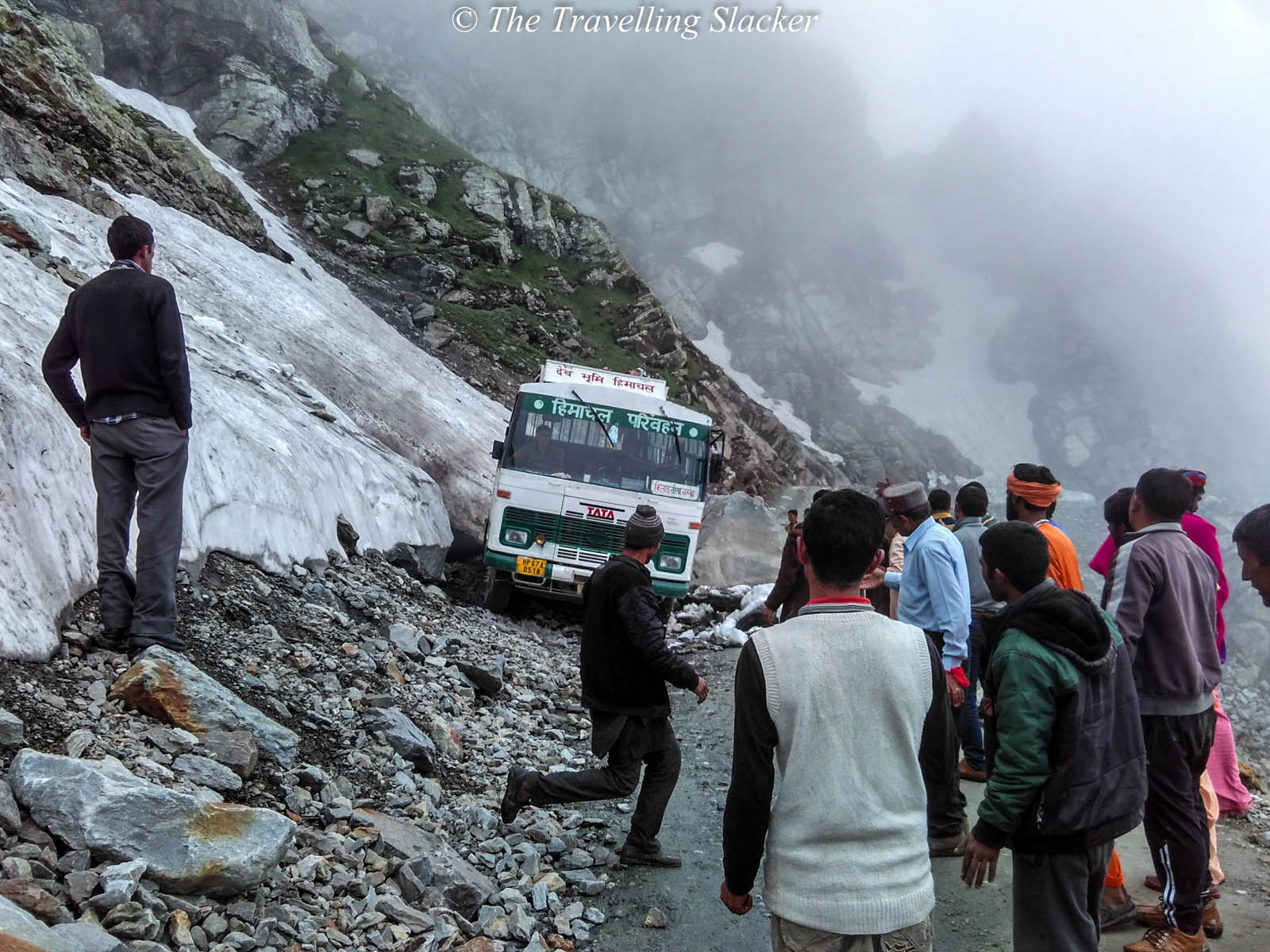 Reaching Hudan
The next morning I deliberately missed the 7 am bus to Hudan because that robs me of an opportunity to have breakfast in the town. There're no restaurants in Hudan so you need to sort this in Killar before leaving for the day (The next bus is a bit too late at 2 PM). On previous occasions too I had ended up walking the whole 15 kms for the same reason. So, this time also, I geared up for a longish and torturous walk although it was an unusually hot and sunny day for a monsoon month. On one hand, I was happy because there was no threat of bad weather and so the festival would commence uninterrupted. However, it was tiresome although it's a regular aspect of S&M travelling. I walked briskly, crossed the helipad, and reached the village of Kawas, around 3.5 KMs from Killar, in an hour.
This is where I saw a few youngsters trying to negotiate with a driver. As it turned out, they were youths from Tissa who'd arrived there to watch the Jatr (jatra/mela/festival/fair… All can be used interchangeably for the event). So, for once, I did the smart thing and joined their group and negotiated with the driver to leave us at Hudan Bhatori and saved the self-torture by paying him INR 150 each. We got to the village by 10.30 AM and then walked for 15 mins to reach Hudan Lake, which is just ahead of the village and the venue for the festival.
At the Dakhrain Ground
The topography is such that the lake isn't visible till the last moment. Only when I took the last step, suddenly the open grassy meadow appeared in front. When I visited it in 2017, it was a normal day and it was almost desolated. However, on the day of Dakhrain, it was a completely different world!I remember the lake to be basically a small puddle from the last time but that was in early summer. In the monsoon, it seemed to have expanded with a thick grassy mass growing in the middle, making it look like a miniature version of other major grassy lakes of Himachal such as Parashar and Pundrik.
More importantly, although festivities had not yet started, the revelers had reached already. It was a rare day of merriment for them and they had left no stone unturned. Everyone was dressed colorfully. People from all ages and strata from the region has arrived there, dotting the green meadows with bright colours. It was almost as if almighty had commissioned Seurat to paint this setup and then brought it to life!
Dakhrain in Pangi Valley vs Dakhrain in Kinnaur
A lot of these hill communities are scarcely documented. So, it's sometimes hard to find the exact reason and story behind festivals. It can also get confusing. For example, there's a festival of the same name on the same day in Kinnaur. To make the matter worse, there's a village called Pangi in Kinnaur, which is different from Pangi Valley I was visiting. Even now if you search online for Dakhrain, you'll get more posts from Kinnaur. So, do note that I am talking about the Dakhrain in Pangi Valley, which is in Chamba district, not in Kinnaur.
Dakhrain of Pangi Valley is the festival connected to a devil known as Tunta Rakshas. I don't have more details about it now and this is what I learned from my friends in Hudan. Anyway, the festival involves some ancient rituals, sacrifices, dances and feasts.
Mythology apart, the locals turn it into a big fair and in fact, there exists a parallel universe beyond the reach of urban middle class where this even is famous. You may be hearing it for the first time now but people from far-off places had arrived there. Apart from people from other parts of Himachal, I even found a couple of Nepali guys wearing distinctive Gurkha caps. They were traders selling Rudraksha beads!
There were several tents around the meadows. These were set up by local traders selling fast food, ice cream, toys, and much more. Initially, I just sat lazily on the grass like most others, waiting for the program to begin. Thankfully I was carrying an umbrella I bought to protect myself from rain in Dalhousie.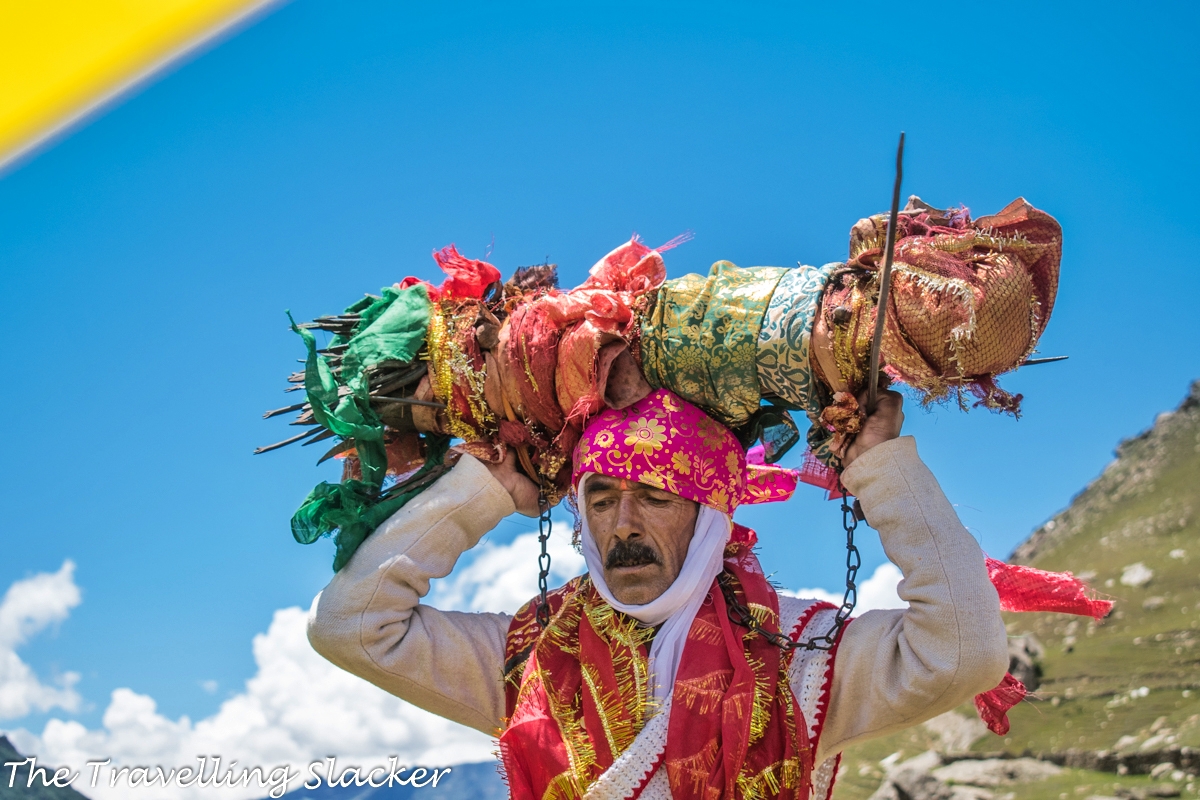 After a while, the program started. Initially, it was the men. They started dancing in circles while some rituals were conducted. One flutist and a couple of drummers were the main musicians and from that moment they kept maintaining that primordial rhythm for several hours, at least till the moment I left. The performance kept going on with some variations. It somewhat reminded me of a ritual in Bastar Dussehra where a possessed medium rushes towards the crowd alarmingly (but never hits them). These rituals are ancient. There's both Buddhism and Hindusim in Pangi but these rituals probably predate any organized religion.
Around the same time, a few men suddenly took off their upper garments. They got some strange metallic hunter and started beating their own backs. Self-flagellation is not really new in many cultures but the tool they used was really unique.
I was admiring the unique local print on the scarves and caps of the men but I was growing a bit impatient after a couple of hours because the women were yet to join in. In fact, this was my primary motive for coming here. The inability to get a clear image of a Pangwali woman in her traditional dress was one of my primary failures in the last three trips. But the festival was supposed to be the time for it. I was getting late too. I wanted to catch the return bus on time and get back to Killar without further hardwork. Just when I was about to give up, suddenly the women appeared, not one or two but a dozen of them, all dressed in traditional attire. They joined the men and suddenly the entire meadows came alive. Next half an hour I shot both stills and videos to my heart's content.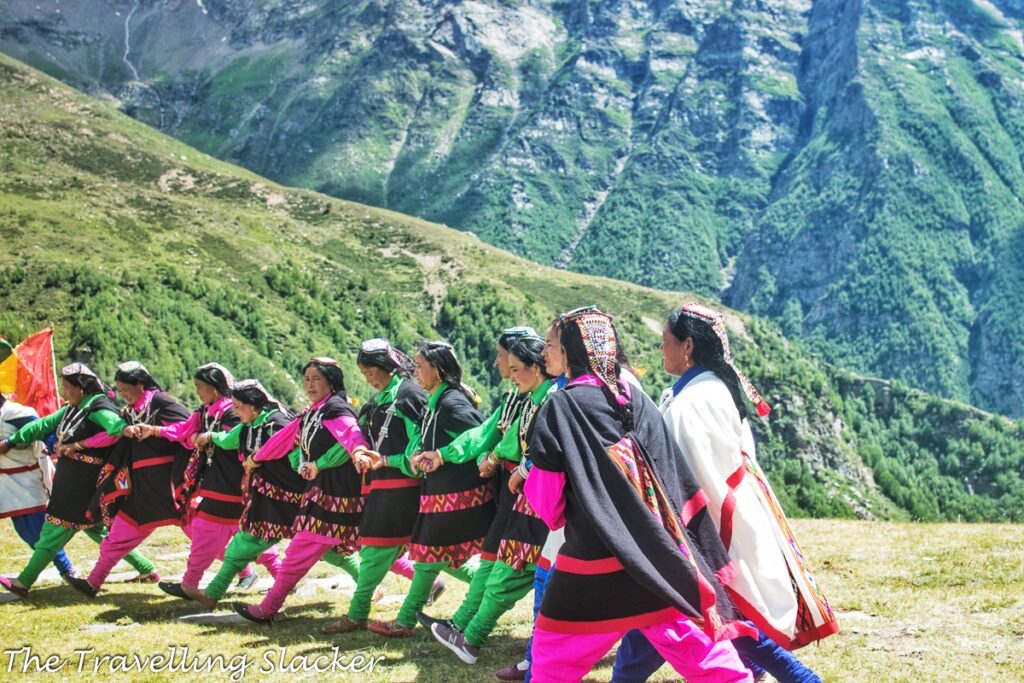 The festivities were likely to continue till sunset but my part was done here. The bus had also arrived and although there was going to be another late bus, for once I was satisfied enough to take the easier way out. So, this will be it for today. Let's see when I can return to Pangi again.
When does Dakhrain take place in Pangi Valley?
It takes place on 18th July every year.
How to visit Pangi?
Don't tell me you haven't read a dozen older posts of mine. Start from the Pangi Travel Guide here.
Is there a video of the event?
Yes… here are the failed footages…