"Here it is. The trek starts from there. We aren't going any further. Said the HRTC Bus Conductor at Chansari "
We got down, saw a trail going upwards and a Bengali joint family ogling at the steep ascent discussing with each other the feasibility of the trek.
The doubt for us here was that the Google map was showing a much easier and shorter route a few KMs ahead and the road where the bus stopped was definitely going further.
To our surprise, the bus started again and instead of turning around, it started driving ahead, towards the original point where we wanted to reach. I have no idea why they didn't want us to drop at the last point but we were in no mood to hike up the longer route on a hot and sunny day.
I was mentally prepared to walk the whole way along the road but Shubham started trying to hitch a ride. The first couple of cars didn't care but one finally stopped. It turned out that the gentleman and his better half from Mandi were also going to the temple and so, they gave us a lift and we reached the desired point soon (we also saw the bus that betrayed us again).
Anyway, the trek from here is simple. The point here is called "Karate", from where the hike starts. It takes around 50-60 minutes to reach the top and although I heard people saying 3KMs, I felt it was closer to 2 KMs as we reached in an hour even with my low fitness levels nowadays.
While it was not that difficult, we took many breaks due to the heat. There were many people on the trail including a Gujarati group and many Sikhs too. This is something about Indic faiths that western academia won't understand. Everyone respects the lord of lightning here. In fact, we even say a tall tree with a long vertical scar, sign of a lighting strike.
After a brief hike, we rose above the treeline and appeared on a vast open meadow, dotted by several shacks selling food items as well as items used by devotees for worship such as flowers and incense sticks. The setup somewhat reminded me of Shikari Devi.
After a small stretch of these shacks we quickly reached the temple, but there was a huge crowd in front of it because it happened to be the annual visit of another deity (the sister of the resident deity here). Such procession of deities are very common in the Himalayas and I have mentioned many of them in some old travelogues such as the one in Shangarh and Bashleo Pass (& more of them coming from this trip).
As per legends every 12 years, the Shivling at Bijli Mahadev is struck by lightning which breaks it into pieces. Apparently a Demon Kulanta was slayed by Lord Shiva here and that is why this site became revered. The priest then wraps the broken lingam with butter and after a few days it gets restored.
However, the name of the entire Kullu region originates from the term "Kulanta" according to some other sources. These two etymologies are probably related but I could not find any verifiable source.
While the exact historical details are not known, it's an ancient shrine with a classic medieval kathkuni style wooden temple. Photography is not allowed inside the sanctum sanctorum but one can click the structure from outside. There's also a gigantic staff in front of the temple, another installation to attract lightening.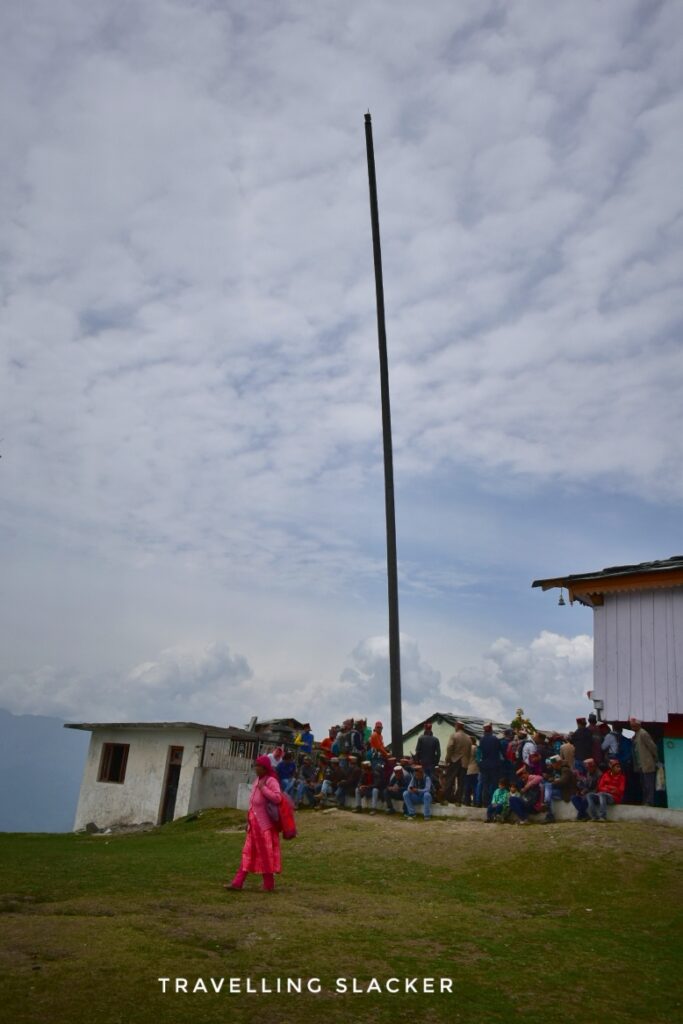 We removed our shoes and went to the other side of the meadow with several giant tridents, to the literal edge from where the entire Kullu Valley including the Bhuntar airstrip was visible. Unfortunately it was sort of a hazy day. So, the view is actually better than what I managed to capture. We took a break and had some apricots and plums (it was that season) while waiting for the crowd to disperse.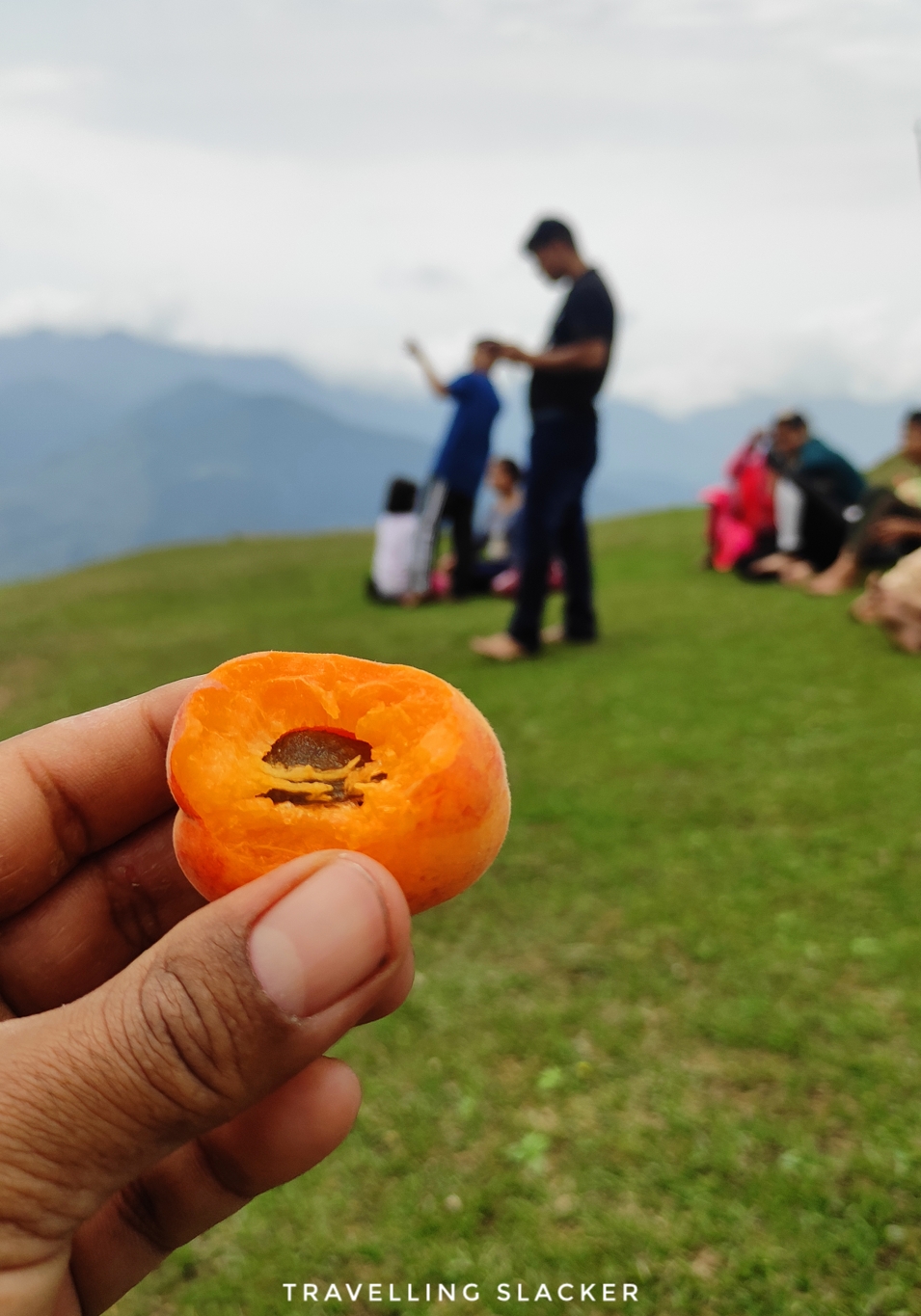 After a while, the rituals were completed and the crowd left the compound, allowing the rest of the visitors to pay their respect. We also followed everyone else and went inside, lit an incense stick and collected prasad.
Before leaving, we took some time to explore the interesting stone sculptures that are installed just in front of the temple. Just have a look at them.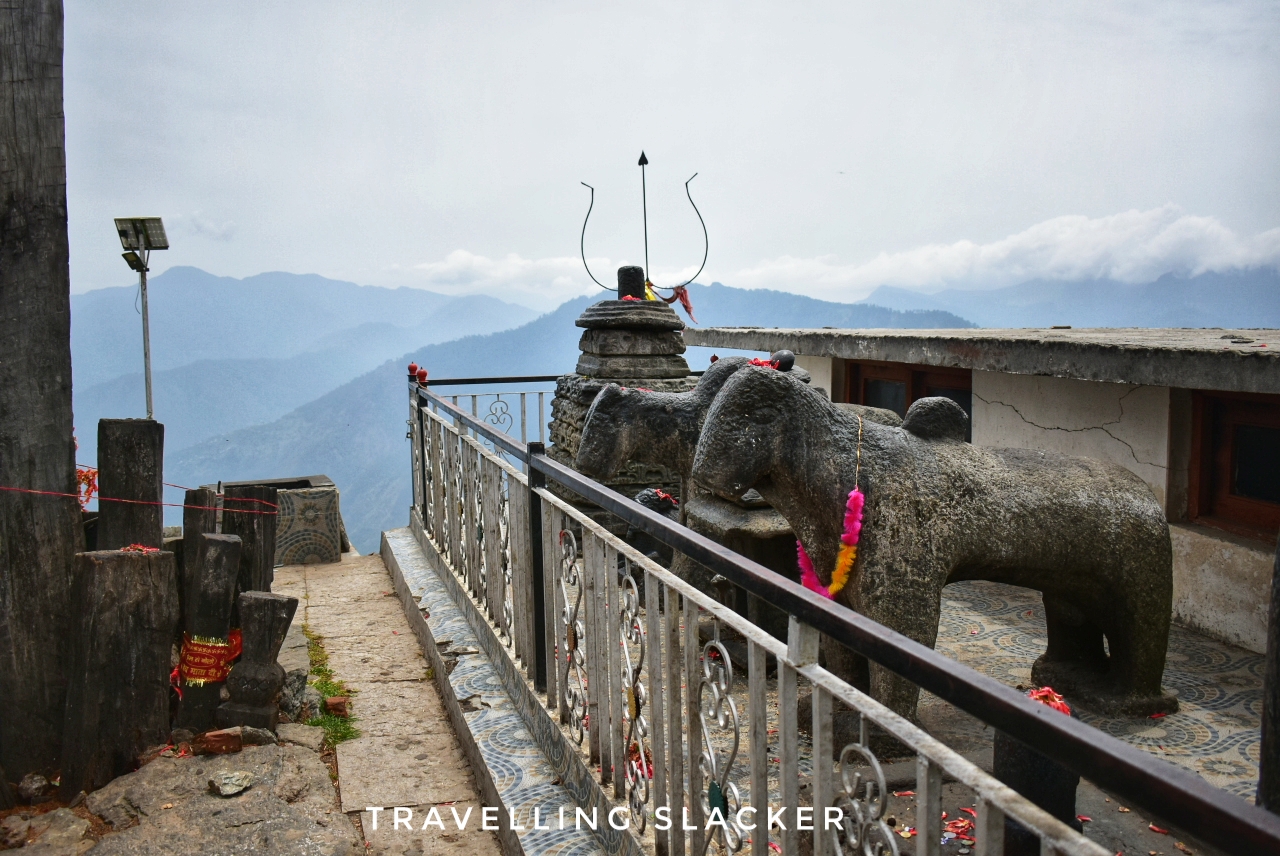 So, this was more or less it. It was short and quick. I also shit some footage that nobody is likely to watch but anyway… here's it.
Bijli Mahadev Travel Guide
How to reach Bijli Mahadev?
The easiest way is to go to the Kullu Bus Stand in the morning and look for a bus to Bijli Mahadev. Several buses ply on that route. Usually the buses drop you somewhere in Chansari Village. However the road goes further and the shorter route starts from a place called Karate. We got a bus at around 9.30 AM. I'd say 8-10 am is a good time. You don't want to go in the afternoon and then get stranded.
Also note that these local buses are very slow. It'll take time although the distance isn't much as they'll stop at every village on teb way.
How long is the Bijli Mahadev Trek?
From the shorter point at Karate, it's around 2 KMs which should take an hour of trekking or even less. In case you take up the longer route, it may take 3 hrs or more from what I have heard.
Food and water available on the trek?
It's always good to trek with a bottle of water but there are several shacks along the way selling fruits, fast food and bottled water (don't litter though).
Network During the Trek?
It's a popular trek frequented by a lot of people. Phone and data connectivity wasn't an issue either.