Never heard of them before? We'll, Even I didn't have much clue about Hoka Speedgoat 5. They maybe better known in the West, but out here in India, few have heard of it an it is only available in certain online stores and you aren't likely to discover them unless you opt for some determined research before the purchase, like I did.
To be honest, I started using dedicated trekking shoes at a much later stage. During my early days of intermittent travel and trekking, I mostly continued with the sports shoes/sneakers that I also used for day to day purposes. Eventually with increasing travels to the Himalayas, I started buying trekking shoes from Decathlon. While not being perfect, they worked till they lasted and were much cheaper than the premium brands. But I did find it difficult during tougher treks.
Nevertheless, this time I wanted to try something different and that's when I stumbled upon Hoka. Technically, these shoes are categorised as Trail Running Shoes rather than trekking shoes but that's what gives it certain qualities that the conventional trekking shoes lack, especially the fact that they are much lighter as they have been made for running.
So, I bought them a few months ago and so far, I have used them in some backpacking and long walks in Nepal and a few day hikes accross Bhutan. I'm still to try them in my original playground of Indian Himalayas. But that's because own plans have been getting postponed for various reasons.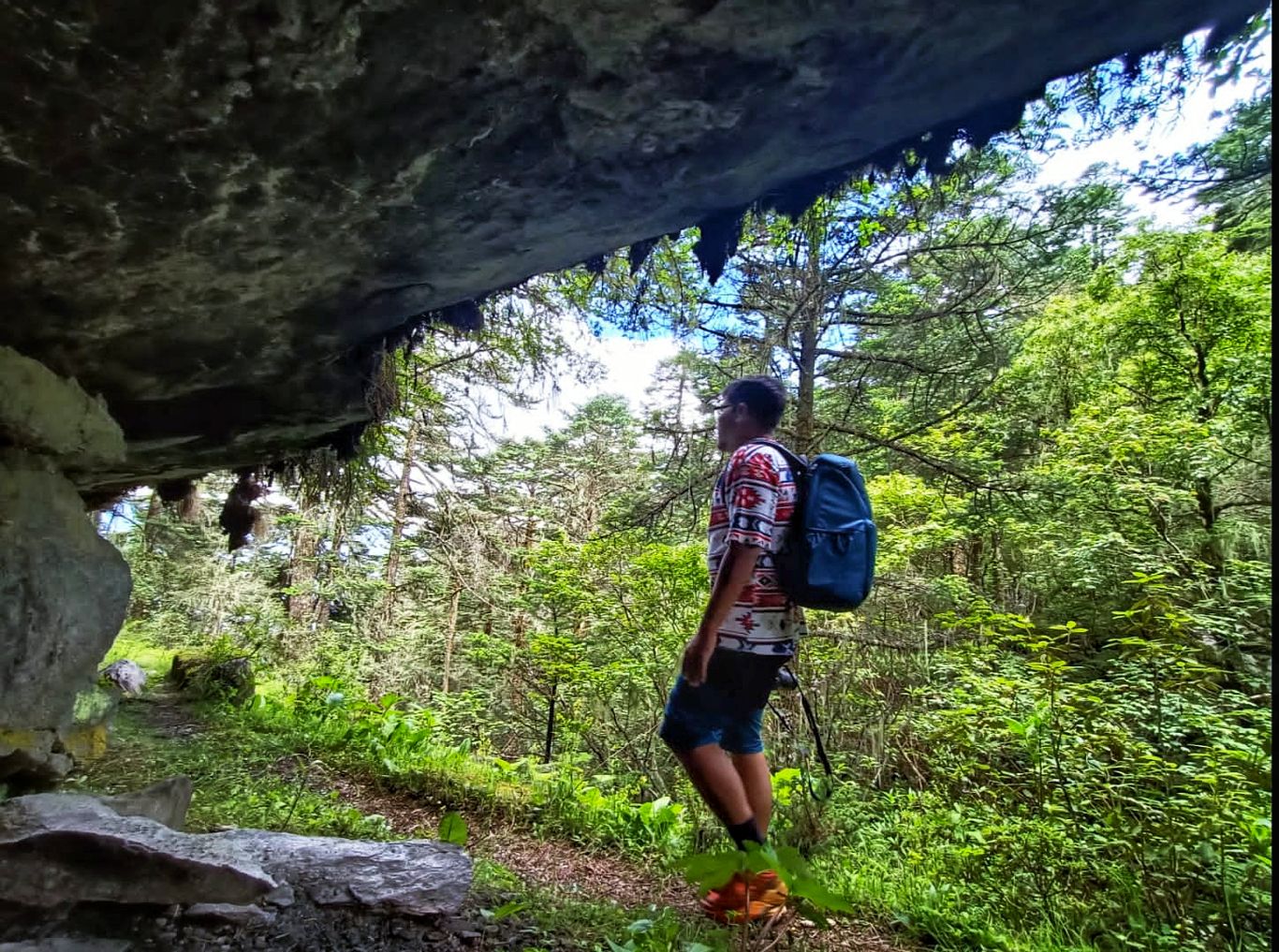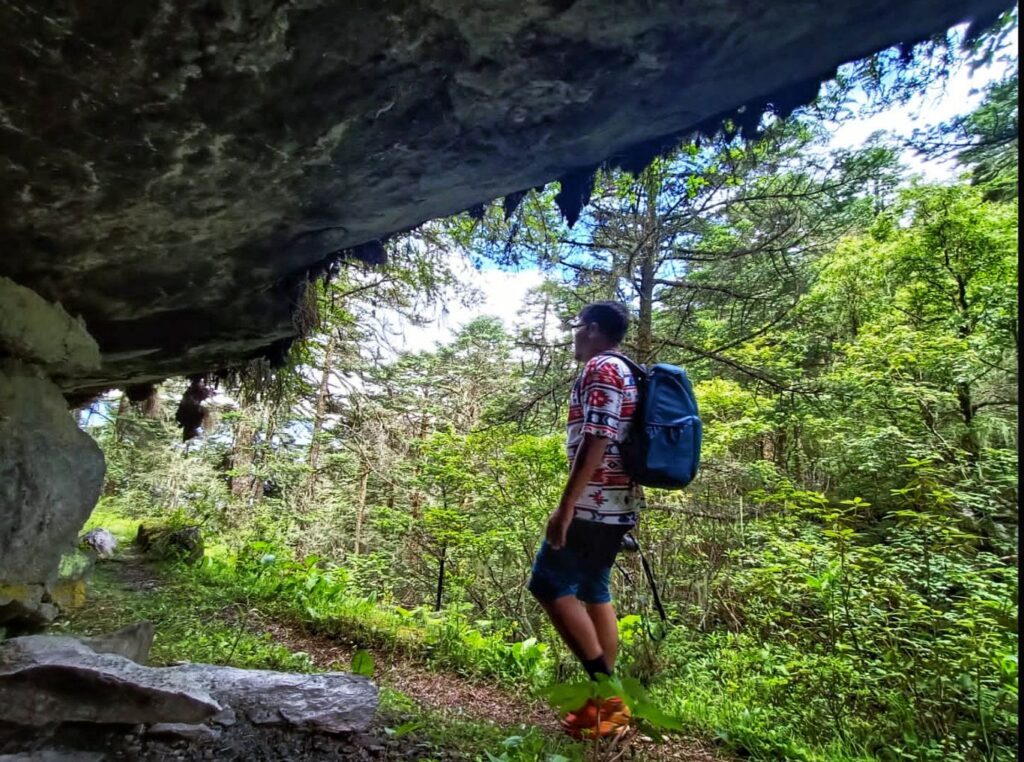 So, let me just evaluate it based for 6 criteria that I thought are important for the shoes that are used in mountain terrains for long term backpacking and hiking purposes as that's what I do.
Hoka Speedgoat 5 Review
The Hoka Speedgoat 5 shoes are an impressive addition to the trail running footwear market, offering a balanced mix of features that cater to both novice and experienced trail runners. Let's delve into the specifics:
Weight
These shoes strike a commendable balance between cushioning and weight. While not the lightest option out there, the Speedgoat 5 provides ample cushioning without feeling overly bulky. This makes them ideal for longer trail runs where comfort is key.

This lightness is what sets it apart from any trekking shoe in the market. It is so light that I didn't even feel like I was wearing a pair meant for any serious mountain activity. You may not realise the importance of it at the start of a trek but you'll definitely do so towards the end of it when you are drained of all your energy and your feet start dragging.
5/5
Drop
With a 4mm heel-to-toe drop, the Speedgoat 5 offers a moderate drop that suits a wide range of runners. It promotes a more natural footstrike while still providing some cushioning in the heel for added protection on rough terrain.
I don't know what's a good drop for shoes. I guess it differs from person to person. It worked fine for me after the first day or so.

5/5
Break-in Time
One of the standout features of the Speedgoat 5 is their minimal break-in time. The shoes feel comfortable right out of the box, thanks to their well-padded collar and tongue, making them a great choice for runners who want to hit the trails without the hassle of a lengthy break-in period.
I also didn't have any discomfort like I usually have with new shoes. No swollen or bruised toes. The excessive cushioning takes care of it.
5/5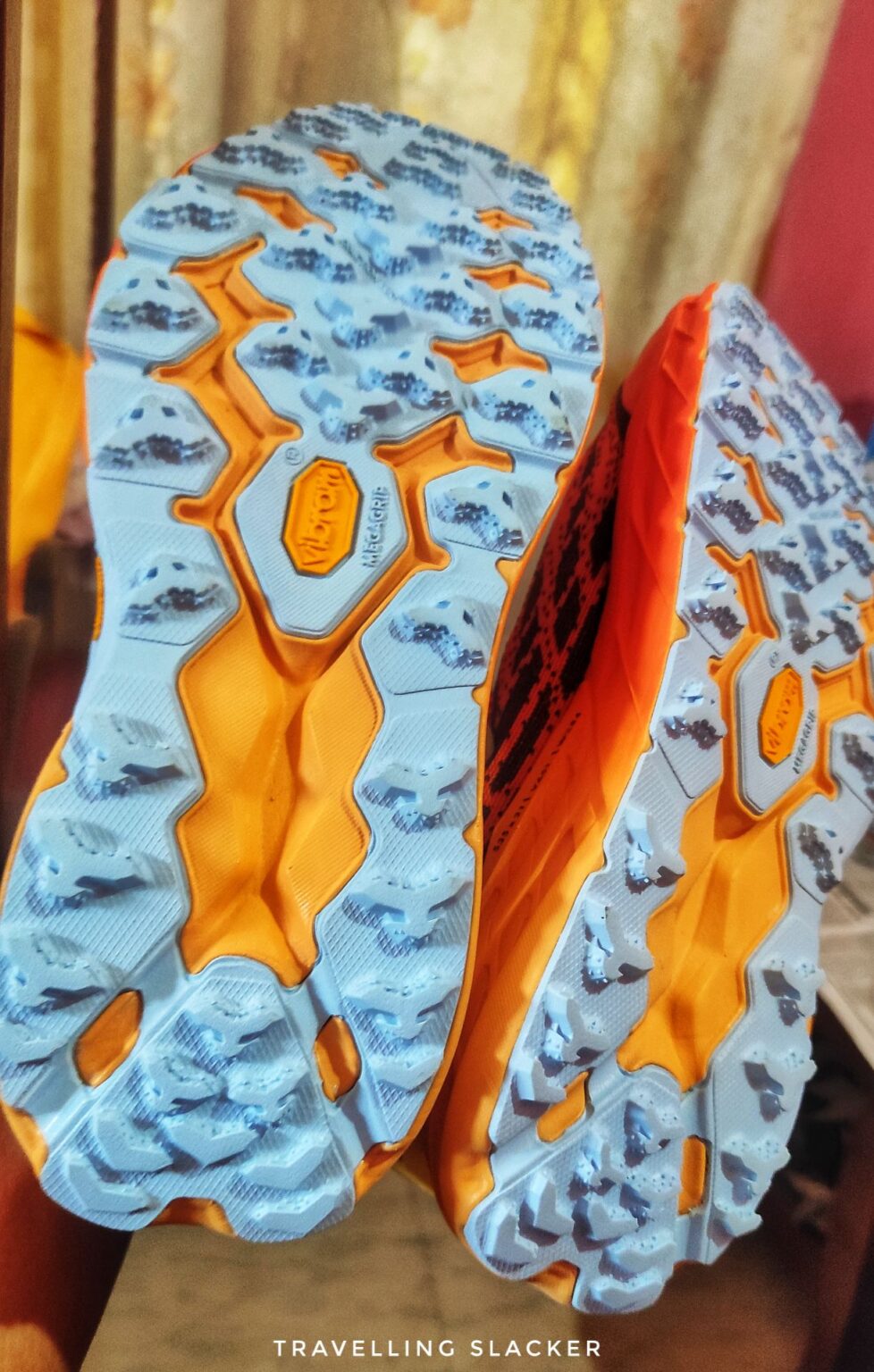 Traction
The outsole of the Speedgoat 5 is where these shoes truly shine. They offer exceptional traction on a variety of surfaces, from muddy trails to rocky terrain. The multidirectional lugs provide good grip, instilling confidence in runners as they tackle challenging landscapes.
I also used it during some slippery treks in mild rains and I think it worked fine considering the conditions. The Vibrant Sole does it's work well. I'd heard so much about it and this is the first time I experienced it
4/5
Waterproofing
Unfortunately, the Speedgoat 5 does not come equipped with good waterproofing features. If you're planning to run in wet conditions, you may want to consider an alternative with waterproof membranes or treatments.
I was led to believe that it was somewhat waterproof considering the high-end material but I soon figured out that it wasn't. Although it's nothing new for me as my previous trekking shoes also lacked this ability and only some high end shoes are genuinely waterproof. Basically, you'll be fine during a light drizzle or some small puddle on the way. But if you step on even ankle deep water, everything will get wet. Anyway, my major activities take place during dry spring, summer, and autumn season in the Himalayas. So, it is fine. Be careful of monsoon hike sin the Western Ghats is your thing.
2/5
Comfort:
Comfort is a strong suit of the Speedgoat 5. The cushioning is plush without sacrificing responsiveness, and the shoe's wider toe box accommodates a range of foot shapes, reducing the risk of discomfort or blisters during long runs. Additionally, the breathable upper helps keep your feet cool on hot days.
This definitely the most comfortable pair of shoes I have ever owned. You'll know when you wear them. It's so comfortable that you'll feel awkward at the start because no other shoe has given you that feeling before.

5/5
Durability
Finally, the question is about durability. After spending a good amount, you'd expect them to last long. I will only be able to tell how long it lasts at a point when I stop using them. However, there's a small thing that's bugging me a bit.
After my Bhutan trip I noticed a small crack at the top of the sole. I closed it with some gun and it probably doesn't immediately affect the performance or longevity of the pair but it shouldn't have happened.
3/5
In conclusion, the Hoka Speedgoat 5 is a versatile and comfortable trail running shoe that excels in many areas. Its cushioning, traction, and quick break-in time make it a top choice for trail enthusiasts. However, if waterproofing is a must for your running adventures, you may need to look elsewhere. Overall, a great option for those seeking a reliable and comfortable trail shoe.
Price & Availability
In India you'll find these shoes in various online sellers. I bought it from Tata Clique Luxury.
Usually the prices are above $150 and around INR 12000-13000 in India. However, if you look around, you'll find many discount deals. I managed to get it around INR 7500.
Hoka Speedgoat 5
Hoka Speedgoat 5 is an extremely comfortable and lightweight shoe that is made for trail running but useful for short trekking and daily usage too. On the flip side, waterproofing is lacking.
Product Brand: Hoka
Product In Stock: InStock