The Nako is a small village is built around the Nako Lake, at an elevation of 3,662 metres, in the Pooh sub-division of Kinnaur district of Himachal Pradesh. Although a part of Kinnaur, it is located in the border of Spiti, and displays similar landscapes of the cold desert. It is a small village but has a rich history and many stories related to Padmasambhava. I have halted here twice, once in 2015 and once recently in 2018. I wrote about it before but I am updating the information now with new photographs and information.
Nako Village
The area around Nako is actually called Hangrang Valley, a fact I was not aware of till I reached Nako for the first time in the summer of 2015. I'd reached after the usually exhilarating HRTC bus ride through the Hindustan Tibet Road from Reckong Peo. I'd heard reports of heavy rains in Himachal but witnessed nothing but bright sunshine during my entire journey through Kinnaur. Now, at Nako, the cold desert of the rain shadow zone seemed to be truly living up to its name. Nako village is technically still a part of Kinnaur but the topographically it is as similar to Spiti as it gets.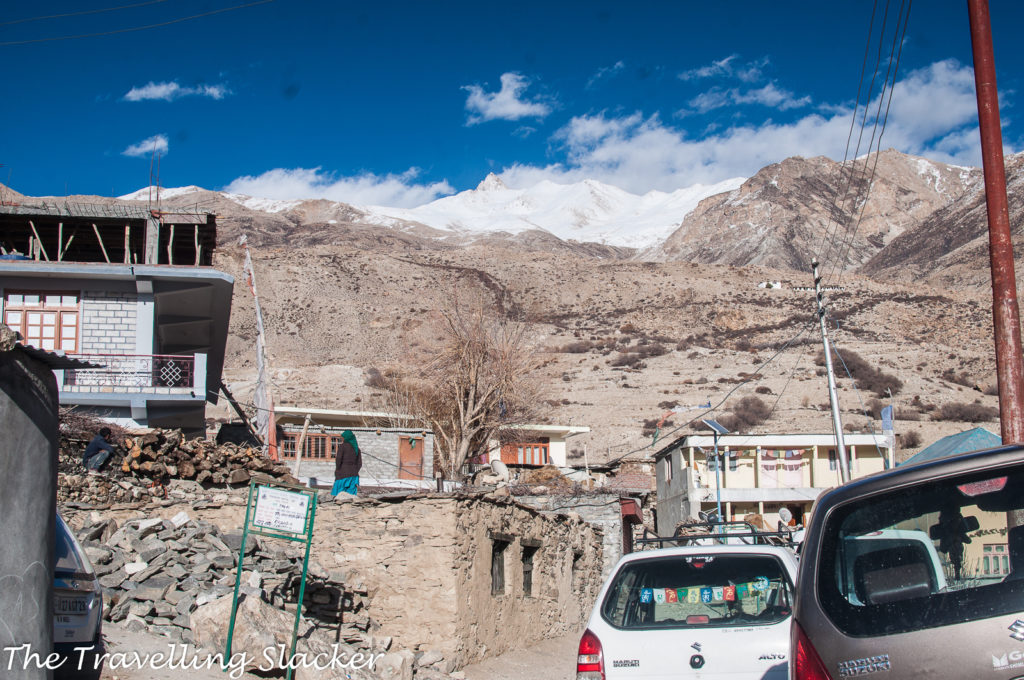 Most of the hotels and homestays in Nako are situated at the entry point of the village. These are newly built concrete structures well equipped to host tourists. It was not exactly the peak season and so I had no problem with finding a room which was reasonably comfortable for INR 500. It was afternoon and my room was facing west. I came out shivering after the bath but then I stood still facing the sun for a while and felt a connection with it that I had never felt in the plains. The main village is a bit further away from that point and the traditional architecture of the village houses become visible once you enter the main village.
Nako Lake
That afternoon, I went out to explore the Nako Lake. It was pleasant to walk under under the sun while the moon was also visible at the same time on the other side of the clean, unpolluted sky. Village corners are expectedly filled with heaps of Mani stones and all the houses proudly hoist the prayer flags. I was expecting to see Yaks but was disappointed to see that even at this altitude people are rearing cows. I got lost a few times but finally I found the way to the lake. The lake seemed larger from the vicinity and as I took a round, I noticed only a couple of youth fishing patiently. Having only a 35mm lens meant that I could never fit the lake in one frame. So, the best photograph of the lake seemed to be the one I took with my phone.
I had better luck with the lake this time. I am not sure if this was because of the difference in season or because I woke up early, but the lake seemed to have more vibrant colours this April. More importantly, I got clear reflections of the peaks on the lake. I don't think I saw the reflections on the previous occassion. I think the best bet for that is to wake up early in the morning and go near the lake. Of course the weather has to be clear too.
Nako Monastery and Temple Ruins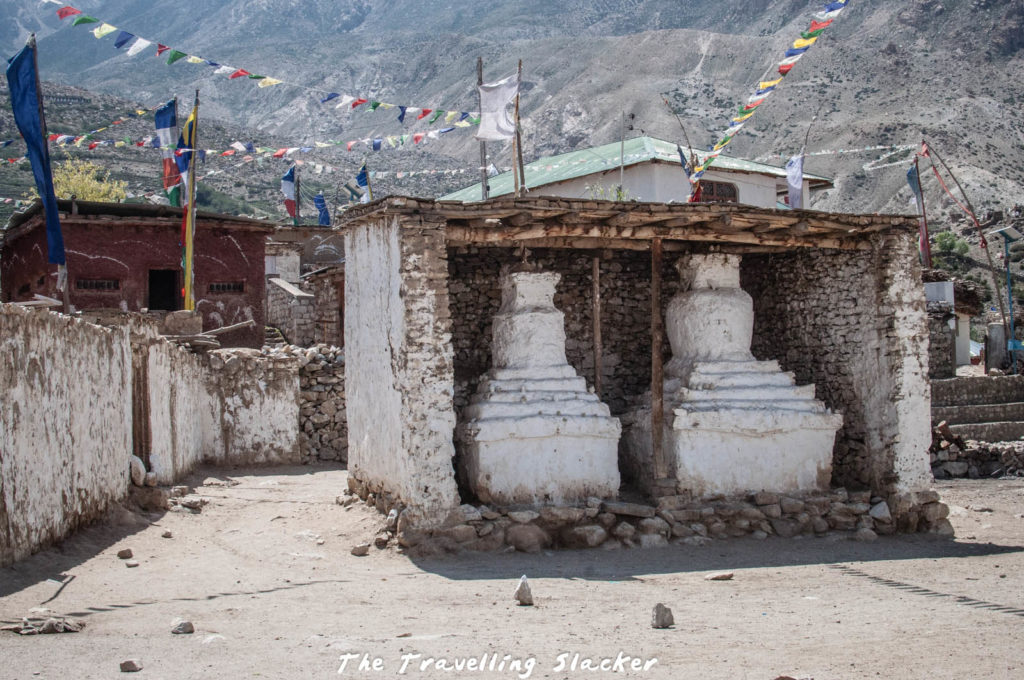 After the lake, I moved towards the famed monastery. However, I was completely mistaken regarding this. It is surely a historic structure but not a live one. It was believed to have been founded by the famous scholar Rinchen Zangpo in the 11th century, who was responsible for many other monasteries such as the one in Tabo. But it was destroyed in earthquake a century ago and was on its way to extinction. However, locals have now taken the responsibility and a village committee looks after it. Couple good looking new buildings have been built in the complex. There was not a single soul to be seen out there. After spending around 30 mins I saw exactly one villager who came, rolled the prayer wheels and went away. The new building was locked but later on, I realized that one has to be one time to visit the complex as the monk in charge of it opens it only twice a day, once at around 6 am in the morning and again at around 3 pm in the afternoon. (Ask the locals and be sure about the timing).
A Short Hike from Nako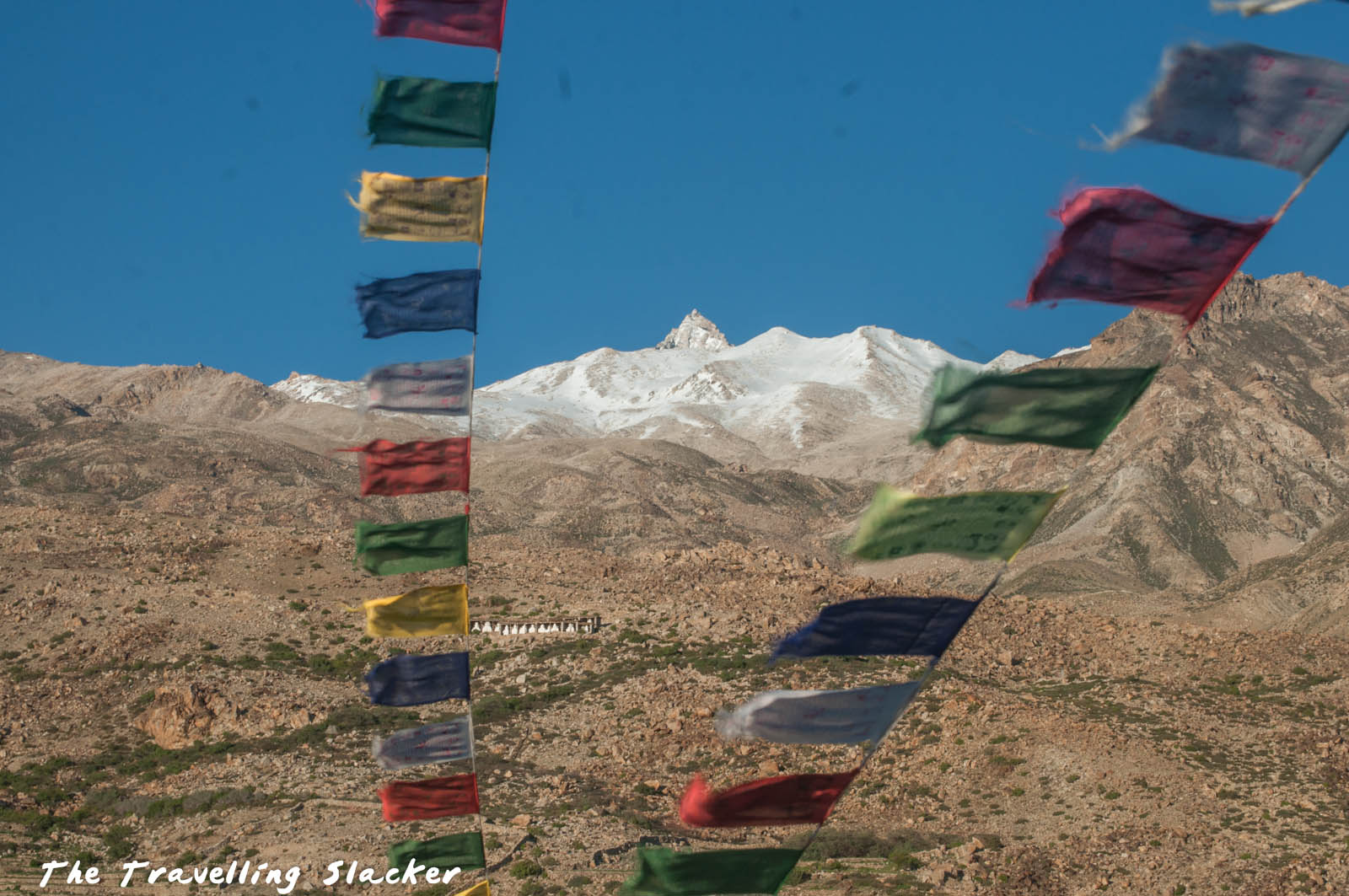 It is possible to trek to inner villages and higher peaks of the Hangrang Valley of Nako. The 6,816 metre peak of Reo Purgyil lords over the village and offers and exhilerating sight on a clear, sunny day. I did not have time to do too much but I did hike to the little hillock above Nako. Initially the peak looked remote and intimidating but my sense of adventure and prospective achievement was diluted immediately as I saw a local villager easily climbing the same with his animals, something as non-aerodynamically built as a cow.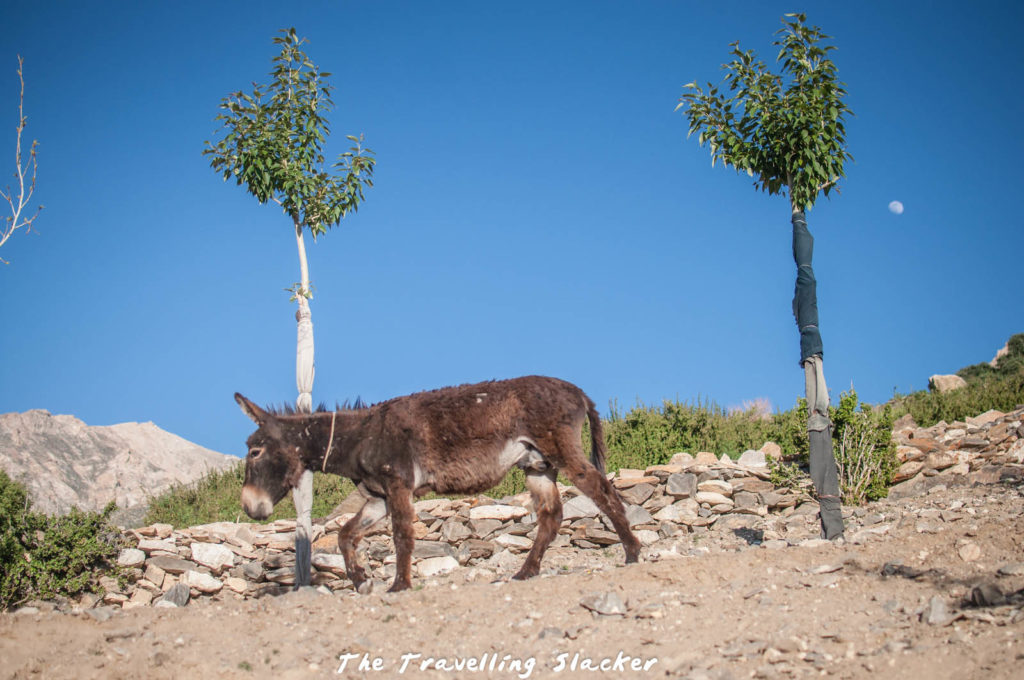 I was sad anyway because I was expecting yaks and just found too many cows in the village. Now, even they overtook me to the top of the hill. A donkey overtook me too. Anyway, the same cowboy advised me to go further up, pointing at a distant flag. According to him another village will be visible from that point. I listened to him and kept climbing.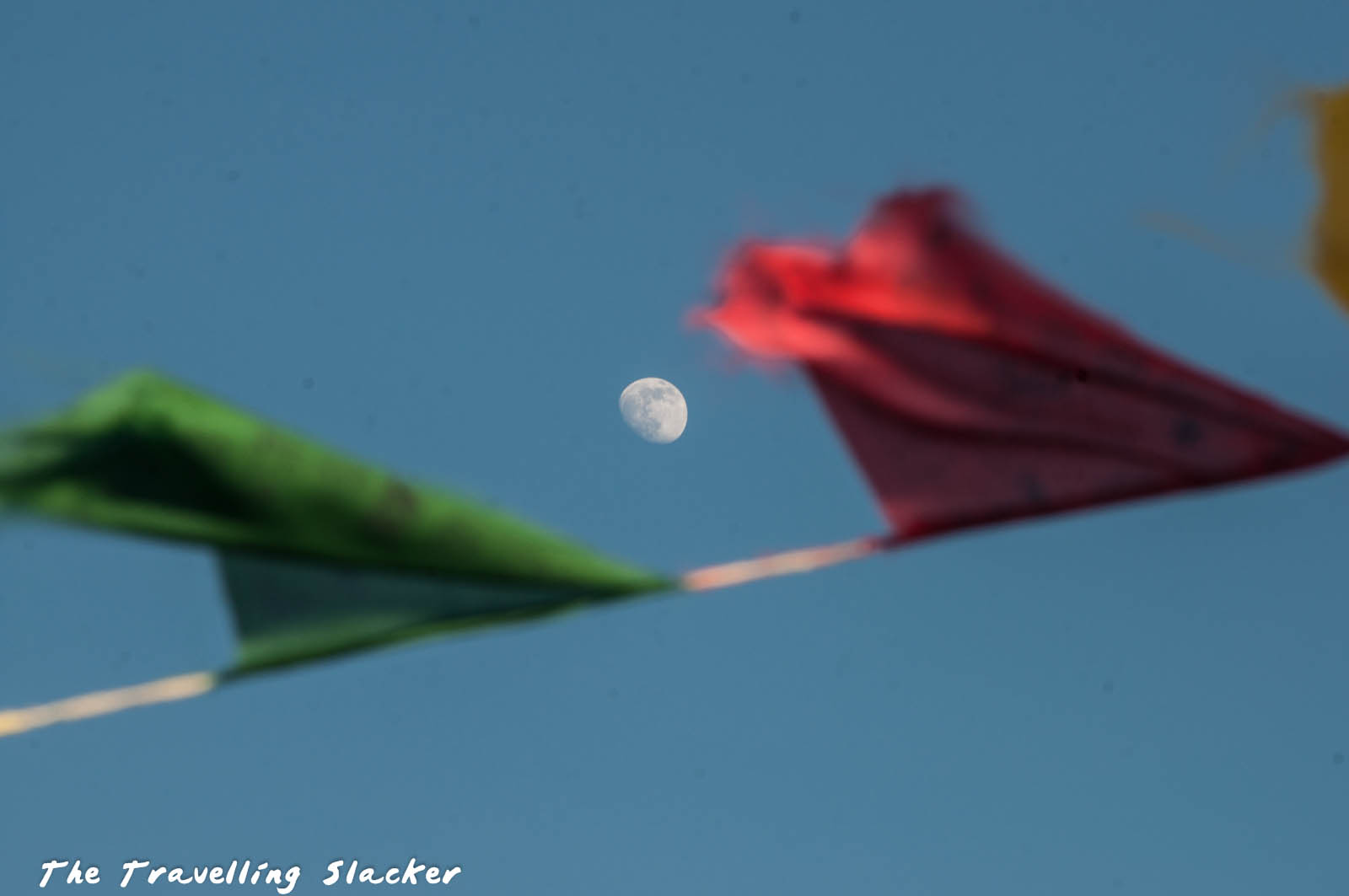 I found scores of prayer flags and Mani stones placed strategically to spread blessings all over the Hangrang Valley (The valley of which Nako is a part of). However, there was no sign of another village. I could just see more and more cloud covered peaks, deep valleys and serpentine roads in different directions. I trekked for almost two hours and finally reached another flag, probably installed as a milestone. I had to be back and catch the return bus so at this point I decided to give up my pursuit for the other village and started returning. I noticed a few birds but most of them were too small to be captured. But I think due to the presence of a large water body within an arid region, this place is generally good for bidding.
Mani Stones, Prayer Wheels, and Tibetan Prayer Flags of Nako
One of the little delights of Nako is the high concentration of Buddhist artifacts lying scattered all over the village, against epic backdrops of the mountain. As a nonreligious person, I have often surprised myself with my fondness for Buddhist myths and symbols. I am not sure why or how but I think especially the Tibetan Buddhist iconography and symbols are the most evocative, psychedelic and photogenic of them all. Those colorful flags are tailor made to flutter in the icy cold Himalayan winds and those Mani stones are destined to form epic landscapes. I have experienced this exhilaration many times before and at Nako it went a step further, mainly due to the literally heady combination of high altitude and the surreal moonscape.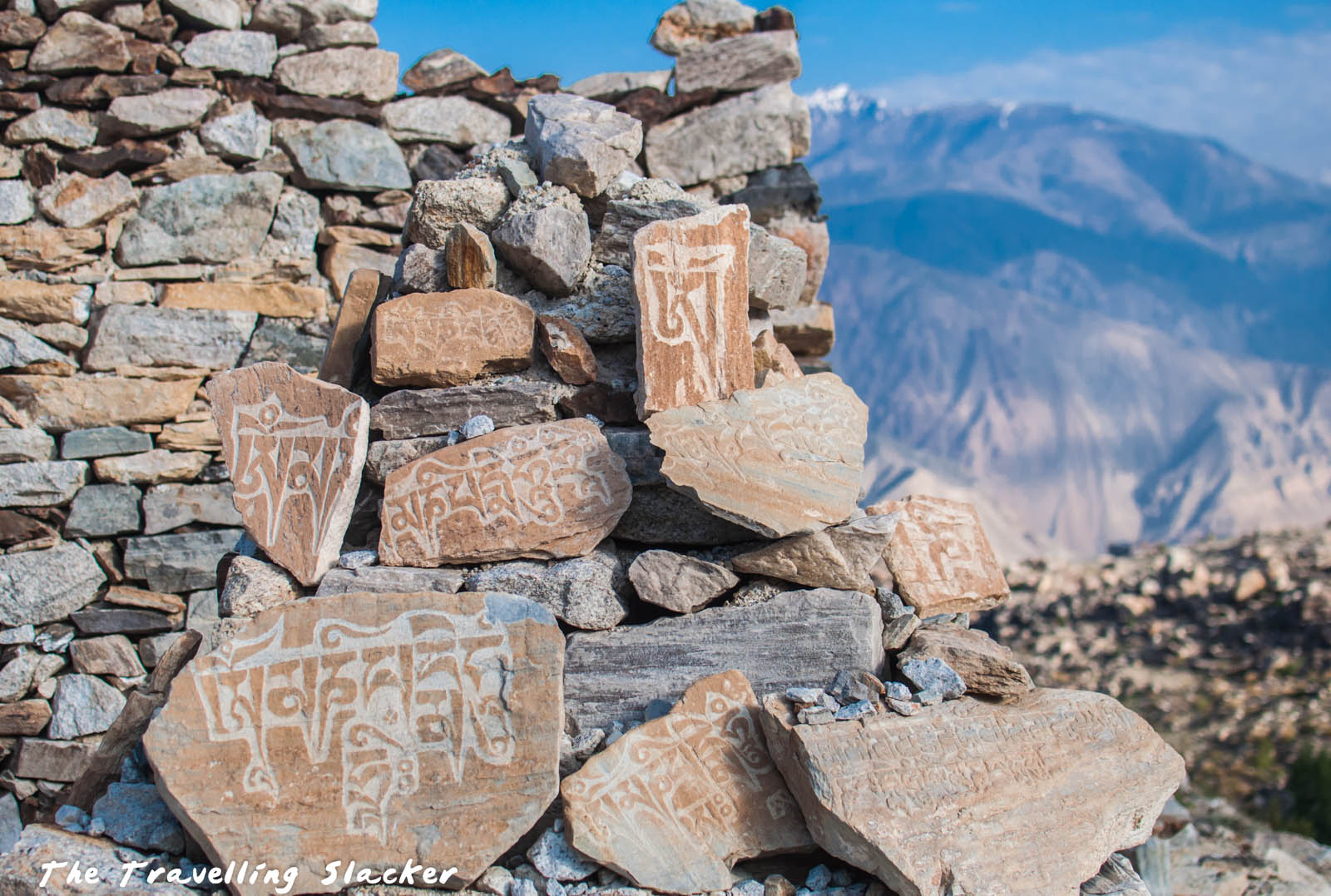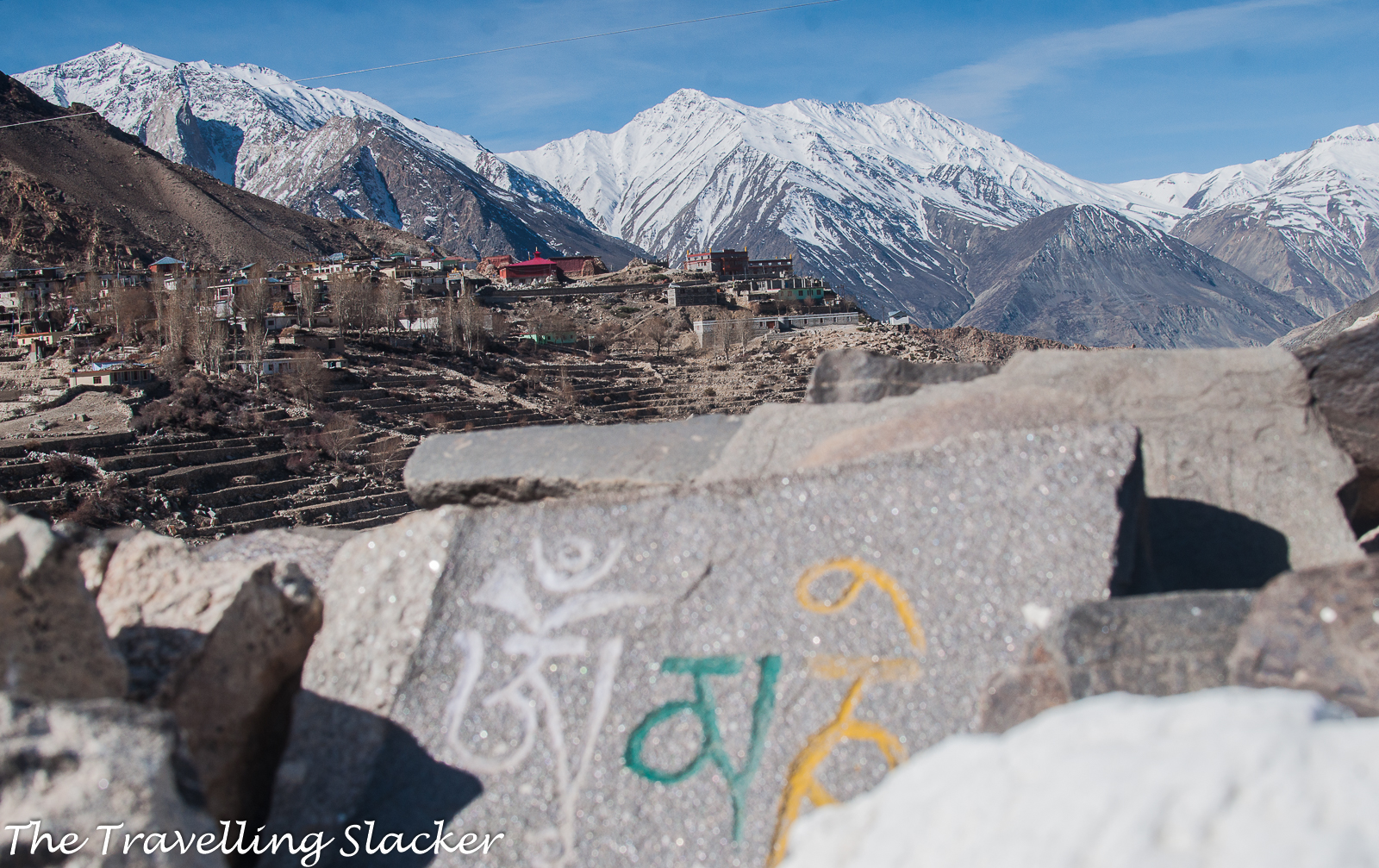 The other most distinctive symbol of Tibetan Buddhism is of course the prayer stones or Mani stones. These are the small pebbles or stone slates with the six syllable mantra Om Mani Padme Hum sculpted all over them. This is just another way to spread the celestial blessings all over the place. While the same text is repeated everywhere, I was surprised to see how different they looked from every angle and against every backdrop. Nako is in fact full of Mani stones. There are large heaps of them at various locations of the village and not to mention the monastery. The path leading up to the hillock overlooking the village is also lined with them. On top of these I noticed the mantra inscribed on the surface of one of peaks. I do not know how someone even got there, forget curving such immaculate letters while I have struggled with my handwriting with pen and paper throughout my life.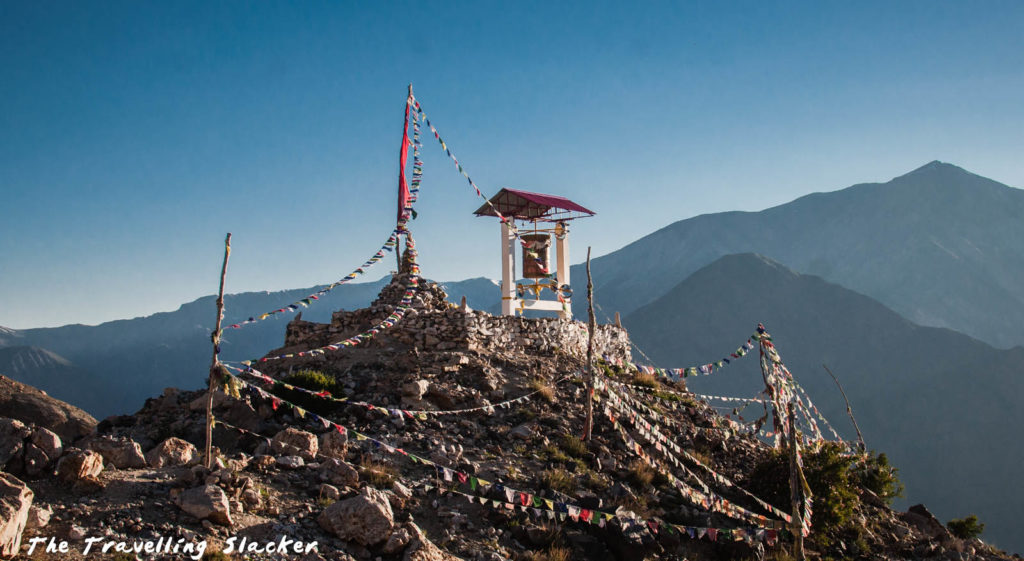 This of course brings me to the third element, the prayer wheels. Midsized wheels can be seen installed in every monastery. Also, the smaller ones can be carried around, spreading celestial glee all over the place. But the most noticeable one of them at Nako was the one atop the hillock, placed perfectly so that the mantras reach every corner of the village. However I do not think it is a historical construction. It is fairly new and robust. Nevertheless, the evocative sound of the metal bells on that evening while staring at the setting sun and the rising moon compensated for the lack of antiquity.
Nako Travel Guide
Where Exactly is Nako?
Nako is officially a part of the Kinnaur district but is located on the border of Spiti. The landscape is more like barren cold desert of Spiti and very unlike the green and fertile apple growing regions of lower Kinnaur.
What or Where exactly is Hangrang Valley?
The valley where Nako is situated itself is called the Hangrang Valley. Some other villages in the valley include Chango, Leo, Hango, Shalkar, Sumra, Yangthang and Malling. Out of these only Nako has developed as a touristy place with usual facilities.
How to reach Nako?

Nako is located on the Hindustan Tibet Highway, somewhere in the middle point between Reckong Peo (Kinnaur) and Kaza (Spiti). There are two buses daily plying from Peo to Nako and beyond. You can also catch a Peo bound bus from Kaza to reach Nako if you are coming from Manali side.
Reckong Peo to Nako Bus
The Reckong Peo-Kaza bus leaves at around 6.30-7 AM in the morning from Peo bus stand and drops you at Nako at around 11 AM, with a brief stop at Spello for food. If you miss that one, you can take the second bus at around 11.30-12.00 noon. This one does not go up to Kaza but stops at Sumdo. But if you just need to reach Nako, this will leave you there at around 4 PM. The first bus tends to be very crowded, while it is comparatively easier to get seats in the 2nd bus.
Kaza to Nako Bus
The Kaza-Peo bus leaves at around 7.30 AM in the morning and you reach Nako by 11.30 AM. Make sure that you reach bus stand at least 30 mins earlier to ensure a decent seat. Otherwise, there can also be some shared cars in the peak season plying between Kaza to Rampur but be careful and ask the locals about them the day before.
Nako to Reckong Peo Bus
The next day, if you want to come back to Reckong Peo, you will have to catch the Kaza bus at around 11.30 AM. The bus stops for lunch in Nako so there will be enough time.
Nako to Kaza Bus
The next day, if you want to go to Tabo or Kaza, you will have to catch the Peo-Kaza morning bus at around 11-11.30 AM. The bus stops for lunch in Nako as usual.
Nako Bus Fare
General HRTC Bus fare formula is (1.75*number of Kms). They generally add a bit more, probably taxes etc., and round up the numbers. Nako is slightly more than 100 Kms from both sides. Do youur math accordingly.
Nako Road Conditions
The Hindustan Tibet Road is mostly smooth and comfortable nowadays. It used to be one of the most difficult roads at one point of time but in the last couple of years, a lot of work has been done and I have seen it develop in front of my own eyes. It can still give you a scare at certain sharp turns on the edge of deep gorges but except at one or two points, the road is now easy to drive on.
Nako Things To Do

The sheer view of barren landscape of Hangrang Valley and the Spiti River cutting through the rocks deserve a visit. Apart from that there is a high altitude lake around which the village has grown. Watch out for Tibetan Buddhist culture and symbols all over the village. There is a new monastery which mostly remains locked, unless you are on time (6 AM and 3PM) for rituals. There are some ruins of the historical monastery and old temples etc. You can also hike up to the hills beyond the village to other remote villages.
One trekking option here is to the Tashigong village, which is around 12 KMs away.  Here is a post by someone who did the Nako to Tashigong Trek.
How much time does it take to reach Nako?
Assuming that you start from Delhi, it is highly unlikely that you will reach there in one day. Also, if you are travelling by public transport, you will be bound by bus timings as buses are sparse for the last stretch. It is advisable to stay at Reckong Peo for a night and then take the morning bus next day.
Which are the routes to take to Nako?
Ideally Nako is not visited in isolation. It is one of the stops that you visit during a long trip in the Kinnaur Spiti region. The conventional way is to take a full round, I.e. enter for shimla side through the Hindustan Tibet highway and come out on the other side in Manali crossing the Kunzum and Rohtang Pass. You can also do it in the reverse direction. However, do note that while the Hindustan Tibet Road is a all-weather road, the one leading to Manali remains closed for more than half the year owing to snowfall.
Best season to visit Nako
Summer and post-monsoon seasons are the easiest. Winters have their own charm but it is very hard to reach the place with snow all around teh road and public transport may get closed down too at times. Monsoon should be fine too as it does not rain much in the cold desert. But the routes in lower Kinnaur leading to this region may be reeling under heavy showers.
Hotels and Homestays in Nako
There are plenty of hotels and homestays run by local people. 400-500 should get you a place to sleep but you can have more expensive options too. Generally Tibetan food items are easily available but there is at least one good restaurant serving various types of cuisines. There may also be some camps where you can live in tents.
Phone and Data Networks at Nako
Phone and data networks of all major providers work well only till Spello. After that it suddenly stops and remains so in the rest of the Valley. Only BSNL connections works if you want to make calls, but don't expect data connectivity.
Also Read: Complete Spiti and Kinnaur Itinerary