Dirang Dzong… what does the name makes you think of? Bhutan? Not exactly… but you can be forgiven for thinking so because the Bomdila-Dirang-Tawang belt in Arunachal Pradesh borders Bhutan and the history and mythology of this region are intrinsically linked with Bhutan. So, while more famous "Dzongs" are in Bhutan and some parts of Tibet, here is one of the Dzongs on the Indian side.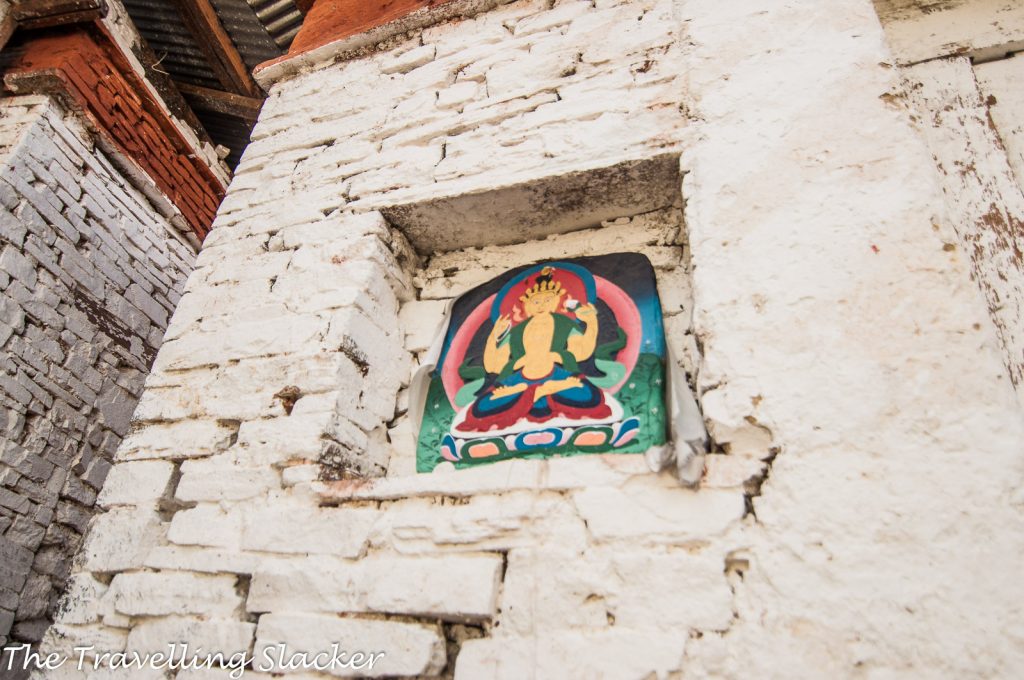 It was an extremely busy day where we were supposed to visit several things and then get out of Arunachal and reach Assam by night. So, we reached Dirang Dzong, which is a couple of KMs away from the main Dirang Town, knowing fully that we won't have enough time. Still, we believed that there would be enough to see.
A Medieval Fortress in a 9th Century Village
So, Dzong basically refers to sort of a fortress, and a settlement built around it. As far as Dirang Dzong is concerned, there is one fortress-like structure, more like a tower, and there are high walls surrounding the village too. However, the village has grown beyond the fortified walls and one part of the village is located on the other side of the road. Still, the entrance on the wall gives you enough indication that it was built as a fortified settlement in the medieval times.
Here, I must clarify one thing. In a lot of Indian travel content mills (the kind of sites where people write without travelling), Dirang is mentioned as a village. The main Dirang is NOT a village but a pretty big town centered around a market. Dirang Dzong is a village at a short distance from the town. However, this village dates back to at least 9th century, as I was told by my guides although it is hard to find any clear documentation. Also, the fortress is much newer although again no one is fully sure about the exact date. It is between 300 and 500 years old as per different sources. So, I think the name Dirang Dzong came up only after this fortress was built although the village is much older.
Anyway, we started a brisk walk through the village. It is a Monpa village and it looked pretty prosperous. Most of the houses are still following traditional wood and stone architecture, which reminded me of various villages all over Kullu from Gadagushaini to Pekhri to Pulga. One of the houses belonged to the relatives of Sange, our host from HolidayScout. Most of these houses have a similar structure. They are built at a slight elevation and the grains are stored above the ceiling.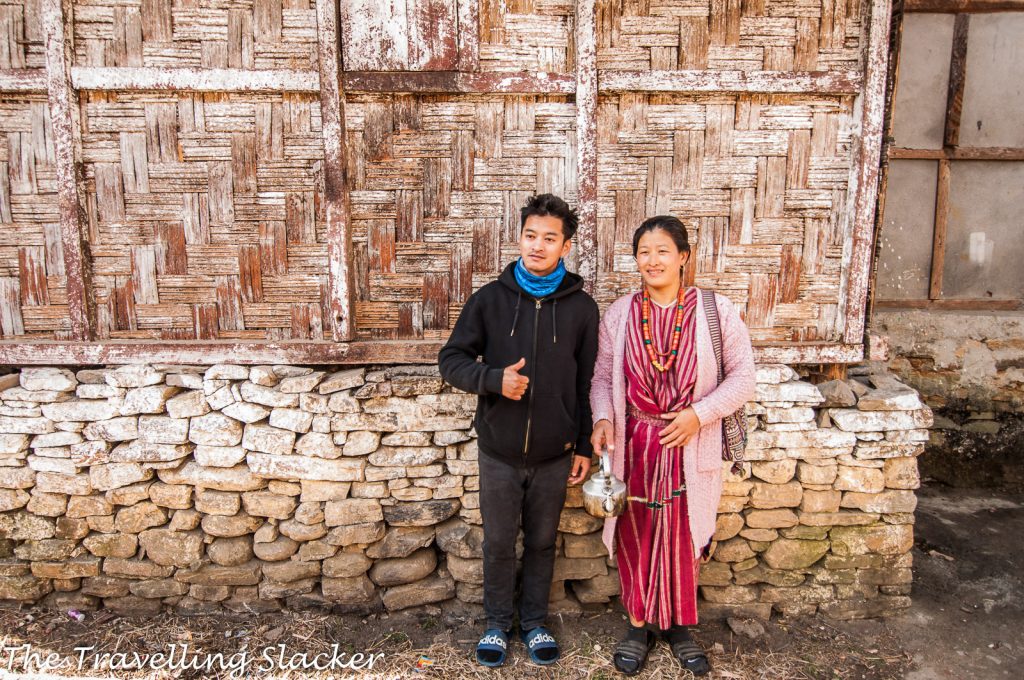 We also entered another house, where the owner turned out to be a master craftsman who designed the resort we were staying in back in Dirang! This house was a bit more spacious and there was a loom too where his wife was busy weaving traditional apparel. After meeting this family, we realized that the fortress was nearby.
So, the fortress turned out to be somewhat like Chehni Kothi and just like that one, going inside was not an option. Apparently, it was also used as a prison during the World Wars. This is another piece of information that is available but confusing. The easternmost parts of  Arunachal did see action during the war but this is western Arunachal and the only time it must have seen real action would have been the Indo-China war of 1962 when the Chinese reached Assam. A monastery was located near the fortress and is apparently older. However, it must have been renovated over the years.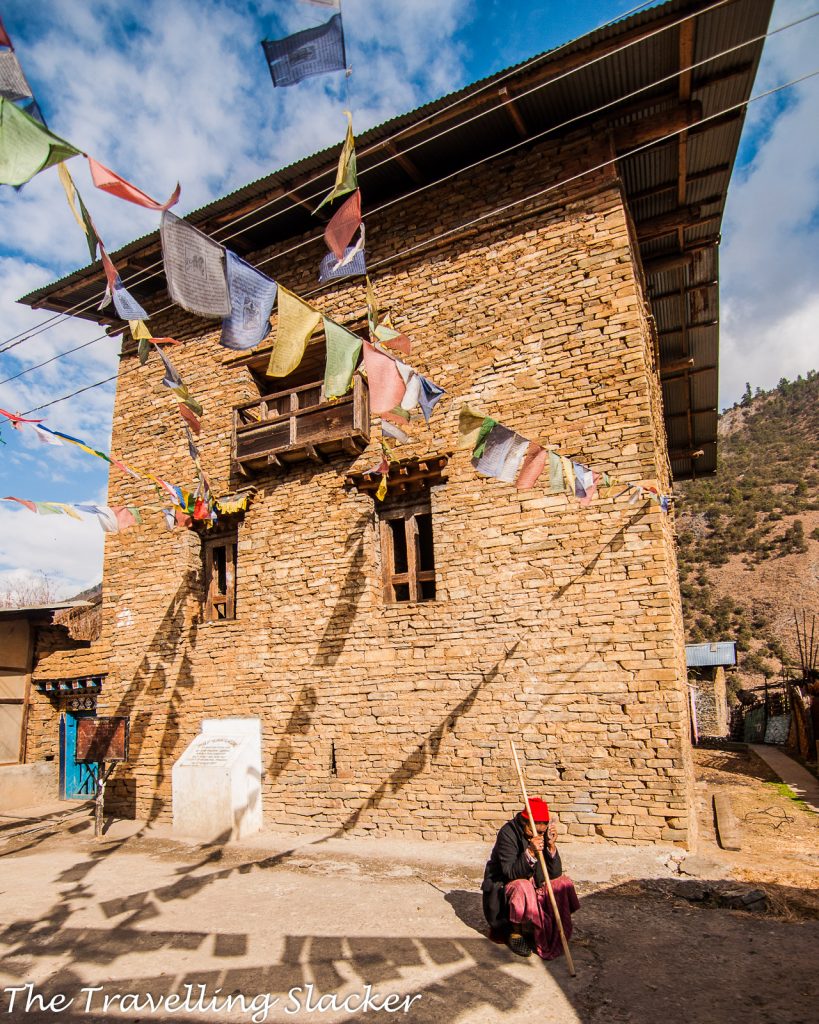 After some more time near the fortress, we came out to the main road. While the village maintains its traditional structures, modern structures have come up by the side of the road. I figured out that at least one of the new buildings is a local homestay and tourists do come and stay here for a rustic and traditional Monpa experience.
We crossed the road and entered the village on the other side. I felt that this side was aesthetically somewhat different, more like those Spiti villages where Buddhist symbolism is more prevalent but that is just my momentary impression and may not be accurate. A small stream passes through this site and the village extends to higher areas although we did not go all the way till that point.
This side seemed to have other monasteries too. There was a bigger one at a distance but apparently, it was apparently closed and so we did not go there. There was a watermill on the stream, again similar to the Kullu ones, but it was also locked, so we could not see the inner workings. We crossed the stream through a small iron bridge and reached a smaller monastery. It looked more like a local house but local women had gathered there for some rituals. Some of our entourage went in but it was getting too crowded inside, so I clicked one lowlight photograph and came out.
So, the Dirang Dzong visit more or less ended here. If you are going there, I would suggest you to have a bit more time at hand to explore the whole village on both sides as well as the historical structures and monasteries. You can do it yourself but if you have a guide then it is easier to find the spots and get access to local homes.
How to Reach Dirang Dzong?
Dirang Dzong is located on the Bomdila-Dirang-Tawang highway itself. In fact, if you are going from Bomdila to Dirang, the village will come a few KMs before the Dirang town. The road to Mandala as well as Sangti Valley emerges from here into two different directions.
Where to stay at Dirang Dzong?
While Dirang Dzong is basically a local attraction in Draing, you can also stay at a village homestay which will give you a better experience compared to staying in the town. We were staying at Dirang Boutique Cottages which is nearby and the hippest new property in Dirang.