It was actually snowing. Practically nothing was visible. I could sense a few yaks from the sound of the bells around their necks as we reluctantly left the car in that bitterly cold January morning and followed our guides to the hut of one of the few Brokpa families living in the outskirts of Tawang town. After a few minutes, the hut became gradually visible, along with some of the yaks. I felt like walking into the set of some remorselessly depressing Tarkovsky film. Usually, such hazy photos won't be published, but this is that kind of a story!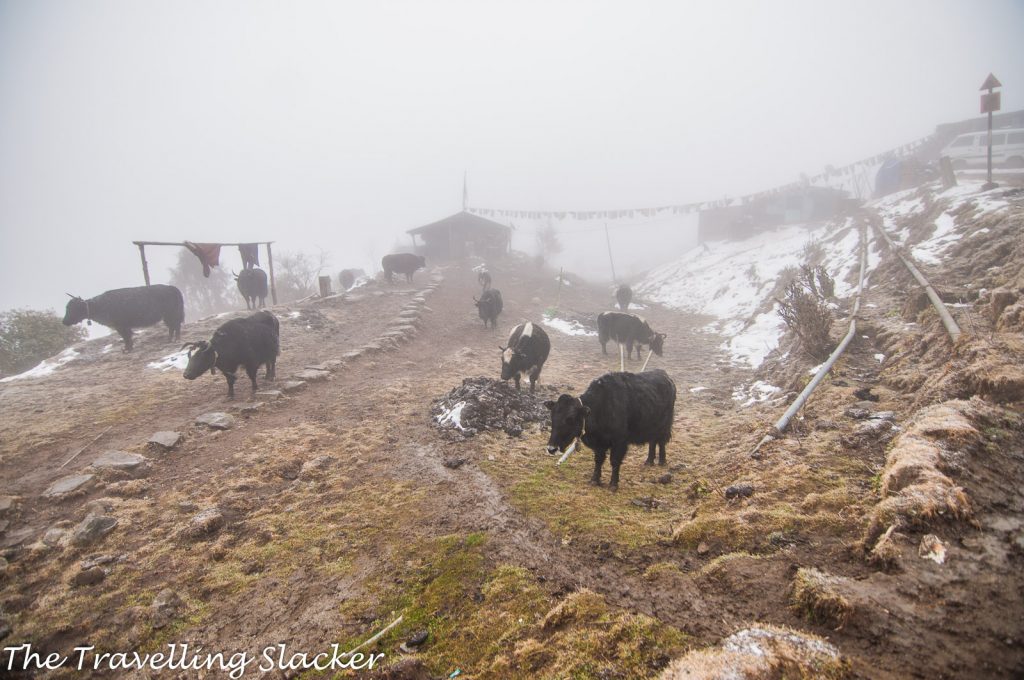 My shoes got buried in snow several times and after significant struggle, we reached the hut and saw a man already milking one of the yaks at 5.30 AM while constantly muttering some Buddhist chant. The chanting is probably a way to keep going in such hostile conditions, as he kept chanting continuously till we were there. He paused to talk when we asked something but resumed the chanting quickly.
We entered the austere hut that had barely enough space for the entire team of intrusive tourists. The wife was busy working on that wooden gadget churning butter and yak cheese (churpi). Basically, there was only one room with beds around the fireplace but I think it is better to stay near the fire in that cold anyway.
Eventually, we were offered butter tea (what else?) and we started discussing their lives. They normally live near the town in the winters and go higher up looking for suitable pastures for their yaks and cattle. Their children seem to have grown up and living separately. In any case, younger kids nowadays are sent to boarding schools for normal education. They will probably move on to have normal jobs somewhere else.
Something was cooking on the fire, which turned out to be some vegetables cooked in yak cheese for breakfast. There was a small hammock hanging 5 feet above the fire. A big dough of yak cheese was resting there, getting dried and smoked. Make no mistake, as primitive as the production process sounds, this thing is in high demand and this is what brings me to the irony of the Brokpas.
This harsh lifestyle of theirs is unlikely to be followed by too many of the younger generations. Also, climate change may be affecting their normal cycles as the winters get shortened and pastures dry up (I have seen some reports about this but I don't have any clear information). Their produce is probably more in demand and fetching better prices nowadays but this precisely because it is a dying practice. How long will it last? What will be the alternative, if any? No one really knows.
After a while, we moved to another hut nearby (which was not visible earlier due to dense for). It was a comparatively bigger one although it was also dark inside. I am not sure if there was an electricity connection to these homes. In any case, the power supply seemed to be erratic in the entire Tawang belt. We got another round of butter tea here and a similar round of discussion ensued. They also told me of an incident of capturing Yak thieves. Yes, there are people who steal or kill yaks and sell their meat and skin. So, climate change and changing times is not the only issue the Brokpas are facing now. We tried to have a closer look at the yaks. Some of them actually looked like cows. So, I think, not each one of them are pure Yaks but hybrids of Yaks and cattle. I have seen similar ones in Spiti and they are called "Dzo". Actually, when I think of it, rarely do we get to see a pure-bred yak nowadays. Hopefully, I will see them when I return here in the summer.
So, it was around 7.30 AM and it was the time to leave. Of course, it was not enough but winter is probably not the right time. I intend to return later and if possible, hike with them to the higher pastures for a truly nomadic adventure. For the time being, we had to leave them as we had another program, a bit more colourful than this for the day in Tawang, and then we also had to leave Tawang and reach Dirang on the same day crossing the snowbound Se La. I have already made a post on crossing Se La while the other thing will be posted soon
Who Exactly Are the Arunachali Brokpas?
The Brokpas of Arunachal is a nomadic pastoralist community living in western Arunachal, bordering Tibet and Bhutan. They rare yaks and move around the higher Himalayas in search of grazing grounds during the summers. They come down to lower areas during the harsh winter. Also, DO NOT confuse them with the Dardic Brokpa community of Ladakh. It is just a coincidence that they have the same name. The Brokpas of Arunachal are actually comparable to the Gaddis or Bakarwals of Northern Himalayas although they deal in sheep and goats.
Are Brokpas the same as Monpas?
From what I could gather, the Arunachali Brokpas are also ethnically Monpas, the larger community that dominates this region. However, due to their nature of business and lifestyle, they seem to be identified as a separate community.
What are the issues they are facing?
They face several issues. Firstly the harsh lifestyle is unlikely to be followed by newer generations. Also, climate change may have an impact on their natural cycles of movement. However, I believe more research is needed in this regard.
How can we meet the Brokpas of Arunachal?
Arunachali Brokpa nomads are scattered all over West Kameng and Tawang districts. While the Bomdila-Dirang-Tawang belt is a popular area for tourists, you will need local guidance to locate the Brokpa settlements. The one we visited was just at the outskirts of Tawang city. If you have a lot of time and resources at hand, it can be a great adventure to locate all these settlements. However, for a quick tour, you can contact HolidayScout who arranged this for us. They regularly take people for such visits and they have also trained a few Brokpa families regarding tourism and its potential.