What on earth is the Aryan Festival?
My first encounter with the Da-Bima area started with a large poster in Leh Bazaar publicizing the Aryan Festival in Biama. The festival was over already but I decided to visit the area anyway. I was aware of the Brokpa people, their iconic floral headgear, and the fact that they live somewhere on the Khaltse-Batalik-Kargil route. But I had not done enough research, did not even know the names of the specific villages, and it was not a part of my orignal plan. But as it usually happens during a long trip, the plans changed and I diverted my attention to this route as I kept discovering more and more interesting aspects.
As I start writing about this area, I realize that it is a SEO nightmare. There seemed to be no clear, universally accepted collective name for this area inhabited by the Brokpas and this maybe a reason for its relative obscurity in touristy Ladakh. The tourism community in Leh is trying to popularize it as the Aryan Valley but I guess Brokpa Valley will be more appropriate. According to some ancient texts as diverse as Mahabharat & Herodotus, this is the Darada Country (Darada=Dards). Some others use the names one or two of the famous villages to depict the area, such as Dha Valley, Dah-Beema, Dah-Hanu etc. What makes it more difficult is that all these villages may also have multiple spellings. Dah may be spelled as Da, Dha or even mDa according to one academic book I found at a homestay, although I don't know how to pronounce the last one. Biama is spelt at various sigboards as Bima, Beema, Beama and Biamah. Hanu, Hanoo or Hano area consists of villages like Hanu Thang, Hanu Yogma, and Hanu Gongma. Brokpas are also called Drokpas at places. I don't know which keyword to focus on.
I intend to write more detailed posts on at least a couple of villages in this area. But this post is more of an introductory guide rather than a travelogue. I think it is necessary because it can get really confusing for first timers.
Geography of the Brokpa Region
Nevertheless, let me just try to explain. As you can see on the map, you start your trip along the Leh-Srinagar Highway towards Kargil but the road bifurcates at Khaltse and a narrower road goes towards Dah-Bima area and onwards along the Indus River. This road eventually passes through Batalik and rejoins the highway near Kargil. There is another small connecting road in the middle between Sanjak to Khangral that connects both the branches. The initial villages on this route are usual Ladakhi ones but after Hanu, you really enter the Brokpa area, with the most famous villages villages being Dah, Biama, Hanu Gongma, Garkon, Darchik and Chiktan.
Most of these villages are located on both the banks of the Indus River and located at a slightly lower altitude compared to Leh. So these regions are warmer and more fertile, growing buckwheat, millets, barley, apricots, walnuts, apples, and grapes among other things. They have road connectivity with both Leh and Kargil.
Brokpa People, Culture & History
Now, this is the trickiest part to write about. As expected, the history of this population is not very clear. If you look for it, you will find various stories starting with the one describing them as the descendants of some members of Alexander's Army that miraculously got detached, secluded, and survived. But this seems to be a very popular story not limited to this region and I find it a bit too far-fetched. The Malana people claim it too and so do the Kalash from Chitral. This also gives rise the theories that describe them as pure "Aryans" because of their facial features and the fact that they are generally endogamous. Of course, this is a harmless ploy to attract tourists and the broader historical and political implications of the same are best ignored.
According to the experts, a more plausible theory is that they are Dardic peoples like most others in Kashmir and Baltistan. But their culture is unique because for some reasons they resisted external influences. They did not covert to Islam like the rest of the people living to their West while they also did not get completely overwhelmed by Tibetan Buddhism of Ladakh. Although they are now nominally Buddhists, the customs somewhat vary from those in Ladakh. In the village of Dah, there are remains of an old Dardic fort and a shrine dedicated to the ancient pre-Buddhist female deity "Srigmo".
While only a few thousand in number, the Brokpas are a very noticeable presence in Ladakh, especially because of their distinctive attire. In Leh Market many of them can be seen selling dry fruits. However, as I explored the area, I realized that it is not easy to get someone in full traditional Brokpa costume for the perfect portrait. Generally everyone wears them on festivals and other special occassions but otherwise only a few elderly women can be seen with the headgear in the villages. On the other hand in the markets of Leh they always wear it because it makes them stand out in the crowd and attracts tourists.
The Trip Through the Brokpa Valley
My trip started on a confusing note. Not much information was available and I was also not sure if I needed to get an official permit for the place like some other frontier areas in Ladakh. I asked other traveller friends and finally got the contact of Angchok, who is into tourism business and is from Domkhar village in the same route. He provided some clarity and I also asked me to get the permit.
I got the permit made and decided to take the morning bus from Leh and let the things unfold naturally. However, some frantic googling the previous night led me to a Facebook page of Achinathang Traveller's Home, a homestay in a village called Achinathang, slightly before Dah and Biama. I left a message on the page and was soon contacted by Konchok from the family that runs the place. It turned out that this was a family of scholars, who have done a lot of research on the Brokpas and also on the history and archaeology of Ladakh in general.
However, it seemed that everyone from the family was in Leh and the house was empty (It was not the peak season anyway). Nevertheless, Konchok met me at the bus stand next morning and handed me the key to the house and told me that the people from the neighbouring house will provide food. To be honest I was not sure about this arrangement and my phone was also not working in Ladakh. In case something went wrong, I was going to get stranded in a remote village with no backup. But nevertheless I took a leap of faith and started the trip.
The just passed through Nimmu and Khaltse and then left the highway from a diversion along the Indus. Enroute, I noticed the signage for the Domkhar Rock Art Sanctuary, although there was no time to explore it. The bus passed other prominent villages like Skurbuchan and finally reached Achinathang, where I noticed a signboard directing towards my homestay. I found the place soon, located by the side of a blooming field of buckwheats leading up to the looming hills. There was not another human being around. So, after a bit of hesitation, I went in myself and entered the desolated house with the keys I got from Konchok. The house was full of apricots, produces of the season, and some part of it were going through renovations. There was no power (I realized later that just like Turtuk, it receives power between 7-11pm only). After some rest, I came out to explore the village and bumped into the girl from the neighbouring house I was told about. I got a cup of tea and the dinner was also sorted out.
Achinathang as a village has a lot going in its favor. It is a green and fertile patch covered with apricot orchards and buckwheat fields, not unlike Turtuk. But I did not have much time at hand. There are barely one or two buses in this route and if I had to do the rest of the things in my mind, I had to leave early next morning. So, I could not do much in the village although I enjoyed the simple dinner at the neighbour's place again.
The next morning, after breakfast, I decided to take the morning bus and come back instead fo going forward, to Domkhar so as the visit the Domkhar Rock Art Sanctuary. I will write separately about it but as of now, it is suffice to say that these are probably the oldest manmade work of any kind I had ever seen, predating those in Dholavira. As a matter of fact, this entire route is full of such prehistoric rock art clusters but Domkhar is the best preserved one. This also is a good indication of the antiquity of the human settlements in their area. I once missed a good chance to visit the much more famous prehistoric cave arts of Bhimbetka in MP and this one made up for that.
Domkhar did not take much time. But it was followed by a very long wait by the side of the road for the bus, the same one I took the previous day. The valley was blooming with autumn colours. But the bus seemed to be even slower. Among other things, it decided to take a detour to the inner areas of Skyurbuchan. Now, the previous day the bus did not enter the village and from the main road it looked ordinary. However, as the bus climbed up towards the main village, the delights of the village begun to unfurl. From the higher vantage point, the ripe buckwheat fields of Skurbuchan were clearly visible and I also noticed a scenic monastery, still higher up, I think at the top of the village. I wish I had more time to explore this village but it was not possible anymore. The bus then crossed Achinathang again, still continuing along the Indus, and finally reached Biama, which looked half submerged in water. I learnt that a lot of settlements by the side of the road had been lost in a recent old and they moved higher up.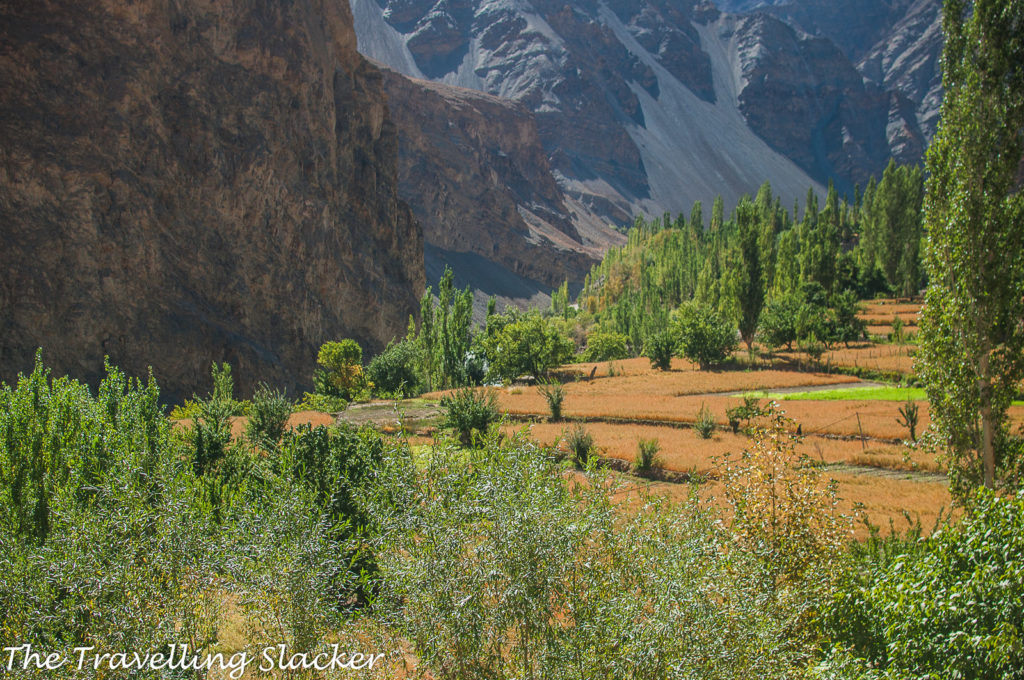 I originally thought of staying in Biama but looking at this, I was not sure anymore. There was one big new hotel, which was surely going to cost much more than my budget. Also, by that time, I had befriended a French couple on the bus. The guy had visited the region 8 years ago and he was looking to stay at the same homestay in Dah village. So, I just followed them and reached the homestay in Dah Village, located by the side of a millet field, under a vineyard.
I spent the next couple of days here, exploring Dah, as well as nearby Biama and Baldez villages. I will write a seperate post about Dah to do justice to it. As of now, I should just point out that Dah is probably the heart of this Brokpa area. It is a large and goodlooking village that has kept the pristine culture intact. There are enough ancient ruins, as well as living traditions to keep you occupied for a while. But yes, I think I should come back at the time of a festival.
Main Places in the Dah-Beema Route
Khaltse
This is where the road from Leh bifurcates. The buses generally stop here for lunch. The highway goes towards Lamayuru and then Kargil. The other one goes towards Batalik through the Brokpa area. I have heard that Khaltse also has remains of some Dardic forts but I never saw them.
Domkhar
Domkhar is a big village famous for the Rock Art Sanctuary with the best-preserved specimens of prehistoric petroglyphs and rock art in Ladakh.
Skurbuchan
Skurbuchan is also a big village. The lower area by the side of the road is not very appealing. But you can climb up to the main village which is more scnenic and there is a big mmonastery at the top of the hill.
Achinathang
Achinathang is an important village with ancient petroglyphs, monastery, and beautiful pastures that are now blooming with organic farming.
Hanu
At Hanuthang, a smaller road bifurcates. It goes northwards, and higher up, to Hanu Gongma, one of the major Brokpa villages.
Biama
Biama is the first real Brokpa village on the main road. It has a big monastery atop the hill, that takes a bit of hiking.
Baldez
Baldez is a beautiful village on the other side of the Indus from Biamah. You need to cross a hanging bridge to reach it.
Dah
Dah is a few KMs ahead of Biama. It is the best known Brokpa village with a couple of homestay where most people stay. It has many ancient ruins of providing vital clues of Brokpa history.
Garkone
Garkone is another few Kms ahead of Dah, on the same side of the river, and another important Brokpa Village.
Darchik
Darchik is another Brokpa village further ahead of Garkone, but locate on the other side of the river.
Chiktan
Chiktan is located on a connecting road that joins this route to the main road. The road goes from Sanjak, just before Biama. It has a Batli style medieval fort.
How to Reach Brokpa Valley (Dah-Beema)?
From Leh, you can reach the Aryan Valley or the Brokpa Valley by catching the morning bus to Dah-Beema from the bus stand. It leaves between 7.30 AM to 8 AM 6 days a week in the morning and passes through Nimmu, Khaltse, Domkhar, Skurbuchan, Achinathang, Hanuthang, Bima and Dah. It does not go beyond Dah. Only one every Friday the bus does not go to Dah but takes a diversion at Hanuthang to go to Hanu Gongma. There are some other small buses that don't go to Leh but commute between Khaltse and these local villages.
For a more comprehensive bus timings in this region and the rest of Ladakh, read teh following post…
If you want to go to Kargil side, you can find some shared cars from Dah-Beema in the early morning (at around 5 AM). I could not find any bus service on that route.
What to see at Aryan Valley?
It must have been obvious by now but nevertheless, here is what you should look for in this area.
Experience brokpa people and culture (But be respectful and ask for permission before photographs)
Enjoy the natural views of grenn Indus, and blooming buckwhetas and apricots
Ancient petroglyphs and rock art can be seen at Domkhar, as well as at a spot between Biama and Dah, on the banks of Indus
Time it with one of their festivals like Bono-nah if you want to see everyone dressed in traditional attire
There more interesting pieces of history including ruined citadels and ancient sculptures that you will keep stumbling upon.
Look for local food and wine when you get the chance.
Permits for Brokpa Area
You need to get permits if you want to visit Dah Bima (just like you do for Nubra and Pangong etc). It costs INR 450 if you get it done yourself or you can pay INR 600 to some travel agent in Leh to get that for you.
Homestays in Dah Biama
As this area still remains a bit offbeat, you will not find a thick concentration of hotels and homestays here unlike other parts of Ladakh. There may be more but here are the ones I am sure about,
Achinathang Travelle's Home in Achinathang is a great place to stay. They also have a website.
In Biama, I noticed a newly built fancy hotel. There may be more options inside the village but I am not sure.
In Dah Village, there are two major homestays.
In Garkone Village also I am sure about a homestay or two.
For other places I can't say for sure but will update this section if I can find. So, this is where I must stop today. I'll be back with more detailed posts on some of these villages.