Turtuk takes ages to reach through the vast rocky barrenness along the banks of the river Shyok. The never-ending ride through the sandy Nubra Valley (Or rather, Shyok Valley) makes you wonder if you are ever going to see a tree again. Nevertheless, the village itself appears as a patch of green, a delightful oasis covered with blooming apricots and walnuts, along with the usual poplars and willows. However, to call it an oasis in a cold desert will be a mistake caused by the current political map. In terms of actual geography, it is not the end of Ladakh but the beginning of Baltistan, which now remains detached from the rest of the region due to a quirk of subcontinental geopolitics.
I am sure most people are already aware of it but just for the benefit of the uninitiated, Turtuk is a part of the ancient Gilgit-Baltistan province, most of which lies on the other side of the Line of Control (LOC) between India and Pakistan. Even Turtuk used to be on the other side, but it was retaken by the Indian army during the war of 1971, and since then, it has been a part of India and the locals living there at that time had a change of citizenship overnight. Tourists were not allowed in Turtuk until recently because it is precariously close to the volatile border, and is well within the range of fire from the bunkers located on the hills overlooking it. Tourism started only in 2010 but it has taken rapid strides since then and the village is full of homestays and restaurants.
As a region located on the peripheries of the ancient Silk Route, Gilgit-Baltistan has its own unique history, culture, & cuisine that is different from other neighbouring cultures. Turtuk had been on my radar for many years, due to my deep fascination with the Baltistan region and the fact that it is the only part of the region that I could visit as an Indian citizen. Chances of a Pakistani visiting Turtuk are slim and similarly an Indian enjoying the rest of Baltistan is extremely unlikely! Even most of the locals, who have families on both sides of the border, have to go through a long process to meet their relatives. It takes just half an hour to walk to the villages on the other side but that is not allowed. They have to make passports, reach Pakistan via Delhi and then proceed to their ancestral villages if they want to meet the relatives.
Leh to Turtuk: Usual Companions
Coming back to my trip, I again had four Bengali traveller for company. I am not the first one to say that the Bengalis are the ultimate wanderlust race in India. From hippie millennials to middle-class joint families, all of them can be seen travelling all over India and my visit to Turtuk was no different. I was not even sure whether I will get a transport. The guy at my hostel in Leh asked me to go to the taxi stand near the Polo Ground, where I found one car waiting, with four guys from Kolkata, Tuhin, Manash, Arindam, & Ujjwal, already inside (Later on, we found two gentlemen already staying in our homestay, who were also Bengalis). The driver quoted INR 600 for a drop at Turtuk, which was the standard price as per my information. So, I filled in the last spot and the journey started.
Along the Shyok
Reaching Khardungla did not take much time and I was glad to see that the road was pretty well maintained except a few Kms near the top. I had no intention of clicking clichéd pictures at the top but the car stopped for a while and it had snowed the previous night, making the tourists from the plains delirious. So, I had to click a few to capture the whiteness.
After crossing the pass, the valley opened up and serpentine Shyok appeared. No matter how many times you see it, the view of a river from a higher altitude always offers satisfying frames. So, the first couple of hours were spent ogling at the river and the valley around it. North Pullu was crossed quickly, followed by Khardung Village, where we stopped for food. Khalasar was not far behind and we soon descended to the same level as the river and reached the point where the road bifurcates, with one branch going to Sumur, Panamic, and Siachen Glacier, and the other going towards Diskit and Turtuk. This is also the point where Nubra and Shyok rivers meet.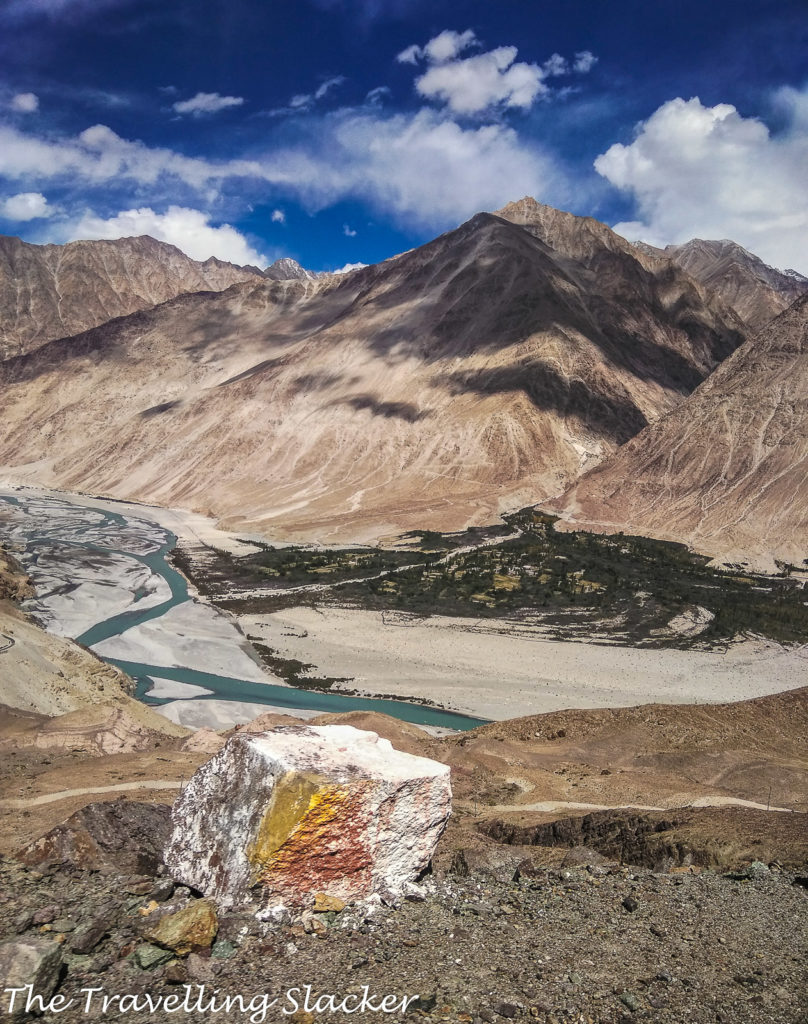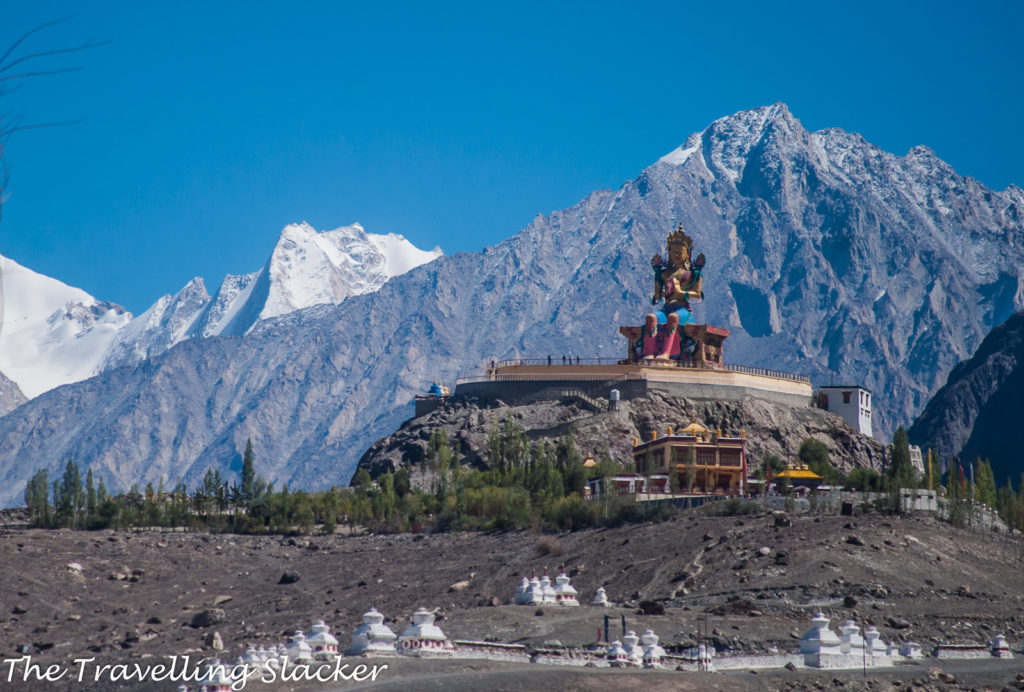 We crossed that area too and the typical purple and stark hills of Nubra Valley begin to appear. We soon reached Diskit, where the driver took another break for lunch and disappeared to meet some relative. The giant Maitreya statue of Diskit was visible in the horizon but the town of Diskit itself did not seem very appealing as it is located right on the busy highway. By the time the trip started again, it had been six hours already and I was beginning to get impatient. We crossed Hunder and various other villages but the road seemed endless, through the rocky banks of Shyok. At one point , there seemed to be an accident, so the driver stopped again to help the locals, which was a good gesture but it delayed the trip further. Finally, we entered Turtuk at around 5 PM, after almost 9 hours of journey. The barrenness finally relented too as some patches of green appeared. We were officially past the cold desert of Ladakh and at the doorstep of Baltistan.
At Ismail Homestay
My co-passengers had already talked to Ismail Bhai in Leh and organized a stay at his place called Ismail Homestay, a small traditional Balti family home turned into a homestay. I found out that they still had one more empty room that I got for myself. Ismailbhai's wife, sons, and daughters were going to be our hosts for the next couple of days. The price was INR 500 per person including food. It was good to find something priced reasonably, after expensive Leh where food was costing more than my stay in a dorm.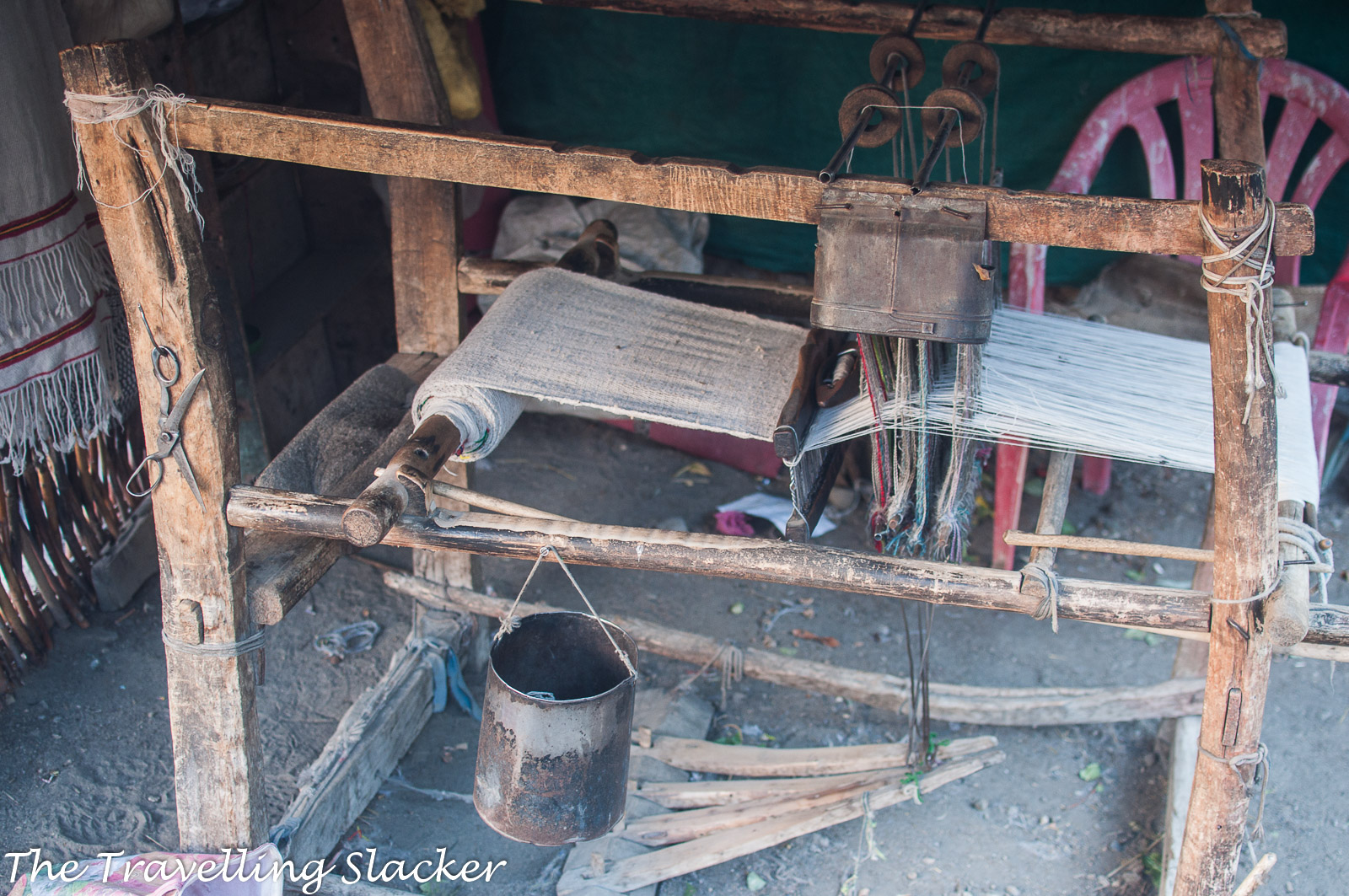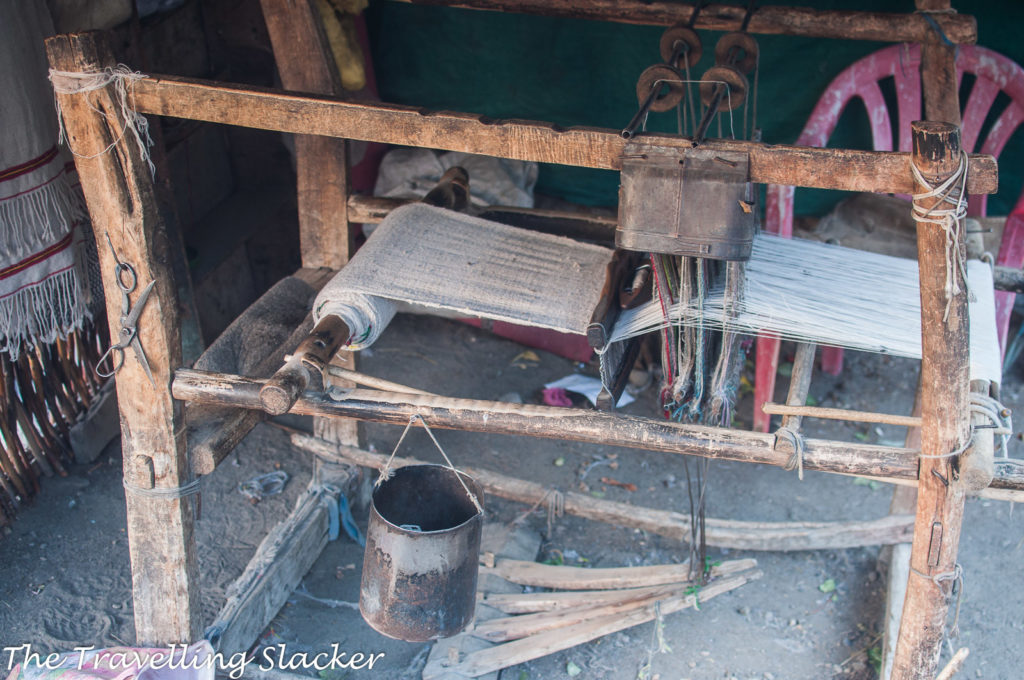 It was a traditional wooden house, with simple but cozy rooms with bathrooms outside but nearby on the same floor. Apple and apricot trees were touchable from the window. I also noticed a traditional loom that must be an integral part of their lives. The roof was covered with chillies, apricots, walnuts, and tomatoes, left to dry in the sun. These will be preserved for the harsh winter. As we settled down, we were offered kahwa tea and local walnuts as refreshment. It was already getting dark and we could not do much that day. We did meet two more Bengali gentlemen, who were staying there. They were working at a small power project nearby. As of now Turtuk receives power only between 7pm to 11pm every day. But this long-delayed project is expected to solve this problem.
Thang Village: The Final Frontier
The next morning, our first plan was to visit the Thang Viewpoint, around 8-10 Kms from Turtuk. Apart from Turtuk, there are a few smaller villages nearer to the border which changed hands in 1971. The northernmost village is Thang, which is located right on the LOC and the villages on the other side can be seen from here. Reaching here is not easy though. In fact, it was off limits for the tourists till a few months ago. Only in April 2018, the Thang Viewpoint was established for tourists by the armed forces.
We hired a local guy with a car. He drove us to the army camp a few KMs ahead of the village. As expected in an area like this, the army presence is significant and they are also very strict. We not only had to submit copies of our permits but they also kept our original IDs (that we collected back while returning). Also, even the locals accompanying us had to provide IDs and the driver needed to submit his driving license. You can't get past this point if even one person in the group is missing any of the documents.
After this point, we drove a few KMs more and reached the Thang Viewpoint, manned by another army man. The actual Thang Village is located beyond this point but tourists are generally not allowed to go past this point. But we could see the village from a distance and it looked like a beautiful poplar grove. The lone armyman at the viewpoint briefed us about the place and helped us spot various bunkers on the mountains, both on Indian and Pakistani side. The viewpoint has an installation, with small pipes pointing to various bunkers. The red ones indicate Pakistani bunkers while the blue ones indicate Indian bunkers.
Reaching the actual village was not allowed but we walked around a bit, hoping to get a feel of the place. Our patience was rewarded when a couple of locals from the village arrived. We talked to them and they gave us local apples, tiny but sweet ones. Apparently the village is a beautiful one and they want tourists to come there. I wish someday Thang becomes a tourist hub too.
Also Read: Thang Village Travel Guide
Turtuk Monastery Hike
The next target for the day was the monastery atop the village. We drove back to the village and were dropped at a point by the side of the road from where there was a shortcut to the monastery. Now, this monastery itself is an interesting thing. Turtuk is not a Buddhist village and nobody expected this monastery here. But we were told that it is an ancient site and devotees from other places in Ladakh visit it.
The hike lasted around 15 mins as Irfan (Ismailbhai's Son), showed us the way to the top. Even if it was an ancient site, the monastery seemed to have been recently renovated. It was a small, one room, monastery and there was no Lama present there. However, we soon realized that the primary reason for climbing up to this point was the view. This is the highest point of the village and the one that offered the best possible view of the Shyok river and the valley around it, along with the high mountains in the horizon.
We returned from the monastery using the longer route, the one that took us directly into the village, near our homestay. This one passsed through a really beautiful stretch and finally I got a clearer idea about the geography of the village. Actually, Turtuk is divided into three distinct parts. Chutang, the lower area near the road, Yul, the oldest area where we were staying, and Farol, the more attractive higher area that we were now exploring. Yul was densely populated and so I was wondering how to get good landscapes. But Farol solved that problem. It was located on the other side of the local river (must be a tributary of Shyok), across a beautiful bridge. It is located higher up and is more spacious, with open buckwheat fields spread to the edge of the mountains. This area also has some fancier homestays and restaurants. It took around 25 Mins to reach the bridge and cross over to Yul.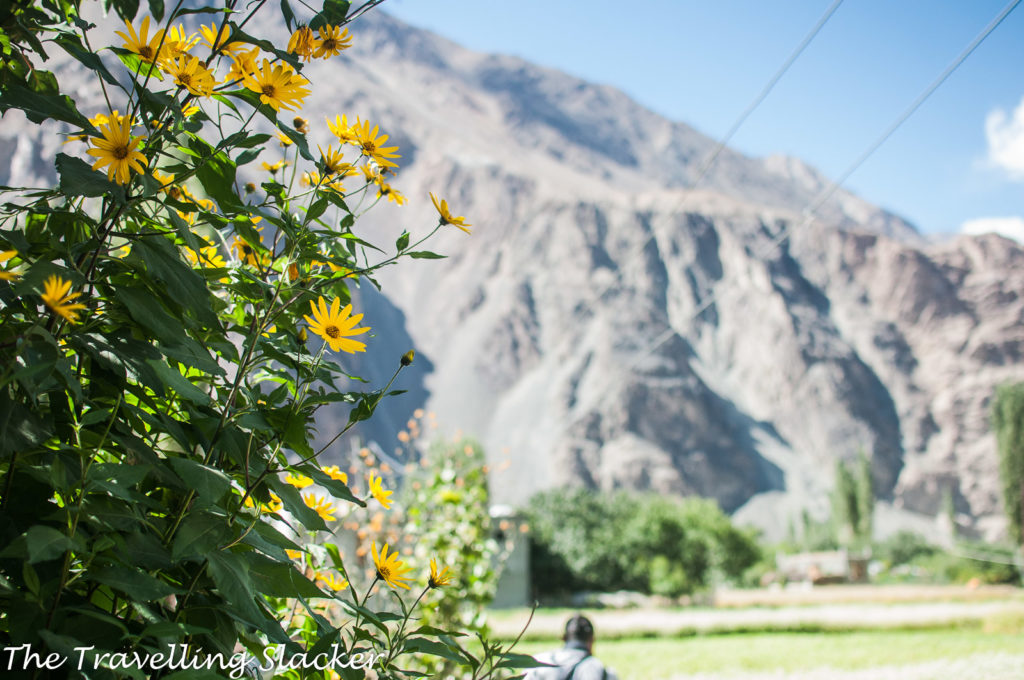 Turtuk Palace and Museum
The final act for the day was to meet the King of Turtuk, or rather the King of Baltistan, in his own palace. We had lunch and rested a bit after the frontier visit and the monastery hike. It was 5 Pm by the time we came out again. The palace turned museum is located within the village itself, a few mins walk from our homestay. But it was getting dark and a few of my hurriedly clicked images unfortunately came out blurry.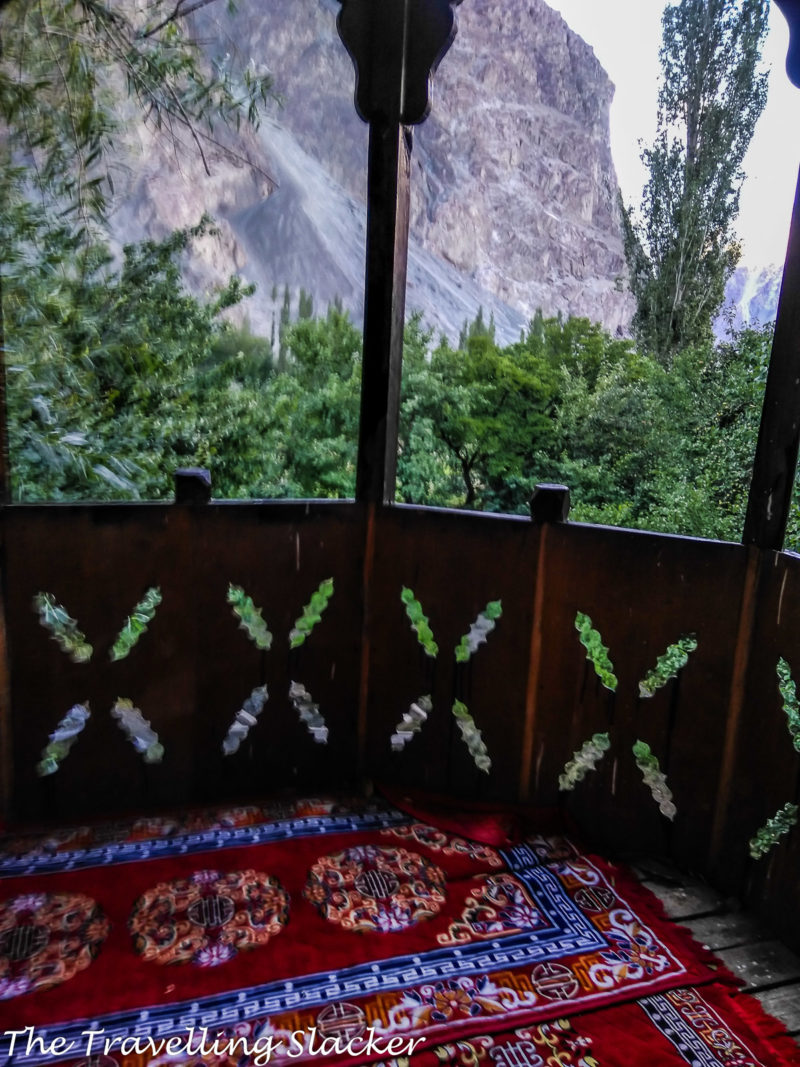 The wooden entry gate had a giant wooden eagle at the top. Inside, we found a house that was not too different from the rest of the village but comparatively bigger. It has been built in a circular manner with an open courtyard inside. The ground floor did not have anything except a map of the undivided Gilgit Baltistan. The upper floor had a vineyard on the rooftop but we were directed to enter the room by a little girl, who I think was a part of the royal family. I noticed a nice wooden balcony with great views of the mountains. I think it is typical of the Balti architecture as I have seen similar pictures from Khaplu Palace, located on the other side of the border. Anyway, we entered the room, which is primary meeting place of the king and is also the museum. That is where, Yabgo Mohammad Khan Kacho, the current king of Turtuk was waiting for us.
After the basic introduction, the king started his stories. One of the wall on the room has the entire Yabgo family tree written on it, which dates back to almost 1300 years, to the time of the famous Chinese traveller Huen Tsang (Yuanzang). He told us that the name Yabgo was first mentioned by Yuanzang. The kingdom of Baltistan was bigger and stronger in the earlier parts of the second millennium. The most important ruler of that era seemed to be Beg Manthal, who came from Yarkand (in current Xinjiang province of China which is in news because of the Uyghur issue). However, at some point, the kingdom was divided between brothers and weakened, making it vulnerable to invaders. Nevertheless, members of this family kept ruling various parts of the area. After 1947, the Pakistani Army turned this palace into their headquarter. However, the predecessor of the current king moved to the Karachi High Court and regained control of the palace.
After the history lesson, we proceeded to examine the artefacts of the museum. There were weapons like Mongol-style bows, swords, guns, royal attires, Ibex horns, paintings of older kings and photographs of the current king etc. Various traditional Balti household items such as utensils etc were there too. But the most interesting was a piece of rock, that is believed to be a meteorite. Apparently the kings in the olden days carried it as a lucky charm during the battles. The King also happily posed for photographs and then we had to excuse ourselves as another group of visitors were waiting. In case anyone is wondering, there is no charge for this session, but there is a donation box where you can drop something. This amount goes for preservation of the palace.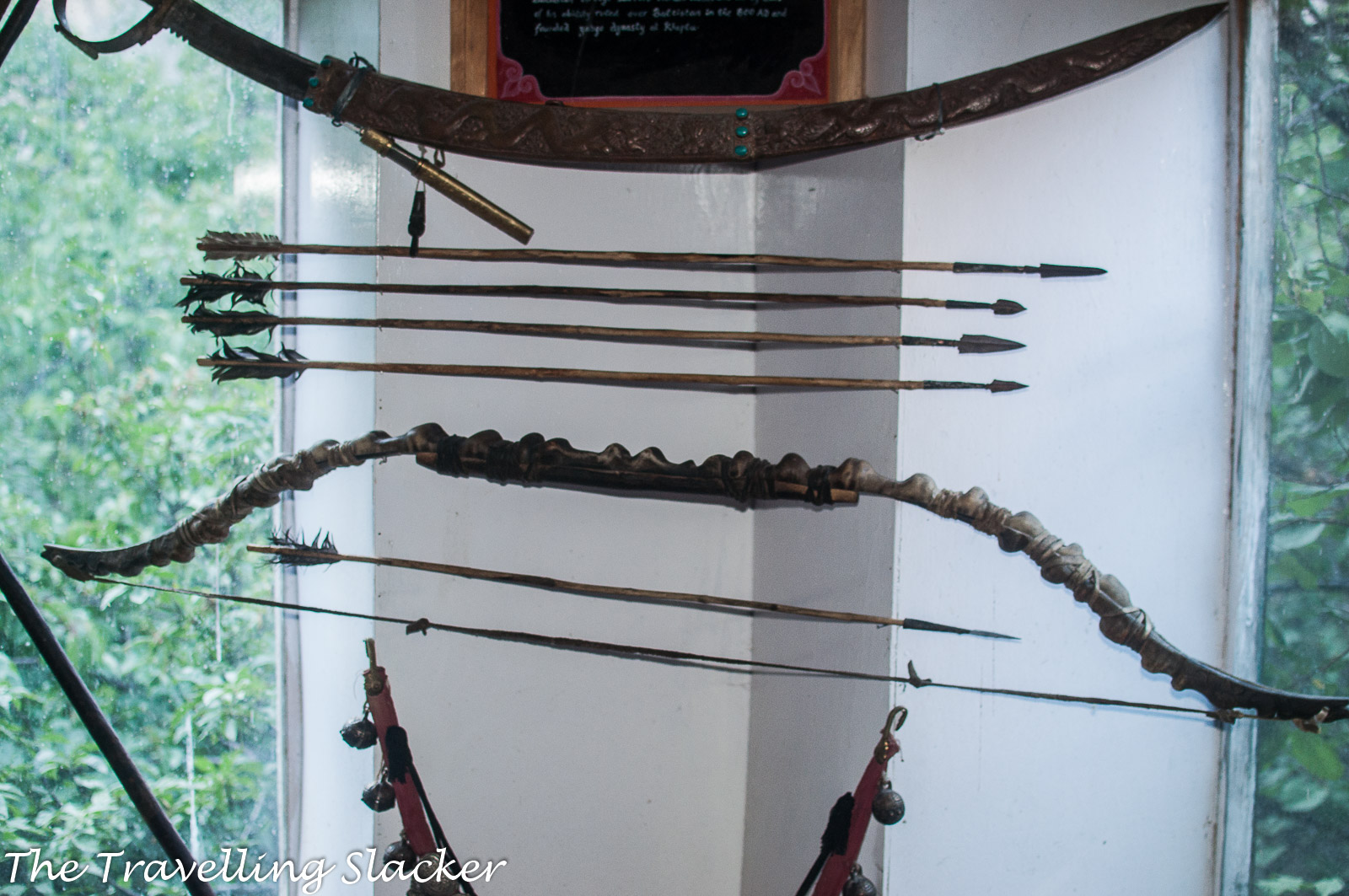 Agroerotica: Apricots, Walnuts, Apples, Grapes, Seabuckthorn, Buckwheat & More
So, the trip was over with the visit to the palace. But I must take some time to go back to my favourite topic. I could not help but notice that although surrounded by barren hills and desert-like landscape, Turtuk is very fertile. It is one of the largest apricot the and walnut producing areas of the country. Apart from the omnipresent poplars and willows, the green of the village is primarily derived from Apricot and Walnut trees and even vineyards at places. We were a bit too late to catch the apricots in full bloom but I did manage to spot a few. Rest of of them had been plucked and left on the roofs to dry already.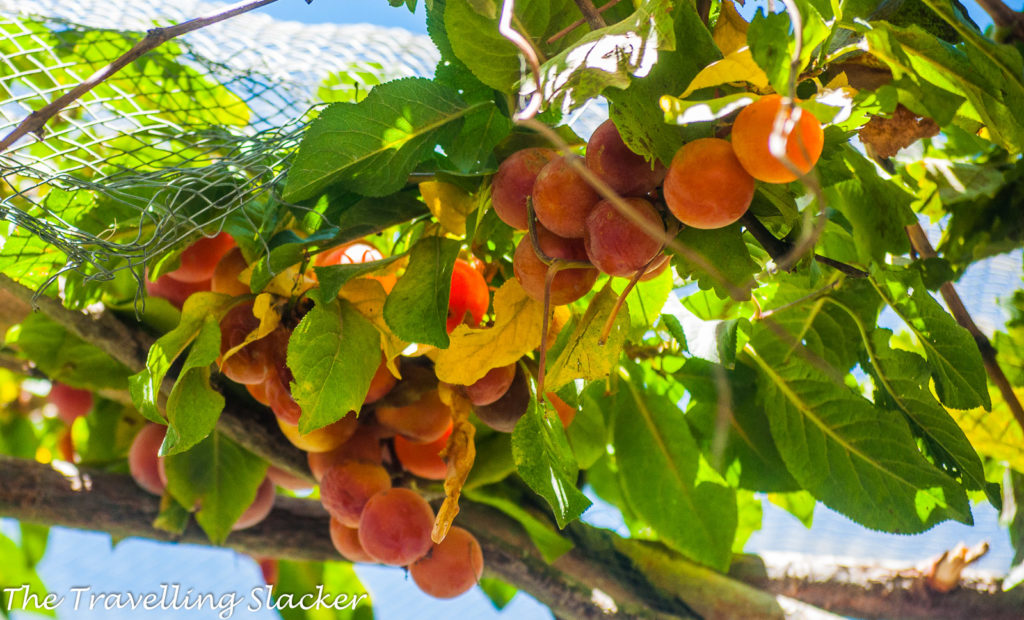 Apart from that, apples here are also noteworthy. They are small, and round, almost the size of plums, but sweeter than any you will ever taste. But personally, the most delightful spotting for me was the seabuckthron bushes. I have been a seabuckthorn fan for more than 10 year now. I first learnt about it when I spotted a pack of Leh Berry drinks developed by DRDO at a store. Earlier this year I had got some seabuckthorn tea for free at a shop in Kaza. However, never before I'd seen an actual seabuckthorn tree. Turtuk fulfilled that wish. Also noteworthy are the fields of buckwheat, which seems to be the staple food here. Most of the traditional Balti foods are made of buckwheat.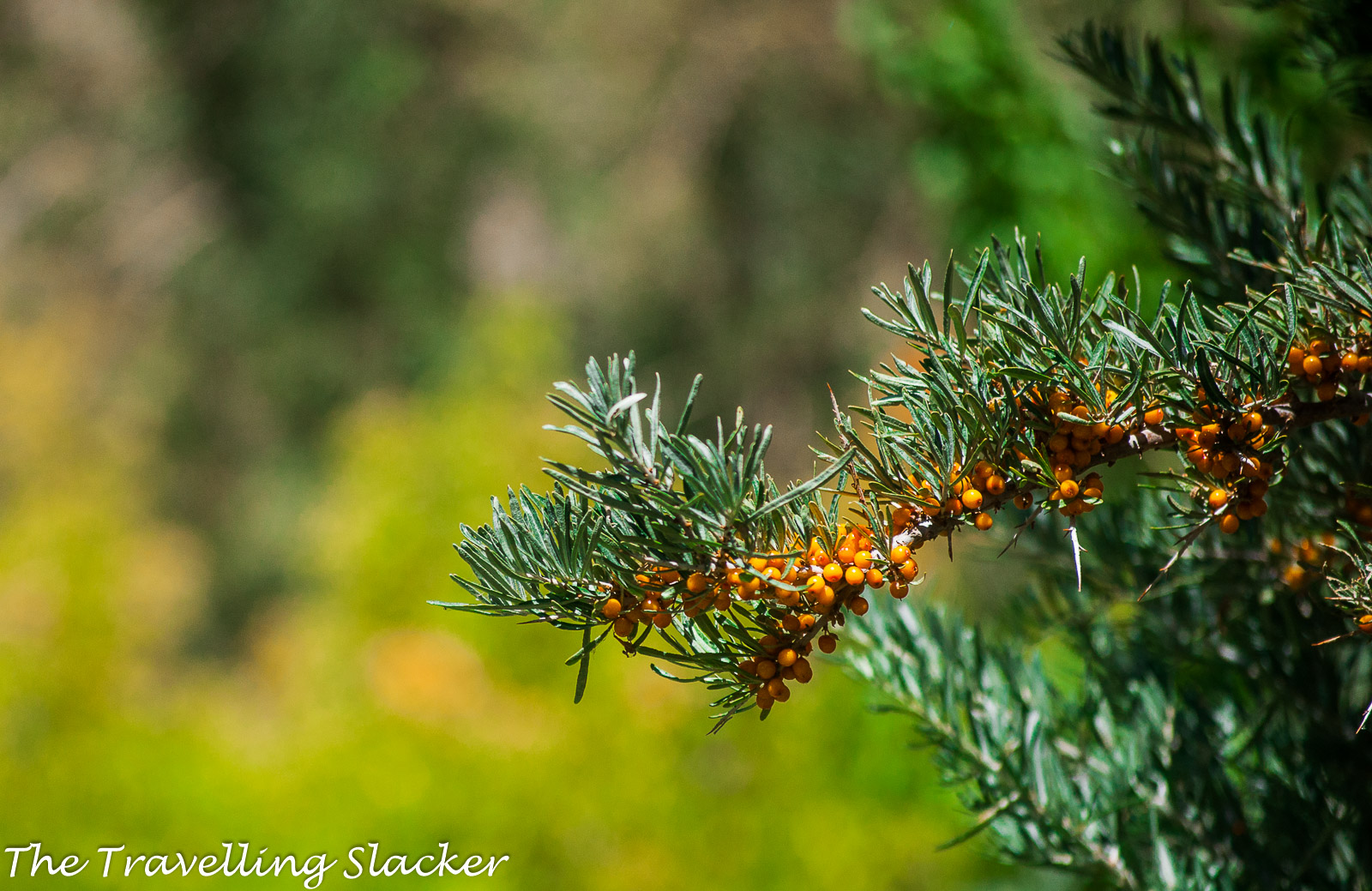 Balti People and Culture
At this point I must also put a word or two about the local people and culture. As one can expect in such remote, hilly terrains, people are some of the most hospitable here. It is a muslim village and various denominations including Shias, Sunnis, and Sufis can be found here as far as I was told. However, I am not really sure how to distinguish between them. Nevertheless, these differences do not matter much. As the aforementioned Buddhist Monastery at the top suggests, they are some of the most tolerant bunch of people living in harmony and trying to make something out of the newly opened up avenues by tourism.
The people here have sharp Central Asian features although I did not click too many portraits. Tourists are free to click anything else but are supposed to ask for permission before clicking the local people. However, the children were more forthcoming and curious. I clicked a few of them only after asking for their permission.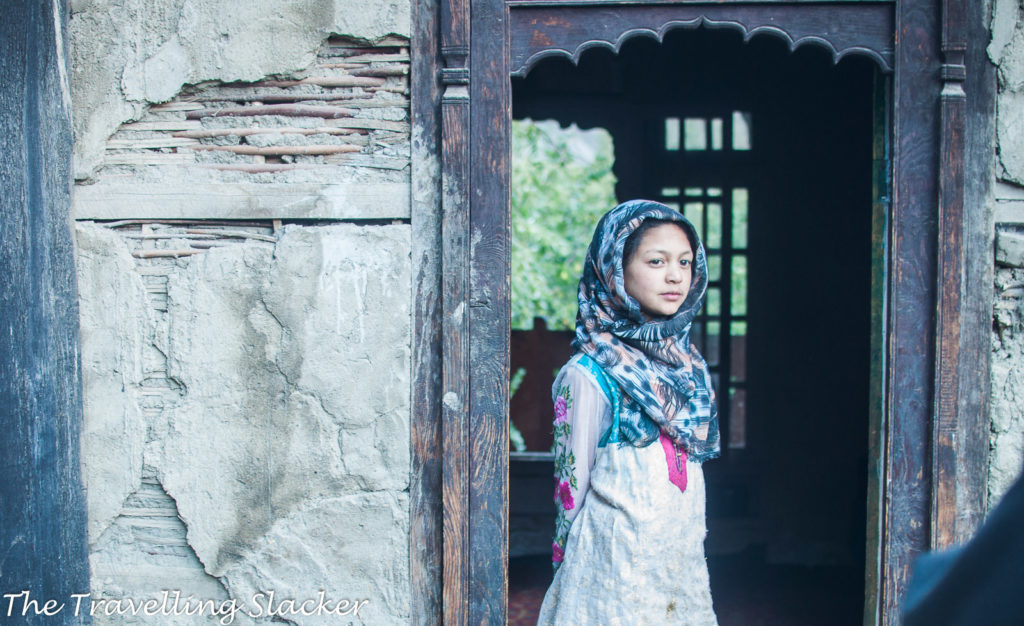 Balti food is also worth a try. I could not taste too many things but our hosts at the homestay made Kissir and Tsamik for us one afternoon. Kissir is a sort of salty cake made of the aforementioned buckwheat flour. Tsamik is a sour, yoghurt based dip to go with it.
Turtuk Travel Guide
How to reach Turtuk?
Turtuk is 210 KMs from Leh city via Khardungla and Nubra Valley and the best way to reach it is through shared cars for INR 600 from the taxi stand near Polo Ground. You can also drive your vehicle, hire taxis through travel agents, or catch a bus from Leh to Turtuk. However, hiring a car for yourself is expensive unless you are in a big group while the bus service is infrequent, running only once a week. That is why the shared car remains the best option for solo travellers. Just make sure that you reach the right place before 8 am in the morning.
Turtuk Bus Timings
Leh to Turtuk Bus Every Saturday 6 AM (214 KM/ INR 316)
Turtuk to Diskit Bus Daily 5.30-6 AM
Leh to Turtuk bus leaves only once in a week, every Saturday, as per the time-table on the bus stand. I don't even know if it is regular. While coming back, you get daily buses till Diskit from Turtuk. From Diskit, you can try to get shared cars to Leh.
However, do note that the shared cars from Diskit to Leh leave before 10 AM and costs INR 400. After that, if you try to get a car, they ask you to book the whole car and ask for exorbitant amounts like INR4000-5000. We also got into bit of a trouble while returning. We hired a car till Diskit from Turtuk with a detour of Hunder (more about it on a different post). But as we reached Diskit at around 11 AM, we found that nobody was willing to move towards Leh and demanding insane amounts, saying that shared cars don't move after 10 AM. However, a local guy helped us by arranging a car at normal rates (INR 400 per head) and we reached Leh easily. So, keep the timing in mind as you may not always find a local to help you.
Permits to Turtuk
Permits for visiting Turtuk are issued by the district magistrate at Leh. It costs INR 460. The process is simple for tourists and all you need to provide is a copy of your passport or any other valid ID. You can also pay a bit extra (like INR 100-150) to some travel agent (there are dozens in Leh) or even your hotel owner (The guy at my hostel reception did it for me) to do it for you so that you don't have to waste your time at that office.
The good news is that, if you are visiting multiple places requiring permits (such as Nubra, Pangong etc), all of them can be included in the same permit so that you don't have to do it repeatedly.
Photocopies of the Permit
Do remember to get a few photocopies of the permit because at various important points, they will keep one copy of the permit and beyond Leh, you will not easily find a Xerox machine.
Turtuk Distance Chart
Leh to Turtuk 214 KMs
Diskit to Turtuk 90 Kms
Hunder to Turtuk 83 KMs
Where to stay in Turtuk?
Turtuk has scores of affordable homestays and you will start seeing them as you enter the village. So, you can stay with a Balti family and experience their culture first hand. Rates are generally reasonable, INR 500-1000 per person and this rate generally includes food. In case you need to eat out, there are many restaurants too.
What to expect in Turtuk?
Turtuk has abundant natural beauty to go with the Baltistani culture that takes pride in its hospitality. Be respectful to locals and their norms for a better experience. You can ask for local Balti food to your hosts while local produces such as apricots, apples, and walnuts will be offered to you anyway. In terms of specific attractions, you can
The Palace and Museum at the village and meet the King
Visit the Thang Viewpoint and village near the LOC
Climb up to the monastery for the great aerial views of the valley
You can also buy local stuff like dry fruits and handicrafts
Do's and Don'ts at Turtuk
Make multiple photocopies of your permit. You will need them especially if you visit the Thang viewpoint.
Ask permission before taking photographs of people. Move on if refused, don't irritate people and respect their privacy.
Don't ask for alcohol. Do note that it is a muslim village and they have their customs and rules that needs to be taken seriously
Electricity, phone and data connectivity in Turtuk
The only way to have some connectivity in Turtuk is to have a postpaid BSNL SIM. Don't expect data connectivity in any case. Also, the power supply generally is resumed between 7pm to 11pm. So, you must charge your devices within that time frame.