Baijnath Temples: Landscapes from a Katyuri Spring
After leaving Kausani, I reached Baijnath in quick time. The iconic temple complex was visible from the bus itself but I decided to spend a night here. I walked into the KMVN guesthouse and as expected, they happened to have a dorm. So, I was sorted for the night for only INR 200 and there seemed to be no one else in the dorm. After resting for a while I set out to explore the temple.
Baijnath is a very small town that looked sleepy because it was not exactly the tourist season yet. Nearby Kausani is a bigger tourist attraction while Garur is a major market not far from here. Baijnath intrigued me because there is another Baijnath in Himachal, which is also an ancient temple (I'm sure there are others in India). So, I always wondered how the same temple got built in two different places but then it is normal in India as the locals associate themseves with various legends and develop local shrines accordingly.
Baijnath is essentially a Shiva Temple but the story is confusing. Baidyanath is one of the Jyotirlingas but that temple is somewhere in Jharkhand although there are other candidates who claim to be the same. Nevertheless, this is a reasonably ancient structure, at least a thousand years old, built by the Katyuri Kings who ruled these regions between 7th to 13th century and this believed to be the ancient capital of Kartikeyapura. The area has seen multiple invasions. The Gorkhas occupied the area once while a Rohilla attack damaged a few structures in the seventeenth century.
Nevertheless, the temples still stand tall on the banks of Gomati (Not to be confused with similalry named rivers in Bihar and Tripura), and although it is not a very large complex, it seemed to be one of the better maintained ones in the state. It is flanked by an artificial lake and a barrage, which was dug and beautified only a few years ago. The main Shiva Temple is surrounded by 17 smaller shrines dedicated to other deities and all of them are built in the usual Nagara style although I felt that the sculptures were more elaborate in
Champawat
. Apart from the main temple, the other important temples include Lakshmi Narayan, Kedareshwar, and Brahmani Devi.
It was not a very big complex and I was done with it soon. But the spring was still on in Kumaon and so I wanted to make the most of it. Some flowery pear trees and green fields were visitible all around the town, just like they did in
Someshwar
earlier in the morning. So, I decided to take a walk and move a bit away from the town, in order to get good views. To be honest, it was just a short stay and I don't have much to say about it. I am aware some some more structures in a nearby village but I had to move the next day. So, I will just leave you with the pictures only for the time being.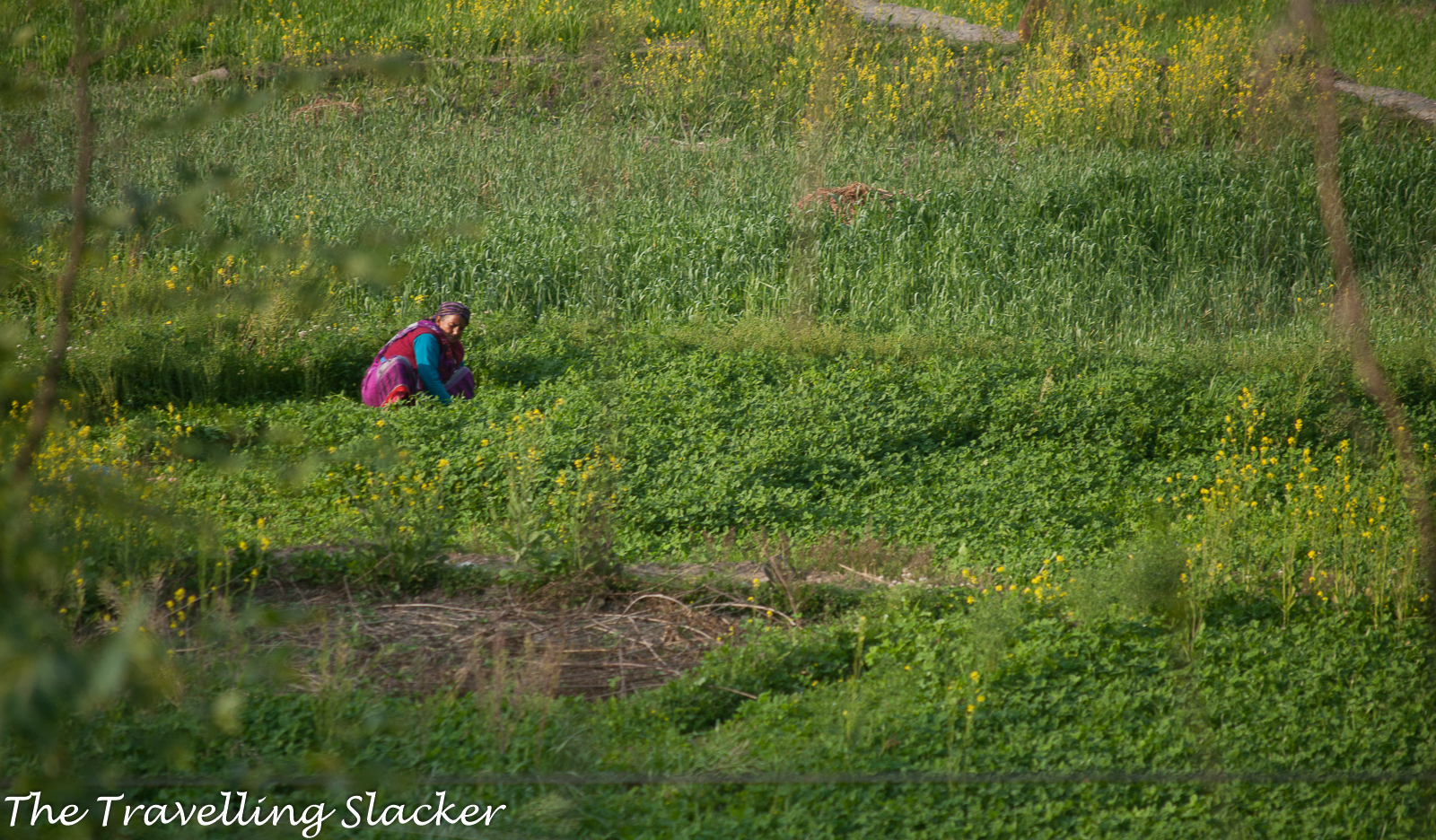 How to Reach Baijnath, Kumaon?
You can get buses from Almora to Baijnath, which is around 70 KMs away. First reach Almora and look for buses going towards Garur or Kausani, which are important xcenters near Baijnath. Almora is a major town, around 80 Kms from Kathgodam, the nearest major train station well connected to Delhi.
Where to stay in Baijnath?
There are some small hotels in Baijnath but the best option is to stay is the KMVN guesthouse. The rooms will be somewhat expensive but impoverished backpackers can go for the dormitory at INR 200.