The day was going wrong from the moment I woke up. The previous day was bright and sunny, as one can expect in the post monsoon month of September, that too in Lahaul, which is not among the wettest places in the country. But the morning was dark and it was drizzling already. I checked weather forcasts and it showed rains not only for that day but next 7 days, bringing back sad memories of Manipur from last year. Nevertheless, I decided to continue with my original plan of visiting the Tayul Monastery.
As the regular readers of this blog would know, I have been trying to cover all the medieval monasteries around Keylong town for several years now. The moment I cover one, someone tells me about another one. I am still not sure exactly how many gompas are there in the 30 KM radius of Keylong but all of them have excellent settings. They are generally located atop hills, much above the town and the highway, thus offering excellent views of the Bhaga Valley, The Lady of Keylong glacier, and the Drilbu Ri mountain. You can check my posts about some other monasteries from the previous visits linked below, all of which offered excellent views and great weather.
Coming back to Tayul, as far as I could understand, the starting point of the trek was a few KMs ahead of Keylong, along the road leading towards Leh. I went to the bus stand first, which looked great from a certain angle in spite of the gloomy weather. But I realized that most buses on that direction had left already and the next one was going to arrive only after a few hours. So, I decided to do what I usually do, walk the whole way along the road and then also do the trek.
It was going to rain heavily on the later part of the day but the drizzle was intermittent for the time being and so I started walking briskly along the road The nearest major point was Stingri Village, 6 Kms ahead of Keylong. As per my information, the route to Tayul was located somewhere before Stingri. I walked for about an hour, crossing milestones after milestones till Stingri was only 1 KM away. At that point, I noticed a small trail going upwards on my left but there were no signaage to verify. Thankfully a local lady was washing a car nearby and she told me that this was exactly the way I was looking for.
So, the actual trek started although I was already tired after walking 5-6 Kms. Moreover, I was not sure how far it was. Anyway, after 15-20 Mins, I reached a nice looking house. It is set amidst thick willow grove, and it seemed that it owned that plot of small but beautiful farmland. Part of it was an apple orchard and the rest of it were covered with cauliflower. I could not see anyone near the house and so kept walking. The trail disappeared after that and I entered a grove of willow, hoping to emerge on the other side. It seemed confusing and I was having doubts but finally I noticed a faint trail again as I left the willows and entered a stretch covered with junipers. It was almost dark by then and no peaks were visible on the horizon.  I can only imagine how this stretch would have looked on a clear day!
Anyway, after around 40 Mins of walking, I finally saw a small chorten at a distance, and realized that this trek will probably not fail. At the same time, I heard some noise, and saw a group of local women hiking up too. I thought they were nuns from the monastery. Anyway, a senior Lama, who was much faster, arrived out of nowhere, and overtook the group of ladies, as well as me. But he told me that we were almost there.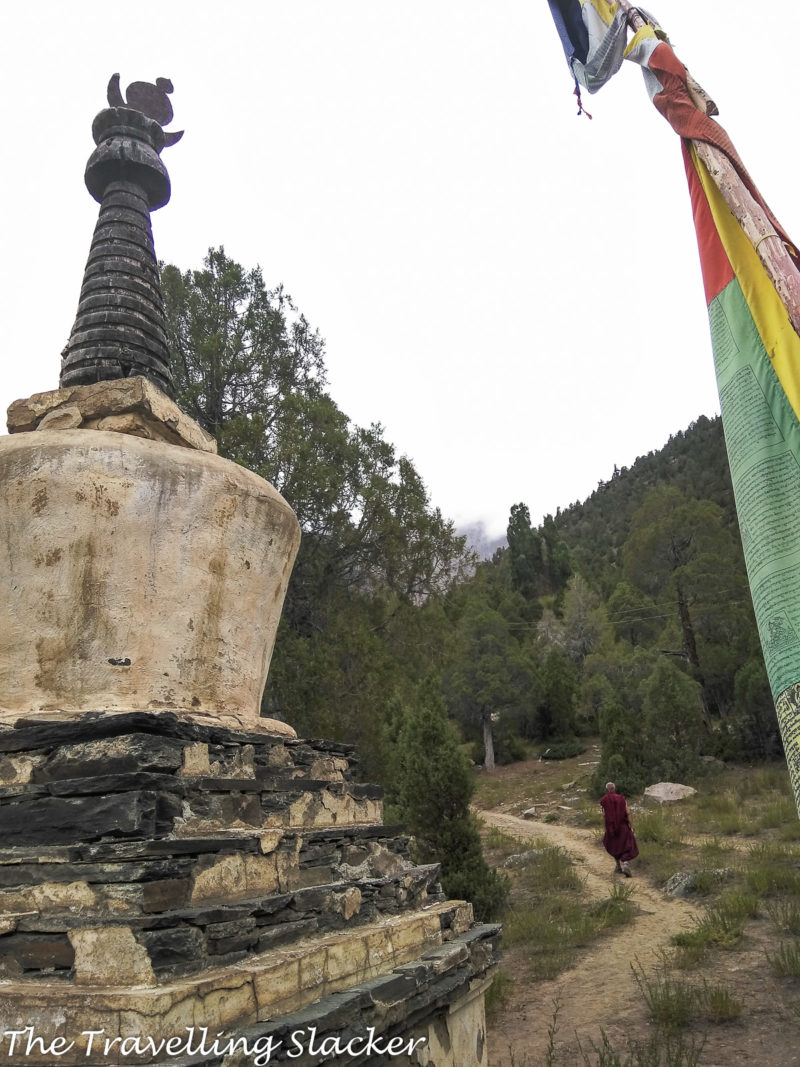 After another five minutes and a sharp turn, I could finally see the building of the monastery as I crossed a few more stupas and heaps of mani stones. The Lama asked me to have tea. I said I'll join him in a while and started taking photographs although the results remained disappointing on that gloomy day.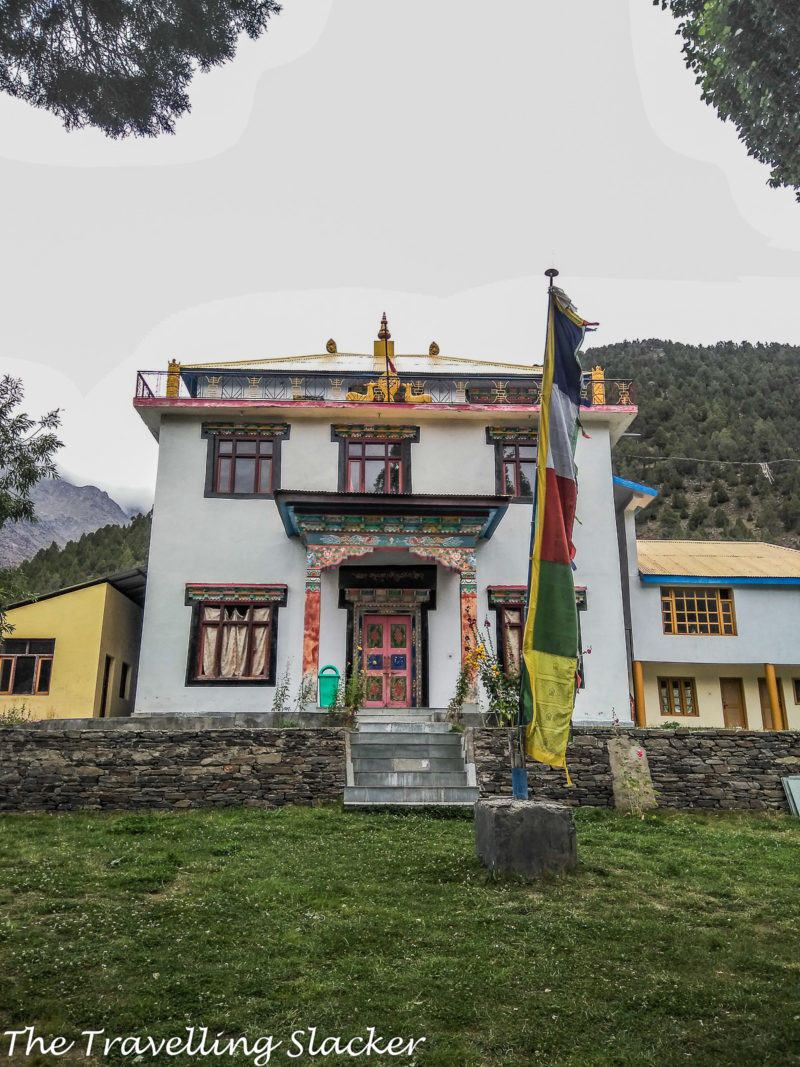 Tayul is a Drukpa Monastery that dates back to at least 17th century or it may be even older although the present monastery building seemed  renovated, with nice seasonal flowers adorning the courtyard along with usual prayer flags and stupas. The information board mentions that it was founded by Lama Sezang Rinchen and the complete name of the monastery is "Urgyan Chhoskhor Ling", Tayul (Ta-Yul= The Chosen Place) being its more popular local nickname. He apparently came from Zanskar to spread the faith in Lahaul. The board also mentions that great western Bhikkhuni Tenzin Palmo spent many years in this monastery.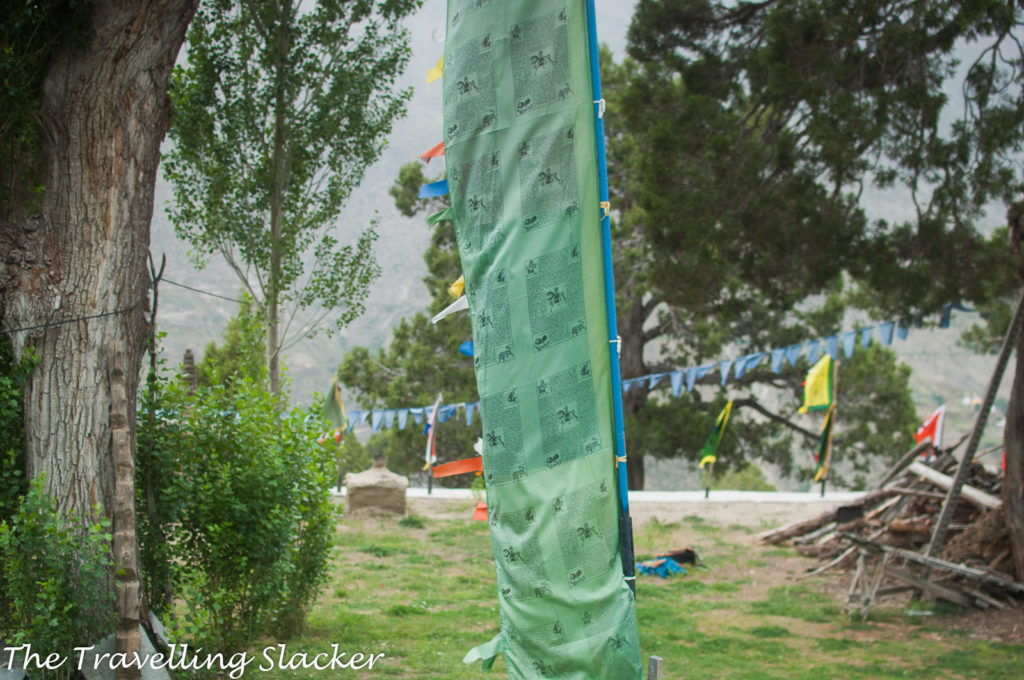 By that time the group of women had also reached and I started a conversation with them. They were not nuns as I initially thought but they were from the Stingri Village who were visiting the gompa for some purpose. It was still drizzling but they did not care. They spread some mattresses on the grass and soon it became avident that they came prepared for a small picnic and I was asked to join. They had homemade breads, potatoes, eggs, and various types of snacks, along with tea, that they offered to me generously.
The next half an hour was spent eating and interacting with them. They thought that I should write about the issues, especially the lack of motorable road to the monastery. (Nearby Shahsur and Kardang have motorable roads now, so I think that is what they want). After that, they moved onto more serious issues and started discussing civic issues and local politics. So, I decied not to disturb them and explored a bit more of the monastery.
I entered inside and as expected, there was a gigantic Padmasambhava statue inside, along with usual artifacts you expect in such monasteries. The walls were full of paintings recountic mythological stories. Although the information board mentions about another Ladakhi monk who came here and painted the walls in the 17th cnetury, I think these walls have been recently refurbished. However, there were a lot of ancient sciptures on the shelves.  I did not click photographs inside, as I don't usually do in religious places.
It was the time to return. So, I bad adieu to my unlikely hosts. They even packed a couple of more biscuits for the return hike. While coming down, I somehow took a different route by mistake at the midpoint. I am not sure how that happened, but eventually I reached the main road through another route that met the highway near a big stupa. I had seen this stupa and the trail in the morning but did not realize that this also led to Tayul. This point was around 500 meters before the earlier route. However, this was somewhat slippery with soft soil and I think going up through this one would have been more difficult.
So, with this brief trek, I was done with yet another monastery in Lahaul. The brief hike was marred by bad weather. But there was a delightful surprise awaiting as I ended up gatecrashing a picnic of local ladies. But there are more gompas in the area and not sure when I will manage to cover them!
Tayul Monastery Travel Guide
How to Reach Tayul?
To reach Tayul first you have to move northwards from Keyloing town along the Leh Manali highway. You will cross the HPTDC Hotel Chandrabhaga and a small post office in a village called Yurnath. After around 5 KMs, just before reaching the village of Stingri, you will notice the trail going upwards through the jungle. From there, you will have to hike for a couple of KMs to reach the Gompa. There is another route around 500 meters before this point, near a visible white stupa by the side of the road. But this route needs a bit of maintenance and so I recommend it for coming down rather than going up.
How Far is Tayul from Keylong?
Keylong to Tayul distance is around 7 Kms as per my understanding. I have seen some places mentioning the distance to be 5 KM but that is not correct. It is 5 KM till the starting point of the trek. From there you have to trek for a couple of KMs.
How much time does it take to reach Tayul?
The trek to Tayul from the road took exactly one hour for me. I also walked along the road but that is optional and you can always find some bus or ask for lift till that point.
What is the elevation of Tayul?
I am not sure but I think it is around 400-500 meters higher than Keylong. So, it should be around 3500-3600 meters.