Champawat is a place that does not easily ring a bell, which is surprising because it used to be the capital of Kumaon Kingdom, an ancient town with mythological associations as well as archaeological remains. When I first saw the invitation to visit the place, I had to think hard and finally remembered a Corbett story called the Champawat tiger. Apart from that, I could hardly find anything about the place. This is because this Tanakpur-Champawat-Pithoragarh route is the easternmost and least visited part of Kumaon. It is not far from the Nepal border and feels a bit different compared to the rest of the state. Anyway, this is why I accepted this opportunity to visit and explored the place.
So, I was at Pushkar when the plan was finalized. I had to reach Ajmer to catch the Ranikhet Express to reach Rudrapur at an unearthly hour of 3 AM. However, things were not simple. I got down at 3 AM only to realize that I had left my phone on the train (I was half-asleep). I jumped back into another compartment of the train that had started to leave the station. I walked through the train to reach my seat just at the right time when the caretaker was cleaning up my place and wondering what to do with that phone.
Anyway, they gave it back to me but the train was already moving at full speed by then and so I had to wait for another 30 mins and reached some other station near Pantnagar around 4 AM! It was still dark as I came out of the station and there was barely anyone. I walked around checking the map and finally found a shared car with no space inside. It was taking some people to work back to Rudrapur. SO, I kept my bag inside dangled from the backside. It was still dark and chilly that February morning but I enjoyed this ride and got back to Rudrapur by 5 AM and then found a bus to Tanakpur, from where I found a shared car to Champawat. At around 10 AM, I was 15 KMs away from my destination.
All this while I had been battling flu-like symptoms and I was not sure what exactly was happening to me. All I knew was that I will need a good siesta once I reach. However, the traffic came to a standstill after that point. A large rock had fallen from the top and positioned it miraculously on the road, instead of tumbling down further. Hundreds of vehicles had gathered at that point on both sides of the rock. For the next 8 hours, all I could do was to watch the excavators work tirelessly to dig out a road bypassing the rock because it was too big to move. I have been in trickier situations such as when I got stuck at 4400 meters and when I had to spend a lonely night at the jungle but combined with illness, it turned out to be a serious ordeal that day. Anyway, the road finally cleared at around 6 pm and I reached Champawat by 7 pm, and had to go directly to attend a meeting, which was a part of the program I was invited to attend. It was followed by dinner and I could finally retire for the day only after 11 PM!
So, within less than 24 hours, partly due to circumstances and partly due to my own mistakes, I had become familiar with every major point in the easternmost part of Lower Kumaon bordering Nepal, which still remains somewhat detached from the regular tourist circuits.
So, the primary thrust of me being here was an event organized by NGOs International Centre for Sustainable Development and The Dais Foundation, primarily managed by youngsters. But it was good to see that they had full support of the district administration in the process. The scope of the discussion was not limited to tourism but covered everything from education to agriculture. However, since I was there as a travel writer, I am focusing on the tourism part. I hope this will bridge the information gap that exists right now between Champawat and its potential visitors.
For the next few days, I participated in many activities, some organized by my hosts, some on my own. Instead of providing a day-by-day account,  I am segregating my experience in a topical manner so that everyone can understand what Champawat has to offer.
Champawat Town
Champawat itself is a small but busy town. If you just pass through the market around the highway, you will probably not realize what the town has to offer. It actually has very unique geography and it can only be understood if you walk around a bit. Narrow but fertile valleys are spread in all directions, till they reach the higher mountains. It was February, so the landscape was reddish-brown. I guess it looks better in the monsoons. Nevertheless, the spring was already beginning to show its colors. Especially pear trees were flowering already. In some ways, it reminded me of
Karsog in Himachal
. The most prominent buildings in town are the government buildings and if you just try hard enough, you can capture the same through some interesting vantage points.
Desmond's Farm and Tea Garden Hike
Uttarakahnd is one of the lesser-known tea growing areas of India with a long history. Tea plantation started in Kumaon more than 150 years ago, almost at the same time as some other major tea producing areas of India. It also enjoyed a brief period of prosperity in the middle of the 20th century but due to increasing production cost and some other issues it gradually lost its market.  However, the efforts are now on to revive the same and Champawat remains one of the major tea growing areas in the state.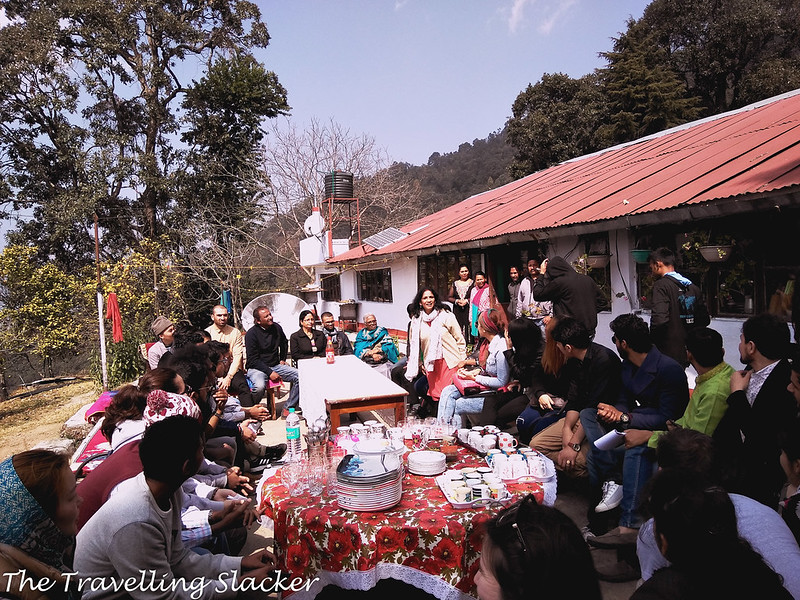 Desmond Birkbeck
and his family was the host for the day for the delegates of the conference who were being given a tour of the tea gardens. Desmond's family has been involved in this trade for several generations and working with the Uttarakhand Tea Board to revive the fortunes of Kumaoni tea. However, even before a hike through the tea gardens, we got a chance to explore the estate of the family, that is more like a agricultural utopia for mountain lovers. Blooming mustard fields, peaches, pears, malta (a citrus fruit) trees bending over  with the weight of ripe fruits were enough make the delegates delirious. Everyone was treated with pancakes homemade jams from the fruits from the farm and of course, local tea. Later one, we did take that hike through the tea garden. Such walks are not new to me but occasional rhododendrons, which seemed to be blooming a bit too early in February, was a surprise addition to the garden.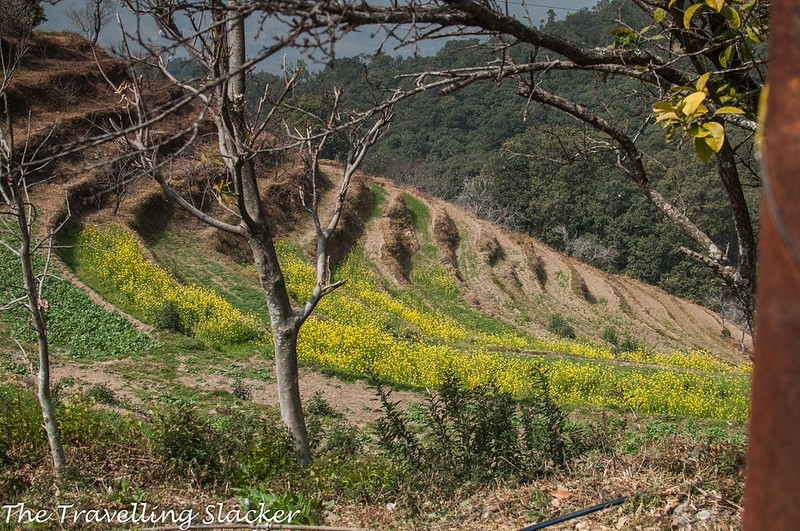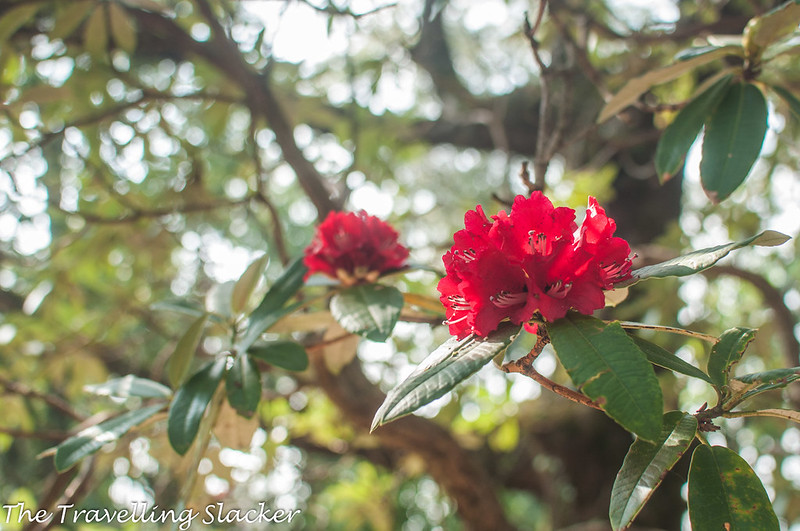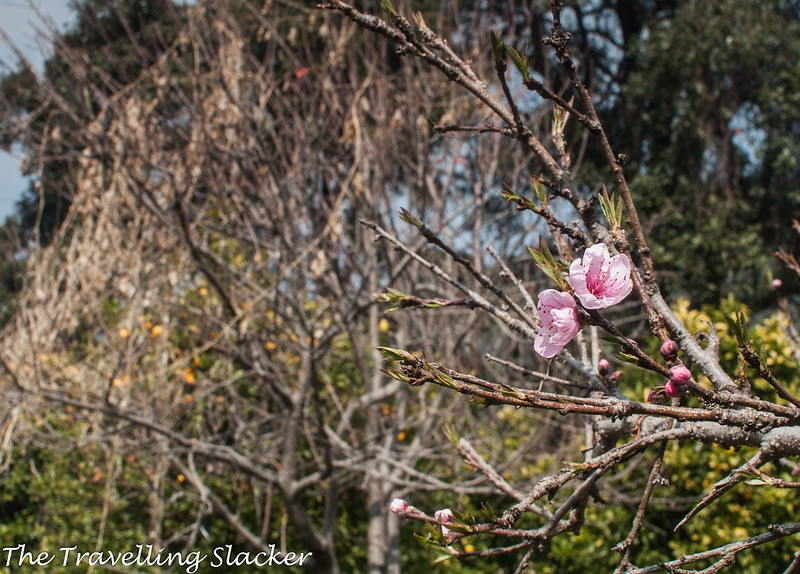 Baleshwar Temple and other archaeological remains
As I have mentioned before, Champawat was once the capital of Kumaon Kingdom. There are several ancient temples spread around the district. While I could not visit them all, I managed to visit the Baleshwar Mahadev temple, one of the most elaborate temples I have come across in the hills. According to ASI, this group of temple was constructed in the 14th Century by the Chand rulers. I have seen many medieval temples in Himachal and Uttarakhand but this one is unique because the unique structure. Also, there are hundreds of sculptures scattered around the complex. They reminded me of some places in Rajasthan and Madhya Pradesh and I definitely beyond my expectations. There is also a "Naula", a traditional water structure near the temple.  It is built below the ground level and the water oozing from the ground is collected. Another site that I could not visit in town is called the Chabutra. It is a highly ornamented structure with a  Chatri. The exact purpose of the Chabutra is not known.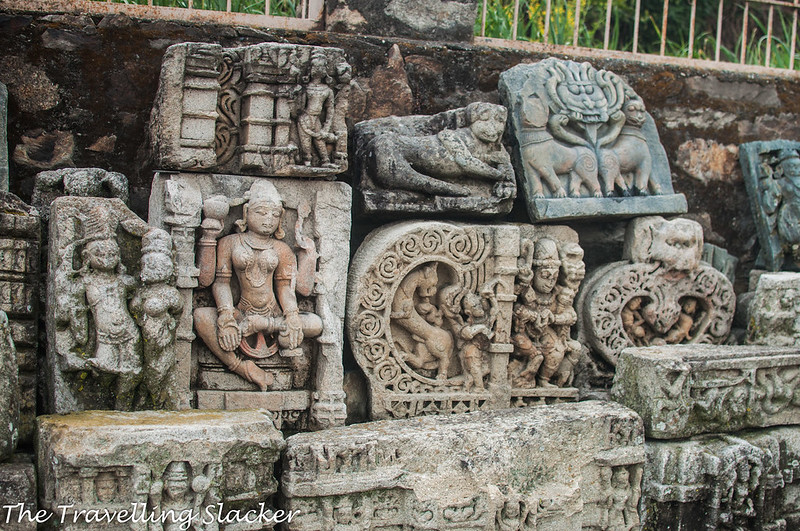 Abbott Mount and Mayavati Ashram
Lohaghat is another town, just 13 Kms ahead of Champawat, which is the base for two important attractions in this region, Abbott Mount and Mayavati Ashram. I managed to visit both as I skipped one meeting and set out with a couple of other guys I'd befriended at the conference. However, my trip was not as satisfactory as it should have been.
Abbott Mount is around 7-8 Kms ahead of Lohaghat, followed by a short hike to the hilltop. The primary attraction here is the great 360 degree view of the snowy peaks that it provides on a clear day. Sadly, that also means that it is completely dependent on the weather. The day I went was a strange day. It was a sunny day but the sky was dull and somewhat hazy. Not a single peak was visible in the horizon. Maybe this is why the dry and dusty spring is considered off-season in these parts. Apart from the peaks, Abbott Mount has a few graves and a piratically abandoned church that can help conspiracy theorists to concoct one of those haunted house stories. Actually, the place is named so because of the Abbott family who tried to settle here. They are the ones who now rest under those graves.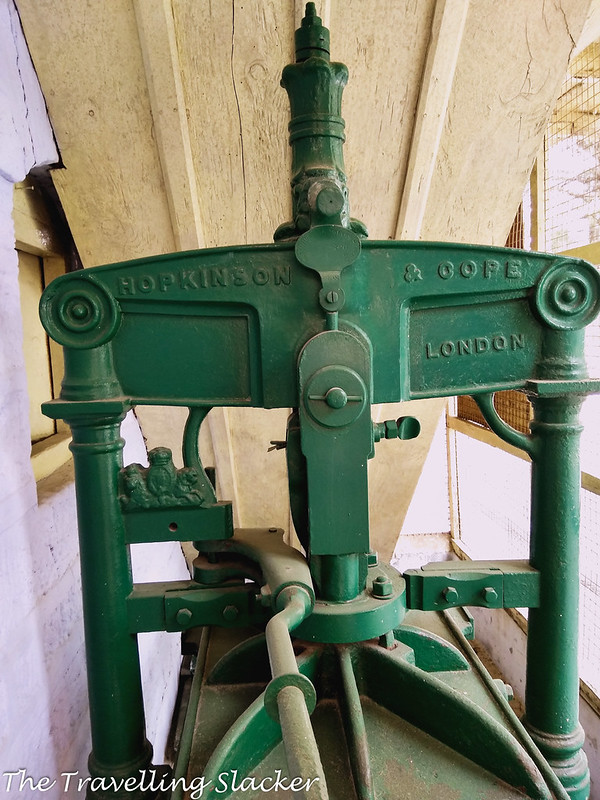 We returned to Lohaghat quickly, by taking a lift on a truck. Mayawati Ashram is around 8 KMs but there was no public transport available. We finally hired a guy, who ran a garage by the side of the road, to take us there and drop us back. He charged INR 400. I would not have done it alone but it got divided between three people so it was tolerable. It was a nice drive through pine and rhododendron forests and we reached in quick time. This Ashram was envisioned by Swami Vivekananda and built by a couple of British disciples of his. It is a beautiful compound but sadly photography is not allowed inside. We met Swami Narasimhananda, who is the editor of the magazine published from here. In fact, this has been a major publishing center for more than a century now. We also saw an old printing machine that has been preserved for everyone to see. We had a good conversation with Swamiji. Somehow he asked if I was a blogger (no one in my family has ever got that right). So, I guess the power of spirituality is not to be underestimated.
So, I spent around 5 days in Champawat and then left for Pithoragarh, which is higher up in the mountains. I am aware of the confusing tone of this article but that was because I was trying to cover several aspects of the place. The conference of sustainability is a good initiative and I hope they continue the work. What I could understand is that this region, just like most other Himalayan regions, is a fertile stretch with a lot of potential in terms of agribusinesses and tourism. As of now, not too many people are visiting it but I can see that improving in the next few years. One thing that can help this process is better availability of information, and the development of affordable homestays in various strategic parts of the region. I don't know about the latter but I can take care of the former through this guide below.
Champawat DIY Travel Guide
How to reach Champawat?
The best way to reach Champawat is via Tanakpur , which is one of the lesser-known rail stations in Uttarakhand. It is actually not far from Nepal Border. Unfortunately, it does not have any direct connectivity with Delhi but is connected to larger cities of UP. Easier way is to take a train to Rudrapur (Delhi-Haldwani route), bus to Tanakpur, and then a shared car to Champawat which is around 75 KMs away from there.
Where to stay in Champawat?
There are at least a dozen low to mid-range hotels in the town with decent facilities. I am not aware of any homestays or fancy resorts as of now.
What to see in Champawat?
Baleshwar Mahadev Temple and Chabutra (archaeological site within town)
Abbott Mount (20 KMs via Lohaghat, small hike and views of Himalayan peaks on a clear day)
Mayavati Ashram (22 KMs via Lohaghat, preserved memories of Vivekananda and a good place to meditate but you will have to book in advance if you want to stay in the ashram).
Banasur ka Kila (A short hike to the remains of an ancient fort near Lohaghat. There are many myths associated with it.)
Tea Gardens and Farms around the town. You will need a local guide to find them though.
Pancheshwar (52 KMs from Champawat, a small town with a temple in the Nepal border. Great views of the confluence of rivers Sharda and Kali).
Patal Bhuvaneshwar
(106 KMs) is known for ancient limestone cave temple, numerous treks and village tourism.
Phone and data connectivity in Champawat?
Most major connections should work but the signal strength may fluctuate at times.
Should I carry my Old Monk?
There are wine shops in the market although the availability of particular brands could not be ascertained.
Where to go after Champawat?
This is only the beginning. After this, you can move on northwards to the
Pithoragarh
–
Dharchula
–
Munsiyari
circuit.