I am no stranger to either Chopta or Rhododendrons (Buransh, बुरांश). In fact, I had done the Chopta-Tungnath trek way back in 2014 and this time I was just passing through the road without any expectations. But now I am having to write about it again because in a matter of an hour, I got the best views and best pictures of this entire spring.
I have often felt that I have grown more and more cynical and misanthropic over time. Few things excite me, especially when I am visiting a place for the second time. However, there are days when I feel better as I get an unlikely spring snowfall, pink and red rhododendrons in the same frame, that too with white icing on the top, along with crystal clear view of the Chaukhamba in the horizon. This was that kind of a day!
Before this, I'd had a mostly disappointing trip around Kumaon, where dull and dusty sky obscured all the peaks and returned a huge number of disappointing photographs. I crossed over to Garhwal via Gwaldam & Karnaprayag and reached Gopeshwar. I was not exactly sure what to do at that point but Travelshoebum was nearby and he suggested another round of the area, including a couple of secondary treks that I had not done before. I will write about the other treks later on but let us now focus on Chopta.
Our host for the day was Pushpendra Rawat who runs PeaceTrips, a traditional mudhouse turned into a homestay near Chopta. I met with the rest of the team at Gopeshwar, did another trek (will be discussed in a seperate post), and then moved on to Chopta towards the evening. It was sunny in the morning but the weather had began to deteriorate by afternoon and it started raining during our final stretch. Chopta is actually at a significant altitude of 2680 metres compared to 1500 odd in Gopeshwar where we were in the morning. So, it was predicted that there might be a snowfall in Chopta but I was doubtful about the same. However, very soon, we began to notice that layer of white on the conifers at a distance as the car moved on. Finally, after one last sharp U-turn, the road suddenly turned white.
It was pretty dark and still snowing. I was completely unprepared for the cold and the freezing wind made it worse. The location for the night was located a bit downhill from the road. We left the car and walked as fast as we could and finally reached the mudhouse. A fire was lit inside but it took a lot of time before I felt normal again. Miraculously, the weather cleared after a couple of hours and we had a great view of the starry sky. It was too cold to stay outside but we knew that the next day will be better.
I woke up early the the next day and it was all sunny but the landscape was still white. I even spotted a couple of vultures that morning, soaking up some sun after a cold night. This area is more famous for Himalayan Monals. I could not see them but I was not bothered because I had seen enough monals back in 2014. The there were several things in mind and it was not sure where we will be by the end of the day. Eventually, we ended up walking to Chopta, reach Sari and complete the Deoria Tal Trek, climb down from Sari to the main road, reach an obscure village (whose name I don't remember) near Kartik Swamy Trek, to be hosted by complete strangers by the end of the day. But these are very long and eventful stories that will require a seperate post.
So, our mudhouse was actually located 2.5 Kms before Chopta. We bad adieu to Pushpendra and rest of the guests and started walking towards it because there was very limited transport available in that route and in that weather. We tried to get lifts but nobody stopped. So, we started walking, carrying all our luggage. It was sort of an ordeal but with every step, I began to sense that something more interesting was in store for us at the end of the walk. I took out the camera and started clicking some pictures. That is when I noticed a solitary pink rhododendron tree obscuring my landscape.
A few more steps and one more turns later, we suddenly arrived at the rhododendron territory and that too primarily pink ones! On all the previous occassions, I have mostly found red rhododendrons including my last Chopta-tungnath trek, and some other treks such as Rashol & Tirthan. But in this stretch, there seemed to be an explosion of pink, although the reds were present too. I kept walking awkwardly, carrying two bags on my shoulder and clicking photographs at the same time. It was a tiresome process because the walk was somewhat uphill. But then, one is not always forced by circumstances to the right place at the right moment. When I think of it, even if we'd managed to get a lift, we would have missed out on this opportunity!
We took one last 90 degree turn and our jaws dropped and touched the ground. We'd already seem more than we could have asked for but now we could see the Chaukhamba looming large over the valley and a lot of assorted peaks in the horizone while the rhododendrons were still covering the foreground. This stretch was still a bit higher and the snow had not melted here yet. So, most of the flowers had a delicate icing above them.
——-
Also Read: Chopta-Tungnath & Deoriatal Guide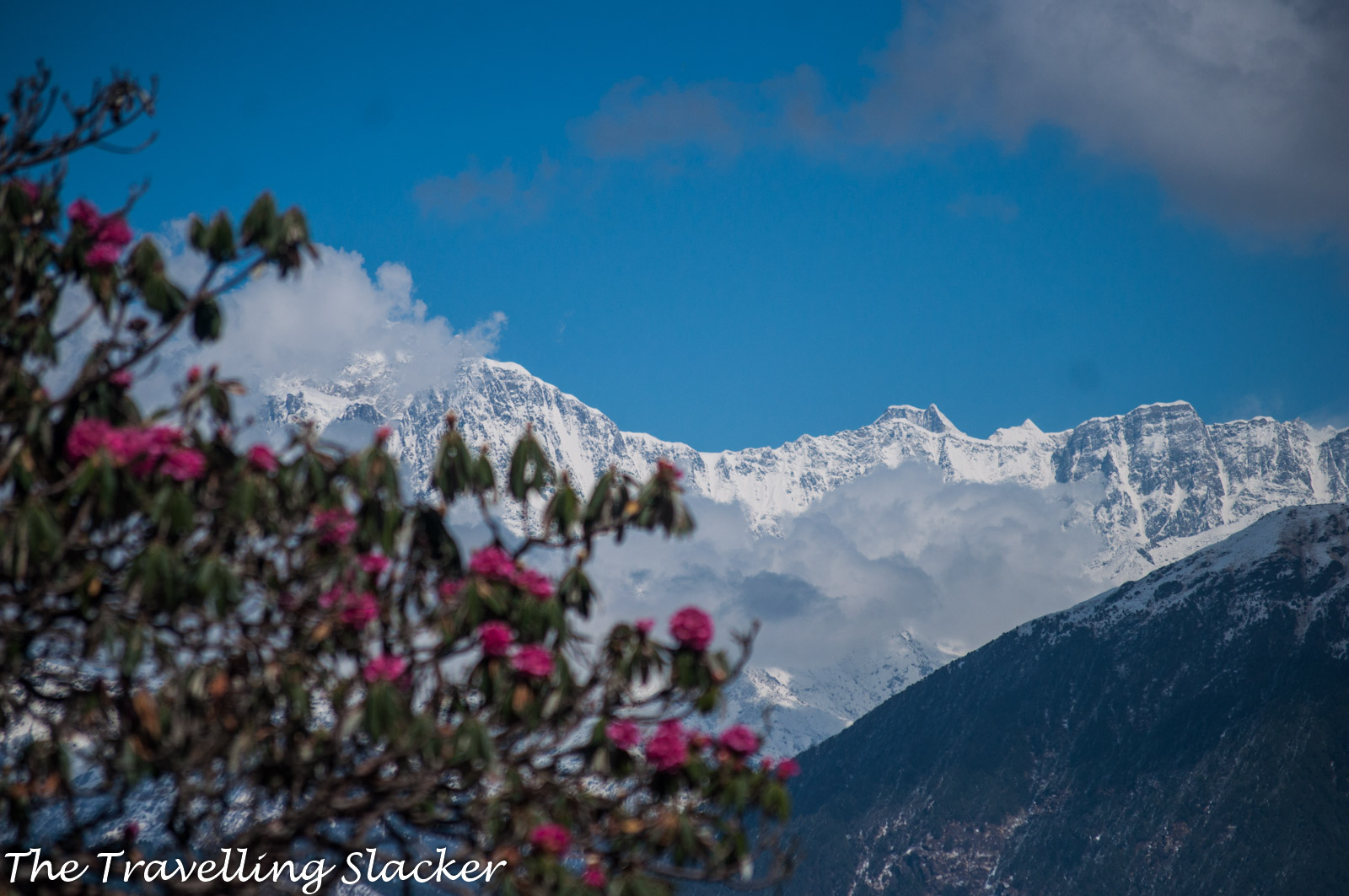 We took more than two hours to cover that stretch and reach Chopta, which was packed with tourists already. But interestingly, the other side of the road leading to Ukhimath had none of these blossoms. Ideally people arrive from that side only so I guess many of them probably missed out on what we witnessed.
Earlier, I was actually considering doing the trek to Tungnath again but I'd already got more than what I wanted in terms of frames and so gave up on that plan, bought a bottle of rhododendron juice (what else?!) from one of the roadside stalls, and moved on to the next destination which will be recounted in some other post. The only other thing I want to mention here is that Chopta seem to have grown quite a bit since I last visited it. I barely remember a few restaurants and a couple of lodges back in 2014 but this time I saw a huge number of facilities along the road from Ukhimath. Visit it before it gets too popular.
This area is also on the route to Kedarnath, once of the moist important Shiva Temples in the world. I think next time I will go all teh way to Kedarnath too. Till then, you can read this Guide to Kedarnath Temple.
Nevertheless, I still think Chopta remains the best easy trek in the Himalayas that anyone can enjoy. Here is a list of other such Himalayan Treks in India you may try this season.