Munsiyari is a place that I had been avoiding for a long time, mainly because of the sheer distance. A standalone trip only to Munsiyari was never considered because that would have been too time consuming but this time I was finally in Kumaon region for a long time, without any definite plan and more than a month ahead of me.
Champawat was a surprise and after that I quickly reached Pithoragarh. But the flu (or whatever that was) worsened and I got stuck in Pithoragarh for a few days, taking medication and hoping to recover. The Holi was spent there in a frustrating manner, without achieving anything. After that, I finally felt a bit better, and one morning found a shared car to Munsiyari. Buses are not very frequent in these routes and shared cars cost more than buses but I had no option.
We reached a place called Thal after a few hours. It is a small settlement, but an important meeting point of various routes. This is where I realized that my car only intended to come till here although he promised me Munsiyari. I had to shift to another car and resume the journey. The next stretch was as slow but the altitude increased and views got better. We passed through a stretch of Rhododendrons, mostly pink ones, just before reaching the town. I made mental plans to return to this spot later on. I also came accross a man enjoying siesta under a blooming cherry, peach or apricot tree. Somehow he reminded me of myself. Not sure why.
As we reached Munsiyari, the weather was beginning to deteriorate. I wanted to quickly get into a hotel, there were a too many around the bus stand. It was still the off-season and the town had a sleepy look and most hotels seemed empty and desperate for customers. I walked into one but I started regretting it because it looked too fancy for my budget. They quoted INR 1000, I walked out saying it is beyond my limits. But the manager asked what my budget was. I said 500 and he agreed immediately because I was the first customer of the season. I should have said 300.
After settling down at the room, I went out to have a walk but the weather had deteriorated even more. A light drizzle had started, it was bitterly cold, but more importantly, all the peaks on the horizon had been obscured by dark clouds. I decided to quickly visit one of the main attractions in town before it is too dark. After talking to a few locals, I zeroed in on the Nanda Devi Temple.
It is around 3 KMs away from town. After a bit of confusion I found the way and started walking briskly. Now, Nanda Devi practically rules the skyline throughout the northernmost areas of Uttarakhand. I have been to the higher areas of Garhwal, visited Valley of Flowers, which is a part of Nanda Devi Biosphere Reserve, but on Kumaon side, it was the first time I had come that far. Regulars of high Himalayas know that Goddess Nanda Devi is not easy to please. Many acclaimed mountaineers have found it out the hard way. I am never even going to try that but even a mere view of the peak was also elusive, indicating that she was not happy anyway.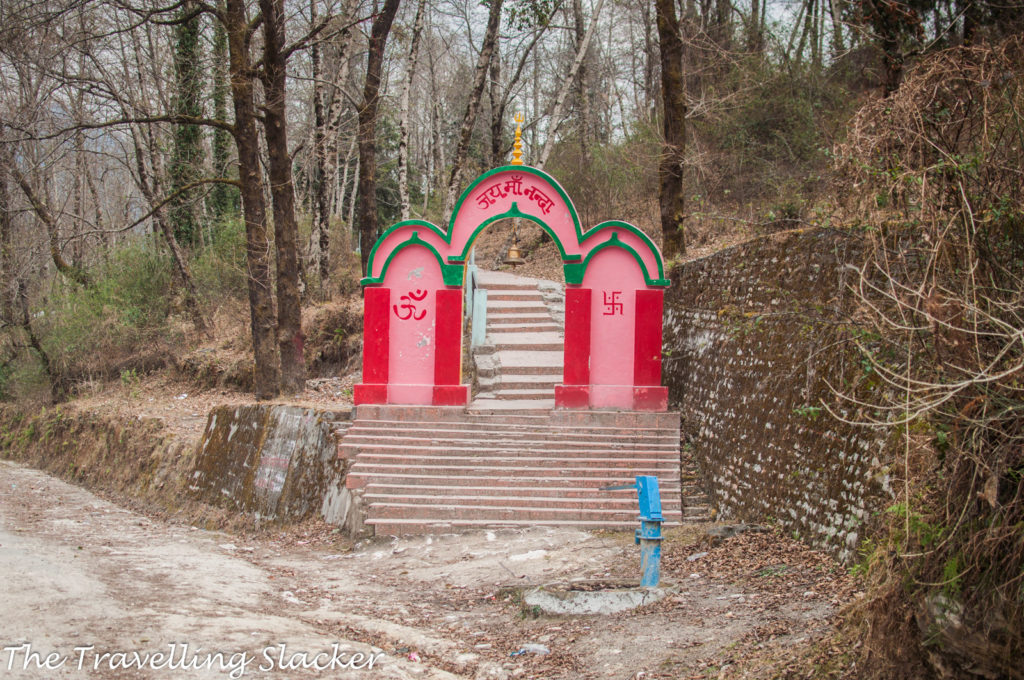 I reached the temple after half an hour. It is a small shrine on the edge of a cliff, offering a great view of the slopes and apparently also of the peaks but I had to do with my imagination for the later part. The shrine itself is a small one. It must have been an ancient site but the temple looked freshly painted, that too with some peculiar Ganesha imagery that points to a more occultist past. The sheer veneration of Nanda Devi is something I find deeply fascinating. I don't think she finds mention in the major religious texts but in this region she rules everything and is considered a consort of Shiva. There are many other shrines dedicated to her in the higher mountains. It is hard to answer. I found this article online that discusses the Nanda Devi mythology in detail but it also raises more questions than answers. I returned from there without much satisfaction and that night it rained heavily.
The next day, I originally planned to go for the trek to Khaliya top, the best known day trek near Munsiyari. However, the weather was even worse. It was bitterly cold and more importantly, none of the peaks were visible. I spent an hour or so, thinking about it, and then eventually decided to give up on the plan, have a slow breakfast, and then figure out what to do.
The rain had subsided by 10 am although the horizon was not clear yet and I had already lost my momentum to revisit the hiking plan. So, I started walking around the town for no particular reason. There are several villages near Munsiyari that are popular among visitors. The routes leading to them can be confusing for a first timer. I can't exactly explain which routes I took but after an hour of walk, I found myself in the outskirts of the town, with a milestone leading towards Darkot village. Some of the peaks had become slightly visible I could even see a blooming rhododendron that contrasted well with the mustard yellow on the ground.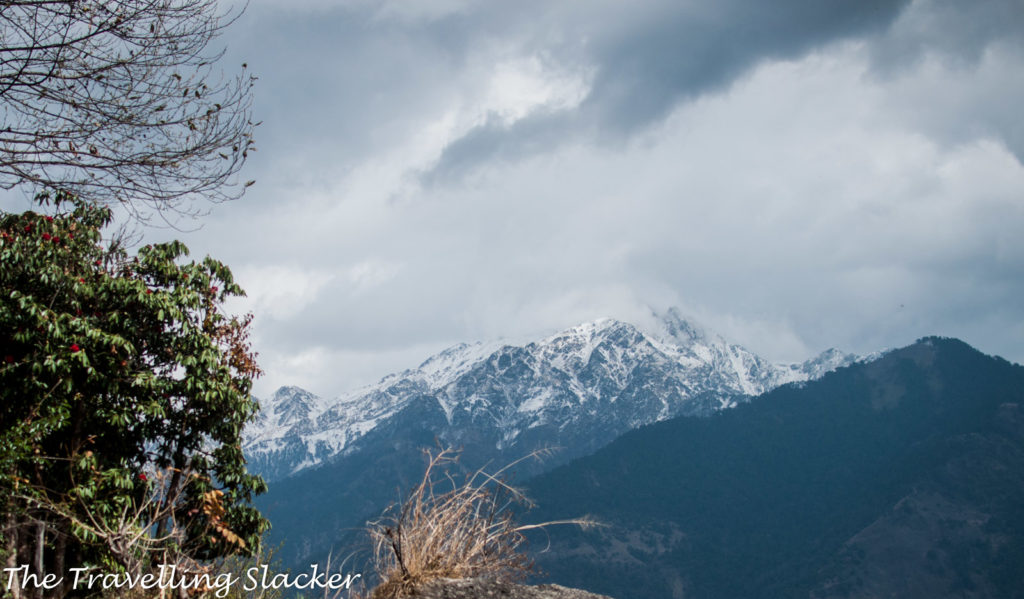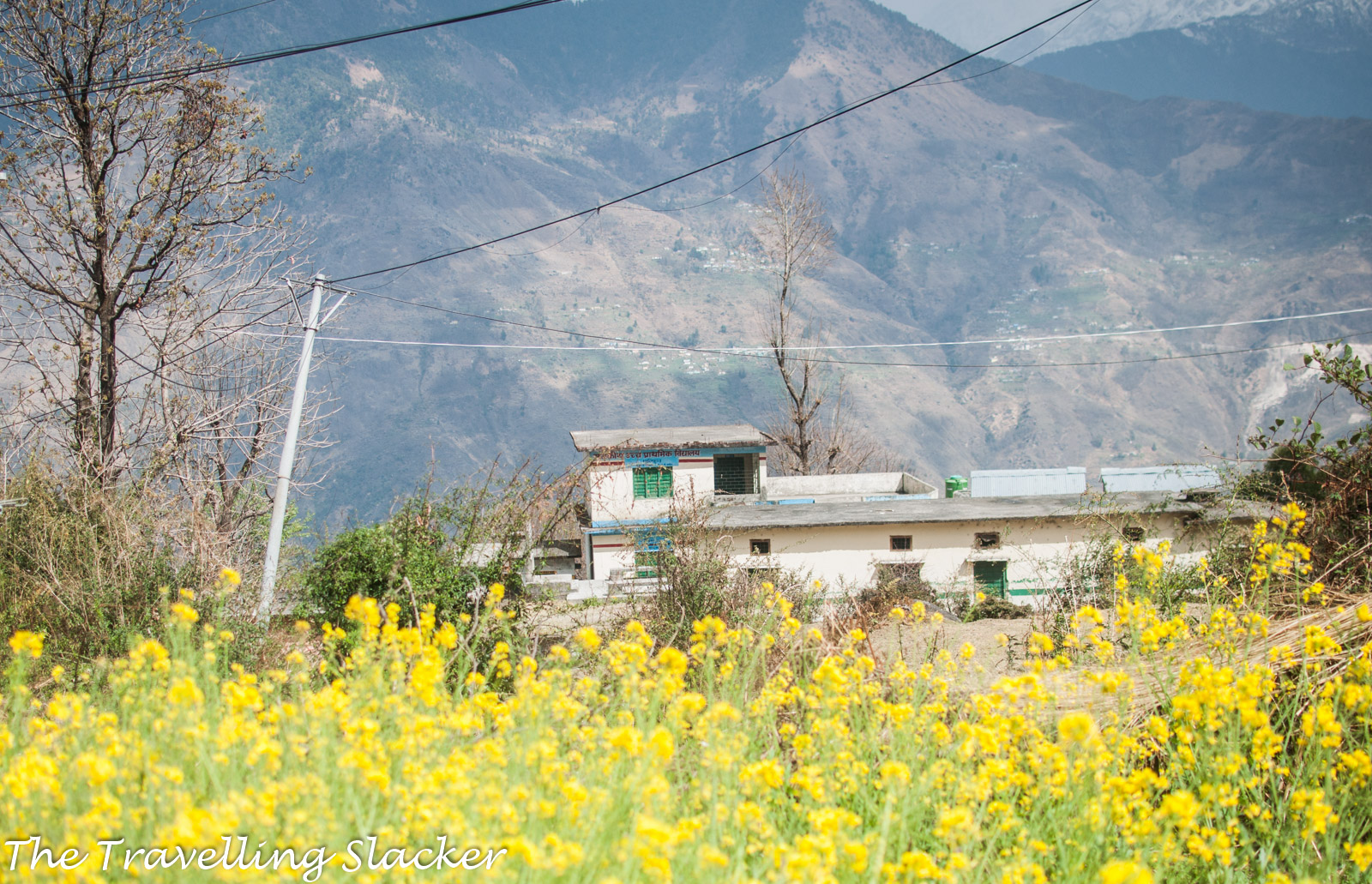 I was briefly entertaining the idea of walking all the way to Darkot and then find a lift back to town later on. However, the sunshine did not last long. The drizzle returned again as I reached a house with a lemon tree laden with fruits. The lemons in Uttarakhand are indeed gigantic, bigger than mangoes. One can only take so many literal and figurative lemons in one day. So, I decided to give up the long walk too and decided to find the museum that was supposed to be within the town itself.
Locating the museum was not easy. It is just another of those local homes, that is hard to spot from a distance. Although Munsiyari has a small population, the houses are spread all over the hills. The museum is a few Kms away from the main market and takes a bit of effort to find. My first attempts to locate it were not very successful. Locals told me to keep going ahead, but I was not sure if it was that far. However, later on, I accidentally arrived there from the opposite side. I am not sure how that happened but who cares till the goal is achieved?
The Tribal Museum in Munsiyari is actually a private collection rather than an official one. It is the result of one man's perseverance, Dr Sher Singh Pangti, a local scholar who dedicated his life to document and preserve local culture and traditions. There are scores of artefacts, used by local Bhotia population, stored here. Some of these instruments are no longer used in the modern era but they have been stored here with care. Also, it was good to see that they have taken the effort to properly document everything and have published many booklets including travel and trekking guides, and more serious literature about local culture. One can also buy those books from the museum.
I spent a couple of hours at the museum, bought one of the books, and came back. The weather looked slightly better and I got a few landscapes, featuring some unsuspecting locals. Nothing more could be done that day and it rained even more heavily that night. I had other things in mind so I decided to get out of Munsiyari the next day.
I woke up to a brighter day but realized that persistent rains had caused snowfall at night in the higher areas. Although there was no snow in town, I could see that all the nearby hills had turned white. Only if I had stayed another day, I could have done something more exciting. But I had some deadlines and the lack of data connectivity in Munsiyari made it impossible for me to stay for one more day. While coming back, I noticed that the Rhododendron stretch that I mentioned earlier, was completely covered in snow. Sadly, the driver did not care about any of that and passed through the area very fast. I was also sitting in the middle of the car, and could not get a single photograph. This was a great miss and it kept haunting me for a few weeks, till I managed to get even better views of the same in Chopta.
Munsiyari Travel Guide
How to Reach Munsiyari?
Ideally you can reach Munsiyari from Pithoragarh via two routes, via Thal and via Jauljibhi and Madkot. Both routes are around 130 Kms. Pithoragarh can be reached easily from Haldwani-Almora or Tanakpur-Champawat route.
The bus service to Munsiyari is not very satisfactory. I barely saw one or two buses during my stay and I am sure you will not get one when you need. The only option here is shared cars. However, they charge more than the bus and also they keep waiting indefinitely till they find enough passengers to fill the vehicle with 50% more people than the number of seats available.
Where to Stay in Munsiyari?
There are plenty of hotels and resorts in Munsiyari. I found them to be cheap but it was the off-season. It will probably be harder in the summer.
What to do and see in Munsiyari?
Munsiyari is the base to some of the major treks. Milam, Ralam, and Namik glaciers have been favourites among serious trekkers for a long time. There are local hikes like Khaliya Top and Thamri Kund. You will come accross a waterfall at Birthi even before reaching Munsiyari.
Villages near Munsiyari have various attractions. Darkot is known for is weavers while Mudkot has a hot water spring with healing properties. Near the town, do pay a visit to the msueum and the Nanda Devi temple.
How is phone and data connectivity in Munsiyari?
My BSNL data stopped working after Pithoragarh although I could make calls. I think other services perform better. Also, there should be a cyber cafe or two in town in case you need.