After the so-so experience in Munsiyari, I was not sure where to go next. I came back to Pithoragarh and started to plan what to do next. Lack of data connectivity and other issues made it difficult to spend too much time in those areas and I decided to use Pithoragarh, a much bigger town, as a base for a day trip or two. The next obvious option for me was to take the Dharchula route.
The 95 KM long Pithoragarh-Dharchula route is actually an ancient route connecting Kumaon to Nepal and Tibet. Dhardchula borders Nepal and is one of the many border crossings in the region on the banks of rivers, Kali. But even before that, you come across Jauljibi, around 65 Kms from Pithoragarh. This is another border town and another confluence of Kali and Gori rivers. I did not want to spend a night in one of those locations and so I decided to give up on Dharchula, just visit Jauljibhi and come back the same day to Pithoragarh.
One of the problems that I faced throughout my stay in Kumaon is the inadequate public transport. The roads seemed to be smooth but there is a surprising scarcity of bus service. I have found reliable buses on far worse roads in Himachal, which is why this bothered me. The only public transport in these areas is shared cars who charge more than buses and also do not follow any routine. They generally keep waiting till they can pack at least 4-5 people more than the number of seats available and they can keep indefinitely waiting till they get their desired number of passengers.
So, I got onto one such car on one fine morning at Pithoragarh. The car already looked full but he refused to move. We kept waiting for an hour but there was no sign of progress. There were 12 passengers by then but he was waiting for some divine signal. Everyone started to lose their cool. Finally, after 1.5 hours, another customer arrived, with a big goat. He was not going himself, he just wanted the goat to be transported. So, the poor goat was fitted into the limited space available behind the last row and the car finally started moving with twelve angry men and a morose goat.
The initial part of the ride was eventless. I was in the last row and the goat was just behind me, making some painful sounds. I was feeling terrible for it but there was no other option. I don't click selfies as a matter of principle but I tried to click a half one to make it feel better.
The road seemed smooth although I had heard many horrific tales about this stretch. I think the authorities are now trying to build decent roads in these border areas for strategic reasons and a lot of construction work can be seen all along thre road. After a while, the landscape got better as the Panchachulis and a lot of other peaks became visible in the horizon. Sadly the car never stopped at the right moment for me to take photographs but I took some of the moving car.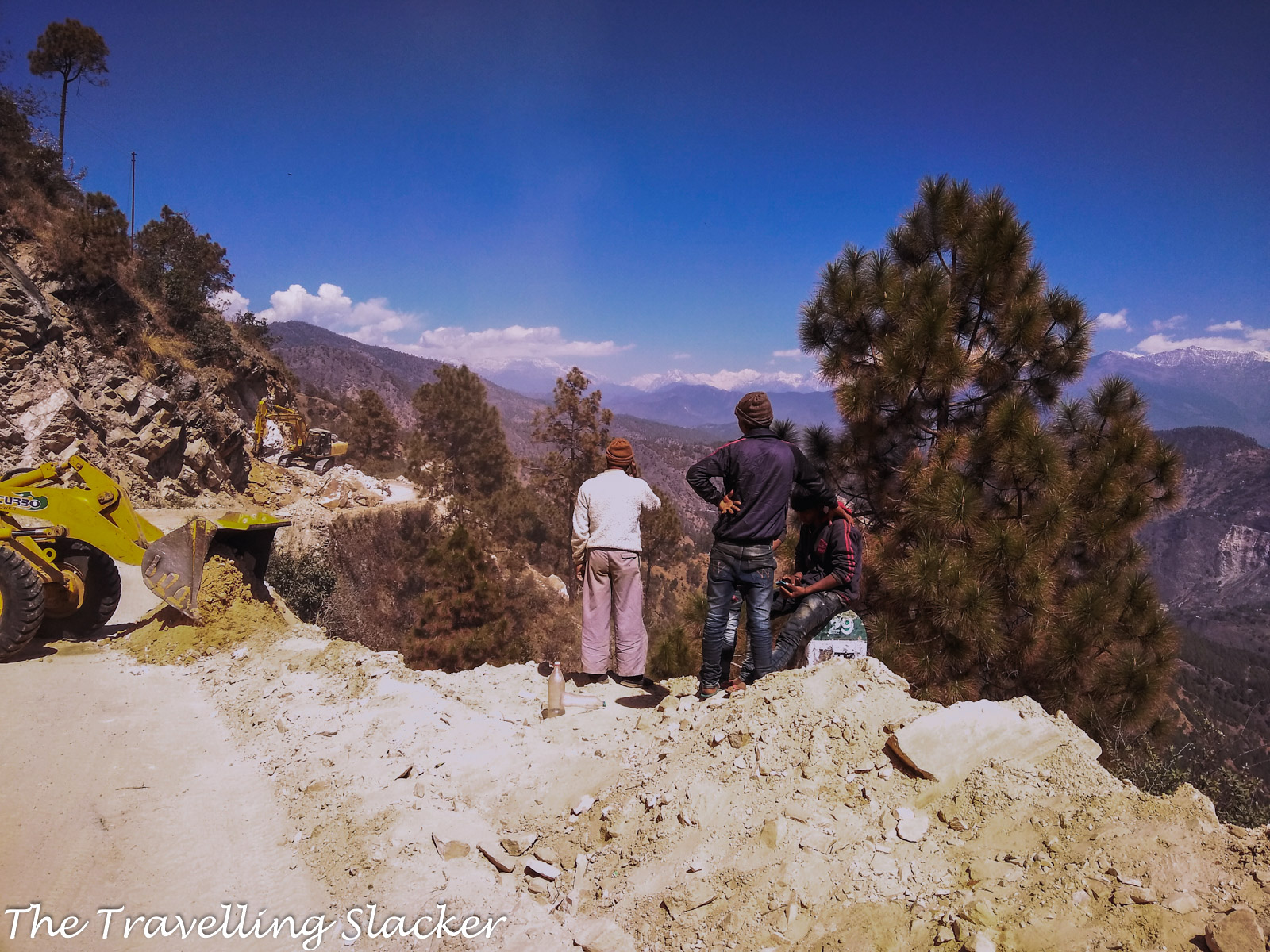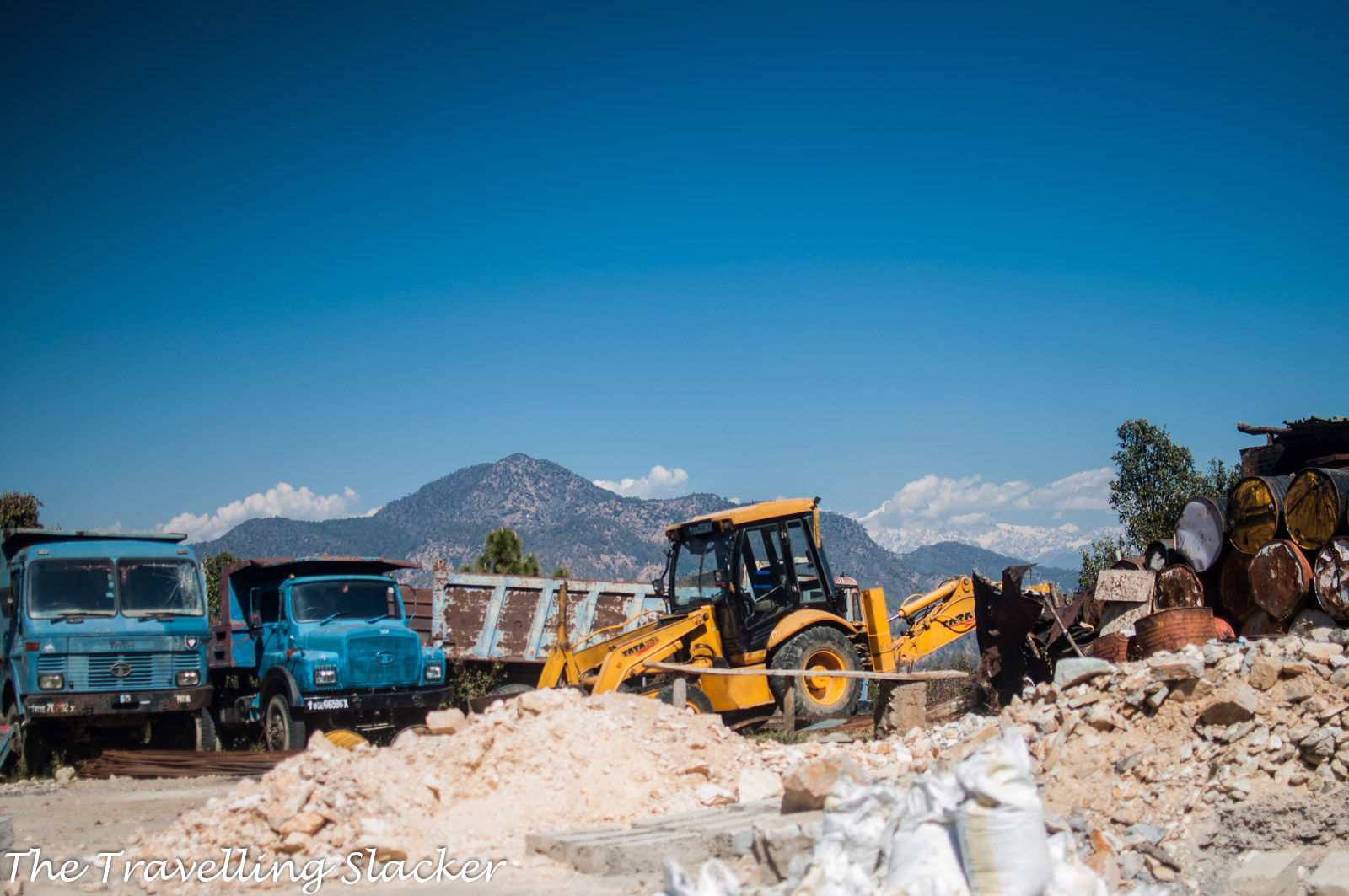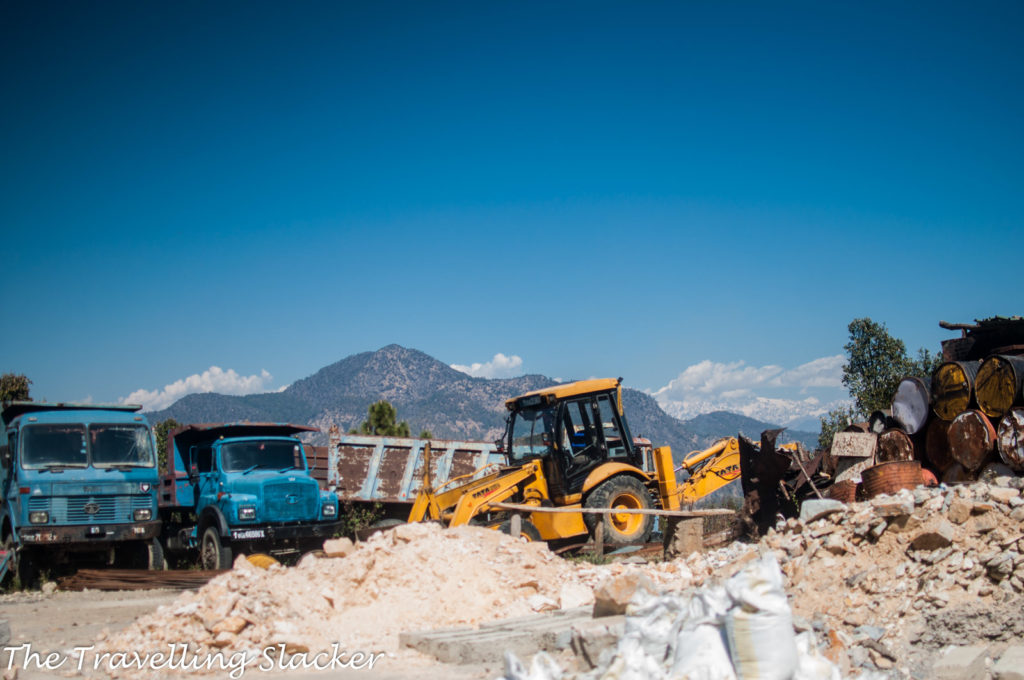 We passed Askot, one of the major villages in the region. I had plans to visit it while returning. But the views of the peaks were excellent at this point. The confluence of Jauljibhi became visible after a while at a distance. Both the rivers were turquoise and the hanging bridge was also clearly visible.
It is located at a significant descent, and I was beginning to feel the difference in temperature as the car reached the town. I decided to terminate my ride there itself while the car moved on along with the goat, who was probably going to end up in some restaurant in Dharchula!
As far as Jauljibhi is concerned, the town turned out to be pretty disappointing. The confluence looks pretty from a distance but the town is a squalid cluster of a few run-down shops and restaurants. The road bifurcates here, one goes towards Dharchula and the other goes to Munsiyari via Madkot. I did not want to spend much time here so I quickly found a way down to the river bank. On the other side of the river was Nepal, and it seemed sparsely populated compared to the Indian side. A lot of people were crossing the bridge, so I guess they do have some village on the other side beyond the jungles.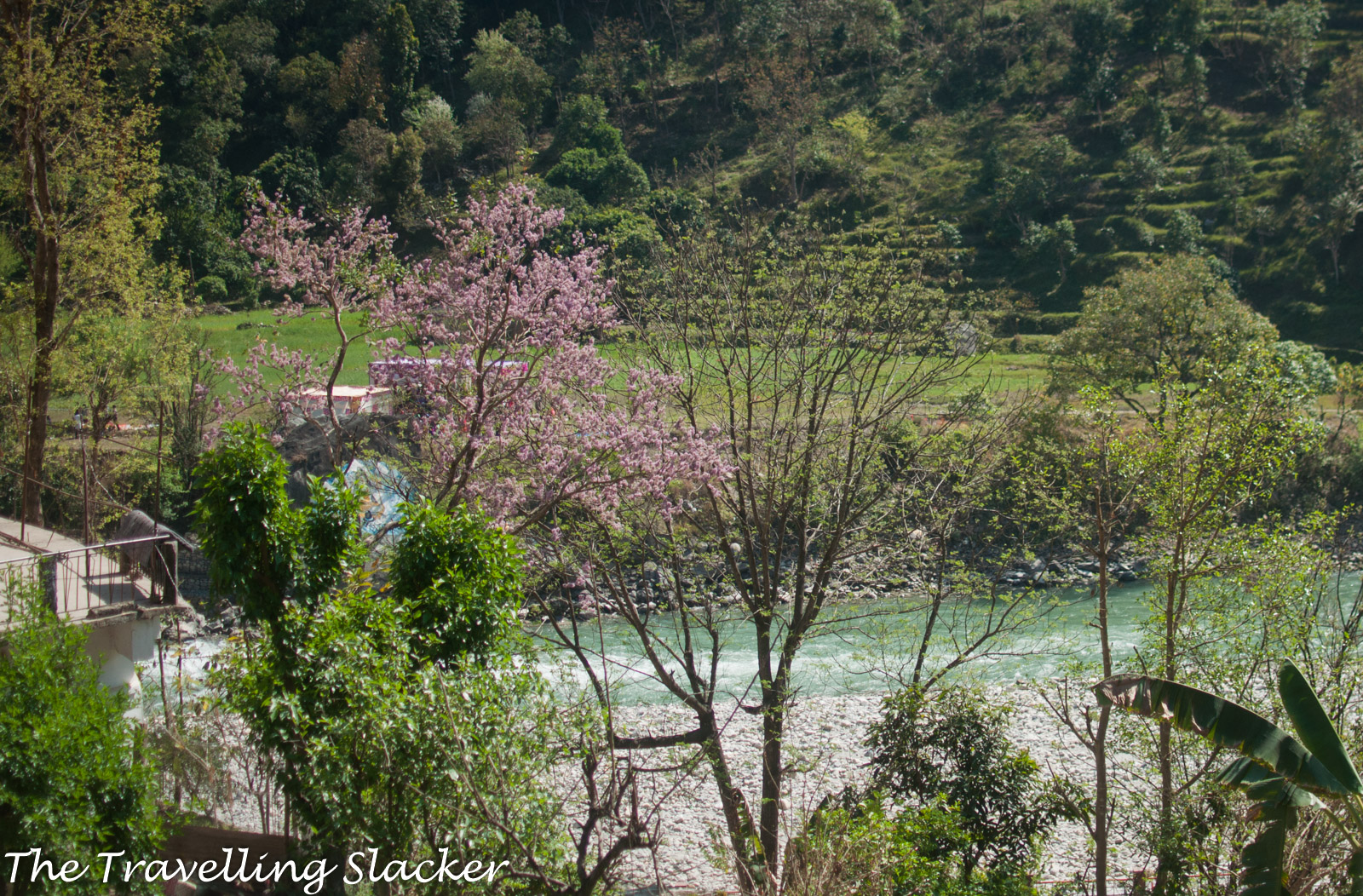 After spending some time on the riverbank, I found a different way up to the entry point of the bridge. It was manned by a couple of guys, probably from the BSF. The locals were passing through but the guards were suspicious of me. They started asking too many questions and were not interested in allowing me to even take a couple of steps towards the bridge. On hindsight, I did the right thing to walk down to the bank and click the bridge from under it. If they had seen me earlier, I would have returned with no photographs.
Anyway, I started my return journey soon. I wanted to spend some time in Askot, so I got into another car, this time without any other species, and quickly reached Askot but disappointment was waiting for me here. This place was looking excellent when I passed through earlier in the morning with a lot of peaks clearly visible on the horizon. However, now I could not see anything. Some sort of haze had developed and there was no peaks were visible although it was a sunny day!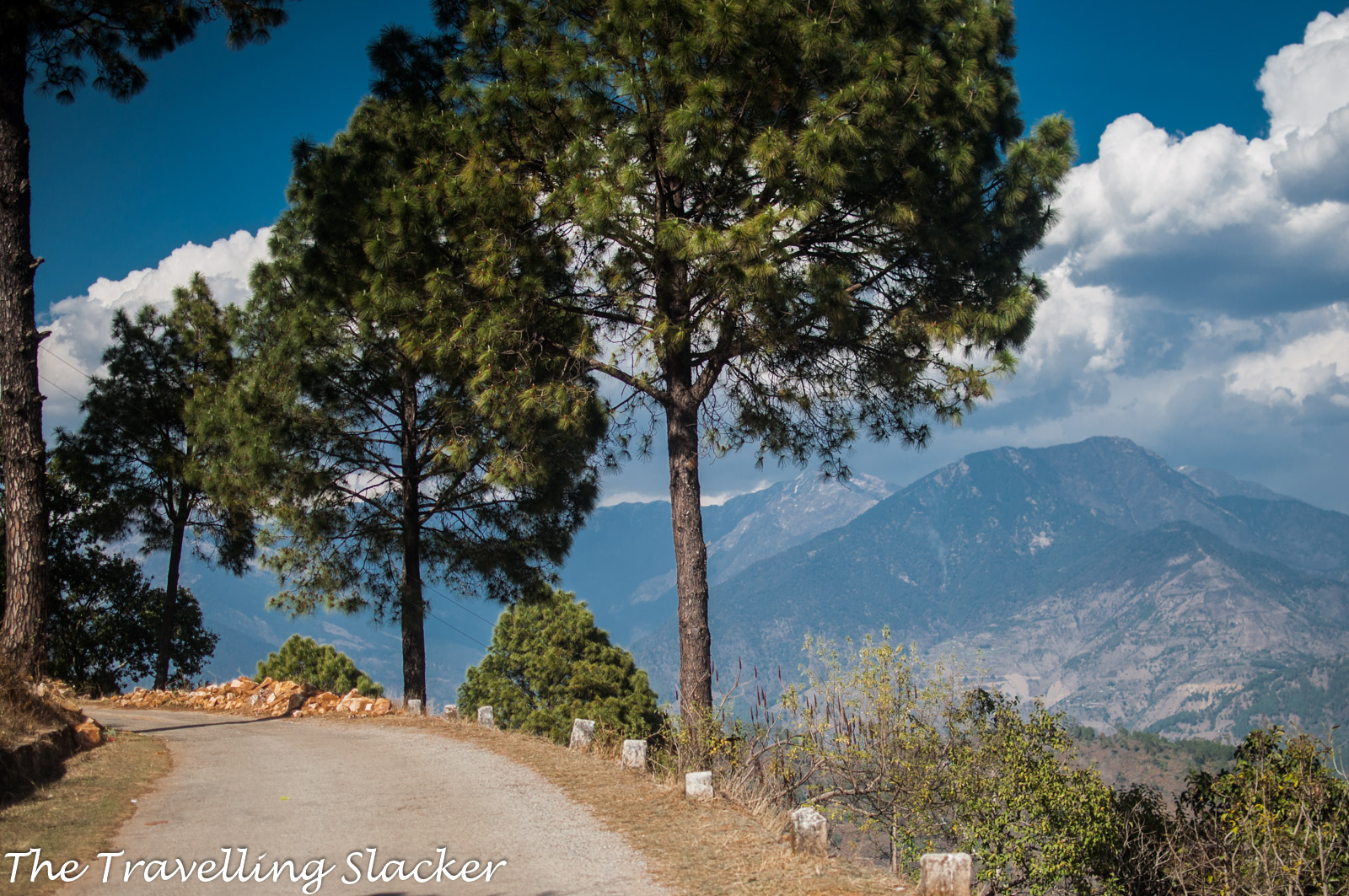 For the uninitiated, Askot does have a colourful history. It even has a local royal family and it used to find itself sandwiched between the powers of Kumaon and Nepal in the middle ages. As of now, it is a reasonably big place, bigger than a village but not exactly a town. The Askot Musk Deer Sanctuary is supposed to be nearby according to the map. However, I could not see any signage or found any information regarding that. As a matter of fact, this area is yet to wake up to the prospects of tourism. I did not notice any places to stay here either although it has a lot of potential considering the setting.
I walked around the village for a while and noticed a signboard of a local homestay. There was a phone number too. I called and they quoted INR 2000 for a night although I could not figure out the location. Anyway, it was too expensive for my means and so I came back to the main road, got another shared car coming from Dharchula, and returned to Pithoragarh.
On hindsight, it was not an ideal trip. I managed to get a basic idea of the route and the places. One can get some excellent views here but only if the weather permits. However, there were some pleasant surprises waiting in Pithoragarh. I'll return with them in the next post.
How to reach Askote, Jauljibi and Dharchula?
You get Dharchula Bound shared cars from Pithoragarh. They are on the same route, will come one after one.
Where to stay in Askote, Jauljibi and Dharchula?
I did not stay but I found one homestay in Askote as mentioned before. Jauljibi did not seem like a place to stay. Dharchula has more hotels but generally, it is only visited if you are planning for the Panchachuli trek or Kailash Mansarovar Yatra.