A couple of months ago, when I was first preparing to visit Sikkim, the pictures of Pelling Sky Walk (or Pelling Glass Walk) started showing up on my social media feed. I had seen similar pictures from China earlier and to be honest, I am not too keen about man-made structure in natural settings and look for more primitive and raw experiences. However, I also know that a lot of people will be interested in it. So, I made it a point to include this in the itinerary so that I can write this post.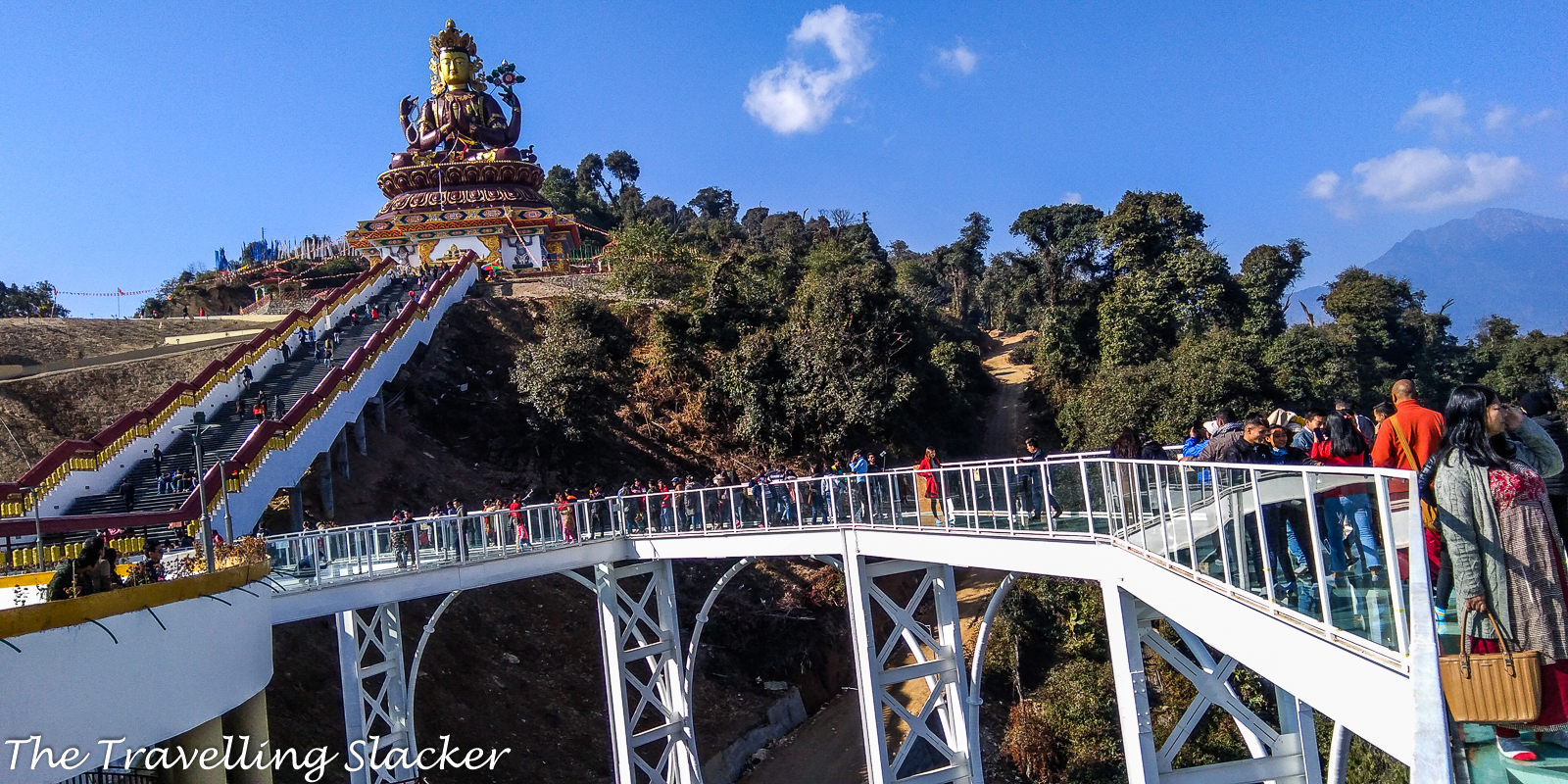 Pelling Sky Walk and Chenrezig Statue
So, we (with Abhinav & Jacomijn) had arrived at Pelling from Namchi the previous day. We had several targets for the whole day, starting with the Sky Walk, which was around 6-7 KMs away from Pelling town on the road towards Dentam. As we arrived, we initially saw a series of those white prayer flags that are omnipresent in Sikkim. In fact, there were two ways, one small hike as you can see in the pictures, and a spiral staircase, obviously a new construction, leading directly to the sky walk.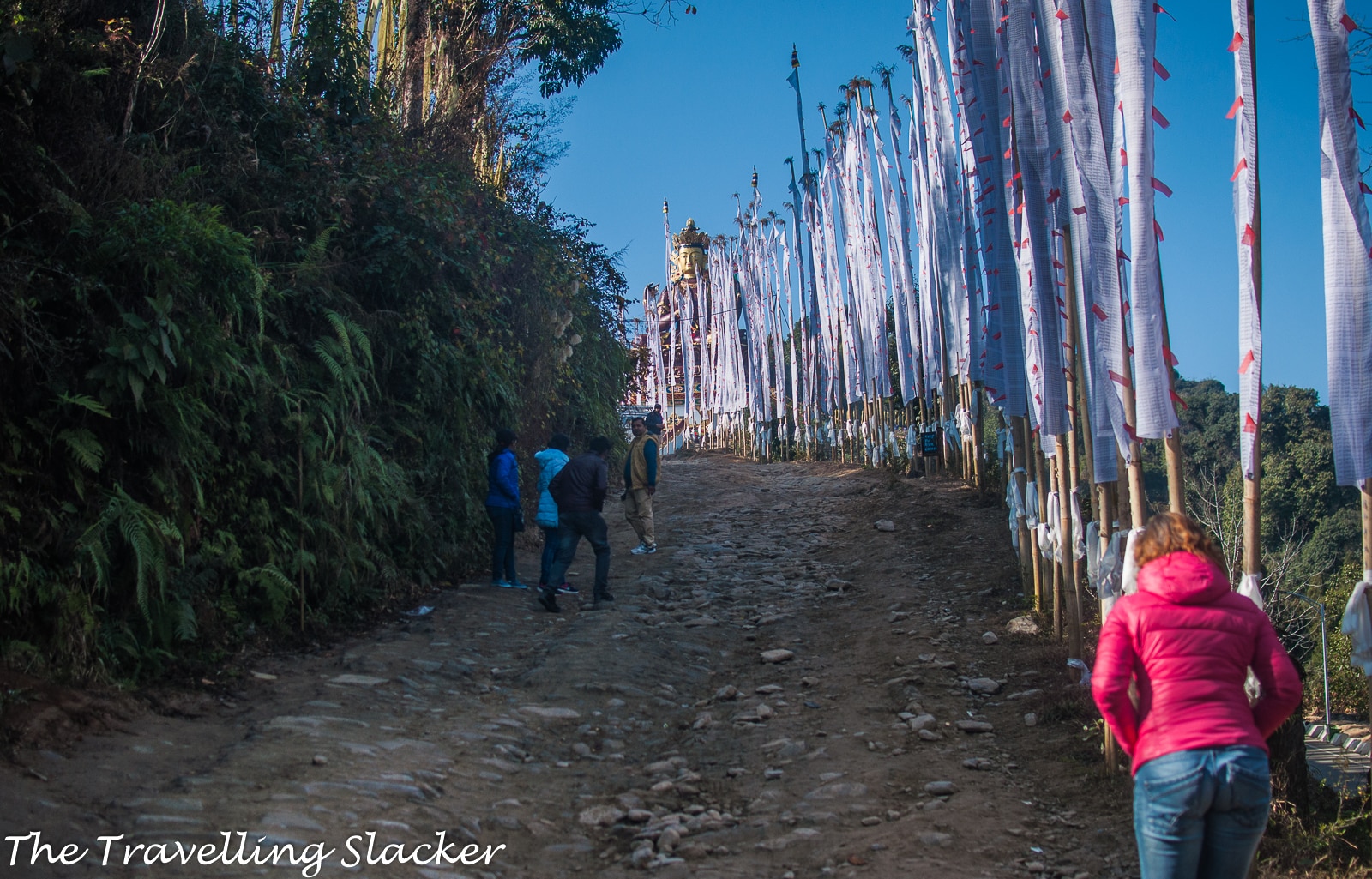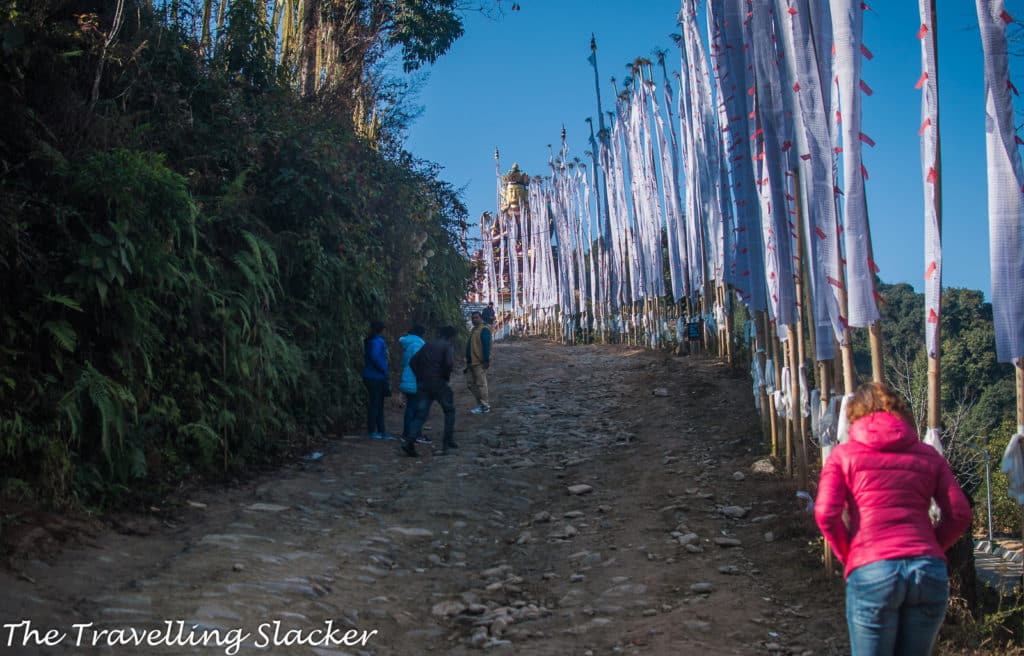 Instinctively, we took the hike, and reached the base of the Chenrezing statue while the Sky Walk was also in front of us. At this point, we finally realized that the Sky Walk, alhough is more famous, is not the primary purpose of this project. It is just an additional attraction but the primary attraction here is the gigantic Chenrezig (Avalokitesvara) Statue. I think it just follows the ongoing trend of building collosal statues of Buddhist figures in the Tibetan Buddhsit areas in India. They can be seen everywhere from Ladakh, to Spiti, to Rewalsar, to Sikkim. I think it is their way of making a cultural statement, considering the situation in original areas of Tibet. This statue is 137 feet tall and you need to climb several stairs to reach it. You can also get better views of the Sky Walk if you climb up a few stairs.  Apparently, it forms sort of a traingle with two other major statues nearby, those of Tathagata (Buddha) in Ravangla, and Padmasambhava in Samdruptse, near Namchi.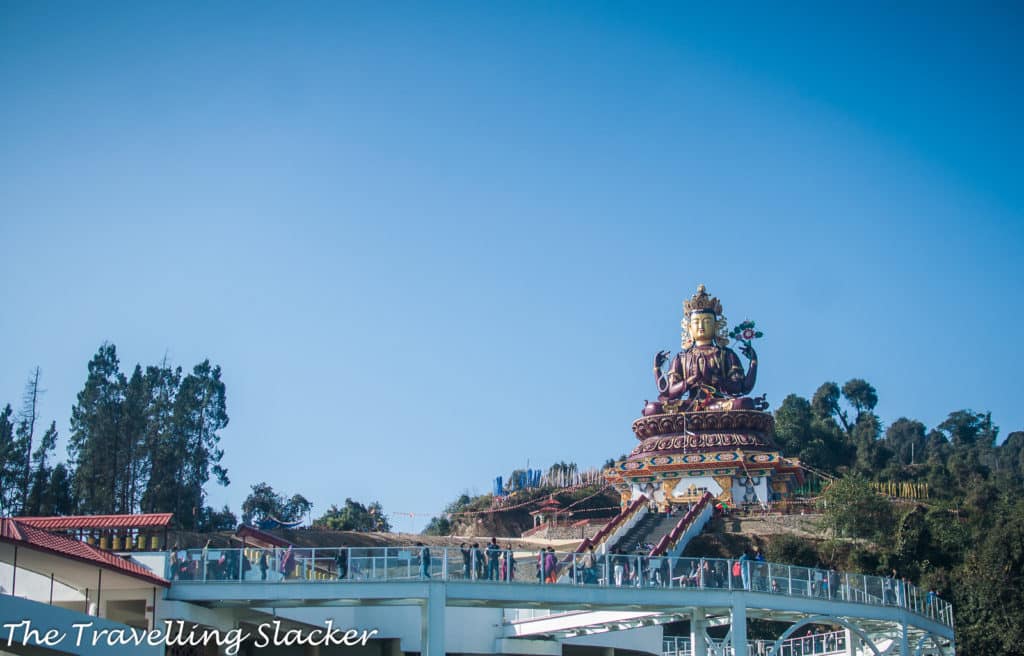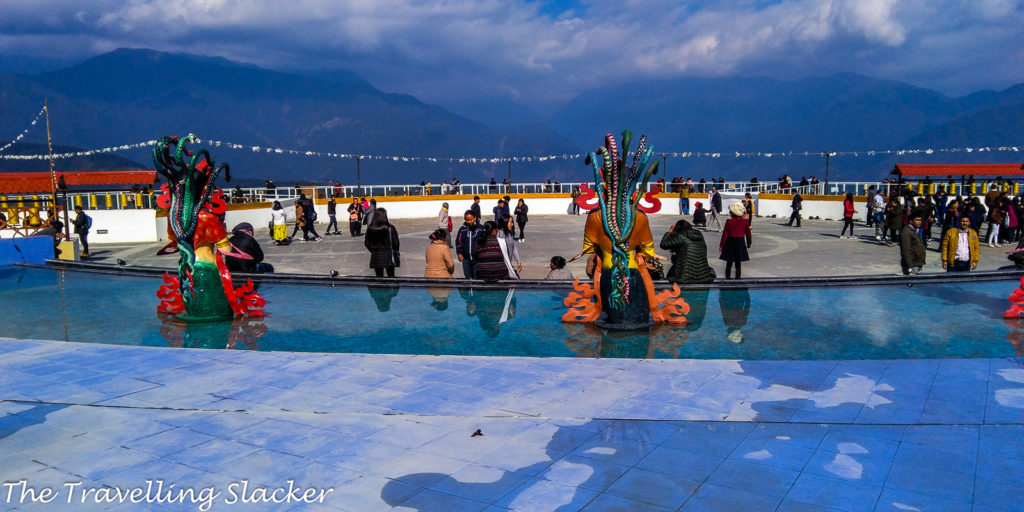 Also read: Rewalsar: Under the Gaze of Padmasambhava 
Coming to the Sky Walk itself, we tried to enter but soon realized that we need tickets. That is why we had to take the official entrance rather than the hike! So, we climbed down the stairs and reached the entry gate for tickets. However, I did not mind it because from that point, I got a few interesting frames of the Glass Walk as well as the statue that would not have been possible from the upper level.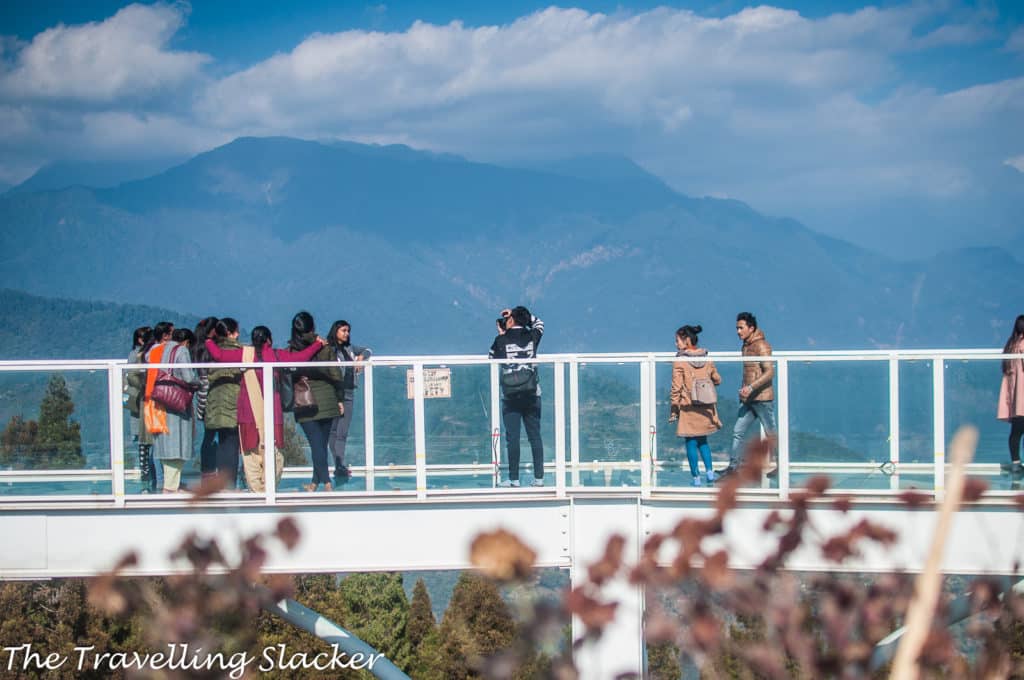 After getting the tickets, we returned and finally took that walk along the glass walk. It was already full with local visitors and tourists alike and was hard getting a clear shot. The road and the cars can be visible at the bottom. I guess, they need to work on the space under the walk and come up with a garden or something to make the bottom view more appealing. Nevertheless, everyone seemed pretty happy.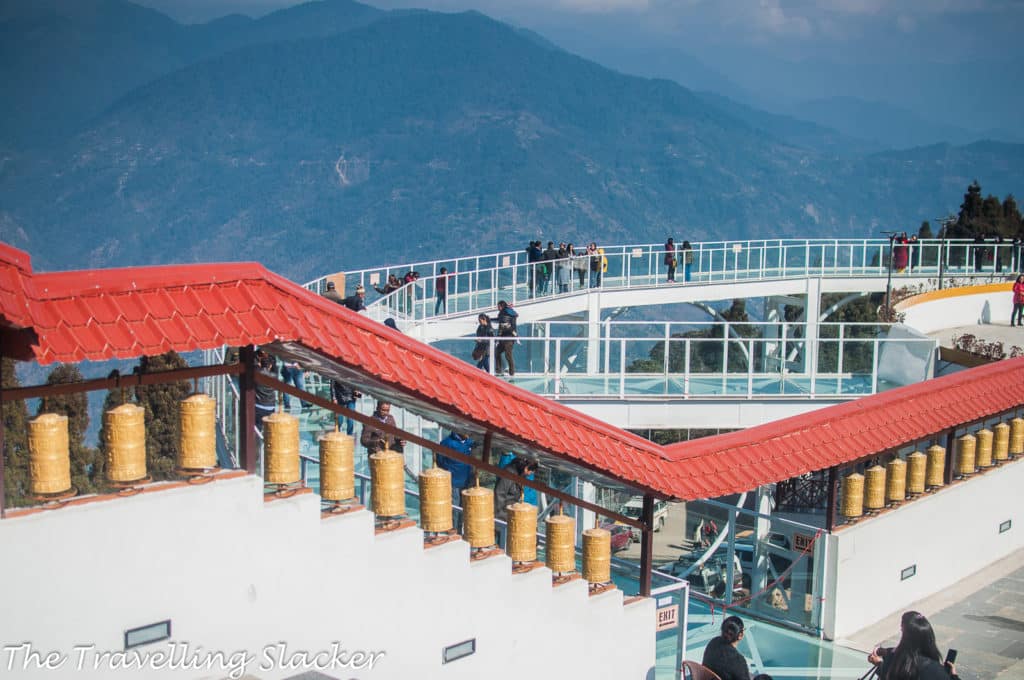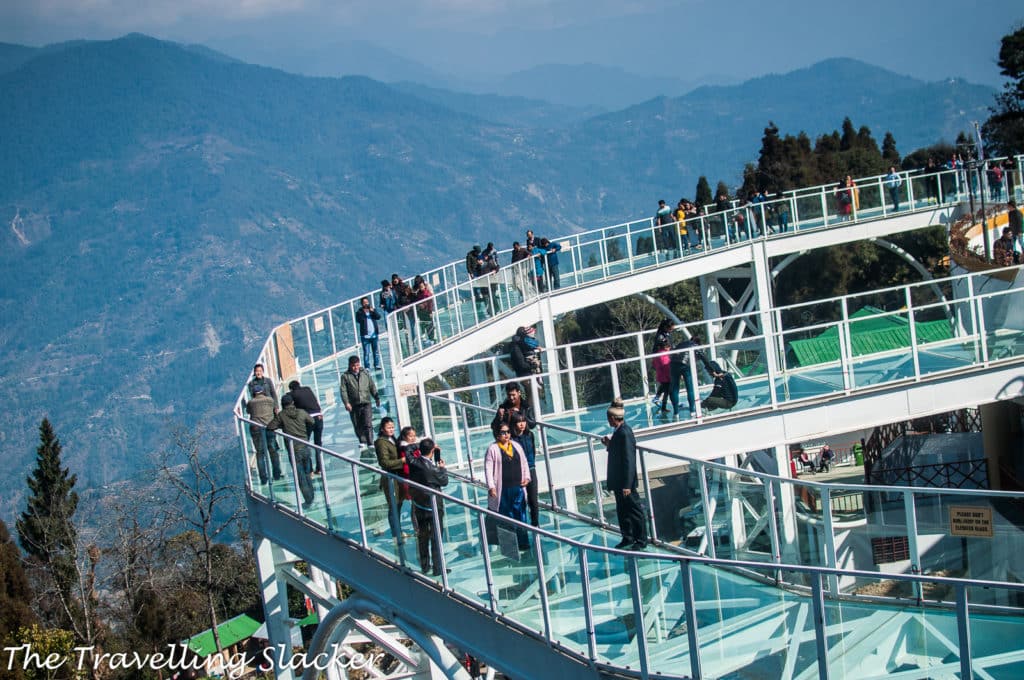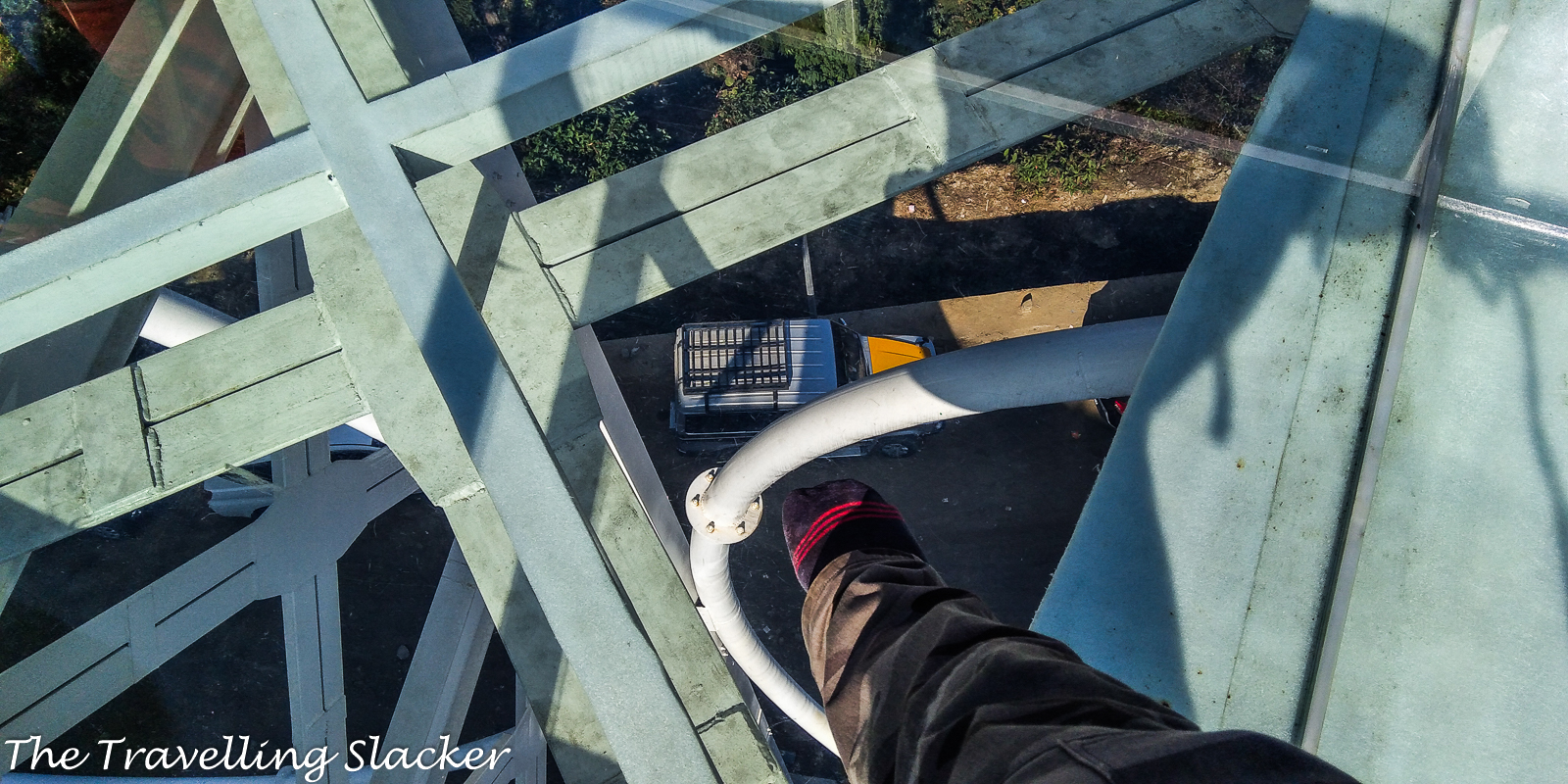 One is also supposed to get good views of the Kanchenjunga and assorted peaks from this point. However, as has been the case with me in recent times, it was just turned out to be the wrong day. It was a sunny day but still the air was hazy and no peaks were visible! Musniyari all over again!
Also read: Mirthless in Munsiyari
Sanga Choeling Monastery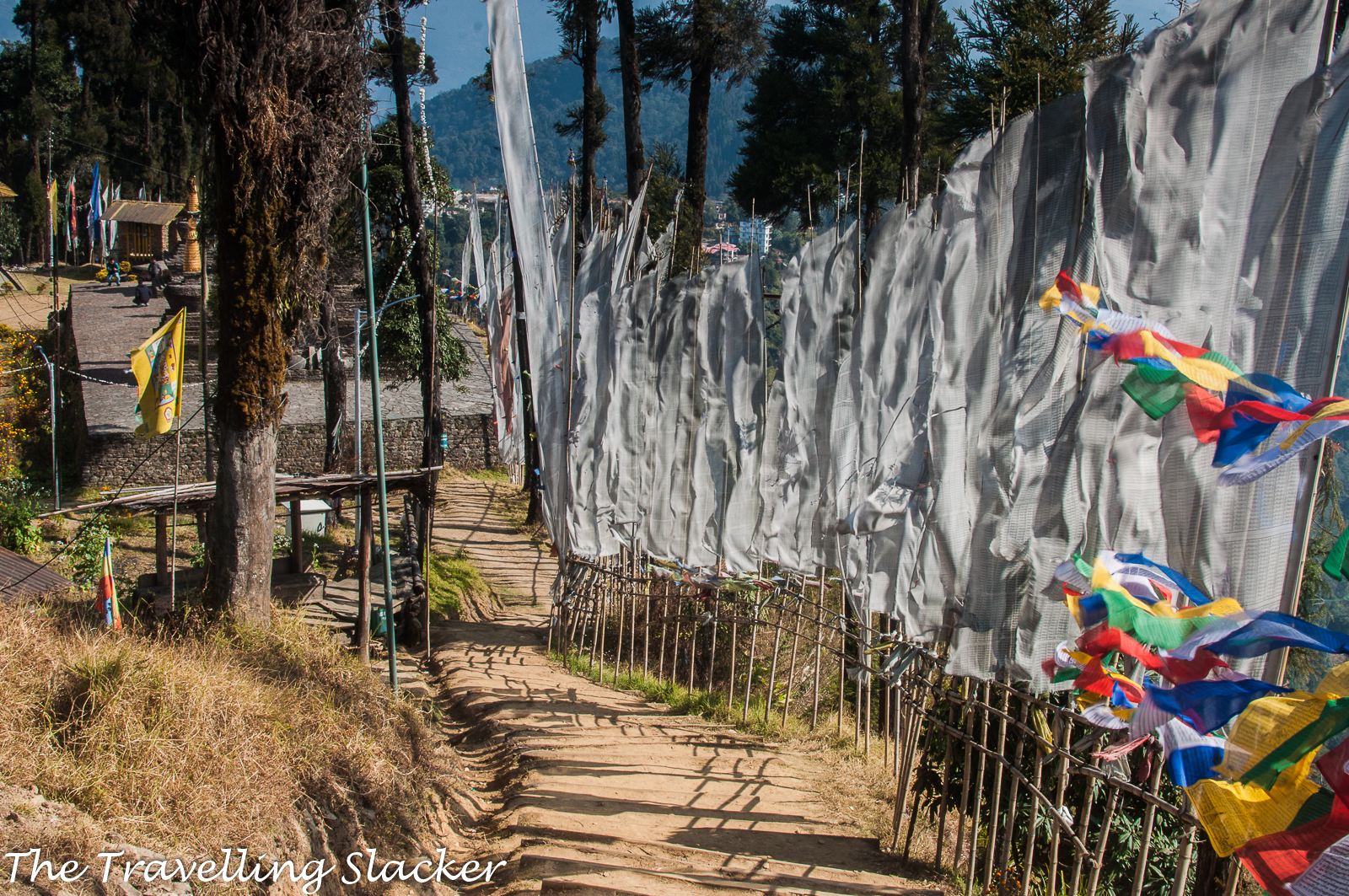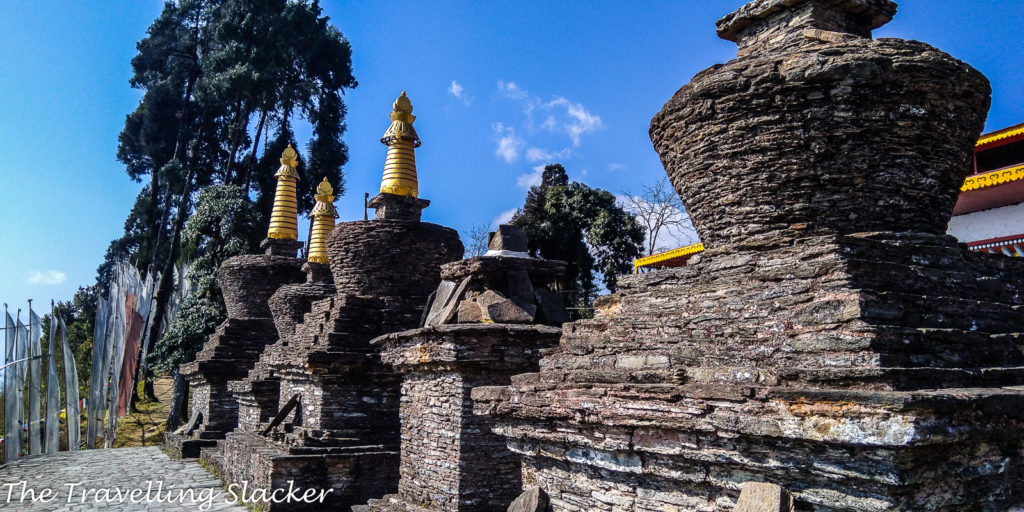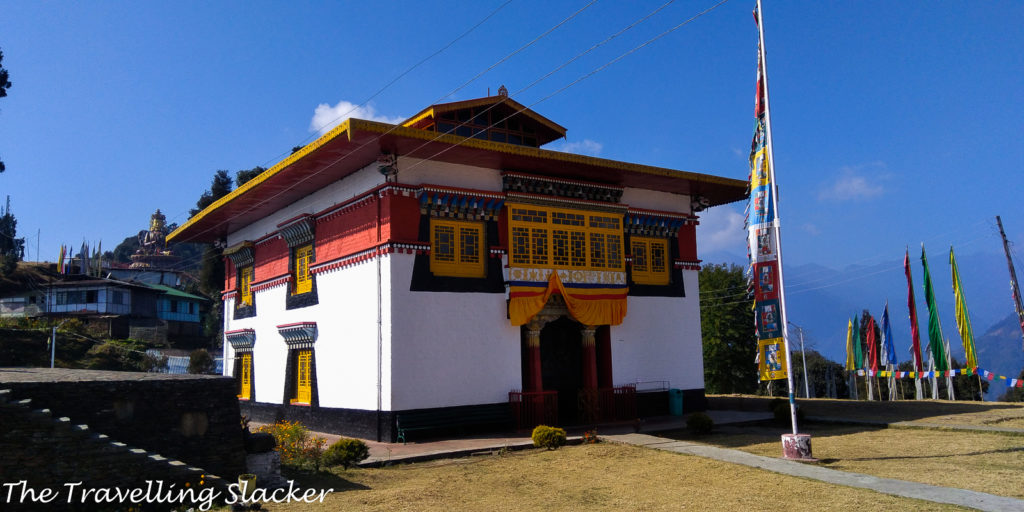 Anyway, after spending some at the Sky Walk, we started walking towards the Sanga Choeling Monastery, which is the original attraction of this spot. While the other structures have come up a couple of months ago, this monastery has been here since 1701 AD, which makes it one of the oldest and most important gompas in Sikkim. Just like most other monasteries, it seems to have gone through several renovations, which makes the building new and shiny. The walls, as expected, are adorned by elaborate Buddhist paintings and prayer flags dominate the compound. But for me, the most interesting aspects were the large, black, stupas with golden tips on the compound. I think they were the ones that managed to withstand the assault of time.  Apparently Sanga Choeling means "the island of esoteric teaching" but we did not really have enough time for learning much. So, we moved on towards our next destination and this post also terminates here for the time being.
Sikim Sky Walk Travel Guide
What exactly is Pelling Sky Walk?
The Sky Walk is a transparent structure made of glass. It is located adjacent to the giant Chenrezig (Avalokitesvara) statue, around 6-7 KMs from Pellig town.
How to reach Chenrezig Sky Walk?
We had the cab at our disposal. Normally you can find cabs in Pelling. Bus network is not very frequent here but I think if you can get a Dentam bound bus, it will drop you at a nearby point. It is not that far and you can even walk from Pelling if you have the time and motivation.
Can you suggest a Cab Service?
Yes, we were helped by Sikkim Cab Rental Co for this trip.
Is there an entry fee?
Yes, for the Pelling Sky Walk, you need to get a ticket. The statue can be visited even without the ticket but it is needed to walk on the glass.
What is the ticket price for Pelling Sky Walk?
is INR 20 for locals of Sikkim and INR 50 for other tourists including Indians and foreigners.
Where to Stay in Sikkim?
Major spots in Sikkim including Pelling and Gangtok are full of hotels and homestays. You can use a service like Cozycozy, which is a metasearch engine that takes offers from 100+ sites like Airbnb, Booking, OYO, Expedia etc. to find a good homestay in Sikkim.
What else to see nearby?
The 300 year old Sanga Choeling Monastery nearby is the original attraction at this spot.