Sikkim has suspended all tourism-related activities as of now due to the Covid-19 situation t least till September 2019. They will reopen for tourists only in October 2019, that too if the situation improves. Will update in case of any new development.
———————–
In case you have never heard of it, Rabdentse is an archaeological site in West Sikkim district, located near the touris hub of Pelling. It was the second capital of the erstwhile Kingdom of Sikkim from 1670 AD to 1814 AD. As the capital moved to other places, eventually settling in Gangtok, it lost its prominence but still, the palace ruins and stupas of Rabdetnse remains one of the most iconic monuments in Sikkim, and in fact in the whole of Indian Himalayas.
We were at Namchi the previous day, where someone told me that Rabdentse is the Machu Picchu of India. I am not fond of such analogies that diminishes the stature of an unrelated monument by comparing it with a much more famous one, but at the same time, I developed sort of a mental image, that of an expansive cluster of ruins atop a hill. In any case, visiting it was a part of the plan and so, we proceeded towards it the next day.
However, we reached Rabdentse it pretty late in the day. We were driving from Namchi to Pelling, but we had several stops at various monasteries and also at the Buddha Park in Ravangla. It was almost getting dark in that January afternoon when we crossed Geyzing and reached Rabdentse. However, we only saw a ticket counter and there was just thick vegetation beyond it and no sign of any monument. On top of that it was prominently mentioned as Bird Park rather than an archaeological site!
It looked confusing but anyway we got the tickets and stepped in. After a while we realised that the ruins are somewhat inside the jungles and above a small hillock. But there is also a large enclosed for birds out there, which is located before the ruins. I have no interest in caged animals or birds, so I skipped that one and quickly moved towards the palace ruins. It is around 1 KM's from the ticket counter and a upward climb. So, it was almost like a real hike till it lasted. After around 10 minutes of brisk hiking, I finally noticed a stupa, the first sign of the ruins. After that point, it took another turn and another 100 yards to finally reach the Rabdentse Ruins. The grass had turned yellow in the winter but I soon realized that the place is very popular among the locals, almost like a picnic spot, at least the locals definitely seemed to be thinking so.
The capital was shifted from Yuksom to Rabdentse by Tensung Namgyal, the second Chogyal of Sikkim. He choose a place protected by dense forests and built the fortifications. Those fortifications are now in ruins but the place offers an interesting contrast as the site is set amidst well maintained and manicured lawns and tourist amenities recently developed by the administration.
The reason for this contrast is because in the 18th century, Sikkim faced several invasions from the neghbours, especially from Nepal and also from Bhutan at times. These repeated invasions gradually reduced the capital complex to the present ruinous state. Especially the Gorkha armies sacked the area a few times and made one of the kings to flee to Tibet. Eventually, the rulers realized that it is too close to Nepal border and easier to invade, and so this spot was abandoned for more securely placed locations and eventually settled in Gangtok. Anyway, the complex is maintained well now and it is protected by the ASI.
So, as of now, we just have a cluster of walls and pillars. There is sort of a religious site in one corner, where the royal family used to offer prayers. It is still maintained well with a few stone slabds with religious icnonography on what looked like a marble slab, and some prayer flags. On the other side of the complex, we have the remains of the living quarters, including three huge chortens on the edge, where the royals prayed to their ancestors. There is also a seperate house nearby, which seemed to be a museum for storing the smaller artifacts found in the area. However, it was locked when we visited, may be because it was already too late.
The primary charm of Raabdentse is its setting. Atop the hillock, it also offers clear views of the Kanchenjunga range. However, just as it happened to me in case of
Pelling Sky Walk
, it was not a good day for such views, and I could not see any.  Another major monastery in Sikkim called the Pemayangtse Monastery is located nearby and both can be seen from each other. It was already getting dark, so we visited Pemayangtse the next morning but that is a different story.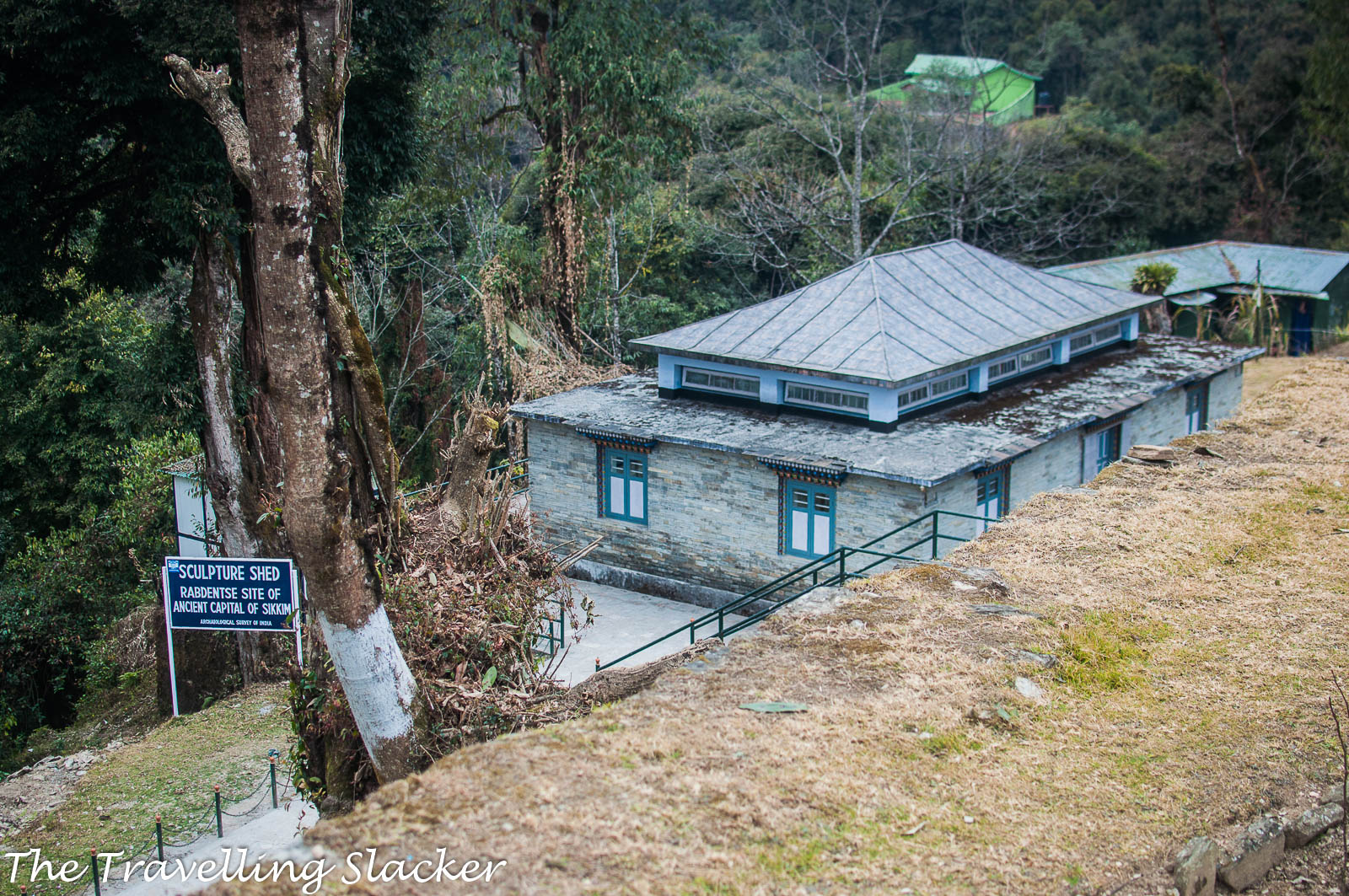 How to reach Rabdentse?
Rabdentse is located somewhere between Pelling and Geyzing, which are 10 KMs apart. Pelling is the tourist town that most people have heard of and where all the hotels are located. Geyzing is more of an administrative center where most of the offices are located. If you are in mood, you can even walk from Pelling to Rabdense, which should not be more than 5-6 KMs.
Should I visit Rabdentse?
In short, yes. It is hard to describe everything and if you want history, you can simply read more of
Sikkim's History
. It is an important place in Sikkim's history that is also visited by Buddhist pilgrims. Apart from that, it is one of the most unique archaeological complexes you will ever see in India.