Everest Base Camp is a dream-trek destination for the adventure seeking trekkers in the world. Along with the treks in the high altitudes, you will get to experience the cultural and natural explorations as well. Standing at the base of Mt. Everest (8848 meters) and enjoying the 360-degree mountain views is the major highlight of Mount Everest Base Camp trek. Plus, you get to soak up into the immense culture and tradition of local Sherpas. Their friendly nature and hospitable service make this trip memorable.
Not only the majestic mountains, but Everest Base Camp trek is also popular for its unique landscapes, rugged trails, glacial moraines, along with diverse flora & fauna. The trail offers the world's best natural scenery along with numerous chortens, mani walls, and Buddhists monasteries. But wait, reaching the vantage point of 5,545m (Kala Patthar) is not that easy. You need to be well-prepared with proper packing. Your journey may bring many surprises as well as obstacles.
Unlike Everest climbing, trekking to EBC is quite easy and safe. However, you cannot undermine a few challenges that you may face in the trek. Here are a few tips that you can follow for the easy and memorable trek to Everest Base Camp:
1. Boost Yourself Up
EBC is a 16 days strenuous trek where you'll walk for 7-8 hours each day on average. Walking for longer days in high altitudes can be physically as well as mentally demanding. Thus, you need to gear up. As a preparation for this trek, it is a good idea to start physical training at least six months before your trek. For this, you can begin with cardiovascular and endurance training. The other thing you can do is practice climbing stairs with a loaded bag. Also, regular aerobic exercises like swimming, climbing, walking, biking, will keep you fit and increase your stamina. You can even have gym sessions for squats, sit-ups, pull-ups, push-ups, and crunches. They enhance strength endurance and stability. You can simultaneously increase your training duration, speed, and mileage with time. But, don't over exercise and stress your body in any way. Along with physical health, you need to be mentally prepared to bear any challenges and hurdles that may come along during the trek.
2. Learn & Prepare for Altitude Sickness
Everest Base Camp trek is a high altitude trek in Nepal. You will ascend to the maximum height of 5545 meters at Kala Patthar. With this elevation, the risk of altitude-related sickness is frequent in the trekkers. So, as you plan to trek to Everest Base Camp you should keep in mind the risks of altitude sickness. You must take proper care of your body and take the necessary precautions against it. While ascending to high altitude regions, your body may show some unusual signs. Like you may feel headache, nausea, vomiting, breathing difficulty, sleeplessness, loss of appetite, stiffness in the body, and so on.
If you feel these happening to you, you must be serious about them. They could be the symptoms of altitude sickness. As soon as you notice such changes in your body you need to take preventive measures. You must stop ascending and take proper rest until your body shows normal signs. Plus, you must consult your trekking guide or fellow trekkers and take necessary medications if necessary. To avoid altitude sickness, you must pay special attention before gaining altitudes. You should not ascend maximum altitudes in a single day. Plus, you must maintain body hydration with sufficient rest every day. To minimize the risk of altitude sickness you need to choose the itinerary that has enough acclimatization days.
3. Pack Gears that are Essential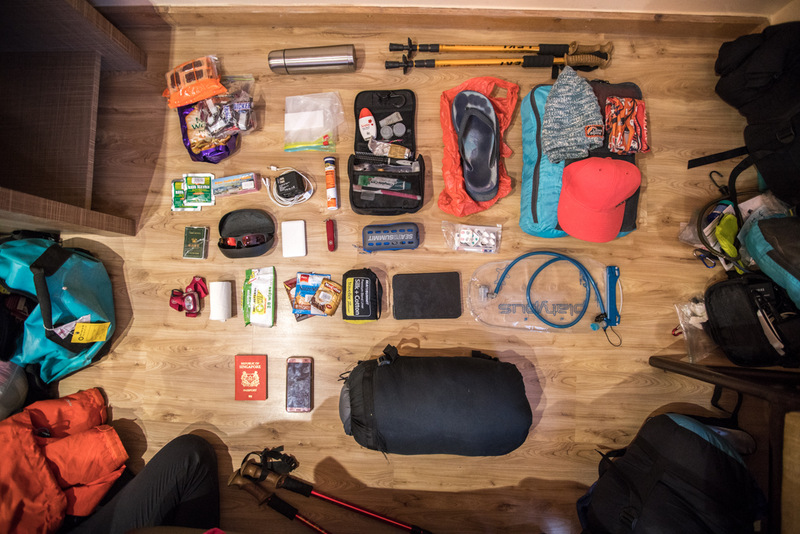 Trekking for hours in the varying altitudes and the rough terrains is a challenge in itself. And with an over-packed trekking backpack, it is nerve-wracking. So, as you pack for this trek, you must list out only the gears that you absolutely need for the trek. You need to pack your backpack light depending on the number of days and season of the trek. Many trekkers bring unnecessary essentials like cosmetics, excess clothes, junk foods, and other luxury items. They just increase your load affecting your stamina. Here's a list of trekking gears that you absolutely need for the Everest Base Camp Trek:
A relatively light duffle backpack or rucksack (50-60L)
Comfortable pair of trekking boots (Sturdy, waterproof and broken-in)
Down Jacket with good down-fill
Trekking shirts and pants (water-proof, wind-proof)
Breathable underwears
Lightweight Sleeping Bag
Water bottles and water purifying tabs
Sun hat, sunglasses, and sunscreen
Extra batteries and power supply
Thermal Lightweight Gloves
Maps and trekking routes
Hand wipes and sanitizers
Good first aid kit
But remember, you need to pack keeping in mind the season of the trek.
4. Eat Right, Drink Right, and Sleep Well
This rule applies both before and during the trek. You need to switch to healthy habits. While preparing, eat more veggies and fruits rich in calcium, iron, proteins, and minerals. Make sure you drink plenty of water and stay hydrated. Drinking about 5 liters of water per day will keep your body fit and moving. Do not forget to carry water bottles. On the trek, you can easily get water (hot) from the teahouses. If you want to use water from the natural sources you need to use water purification tablets or purifiers. Also, it is a good idea to avoid alcohols and drinks with caffeine. Such drinks dehydrate your body thus, increasing the risks of altitude sickness. At higher altitude, you may lose your normal appetite. So, you can take meals like porridge or toast on breakfast which are easy to digest. For lunch and dinner, dal bhat is the best healthy option. It is a traditional Nepali dish which consists of rice, lentils, veggies, & pickle. Similarly, for hot drinks milk tea, lemon tea with honey & ginger are a good choice. Though you might have non-veg options, being vegetarian is recommendable. The meat on higher altitudes may not be hygienic everywhere.
5. Don't Underestimate the Basics of Trekking
Sometimes in the course of preparation, you might forget the basics of trekking. First, you have to check documents like visa, passport, travel insurance, trekking permits, and extra copies of passport sized photos. Regarding permits, you require the Sagarmatha National Park entry permit and the Local Area permit. As you start trekking, do keep the permits handy because you have to get them verified at various checkpoints during the trek. Similarly, travel insurance is a must-have document for Everest Base Camp Trek. But, before you get one, make sure it covers you to up to 6000 meters altitude and offer emergency helicopter evacuation.
Although who you want to trek with is completely subjective, it is a good idea to hire a licensed guide and porter if you are a novice trekker. They will make all the required arrangements and keep you away from the difficulties that may come along during the trek. The weather and temperature in the Everest region are usually unpredictable. So, you have to plan extra days during the trek for emergencies. Also, do not forget to carry enough Nepali cash instead of relying on local ATMs.
Conclusion
Everest Base Camp is a lifetime experience for trekking enthusiasts. But since this is a high altitude trek you must be very careful while opting for this trek. You must take care of your body and maintain your walking pace so as to have a memorable trek.
With proper preparation and enthusiastic mind, your trek to Everest Base Camp will be complete bliss.
So, when are you joining this trip to the base of the world's highest peak- Mt. Everest?