The Sangla Valley in Kinnaur, also called the Baspa Valley after the river that feeds it, needs no introduction. The Sangla Valley is centered around the town Sangla, and the road extends to the village Chitkul near the border of Tibet. Baspa is a tributary of Sutlej, and meets the latter near Karcham.
I originally wrote this guide in 2014 but after some recent trips I just realized that there has been some changes of late. For example, the road conditions are better now while the hotel rates have gone up. In fact, back then the bus stand was not even there. The buses used to stop at the market because the bus stand was still under construction but now it has been completed. So, I am updating it with new information and photographs.
Sangla Chitkul Budget Travel Guide
How to reach Sangla?
Buses to Sangla mostly leave from either Reckong Peo or Shimla via Rampur Bushahr to Sangla and Chitkul. Shimla to Sangla direct buses are not very frequent. So, in case you don't get a direct bus, reach Karcham (20 KMs before Reckong peo) from Shimla on the Hindustan Tibet highway. After that there is a diversion (while the main road goes on to Recong Peo and Kalpa). Wait there for connecting buses to Sangla and beyond. It is not more than 20 kms from that point to Sangla.
Rememeber the sequence below. At Jeori you can also get a diversion for Sarahan if you want, and at Karcham you take the diversion for Sangla while the main road goes towards Peo.
Shimla>Narkanda>Rampur>Jeori>Bhabanagar>Tapri>Karcham>Sangla>Chitkul
Sangla and Chitkul HRTC Bus Timings
Here are the official timings of the HRTC buses leaving from Sangla throughout the day. Keep them in mind and plan accordingly. Note that there are two buses for Chitkul. They return immediately after reaching Chitkul. If you don't want to stay in Chitkul, you can catch the first one and return with the second one. That way you will have a couple of hours in between.
Sangla to Delhi Bus 6.45 AM (via Shimla & Chandigarh)

Sangla to Reckong Peo Bus 7.00 AM
Sangla to Rakcham Bus 8.00 AM
Sangla to Mandi Bus 10.30 AM (via Shimla)

Sangla to Chitkul Bus 12.00 AM (Chitkul to Sangla return at around 1.30 PM)
Sangla to Chitkul Bus 2.30 PM (Chitkul to Sangla return at around 4.00 PM)
Sangla to Reckong Peo Bus 3.00 PM

Sangla to Chandigarh Bus 5.30 PM
Sangla to Rakcham Bus 6.00 PM
Reckong Peo to Chitkul Bus 9.30 AM (Via Sangla)

Reckong Peo to Chitkul Bus 12.00 AM (Via Sangla)
Reckong Peo to Raksham Bus 4.00 PM (Via Sangla)
Shimla to Sangla Bus  6 AM/ 7AM (leaves early morning… don't remember the exact timing)
Delhi to Sangla Bus 6 PM-10 PM (not sure about the exact timing. You can ask at Kashmiri Gate ISBT)
* Apart from these, there are some private buses connecting Reckong Peo with Sangla, Rakcham, and Chitkul. You can ask about them at the bus stand.
** Delhi to Sangla or Sangla to Delhi, although buses exist, will be too long and hectic. Most people break the journey at either Shimla, Narkanda, or Rampur or even take a detour to Sarahan.
*** For local commutation between Sangla and Chitkul, if everything else fails you can try hitchhiking for short distances. Kinnauris are generally friendly folks.
What about Road Conditions in Kinnaur?
The road condition in Kinnaur is much improved now. You may have heard horror stories about this stretch but those are a thing of the past. Actually, the stretch just between Tapri to Karcham used to be difficult due to some ongoing construction work of the Wangtu-Karcham hydroelectric project. However, the construction work is now over and road is mostly smooth. Of course it is still narrow and there are some sharp turns as expected in a region like this but overall it is much improved in the last couple of years.
Homestays, Dorms, and Hostels in Sangla Valley
Even back in 2014, I found many cheap hotels in Sangla Town. However in the last few years, prices have shot up as the place has become wildly popular and last year I literally had to run around the town to find an affordable place. So, basically, you can stay in three places in Sangla Valley, namely Sangla, Chitkul, and Rakcham, which is located in between the other two places.
Sangla Homestays and Dorms
Sangla has scores of hotels and homestays. You will see them as soon as the bus reaches the town. However, of late the prices have gone up. Especially in the peak season of summer and post-monsoon, you will find to locate anything below INR 1000. But I have found a couple of options. The place where I stay nowadays is Mehta Hotel. This is the name you see on google maps but they keep changing the names and you can just check their website for rains. It is actually a nice homestay with really helpful hosts. While the family rooms are expensive, they have dorm rooms for INR 200/300 with excellent facilities as well as views, only for poor backpackers. It is a 5-6 mins walk from the bus stand. Another affordable place I know of is Roojoom, slightly ahead on the same road.  

Rakcham Hotels

It is a small village midway to Chitkul. You can find hotels here too. Rakcham is a small village in the middle has a couple of hotels. But I think they are somewhat mid-range hotels beyond the budget of backpackers.
It is a good idea to walk to Rakcham in the morning for good views en route instead of waiting for the bus. You can catch a Chitkul bound bust from Rakcham at around 1 pm and move ahead.
Chitkul Homestays and Hostels

Chitkul also has a huge number of hotels and homestays nowadays like Sangla and they have also become pricier and may be difficult to get a room during peak season. However, recently two backpacker hostels have opened up here and so you can survive at INR 400-500 if you don't mind sharing the room.
What is the best season for Chitkul and Sangla?
Post monsoon season in late August and September offer the best colours in any part of Kinnaur as the apples turn red and also the buckwheat crops bloom and turn the fields pink. But it is also good during spring. Winter is too cold unless you want to see snowfall and monsoon makes the roads slippery.
Places to see and Things to do in Sangla and Chitkul
Kamru Fort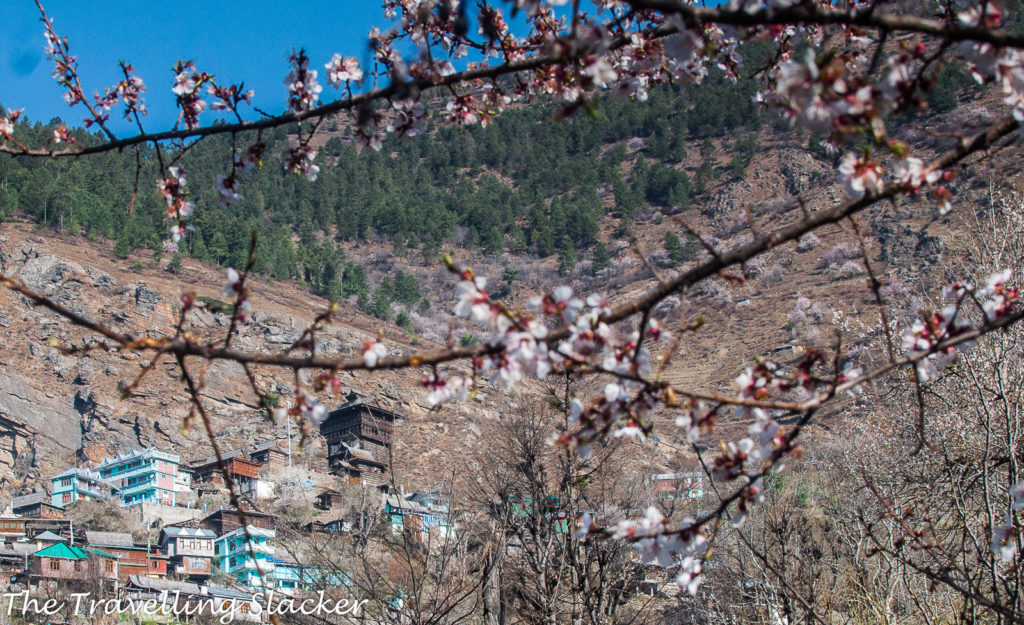 Kamru Fort is the most famous historical structure near Sangla town. It is a wooden tower built several centuries ago by a local chieftain. It is located in a small village called Kamru located on a hill overlooking Sangla. Recent growth has meant that hotels have mushroomed on the entire stretch and so the the village and the town are practically attached to each other. There is also an important temple near the fort.
Bering Nag Temple
Bering Nag Temple (could never figure out the exact spelling) is located in the middle of Sangla, a little bit downhill from the main market. It is a great way to understand the intricacies of Kinnauri culture. It is a Hindu temple with local deities and typical wood carvings. However, you can also see images of Buddha and dragon made of pine cones, as well as a big dharma chakra in the compound. If you are lucky, you can see some of their ceremonies where they bring out the deities on palanquins like I did once.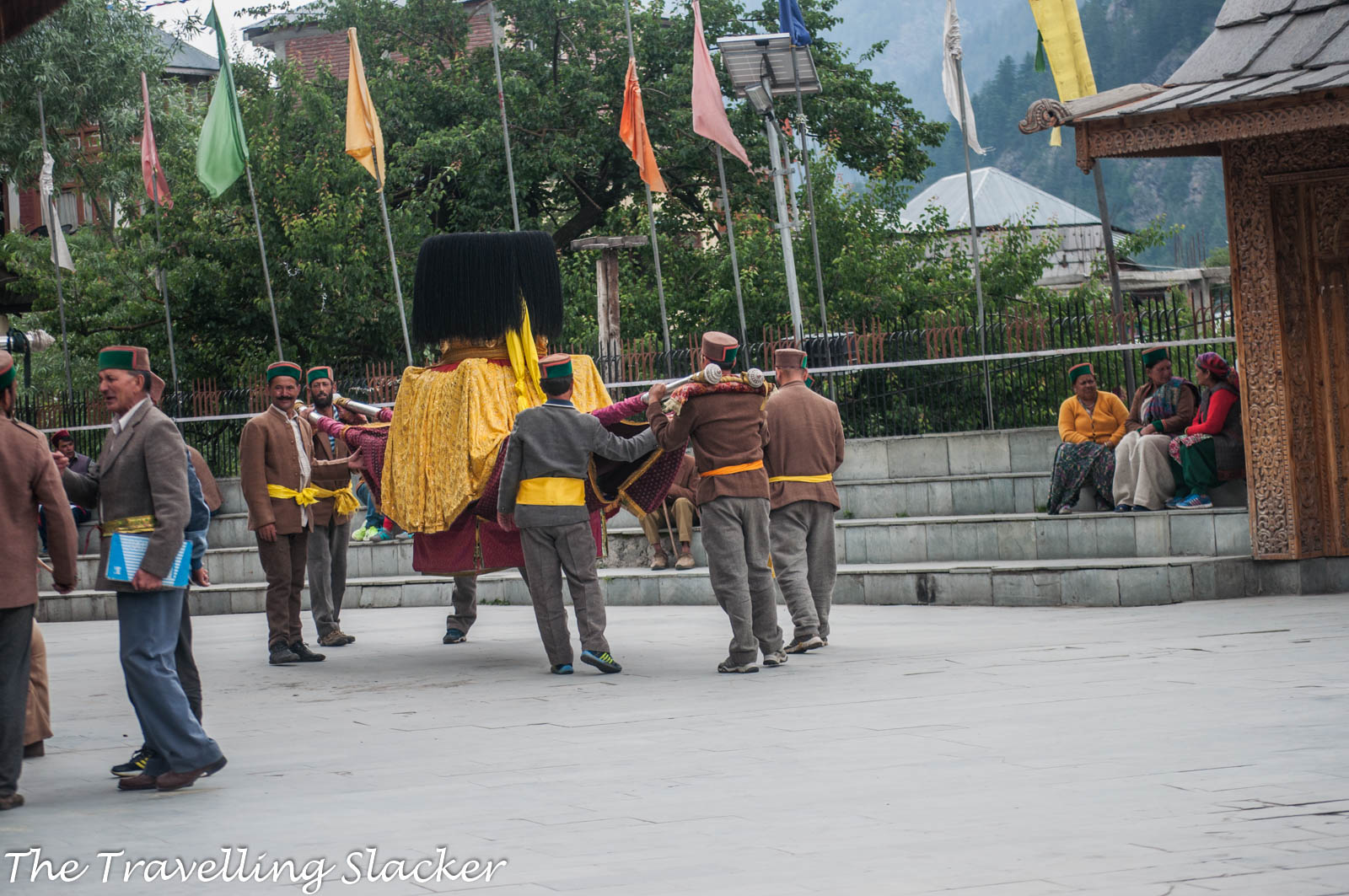 Read more about the Bering Nag Temple here.
Batseri
Batseri is around 8 Kms from Sangla, on the road to Chitkul. It is a beautiful village with another magnificent wooden temple. You can also buy local handicrafts and pine nuts (chilgoza) here from what I have heard although I have never tried it.
Rakcham
Rakcham is around 14 Kms from Sangla en route to Chitkul. This village also has stay options. It offers excellent views of the Baspa valley and in September, it is the best place to view pink Ogla blossoms.
Read about my Sangla to Rakcham Walk here

Chitkul
Chitkul, is the last road head around 24 Kms from Sangla. The valley opens up here and one can just sit on the banks of the river and enjoy the views looming peaks, fertile pastures, and turquoise river. If you want, you can walk around the village and visit the intricately carved wooden temple. There are homestays and backpacker hostels in Chitkul too.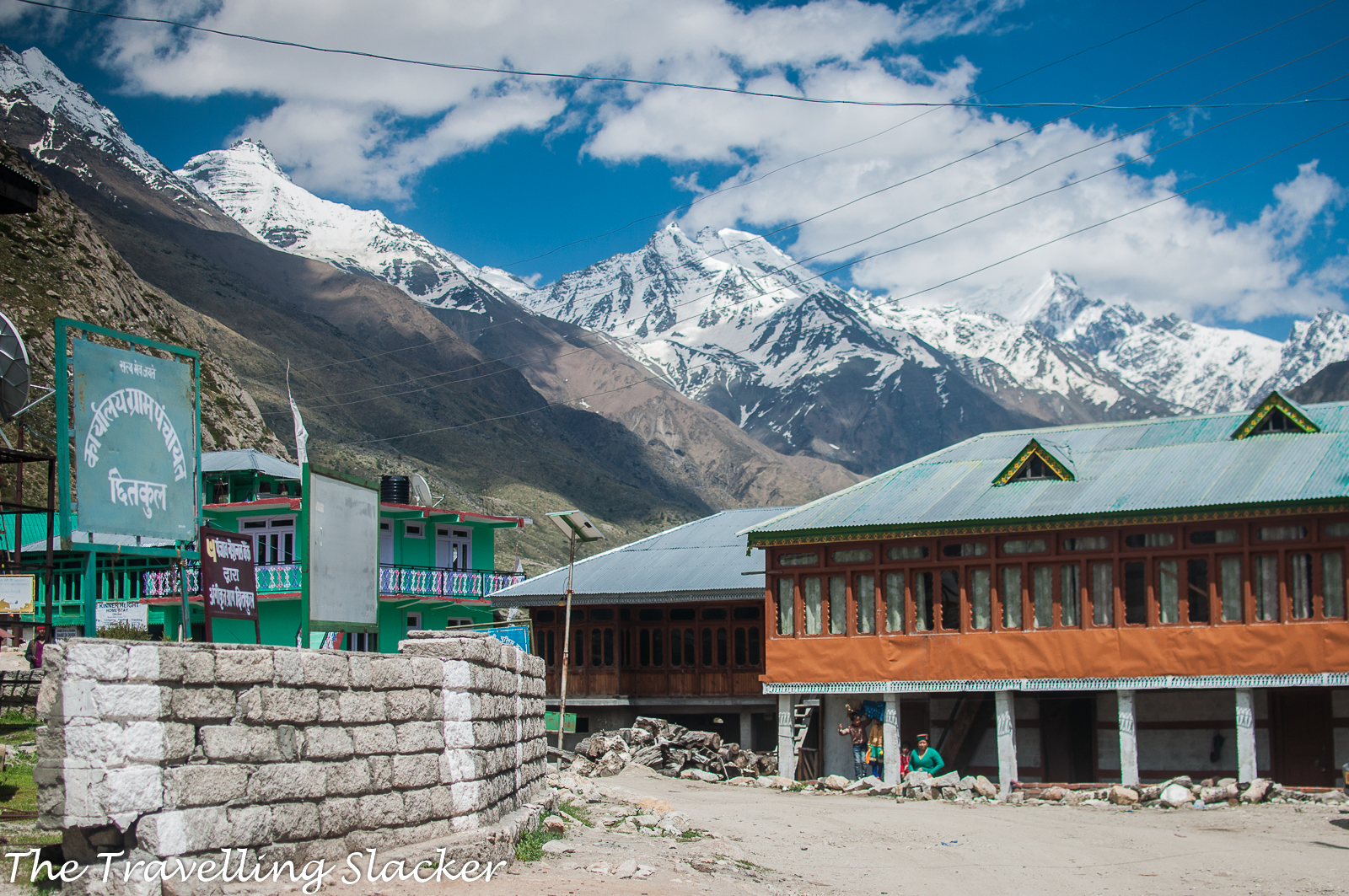 Trekking and adventure sports in Sangla
You pass through the Sangla Valley during two major multi-day treks, namely the Kinnaur Kailash Parikrama (a circular tour along the remotest villages of Kinnaur), and the Rupin Pass Trek (It connects Uttarakhand to Himachal). You need to go with experienced guides for the complete treks. For a shorter local trek, you can try to visit Sangla Kanda, a high altitude meadow near Sangla. I have also noticed some efforts to introduce adventure sports like rappelling, rock climbing, mountain, biking, and angling in the area and it does have the scope. But such efforts are still in the initial stage.
Culture and Festivals of Sangla
These areas of lower Kinnaur display a composite culture. This is due to centuries of living on the border between India and Tibet. These are Hindu temples but you will find Buddha imagery and dragons all over the place. I think there is a scope for a lot of research in this regard.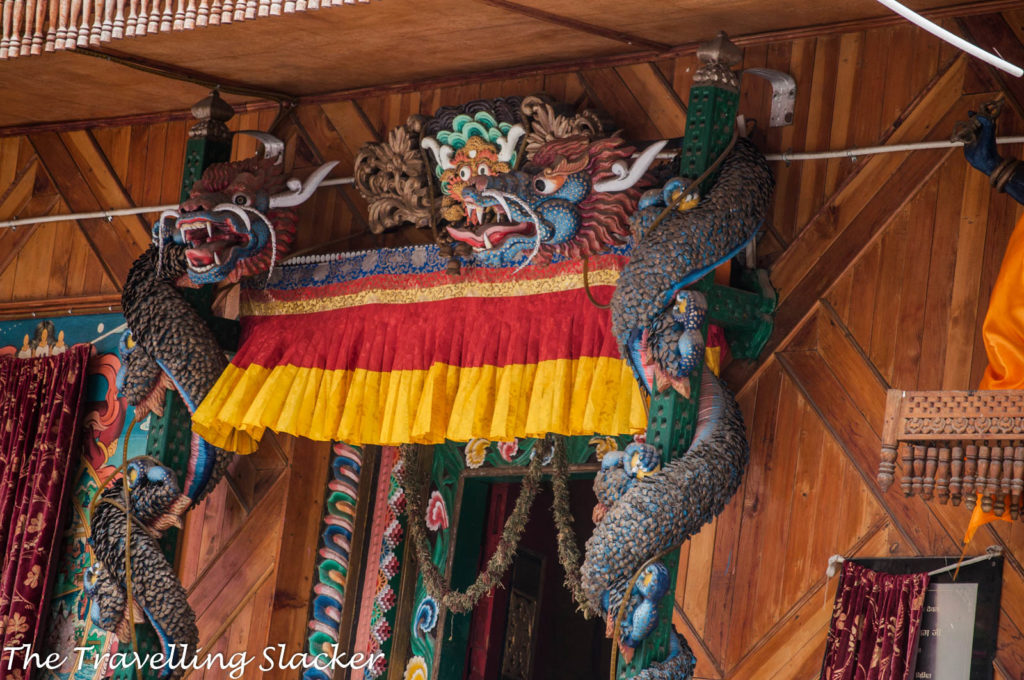 There are many festivals that take place over the place and you will find a more detailed list of festivals here in the official district site. But the one I would like to mentioned here is the Phulaich (Flaich) festival when they climb the hills to pick flowers for the deity. It should take place some time in September.
Food at Sangla and Chitkul
Your homestays should provide good food. Otherwise there are scores of restaurants serving usual India food or Tibetan food. Local shops at the Kinnauri markets offer unlimited complimentary soup with the momos or chowmein. (In the big cities people sell the same soup in limited quantities for INR 100).
Phone and Data Connectivy at Sangla-Chitkul
Connectivity is excellent in Sangla town, and in fact, you get it till Rakcham. After that it nearly disappears. At Chitkul, data connectivity is unlikely but you may make calls, if you have a BSNL SIM.