"I could see nothing but thick vegetation on the hills. I started climbing the stairs but for I could see nothing except the jungles and some other visitors. But after one last flight of stairs, I colossal face appeared. I walked a bit more and suddenly some more faces appeared. These hills indeed have eyes!"
---
Unakoti is probably the best-known destination in the Tripura Tourist Map. I remember it was featured in Surabhi once, back in the 90s. I don't think still many people are visiting these monuments but at least I think it is a more familiar name compared to the likes of Pilak and Chabimura. So, when I planned to finally visit Tripura, I decided to make it the first stop.
Since I could not get a confirmed ticket for any Tripura-bound train, I booked till Badarpur, took a shared car to Karimganj, and then took a bus to Dharmanagar, which is a major train station, and the largest town near Unakoti. In fact, Dharmanagar itself is a historical town built around a beautiful lake called Kali Dighi and dotted with many temples. The lake has been decorated with fountains and they light up at night, so it is a good place for lazy evening walks at the end of the trip. I checked into a hotel by the side of the lake. It was noon by then and I had enough time left for visiting my place on the same day.
Unakoti is located somewhere on the road connecting Dharmanagar and Kailashahar, another major town, which used to be the ancient capital of this land and the rulers of this kingdom were responsible for Unakoti. I took a shared car plying between both the town, passed through many tea gardens and densely forested areas, and got down at a spot where I could see the appropriate signage.
Although it is not far from the road, the ruins of Unakoti are not easily visible due to hilly terrain and thick vegetation. I followed the signage, walked for almost a kilometre, and finally reached the entry gate. For some reasons, the guard did not even ask for tickets and let me in. Initially, I just saw some stairs and nothing more. I climbed one of them and saw some other visitors roaming around. I moved forward, getting impatient gradually. But that is when I suddenly noticed a pair of imposing eyes staring at me from a distance. As I moved closer, more and more gigantic faces started appearing.
The History of Unakoti (Or the Lack of It)
To say that the bas-reliefs of Unakoti are unique is an understatement. There is no equal to them in the entire region both in terms of style as well as the enormity. To me, they are somewhat reminiscent of those mysterious Easter Island statues by the Rapa Nui. Also, as is the case with the most archaeological sites out here, we have no clear idea who made it. Various myths associated with the site has been popularized by Rajmala, the official chronicle of the Manikya dynasty of Tripura. However, considering the lack of actual historical details, it most probably predates that dynasty. In general they are believed to be from 7th to 9th century. The figures here look so unique that it takes some time to figure out the gods they depict. I finally spotted a Nandi Bull under one of the faces and that is how I realized that it is primarily a Shaivite site. There is also a big Ganesha image on the lower side of the hill and one has to climb down a pretty steep flight of stairs to have a clear view of the same.
As I mentioned already, Kailashahar used to be an important town in the ancient times and Unakoti being a Shaivite site, both seem obvious connected (Hope you noticed the "Kailash" in Kailashahar). But the other noteworthy aspect here are the faces themselves. Only the presence of the Nandi and some small phallic structures indicated that it is dedicated to Shiva. The faces sculpted on the hills are completely different from the usual Hindu iconography and the faces have distinctive Tibeto-Burman features, thus making it an invaluable cultural missing links.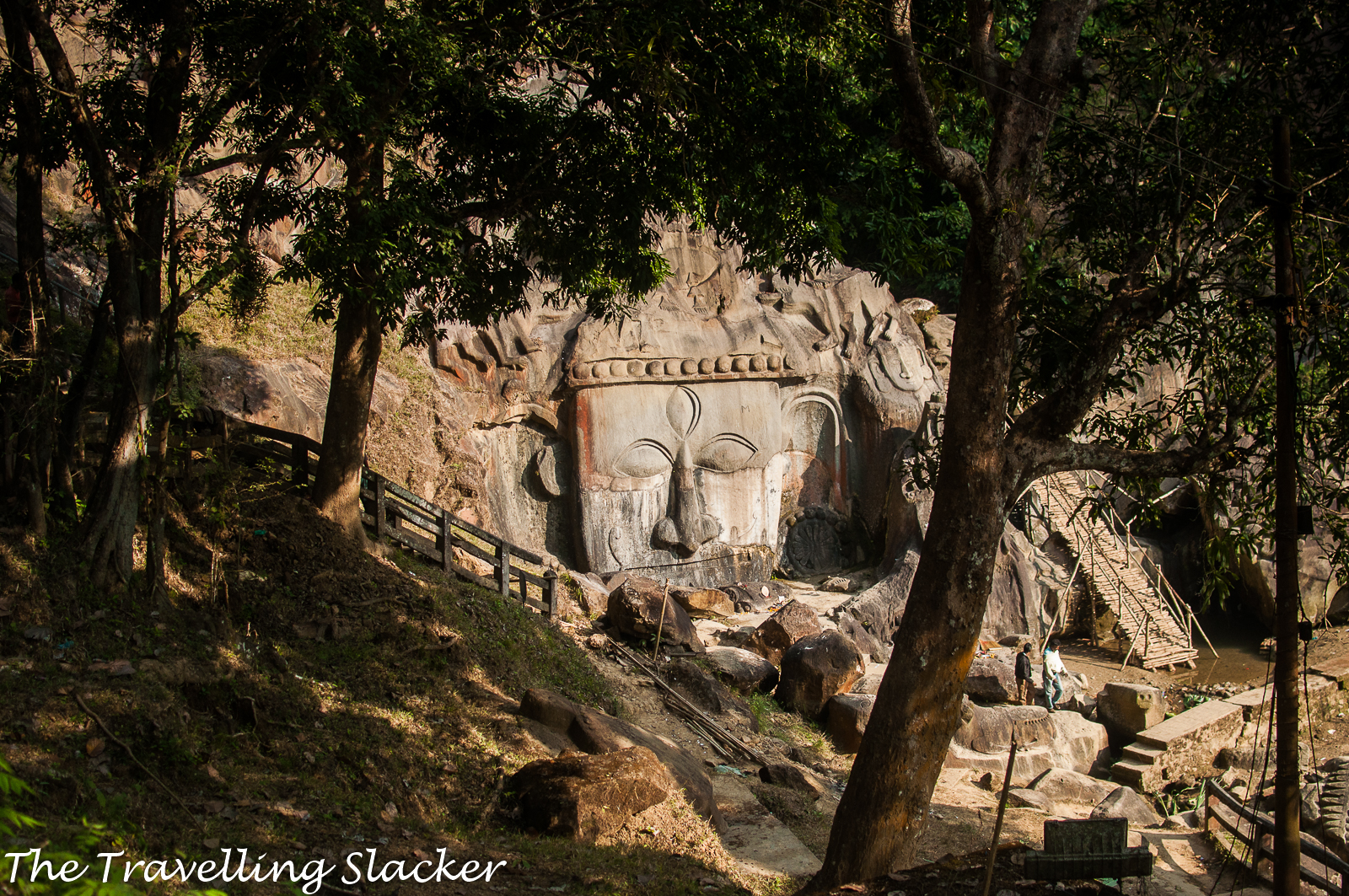 The Story of Unakoti
In the absence of clear history, all we have are the stories. Even in this case, there no consensus and multiple stories can be found regarding the mythological origins of this site. The only one thing that everyone agrees upon is that the name Unakoti comes from the fact that the total number of statues here is one less than a crore (i.e. one less than 10 million…. or 9999999). The rest of the stories differ, from a blacksmith who built the statues to satisfy Shiva, to cursed deities who were turned into stones simply because they did not wake up on time.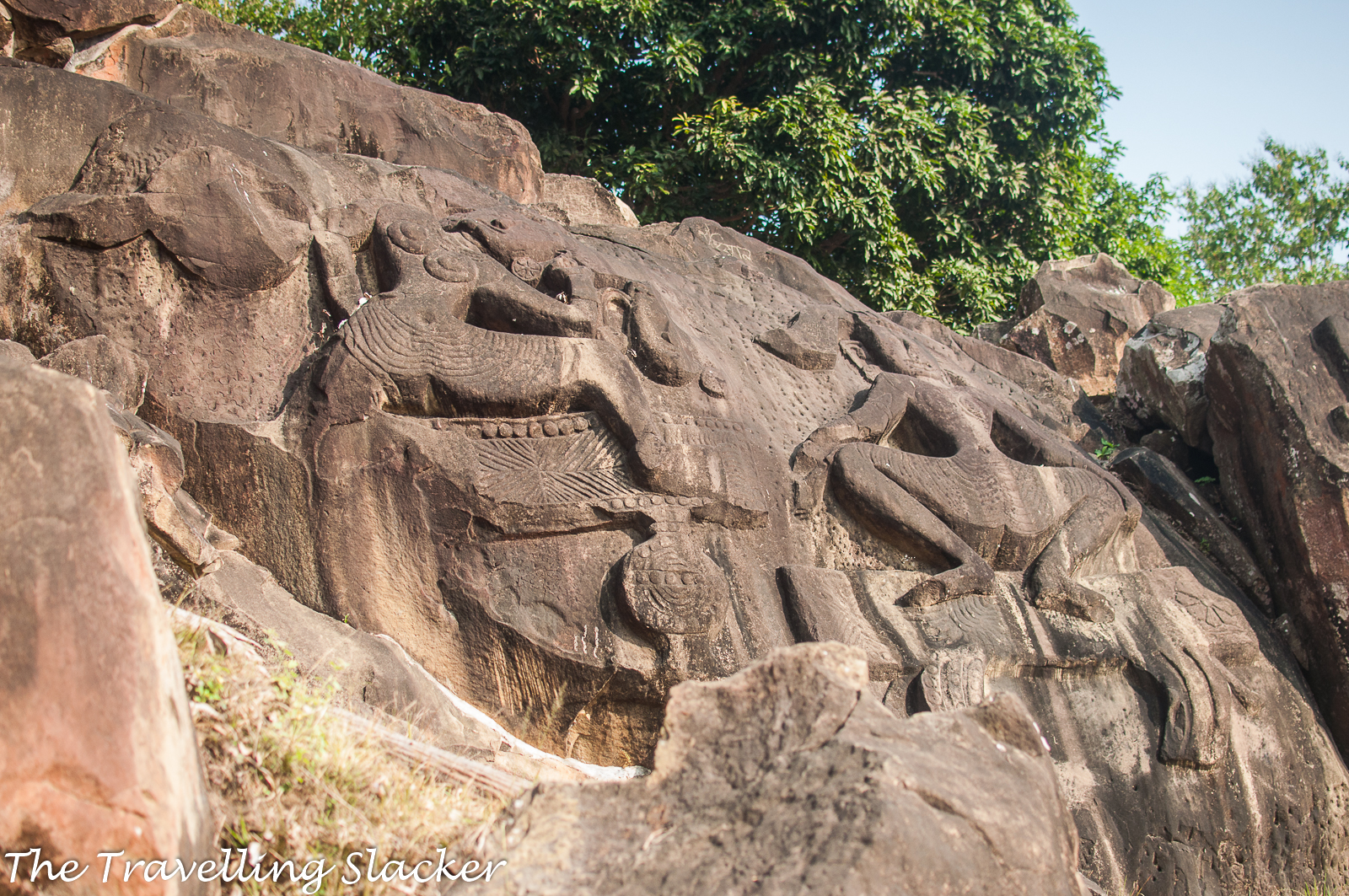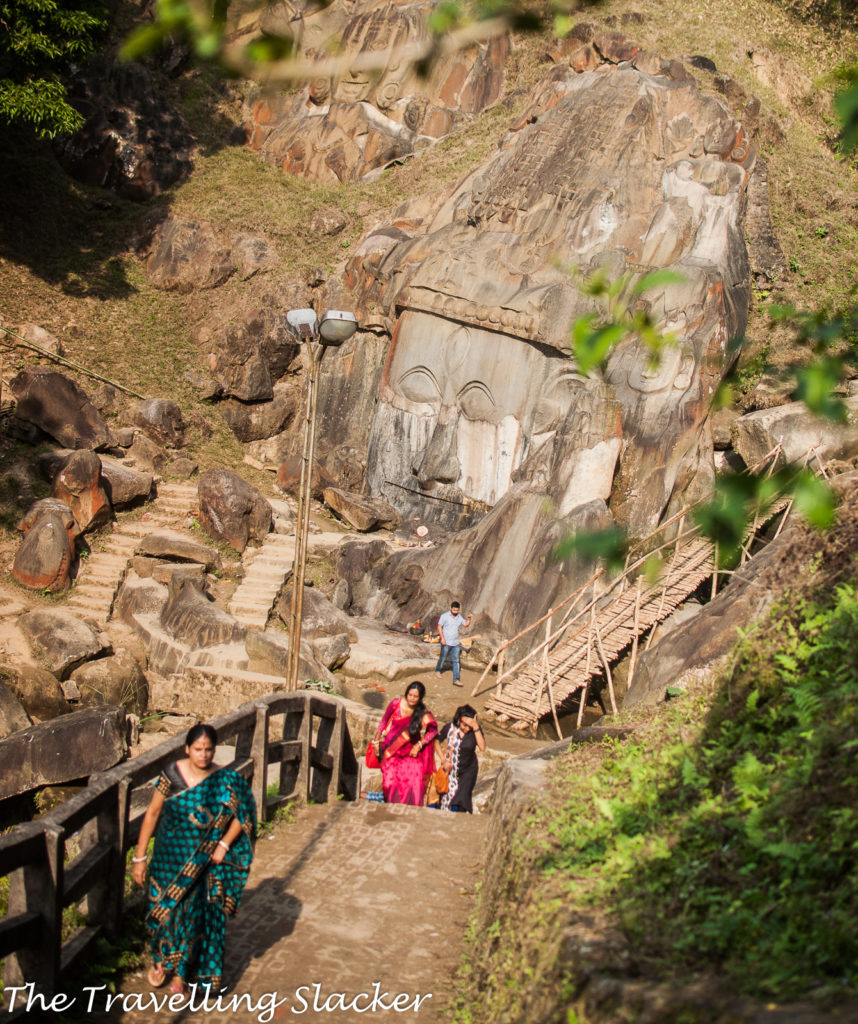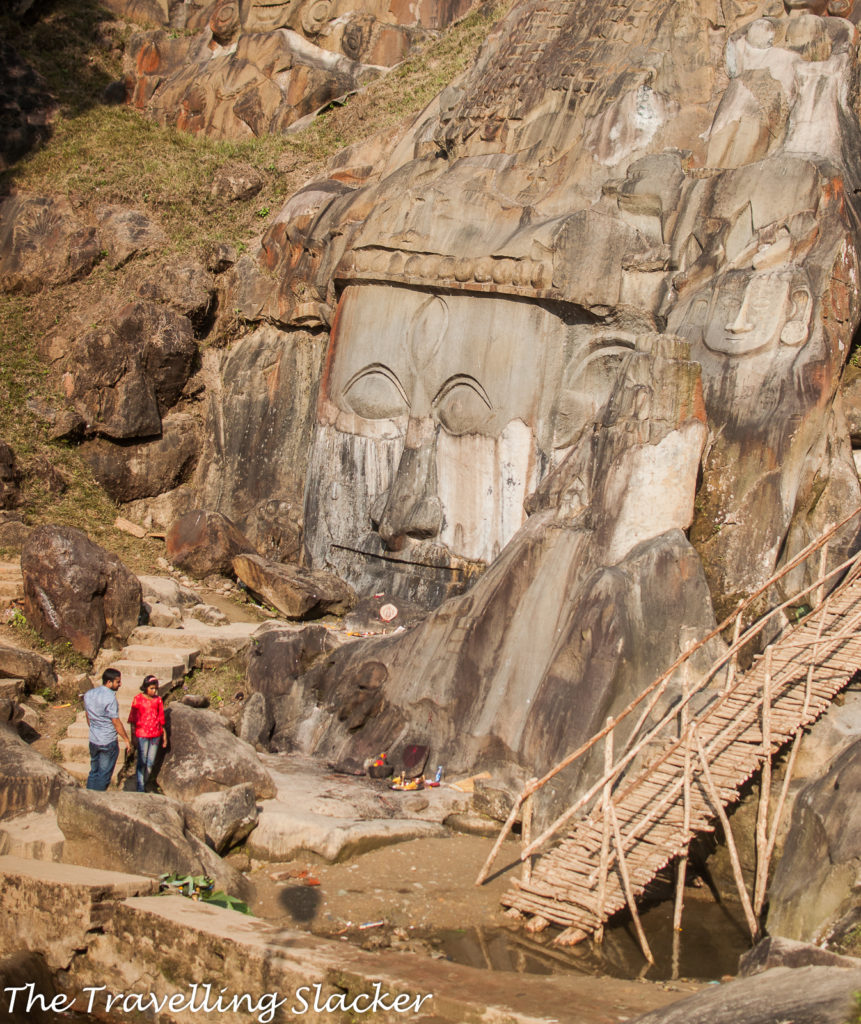 I spent more than an hour at Unakoti. It was getting dark and now I began to realize that I might have taken a big risk by relying on public transport. It is located in the middle of thick jungles and while shared cars ply on the road, they don't usually wait there. Most other visitors had their own vehicles and so they disappeared soon. I was hoping to catch some cab coming from Kailashahar but the usual traffic had died down by then. So, I started walking, mentally preparing myself to walk the whole 20 Kms and reach my hotel at 9 PM in the worst case scenario. However, after 15 minutes of walking, one car stopped behind me with a screeching sound. It was a van belonging to a courier company but the driver was in a good mood. He offered me a lift. As it turned out, he is habitual at offering a lift. He kept pausing and picking up random bystanders, as he kept incessantly talking about his life and the state in general. He even predicted the outcome of the upcoming assembly elections and dropped me near my hotel in half an hour.
Unakoti Travel Guide
How to Reach Unakoti?
Unakoti is located between two important towns, Dharmanagar, and Kailashahar. This area is located in the Northern Tripura, closer to Assam border. So, if you are taking any train or bus from Assam, Dharmanagar will be the first major town on your way. From here, you can get into any bus or the shared car going to Kailashahar and ask them to drop you near Unakoti which is 20 KMs from Dharmanagar while Kailashahar is another 10 KMs from it. To return, come back to the road and wait for the shared cars to arrive.
Where to stay in Unakoti?
You can't exactly stay here. But both DHarmanagar and Kailashahar have enough options. There are Tripura Tourism Lodges at both places and also many private hotels. I stayed in Dharmanagar at a place called Hotel Sun, near the Kali DIghi. It was a small but convenient room for just INR 350.
Entrey Fee in Unakoti
Nobody charged me any free. They probably forgot. Anyway, it is a negligible amount as far as I know.
Kailashahar
Kailashahar used to be the ancient capital of Tripura and it is believed that the rulers of this town were the ones who constructed Unakoti. There is another government tourist lodge here along with other hotels. It even had an airport but that is no longer functional. There are also many tea gardens around Kailshahar that can offer you some pretty frames.