"Ancient archaeological remains in the southernmost corner of Northeastern India? Isn't that some sorta rainforest?", asked one of my friends who was never a fan of either geography or history.
I can't really blame him. Even better-informed people don't have much clue about Tripura's history and even I first came across some of these names when I started planning for the trip. Unakoti is a bit more famous but nobody talks about sites like Pilak, Boxanagar, or Devtamura. So, on the last phase of my Tripura trip, I made it a point to reach Pilak, which is around 62 KMs from Udaipur, which is around 50 KMs southwards of Agartala.
Udaipur: The Other Lake City
Udaipur itself is one of the historical towns Tripura with several old temples dotting the town and its surroundings. It also has several man-made lakes and so it can be called a Lake-City just like its Rajasthani counterpart. I took a quick walk through it and found several medieval temples of varied shapes and sizes. They generally follow the designs of typical terracotta temples of Bengal. I had heard of Bhuvaneswari Temple across the river Gomati. But en route, I found a couple of others, one called Chaturdasa Devta Temple, and the other one did not even have a nameplate. All of them have a similar build, temples built on elevated platforms and very similar to some better-known temples in other parts of Bengal.
Finally, I also paid a visit to Tripurasundari Temple, which is situated slightly outside the town. It is one of the 51 Shakteepeethas and was built in 1501. However, the temple seemed to be pretty newly constructed. I think this is the issue with "live" temples. They keep getting renovated as devotees visit them regularly. So, the sanctum sanctorum is probably 500 years old but the rest of the structure seemed modern.
Pilak
I left for Pilak the next morning, mostly following google maps and without concrete information. The primary mode of transportation here are the shared jeeps that go all the way to Sabroom, on the Bangladesh border. The place I needed to reach was Jolaibari. The road was mostly smooth and I had secured a good seat on the side. So, I mostly enjoyed that breezy ride of 1.5 hours, that passes through many small towns and some long stretches of deciduous forests. Eventually, the jeep dropped me at Jolaibari after an hour and a half. I asked around a bit and every one suggested me to hire an autorickshaw to visit the ruins which are scattered all over the area.
The ruins of Pilak were believed to have been built between 8-12th centuries and feature both Hindu and Buddhist relics. It is believed to have been a part of the ancient Samatata kingdom that has been mentioned in various ancient texts but still lacks proper details and documentation. Now, if one just looks at the present-day map of Tripura, most people will not be able to connect it with the rest of India because we tend to forget the existence of present-day Bangladesh. So, this entire area covering the eastern parts of greater Bengal and located at the mouth of the meeting point of many great rivers in the Ganga- Brahmaputra Delta formed a very prosperous province in ancient times. These areas of Tripura must have been frontier towns of those times, just on the edge of the impregnable hills.
These ruins were first discovered in the early 20th century and ASI has carried out excavations over the decades to unearth several points of interest. The problem for me was to figure out that there were several scattered locations in the region and the autorickshaw I hired for INR 100 knew only two of them. Data connectivity also stopped working as I reached Jolaibari and so I could not check the map although I don't think even that would have helped. So, I asked him to show me whatever he can.
It took barely 10 minutes to reach the first site. It was more of a collection of artifacts dug out from the ground. They are now protected by a wall and some tin shades. There was something akin to a Shivling, some fragments of various statues or temple pillars, and one large standing statue. In some sources, this is mentioned as Surya but I can't really be sure. All I can safely say is that it is a set of Hindu relics. It must have been grand at one point of time but is pretty anodyne as of now. As per descriptions found online, it seems like the site of Thakurani Tilla but I am not really sure.
After then, he took me to a site which was comparatively better maintained, which finally gave me something to cheer about. It was the remains of a Buddhist Stupa, something strikingly similar to what I have seen in the likes of Sri Surya in Assam. From what I could understand from this excavation report of ASI, this is site known as Shaym Sundar Tilla. The site was excavated in 2000-01 and it unearthed the cruciform foundation of a brick-built stupa. It is adorned with terracotta plaques depicting Buddhist mythological scenes, and probably also some contemporary social scenes of those times. Every plaque has different scenes and I wish I could spend more time studying them.
There is a strange object at the center of the base. I am not really sure what that is (Please drop a comment if you know). Also, the other noticeable element here is another big standing sculpture carved on stone, with two smaller figurines on both sides. Again, I am not sure about the identity but according to some sources it is that of Avalokitesvara. Some other important relics found in this region have been moved and are now displayed in the museum in Agartala.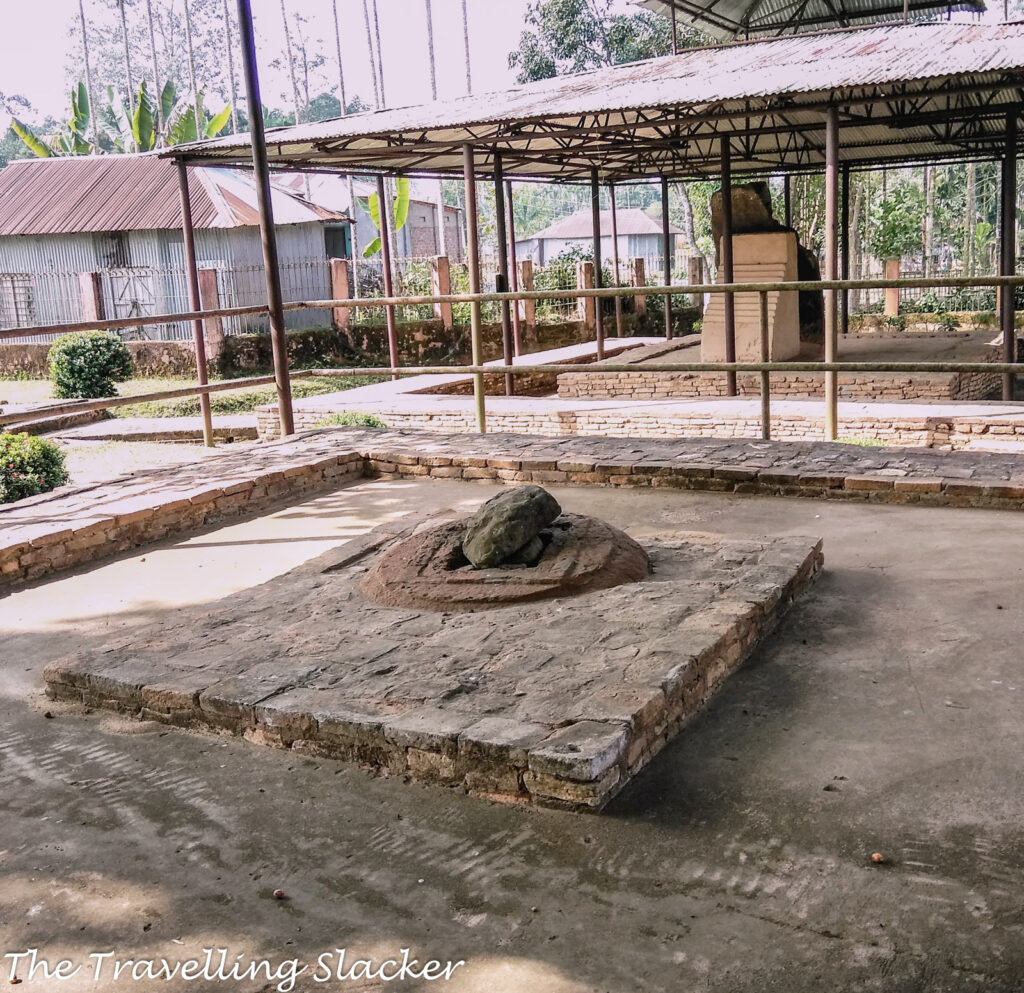 So, this is what I could manage in Pilak. On hindsight, I probably should have asked the people in the government tourist lodge in Pilak for more details and direction. But I had little time and this is how things work for me!
How to Reach Udaipur?
You can get buses and shared cars from Nagerjala in Agartala that should cost you no more than INR 50-60. You also have a nice morning train from Agartala where you can get a nice reserved seat for negligible rates.
How to Reach Pilak?
From Udaipur, grey coloured jeeps ply on the Shantirbazar-Joliaibari-Sabroom route. You need to reach Jolaibari and ask around for directions. It will cost you around INR 40-50.
Where to stay in Udaipur?
There is a big government tourist lodge and scores of decent private hotels around town. It is a big enough town so you will have everything you need. I got a very good room at INR 300 with attached bathroom and TV (although I hardly watch TV).
Where to stay in Pilak?
Generally, you can make a day trip from Udaipur. If you must stay, there is a big government tourist lodge, not far from the point where the jeep drops you.
Phone and Data connectivity in Pilak?
This is bit of a problem. My BSNL prepaid number stopped working in Pilak. Basically, both phone and data works well in Udaipur and even until Shantirbazar. After that, you are on your own!
Also Read:
Unakoti: Those Hills Have Faces