Yes, after several failed attempts, I finally managed to visit Tripura. Although I had to cut it short due to external circumstances and had to rush through my destinations, still I managed to cover a lot within those four days. While I will come up with detailed posts about each of the attractions, I really wanted to say something about the place in general. Tripura is an excellent place for budget travellers and it is surprising that hardly anyone is visiting it!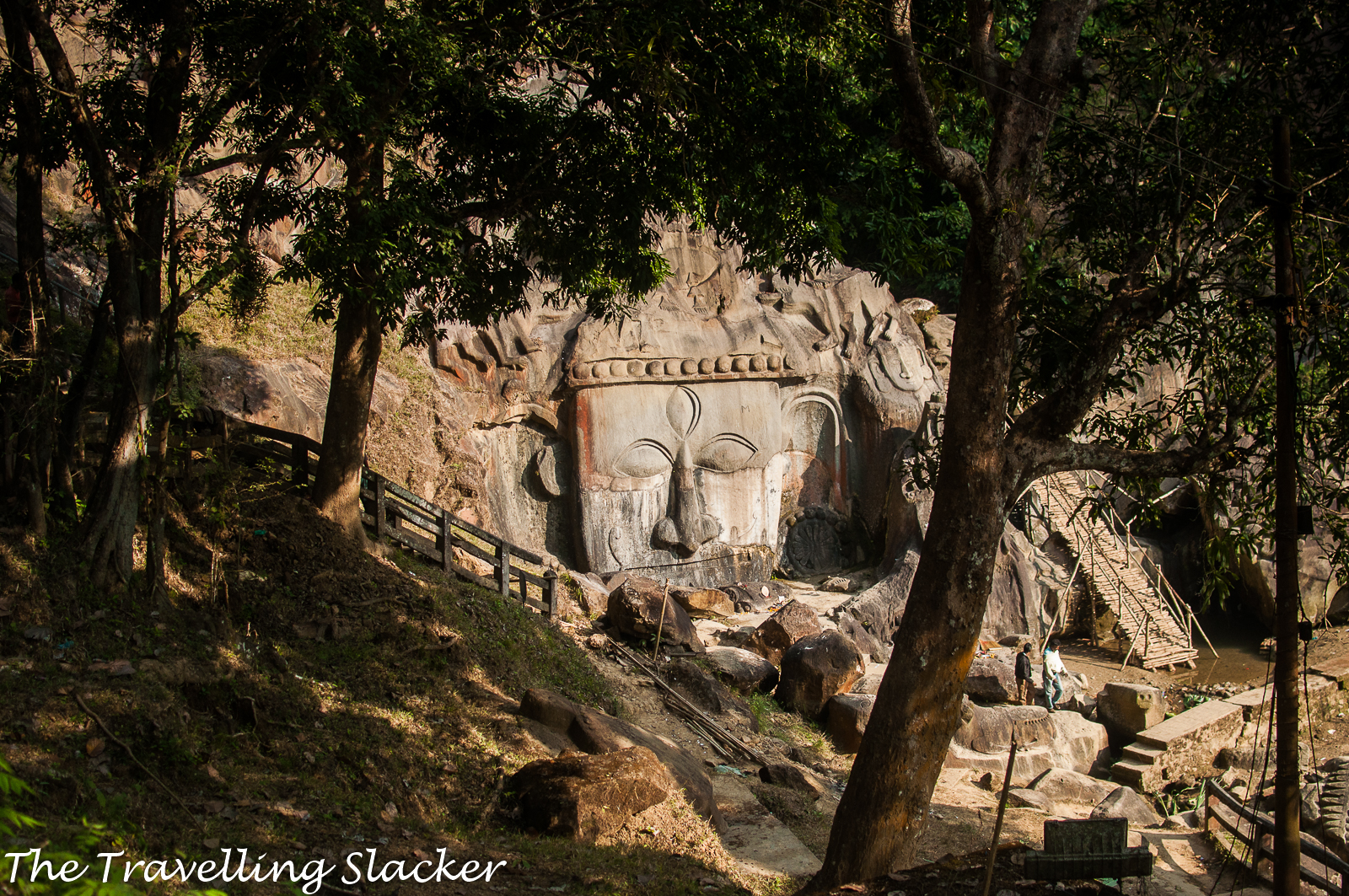 Actually, my emotions may be stronger at the moment because of my other experiences in recent months. Regular readers here know that I have made several trips to the other Northeastern states in the last few months and as much as I like to promote them, I must admit that most of the trips were logistical nightmares due to the lack of basic infrastructure. It is probably easier if you have a vehicle but for a budget traveller like me who relies on public transport, it was a real struggle.
Tripura looks equally remote on the map but I was surprised how easily I managed to cover it. The only hiccup was at the time of returning when the train to Guwahati got cancelled. However, the issue was not with Tripura but it was due to some disturbances in the hill districts of Assam. So, I had to reach Silchar and take a bus to Guwahati through Meghalaya.
My Quick Tripura Itinerary
Day 0
Took a train from Guwahati at night to Silchar because the direct train to Agartala was not available that day.
Day 1
Got down at Badarpur early morning, shared a car to Karimganj, and finally got a bus to Dharmanagar. Visited Unakoti Temples and returned to Dharmanagar for night halt.
Day 2
Took the morning train to Agartala and directly took a shared car to Melaghar. Visited Neer Mahal and spent the night at the lodge near the lake.
Day 3
Took a shared car to Udaipur. Completed some urgent work from the hotel room and then some local sightseeing in Udaipur, including medieval temples and lakes.
Day 4
Took a shared car to Jolaibari to visit the ancient ruins of Pilak. Returned by noon and wanted to visit Amarpur-Devtamura. But was too tired by then and so decided to return to Agartala for some local attractions and night halt.
Day 5
I had a direct train to Guwahati in the morning which was cancelled as mentioned before. So,I reached Silchar and took the bus.
So, now let me explain why I found Tripura to be delightful and why it is ideal for backpackers with a limited budget.
No Permits Needed for Tripura
As you know, it requires Inner Line Permits (ILP) to visit the Northeastern States of Arunachal, Nagaland, and Mizoram. Other states like Manipur and Meghalaya also occasionally keep demanding the same. They do have their reasons for doing the same and those complexities are beyond the scope of a travel blog but for travellers, it is an additional layer of formality and in some cases, you may have to devote an extra day just to get the permit even before you reach the state. But Tripura asks for no such things. Just book your tickets and go.
Excellent Rail Connectivity
Except for Assam, most other NE states practically have no rail connectivity excluding some border towns. Tripura used to be the same but in recent years, the Indian Railways have made rapid progress to connect all major towns of the state and also to connect the state to the rest of India. Now they even have a Rajdhani Express to Agartala but I was more impressed by the local passenger trains with chair cars where you can prebook and get a comfortable seat for INR 40-50, and enjoy the best of rail travel as the compartment mostly remains empty. Train network has now reached as far as Udaipur in South Tripura, and they are constructing lines that will eventually connect the state to Bangladesh.
Easy Road Connectivity
I found most of the roads to be in reasonably good shape. Buses and shared cars are available everywhere. Interestingly, different types of cars are more prevalent in different towns. I mostly saw Tata Magic around Dharmanagar, Mahindra Maxx around Agartala, and classic Jeeps around Udaipur as you can see in the pic above. Electric rickshaws are available to travel within the towns. In any case, you don't have to pay more than INR 40-50 for any stretch.
Quality Budget Accommodation
Comfortable accommodation on a budget is not always easy to find. When I was planning for Tripura, I was talking to a friend. I had found a long list of official Tripura Tourism Lodges that are present near every major attraction in the state. He refused to believe it and wondered if they exist only on paper. But now I am glad to report that they actually exist. I found a big one even in a place as remote as Jolaibari (Pilak). Also, apart from the government lodges, all major towns have good budget hotels complete with TVs and attached bathrooms for INR 300-400. The government lodges can cost a bit more, around INR 600-800, but that is purely optional.
Food in Tripura may surprise you
Normal Bengali food is available everywhere. Apart from the usual, they seem to have local variations, permutations and innovations in every town. I don't really have much knowledge about them. the best way to surprise oneself is to walk around the streets. Hardly anything costs more than INR 10-20-30.
Tripura is Easy on the Wallet
As you must have realized already, it is a very cost-effective place. Accommodation costs are around INR 300-400, transport and food can be wrapped up in 2 digits everywhere. You can cover the whole state in 6-7 days, spending no more than INR 3000-4000 (i.e. $50-60).
Tripura is Rich in History
While it looks isolated on the map, Tripura has connections with ancient Bengal (Including present-day Bangladesh) right from the beginning. In medieval times, it came under the rule of the Twipra Kingdom and although they have lost political power, the Royal family still exists. In that sense, Tripura feels a lot like Rajasthan. Of course, it does not have gigantic forts like Rajasthan but there are many ancient ruins, temples, and palaces to explore.
Tripura is the state of Lakes
Due to the royal patronage, all major towns in Tripura seem to be well organized and they have a lot of lakes. It is not a coincidence that there is a town called Udaipur in Tripura and it is also known as the Lake city like its counterpart in Rajasthan. All other towns also have lakes that add to the visual allure. Neermahal, one of the most famous royal palaces in the state, is located in the middle of a lake and needs a boat ride to visit.
Tripura has a Unique Culture
Tripura is a Bengali majority state but the original inhabitants also have their own rich language and culture. My trip was too quick to explore any of it. I guess one should time the visits with some traditional festivals to get a better experience in this regard.
Tripura has its own Orange Country
Jampui hills are one region in the state that I failed to accommodate in my short itinerary but it must be mentioned anyway. It is the hilly region of Tripura bordering Mizoram. The people living there are also Mizos and the area is known for Orange cultivation. They even organize an orange festival in the winter and you can do some small hikes in the hills too. Next time I am in Tripura, I will directly go to this region.
Also Read…