Tripura takes immense pride in Neermahal. This is supposed to be one of the only two water palaces in India apart from Jal Mahal in Jaipur (That's what they say… let me know if you know of others… even I can think of another one in Udaipur, Rajasthan). But I have always had some mixed feelings about it as it seemed too extravagant a construction for a poor state lying on the physical and psychological edge of India. Nevertheless, since I was in Tripura anyway, I decided to visit and appreciate it for what it is, an engineering and architectural marvel (Even Tajmahal faces this criticism at times).
I arrived at Melaghar from Dharmanagar after visiting Unakoti. I took an early morning passenger train to Agartala (and was surprised to find the functional train). I could book a place in sitting car for a miniscule amount and the comfortable and timely journey left me at Agartala by 10 AM. The capital city seemed too big and crowded, so I decided to move on to Melaghar. I asked a few locals and someone asked me to reach Ngerjala Bus Stand by hiring an autorickshaw. At Nagerjala, many buses and shared cars were going in different directions. After a bit of an effort, I found one shared car going to my place.
—–
READ: Why Tripura is a Backpacker's Paradise
—–
At first sight, Melaghar looks like a nondescript provincial town with a narrow road through a jam-packed market and some even narrower lanes going in all directions. However, one of those lanes eventually opens up to a vast waterbody, the Rudrasagar Lake, along with a vague but striking image of a palace on the horizon. As you move closer, you will soon realize that the palace is a real one and not just a mirage.
So, Neermahal remains the primary draw of Melaghar, which is otherwise a small town only 50 Kms away from Agartala and 22 Kms from Udaipur. It was built in the early 20th century by King Bir Bikram Kishore Manikya as he thought that he needs to have a cooler summer residence away from teh capital. He also hired a British company fto build the same. On needs boats to reach the palace in the middle of the lake. Now there are regular tourist boats for plying the visitors. They keep coming and going and costs around INR 20 per head. Also, one has to pay around INR 80 for entering the palace, upon reaching the other side.
The palace itself is an excellent melange of Hindu and Muslim architectural traditions. I could not really find any information about the architect who imagined all this but clearly, they were taking inspiration from various traditions prevalent in India. I knew it was enormous but I was still taken aback by the open courtyards and gardens inside. From the topmost floors, it reminds one of those majestic Mughal constructions, but with the added attraction of the lake.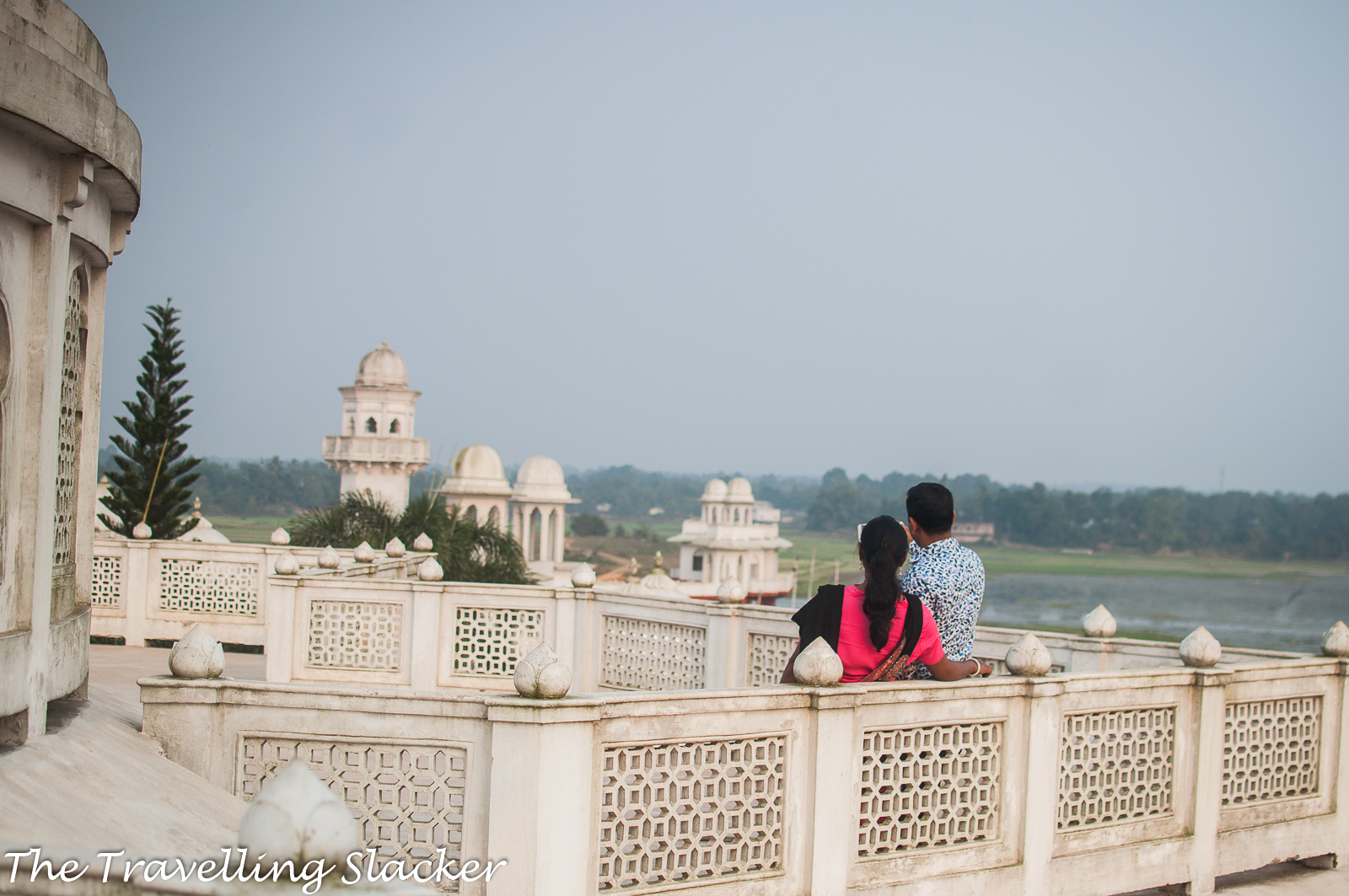 The Rudrasagar Lake itself also attracts a lot of birds, especially in the winter, and has been declared a Ramsar site. However, in January, the lake was somewhat dry just as the sky was dull. I did see a few cormorants and egrets, but I keep seeing them everywhere. I think this looks better in the monsoons. I could see some interior staircases going down to the basement. The boats can directly reach the interiors of the building, to these stairs. But I think it is only possible when the water levels are higher during the rains.
I spent around an hour covering various wings of the gigantic construction. Some renovations were going on at some parts. So, I guess they have bigger plans for this one. Those minarets displayed an unmistakable Islamic influence but what I liked most was the windows, perfectly placed like picture frames, with moving boats, setting sun and glittering lakes within them.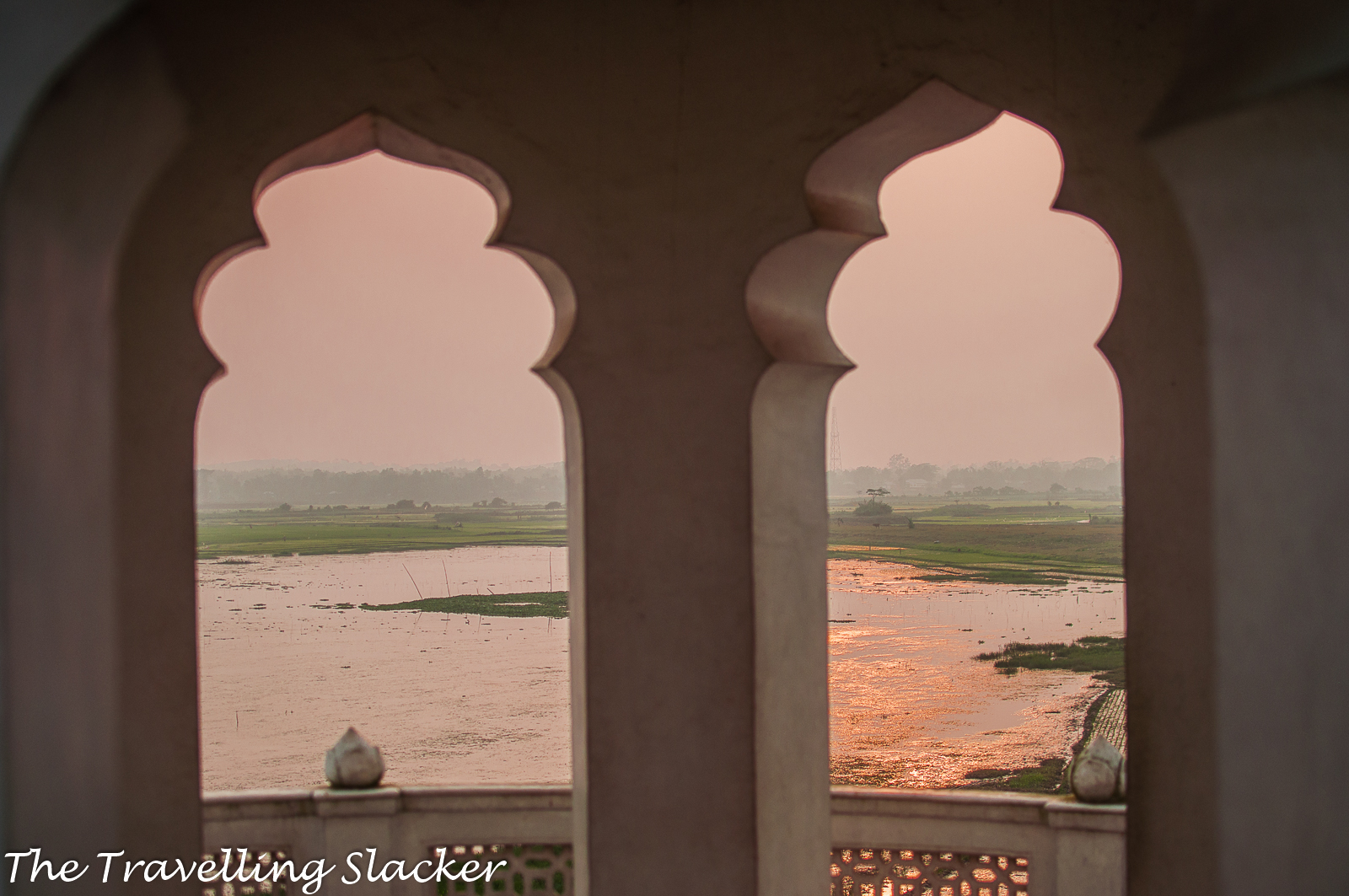 I returned towards the evening.The only unpleasant part here was the maintenance of the boats or the lack of it. People were littering it all the time and also the shore of the lake has been turned into a picnic spot with loud music. I think the Royal family needs to get back to its glory days and introduce some punitive measures to sort this out.
That night I stayed at Sagar Mahal Tourist Lodge, the government accommodation and the only decent option in town, located by the side of the lake overlooking the Neermahal. It was a good room, a bit expensive at INR 700 for me, but I just wanted to give it a try to see how Tripura Tourism is doing. So, the room was good by I can't say the same about the food. The mess is located in another building, the food was bland and soporific, and the staff seemed grossly disinterested. I'd had better food in every other place during my entire Tripura trip. I guess this is what the charm of performance delinked salary that my relatives talk about when they ask me to get a government job. Anyway, let's not get too carried away with my propaganda. Neermahal is still worth the visit. Maybe a day trip from Agartala is enough.
Neermahal Travel Guide
How to reach Neermahal?
From the Nagerjala Bus Stand in Agartala, you will get buses and shared cas going towards Melagahr. It is around 50 Kms and should not cost you more than INR 50-60. It is a bit hard to locate teh way to teh Rudrasagar Lake from the crowded market at Melagahr. But I followed the Google Maps and arrived at the right place. Otherwise just ask someone the way to Neermahal.
Fees for Neermahal?
There are two types of fees, first you need to get a ticket for the boat (INR 10-20… dont remember exactly) and then there is an entry fee at the gate of the palace (INR 80 as far as I remmeber).
Where to stay in Melaghar?
The only decent place to stay here is the government tourist lodge called Sagar Mahal Tourist Lodge, also located by the side of the lake. Single rooms INR 700, doubles will be more. Rooms are good but the food was disappointing.
What is a good season for Neermahal?
It can be visited anytime. However, I felt that it looks better during teh rains when teh water level rises and the sky has good cloud formations. I had none during my January visit.