So… what else to be done here in Kohima?
I kept encountering this question during my time in Nagaland, which coincided with the Hornbill Festival of 2017. The original plan did not include Hornbill but I ended up spending 3 days near the festival venue. I met a lot of people, some hardened travellers, some newbies, all enjoying rice beer and rock concerts. But I still felt that most people are not sure what to be done in Kohima.
A lot of people are nowadays getting drawn by the well-publicized Hornbill Festival but after that, they seemed to be in need of some guidance. I even met people who had not even heard of the basics such as Dzukou Valley and Khonoma. I wonder if they even bothered to Google before booking their tickets. For the same reason, I wonder if anyone will even read this post but anyway, let me try.
Kohima has many attractions within the town and then there are many nearby villages and towns as well as treks and trails to keep everyone busy for a few days. Some of thenm are within the town while the rest are in the nearby villages within the 20-30 KM radius of the town and you normally find shared jeeps to these villages from the city.
WW II Cemetery
The World War II Cemetery if one of the most prominent monuments in Kohima. It is located at the top of a hillock in the heart of the city and visible from a distance. This is a good way to start because most people are also not aware of the Battles of Kohima and Imphal that proved to be decisive moments of the closing stages of the war when the Japanese were finally beaten back by the allied forces. The cemetery has around 1500 graves maintained bt the Commonwealth War Graves Commission. The luckier ones here have names and regiments mentioned, and their families probably visit them still. Some others are nameless, and they lie in obscurity! A couple of Lee Grant Tanks from that era can also be seen nearby.
Nagaland State Museum
The Nagaland State Museum is a good way to gain some basic understanding about Naga people, and their various clans and cultures before you start visiting their actual villages. Nagas have many clans and dozens of dialects within themselves. All major Naga clans have their own customs, apparels, and culture. So, many believe that they all had different origins and the umbrella term Naga came up later on as they were living in the same region. So, yes, it can get confusing, and it is better o have some primer on them at the museum first. I spent around 2 hours here and it was pretty informative. There is also a mermaid statue outside (with a distinctive caucasian face). I don't know what it means though.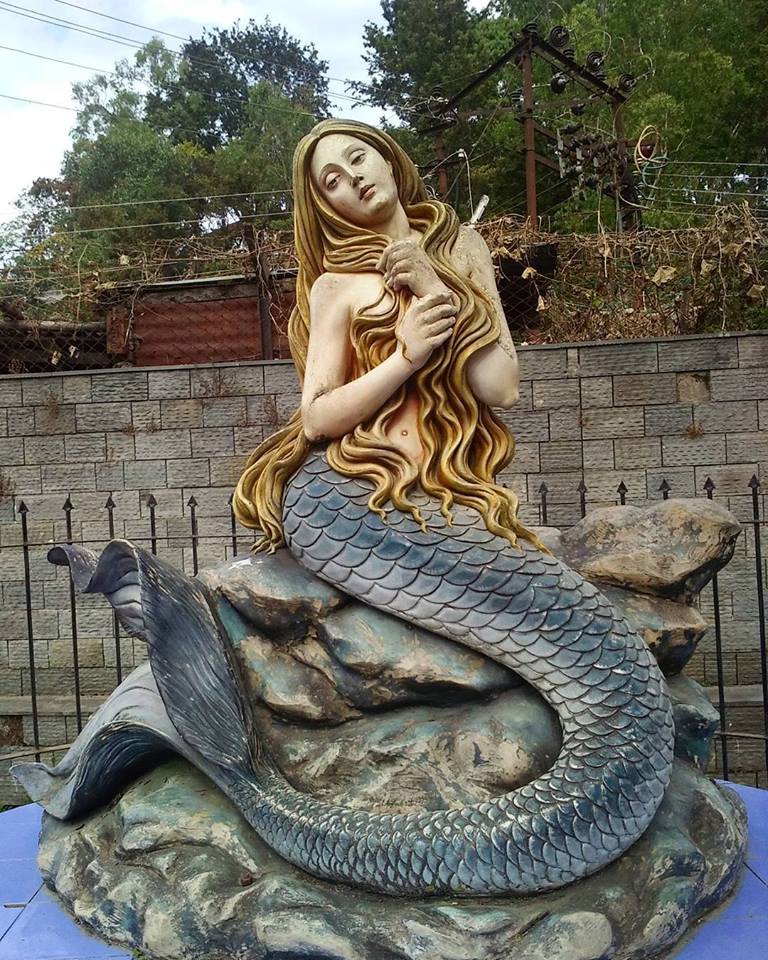 Kisama Heritage Village
The Kisama Heritage Village is the officla venue for the Hornbill Festival, only 10 KMs away from Kohima city. Even when the festival is not on, you can still visit it as there are othe rattractions inside. It is basically a not an actual village but a model village developed to display the varied cultures of the state. There are seperate model houses representing each major tribe living in the state including all Naga Clans as well as others such as the Dimasas. There is also a church and food court among other things and during the festival this remains jam-packed. The other most important entity here is the WWII Museum that is discussed in the next paragraph.
Kisama WWII Museum
As mentioned before, Kohima was a major battleground. Still, remains of the battle, parts of destroyed tanks, grenades, bullets, guns, etc keep getting dug out from this area. This musuem located within Kisama Heritage Village, makes an effort to preserve some of those findings. A similar museum is the INA Museum located in Moirang, Manipur. But having seen both, I can say that this one is better maintained. Also, in Moirang you are not allowed to take photographs while here you can just pay a small camera fee and carry on with your work.
Also Read: A List of All Major WW II Sites in Northeast India
Dzukou Valley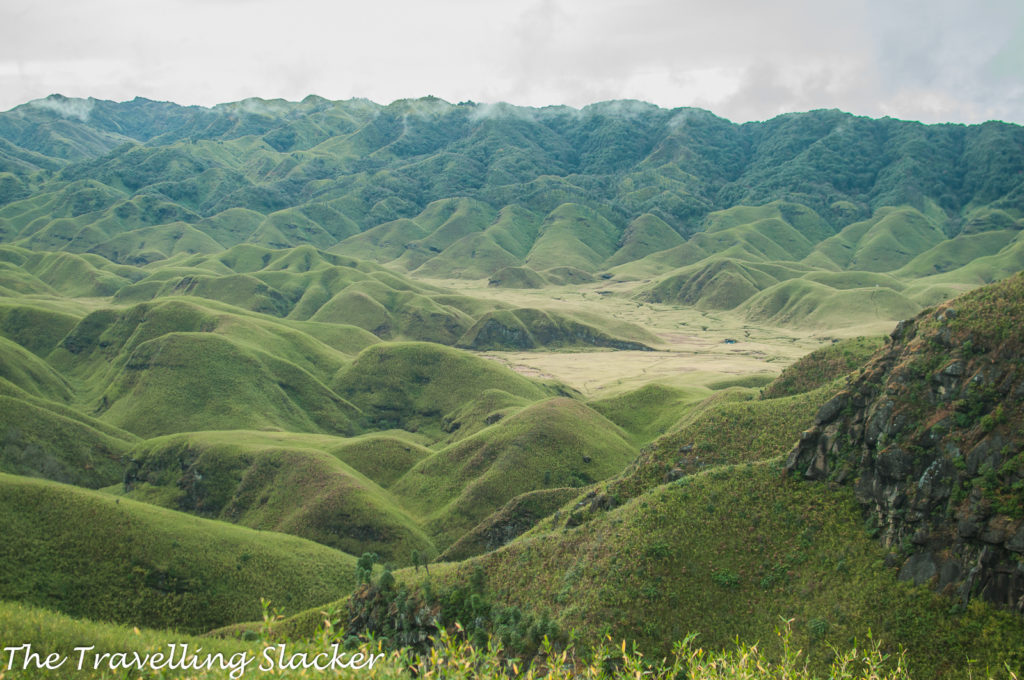 Well, enough has been said about Dzukou Valley in this blog already. It is probably the best short treks in the entire Northeast and the trekking point is barely 20 KMs from Kohima city and barely 10 Kms from Kisama Hornbill venue. It has one of the most unique landscape with no parallels (At least I am not aware of). I have already made two attempts including one failure and one success. I am not done with it yet. I will have to return in the flowering season during the sumer for better photographs. There are provisions to stay at the top of the 2500 metre high valley. Even the villages like Viswema and Jakhama that leading to that place have great views.
Read my Dzukou Valley Blog Post for complete details.
Japfu Peak
Japfu Peak is not far from Dzukou Valley and the trek starts from the same area. It is a comparatively more strenuous trek that leads you to 3100 metres high peak, which is the second highest peak in Nagaland (after Mount Saramati in Kiphire district). You will have to find local guides for this trek. I have not done it so far but apparently, there is rhododendron tree at the top which is supposed to be the tallest rhododendron in the world!
Khonoma Green Village
Khonoma is a beautiful traditional village that is called a "Green Village" because they apparently "Don't Hunt and Don't Cut Trees"! Around 20 Kms from Kohima, it offers excellent frames as they cultivate on nearly vertical slopes near the village. Sadly I was there at the wrong time, so thelight was not good and the rice terraces could not be captured the way I wanted to. You have to pay an entry fee at the entrance of the village and you can also hire guides from here to guide you through the village.
Dzuleke
Dzuleke is an up and coming destination in Nagaland, 40 Kms away from Kohima. The road to Dzuleke goes ahead of Khonoma. I never reached it but I saw the road signs leading to it near Khonoma. Public transport is an issue here and if you have a vehicle at your disposal, it is much easier. There are homestays here so that you can experience an authentic Angami Naga experience. The area is also rich in wildlife, especially the endangered Blythe's Tragopan, which is the state bird of Nagaland.
Touphema Tourist Village
The Touphema Tourist Village is designed to provide an authentic Naga experience to tourists. It is around 40 Kms from Kohima. There are good accommodation options here and you experience Naga lifestyle, eat local cuisine, and go for small local hikes. It has been built by local communities with the help of the tourist department. I'm yet to visit this one.
Tseminyu
Tseminyu falls on the ancient migration route of the Naga tribes, around 50 KMs away from Kohima. Ancient gravestones, pottery, and a lot of other remains can still be found here apart from the expectedly scenic surroundings. I feel much more remains to be explored and researched here. It is beyond Touphema on the same road as far as I know. I hope I will make it there this winter.
Pfutsero
Pfutsero was the most sudden yet most satisfactory discoveries of last year. It is located in the neighbouring Phek district, around 60 KMs away from Kohima. It is the highest and coldest town in Nagaland and you can go for a short hike to the Glory Peak, the highest point of the town. But the highlight of my visit was the cherry blossoms that had turned the trail pink, and yet nobody had ever told me about that before!
Read my Pfutsero blog post for more details.
Pulie Badze Wildlife Sanctuary
Pulie Badze Wildlife Sanctuary is located near Jotsoma Village, barely 10 KMs from Kohima. The jungles here are full of exotic fauna and they offer great views of the Japfu range. You can go for a short hike through the jungle here. I have not done it though.
Ketsiezou Watch Tower
Again, I have personally not visited this one so not sure if the memorial is still intact although google throws up a photograph. This location offers a good view of Kohima from a height and the Queen's Own Cameron Highlanders and the Royal Scots Memorial is located here as members from these regiments took part in heavy fighting in this area back in 1945.
PS: Please read this Hornbill Festival Travel Guide if you are planning to visit it.